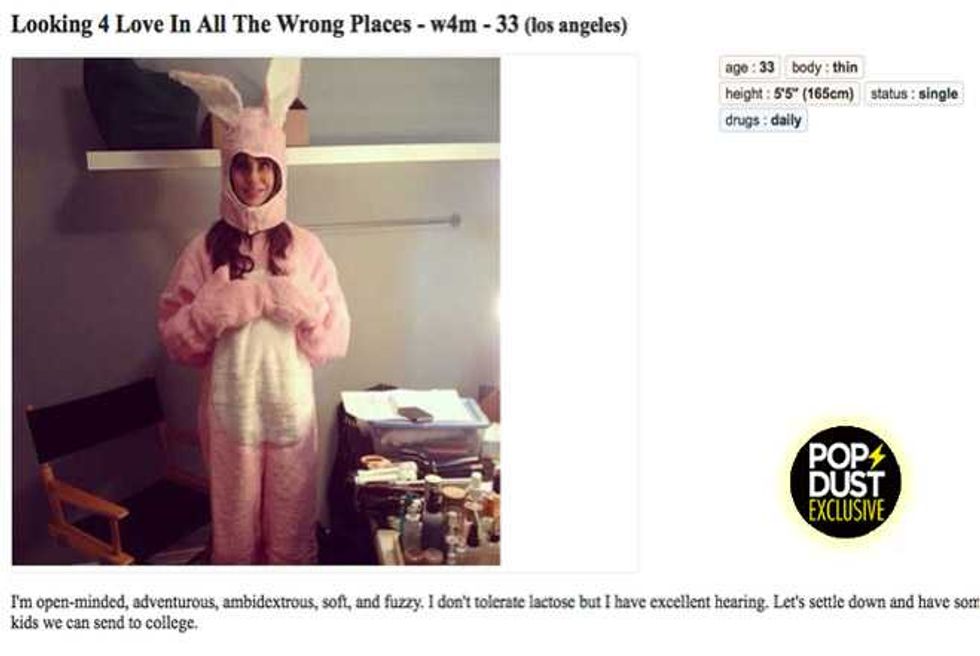 Dating in the computer age—There's Tinder, Grindr, Match, OKCupid, FarmersOnly, Beer Passions, Clown Lovers, Fetster, Craigslist Casual Encounters…the list is endless.
Each week, Popdust's intrepid reporter, Suzy McCoppin, goes deep undercover in order to guide you through the potentially murky waters of cyber lovin'.
Can you really swipe, click, match, wink your way to true love?
WEEK TWO: Craigslist Casual Encounters
As Popdust reported in week one—Tinder is for people looking for no strings attached sexy time—Meanwhile, J Date is for people looking to get married, Farmers Only is for people looking to hoe, and for people who are looking to be forcibly sodomized and carved up with a set of antique surgical instruments, there is Craigslist Casual Encounters. And this week, I was on the operating table.
Hot to not hot ratio: 1 out of every.... just imagine the Department Of Motor Vehicles.
Number of Correspondences: 22
Best pick up line: "I have a $3.24 credit at PayLess Shoes."
Worst Pick Up Line: "I've never been on Jerry Springer."
I mean, so you don't even have an IMDB page? Next!
HOTTEST GUY: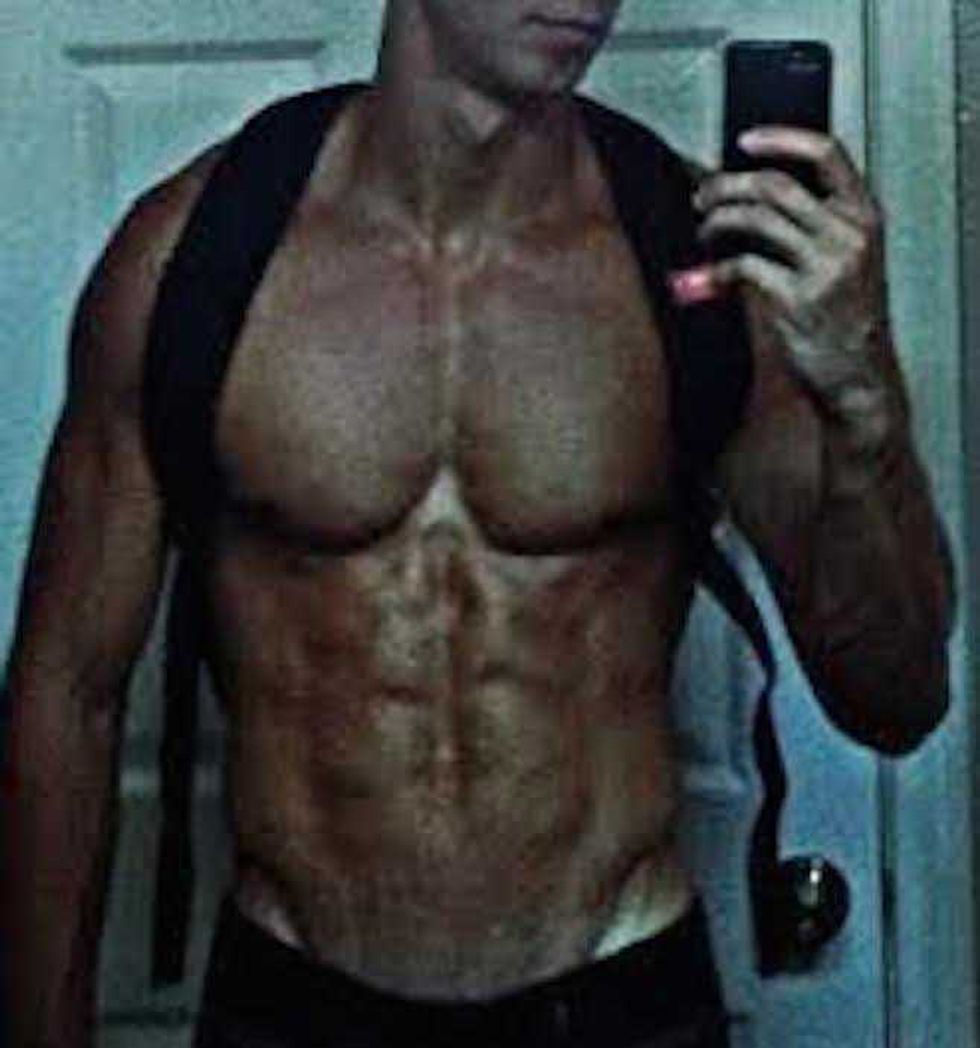 Sure Brad is the color of a burnt sienna crayon, but the man is not afraid of a sit up
Approach/chat up line: "I love doing rape fantasies, and I have a lot of scenarios to play with."
Conversation/Rapport skills: He actually turned out to be a TV writer, so, as far as rapists go, he was quite witty and articulate. (There's a joke here about a rapist having a rapier wit, but I'm just too tired.)
Closing skills: Went dark on me after I sent him a picture of myself in a bunny costume. Note to self: Don't mix your furries with your doms.
WEIRDEST GUY: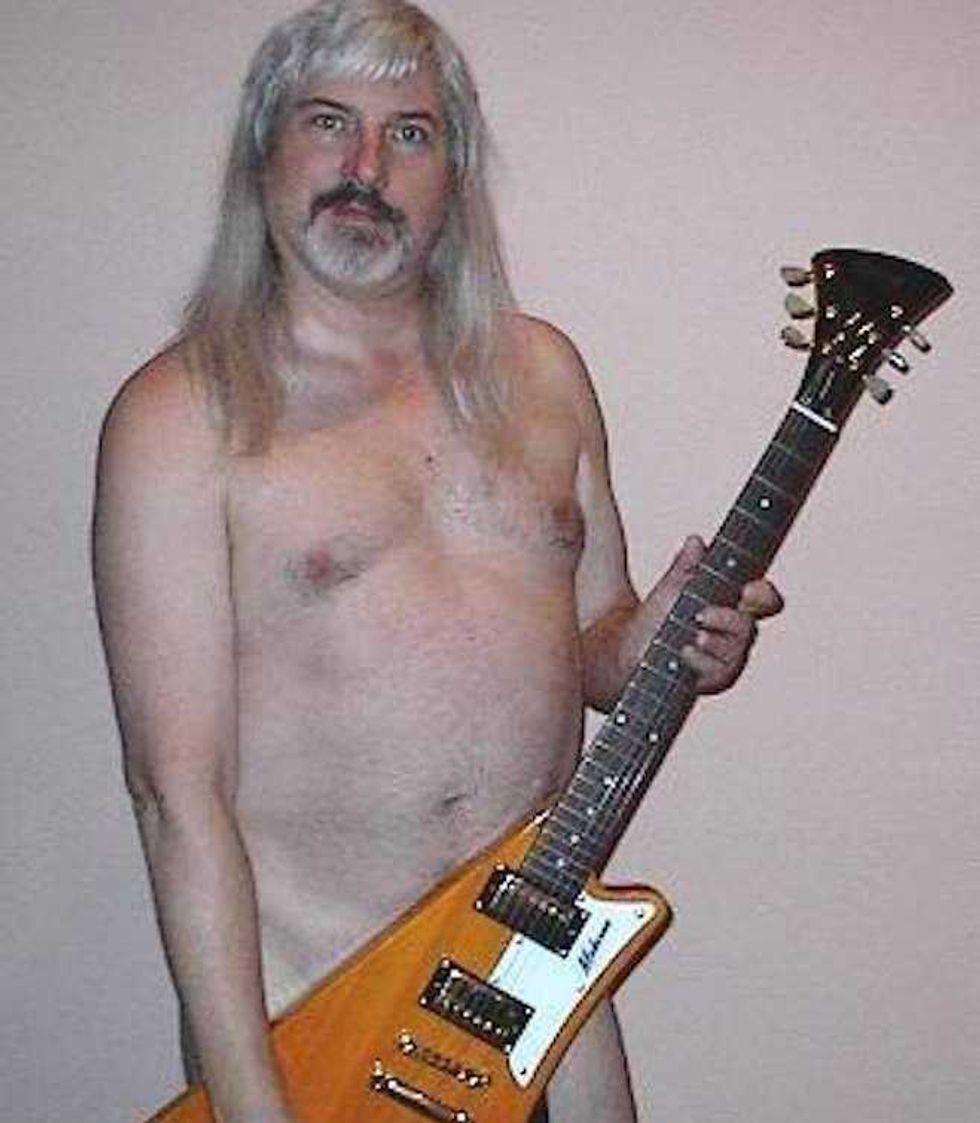 Dude can sure rock a mullet
His Approach/Chat Up Line: "Who wants to be my rock n' roll hooch koo?" I think I kinda did.
Conversation/Rapport Skills: You know when you can kinda tell someone has a southern accent, even if you're just reading an email?
Closing Skills: Obviously, this guy crushes major ass.
GUY MY MOM WOULD WANT ME TO DATE:
Not applicable
HELL TO THE NO: (Not because of the gimp mask. Because he smokes and I have allergies. Also the Lacoste shirt seems dated, and not in a good way.)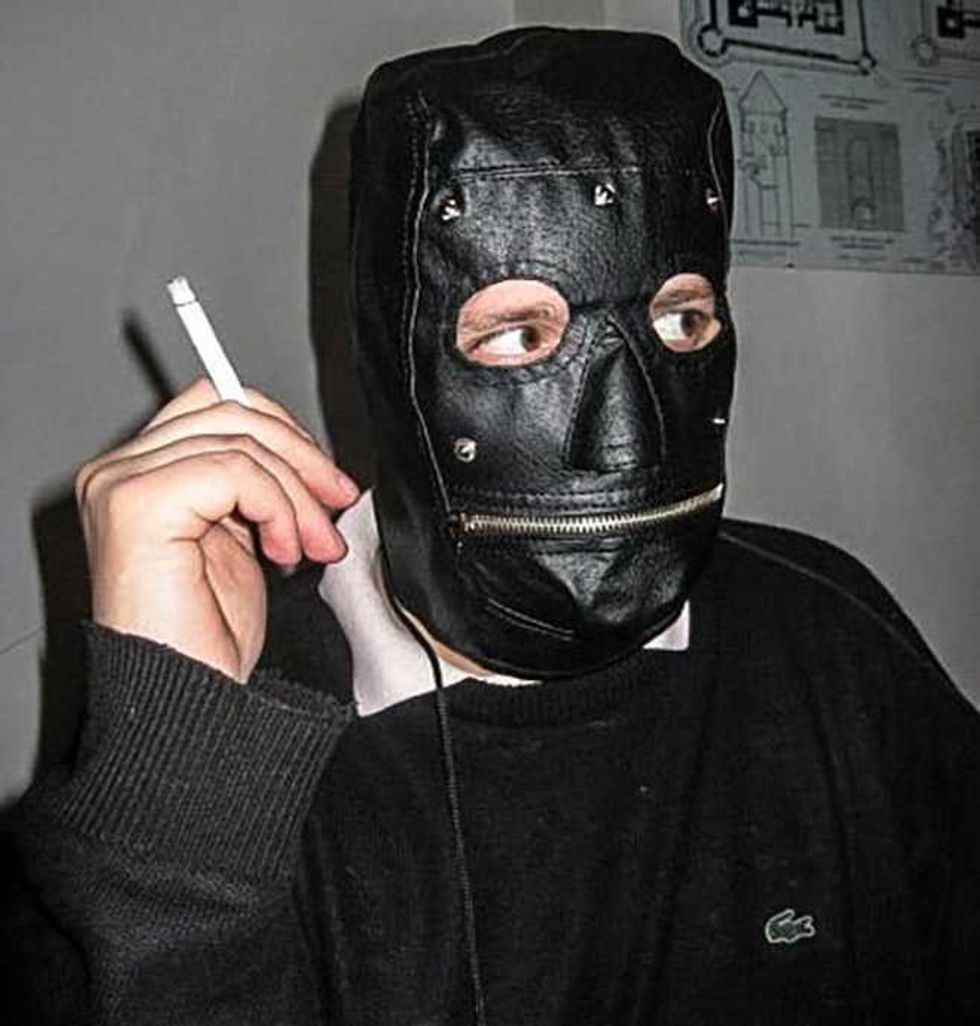 Preppy Gimp—Versatile enough for the country club and the dungeon
His Approach/Chat Up Line: "My fly is open." -Not in that picture it's not.
Conversation/Rapport skills: Consistent with his fashion sense.
Closing Skills: I've already issued a restraining order.
HONORABLE MENTION: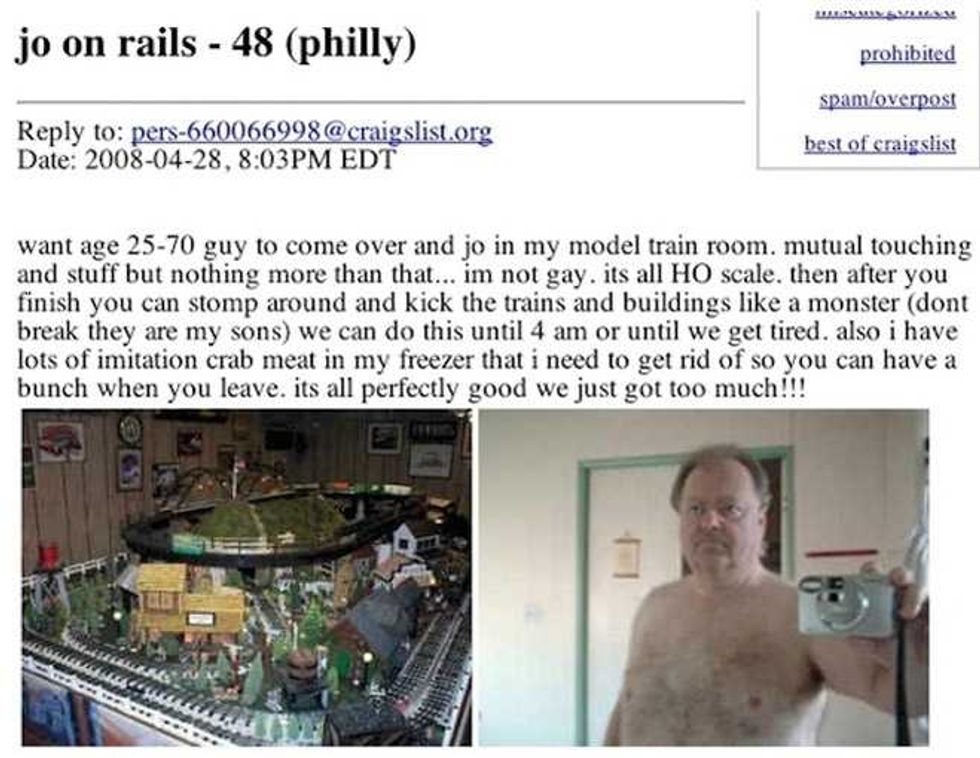 Ok. Maybe Jo isn't classically handsome. And maybe he posted this add in 2008, but that doesn't change the fact that he is possibly the best guy ever. He does not appear to discriminate based on age, he's very generous with his shell fish, he's got 4 AM caliber stamina and a HO train set! That's the best kinda train set on the market. Jo, call me. I miss you. I miss us.
AVERAGE AGE: 33
KINK FACTOR: Poetically off the charts
DATES THIS WEEK: 1
BLOW BY BLOW SUMMARY:
Since I was unable to zero in on anyone in Craigslist Casual Encounters who I'd describe as my type, I decided to go a more practical route and let my finger do the walking over to the foot fetish section. I do not have a foot fetish per se, but I do suffer from Plantar Fasciitis—a painful disorder of the ligaments characterized by inflammation or structural breakdown of the foot. It requires me to wear hideous orthopedic shoes.
Anyway, the doctor said the best treatment for plantar fasciitis is regular massages and since Popdust's salary doesn't allow for luxuries like massages and say, food, I decided to combine this undercover endeavor into a mélange of perverse practicality.
I found my would-be masseuse in Heinrik, a pint-sized, flame-haired bassist for a Metallica cover band.
I would host. Heinrick would massage. 8 PM, my place. I was surprised that at, a 5'5, (5'6 with orthodics), I had to stare down to look him in the eye. His hair was a cascading mane of scarlet splendor and I suspect from the back he could have been easily mistaken for Amy Adams.
In related news, the night manager at Curves once told me I look like Jon Voight. And no, I'm not mad at it.
Anyway, Amy—I mean Heinrik—was horny for some feet and it just so happened that I had two, so invited him in to admire the splendid canvas that is my diamond dogs. Despite my plantar fasciitis, I actually have pretty feet. Heinrik would confirm this when I peeled off my socks and spun them over my head like Rita Hayworth. Only smelly. He fell to his knees, awestruck by my "symmetry" and "texture," and commenced the foot worshipping portion of the evening, which sadly consisted of a lot of licking, which in no way alleviated my plantar fasciitis and also tickled.
So then we negotiated. For every 5 minutes of foot worship, I would receive 5 minutes of foot massage.
Heinie, as I came to call him, only lasted one round before he again succumbed to their majesty. Licking, sucking, moaning, the whole deal.
But I have to say, watching Heinrik get so turned on by my feet was kind of hot. Was I…..could I be….No…but, strangely…
What I like to call "the fat man effect" had kicked in. This is when you interface. with someone so far below your league and their unbridled enthusiasm strikes some kind of ego/libido hybrid and then you find yourself making out with a paunchy cello teacher from Pakistan. It's also the reason my friend Melissa masturbates to the homeless man outside of Trader Joe's who said, "I like pussy," when she walked by, carrying her bag of organic frozen brussel sprouts and Inner Peas.
Whatever the case, I was horny for the foot worshiper. Not horny enough to do anything with him, mind you, at least anything above my ankles, but maybe I thought about him later that night. When I was alone and near an electrical outlet.
SUMMARY:
Free foot massage and an indirect climax? I vote "thumbs up" on Craigslist Casual Encounters.
Check back on Popdust every Friday for all new Adventures in Dating—next week—Farmers Only....