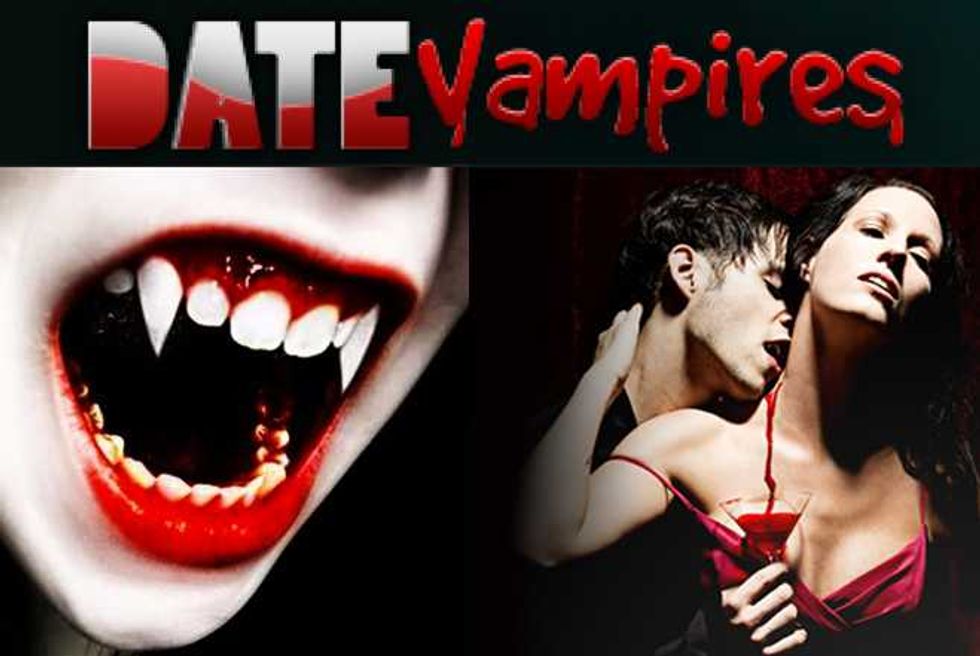 Dating in the computer age—There's Tinder, Grindr,  OkCupid, FarmersOnly, Clown Lovers, Craigslist Casual Encounters, Adult Friend Finder, Ashley Madison, Plenty Of Fish, JDate, Christian Mingle, BBW Cupid, FurryMate.....Fetster....Beer Passions...Cougar Life.....Match.com....Naturist Passions.....Cat Lovers Network....Singles With Allergies....Pink Cupid....Age Match.....SploshDating....ZombiePassions...Zoosk....the list is endless.
Each week, Popdust's intrepid reporter, Suzy McCoppin, goes deep undercover in order to guide you through the potentially murky waters of cyber lovin'.
Can you really swipe, click, match, wink your way to true love?
The Ultimate Sex Toy For Foot Worshippers—NSFW
This week, we shine the spotlight on Date Vampires....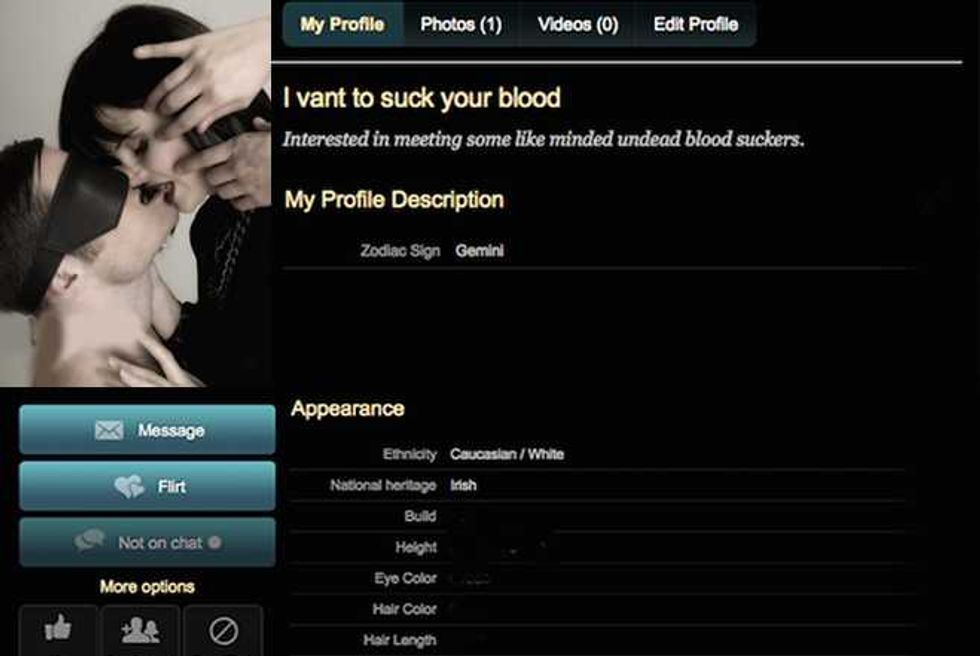 SLOGAN: Fall into the Darkness with Date Vampires!
This week the quest for love took me to Detroit, Rock City.
Well, actually, my parents' incessant nagging for a "nice visit" took me to Detroit, as they live just outside of the city.
Alone Time For Boys Just Got Better—The Worlds First 'Guybrator'
Fortunately for me, DateVampires has many members in the 8 mile area code. Also, in much the same way I was disappointed/pleased that the name Hoein' Ain't Easy was available on FarmersOnly, the fact that Muthasucka was available on DateVampires forced me to accept that vampires, like farmers, aren't funny.
HOT TO NOT RATIO: Maybe one. And he lives in Michigan, so how does that help me?
BEST PICK UP LINE: "Nice cape. It would look even nicer on the floor at the foot of my bed."
WORST PICK UP LINE: "If I said you have a beautiful corpse, would you hold it against me?"*
NUMBER OF CORRESPONDENCES IN ONE WEEK: 16
Japanese Game Show Has Women Jerking Off Men While They Sing Karaoke
HOTTEST GUY: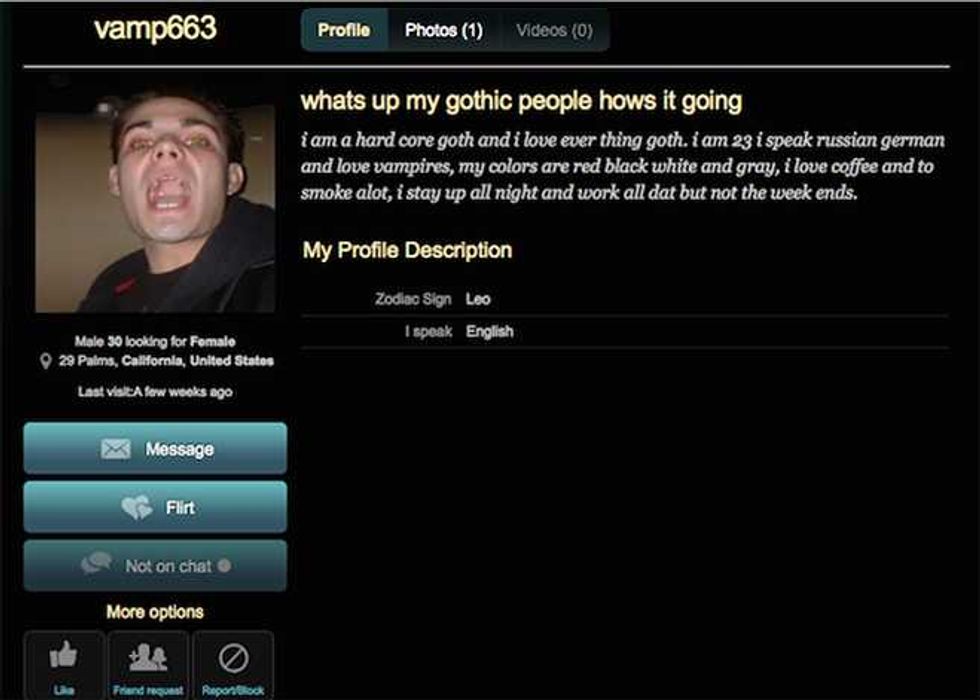 I'd suck it....
Approach/Chat Up Line: "What's up my gothic people hows it going"
Conversation Skills/Rapport: Vamp633 is too busy being undead to punctuate.
Closing Skills: Sadly, his coffin was only built for one
Craziest American Sex Laws—Could Your Lasciviousness Land You In Jail?
GUY MY MOM WOULD WANT ME TO DATE: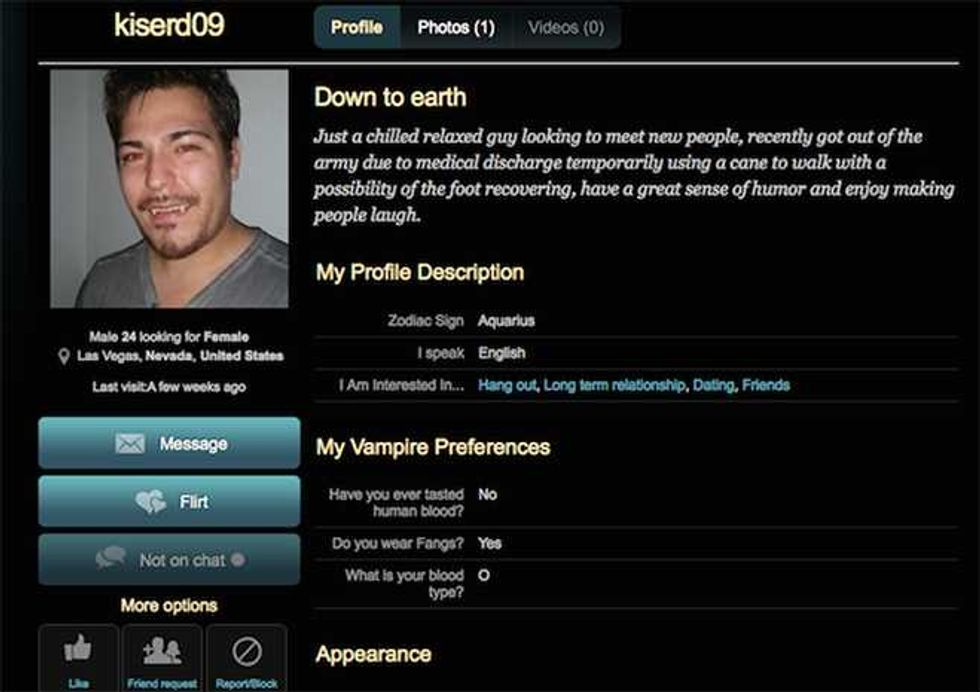 Looks like he can deftly shift out of his Vampire get-up into a Burlington Coat Factory sports jacket
Approach/Chat Up Line: "Is that bloodlust I'm sensing — or just lust?"
Conversational Skills/Rapport: He's a down to earth vampire. Those are very rare.
Closing Skills: Kisrd09 has never ever even tasted human blood!
Female Masturbation Has A New Name!
WEIRDEST GUY: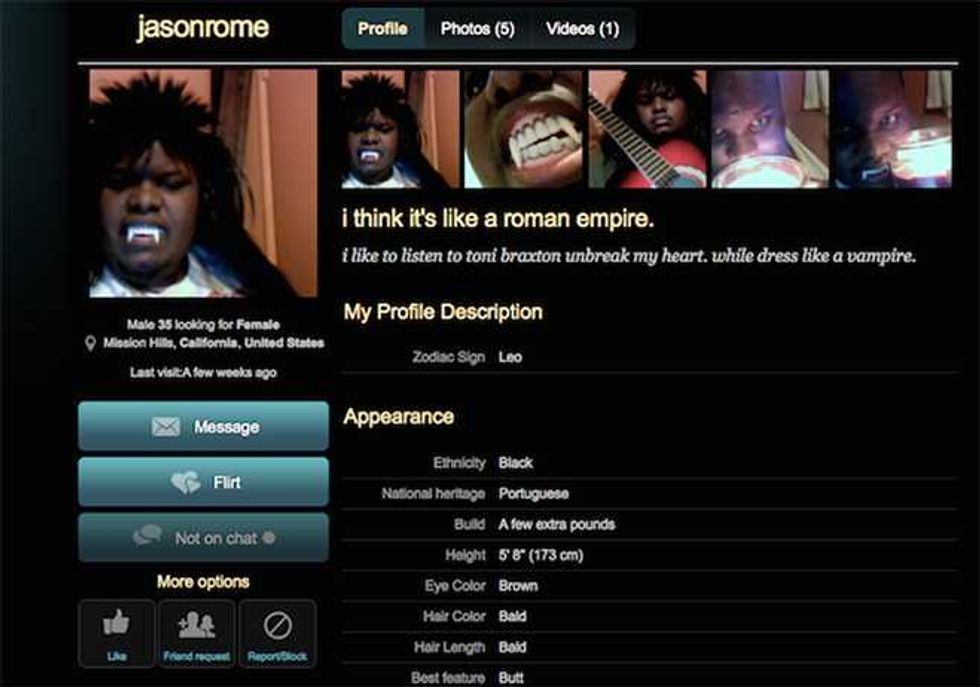 He's supa freaky...yow!
Approach/Chat Up Line: "I'm a very freaky boy, the kind you don't take home to mother." Right, see, that's why you're not in the "Guy My Mom Would Want Me To Date" category.
Conversation Skills/Rapport: Forthcoming. I like that he was up front about his "few extra pounds."
Closing Skills: Claims his best feature is his butt and my mom is a total ass man. Also, they both love Toni Braxton.
Pat Robertson Vows The Gays Are Gonna Make You Like Anal, Oral And Bestiality
HELL TO THE NO GUY: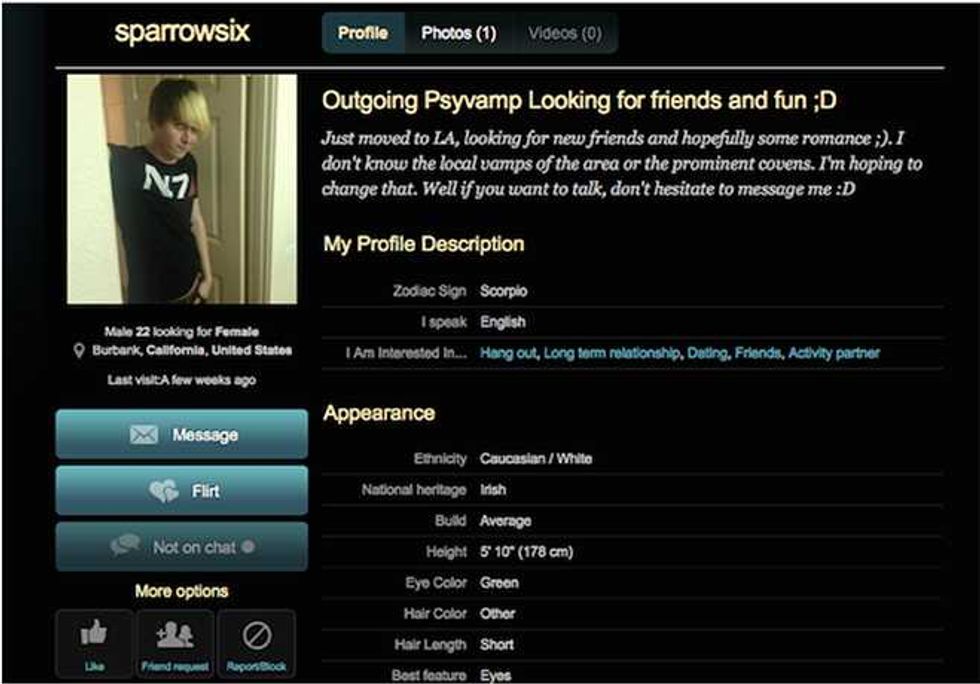 I draw the line at blood sucking minors....
Approach/ Chat Up Line: Who cares? Just look at his Ombre-Bieber blow out.
Conversation Skills/Rapport: A lot of "Lol" and "ROFL."
Closing Skills: He's gonna hit me up when he's legal.
Which Celebrity Endorsed Sex Toy Would You Use?
BLOW BY BLOW DATE SUMMARY:
Max, a 28-year-old Johnny Depp—looking yacht salesman, is entirely committed to the cause. So committed in fact, he has a "fang guy."
And upon this revelation I was naturally compelled to ask, "What the fuck is a 'fang guy?''
Turns out Max was so enchanted with a fanged-faced exotic dancer he met at a New Orleans bachelor party, he decided to take matters into his own mouth and enlist the help of a fang professional who, after taking impressions of his teeth, fashioned him a set of pretty convincing fangs.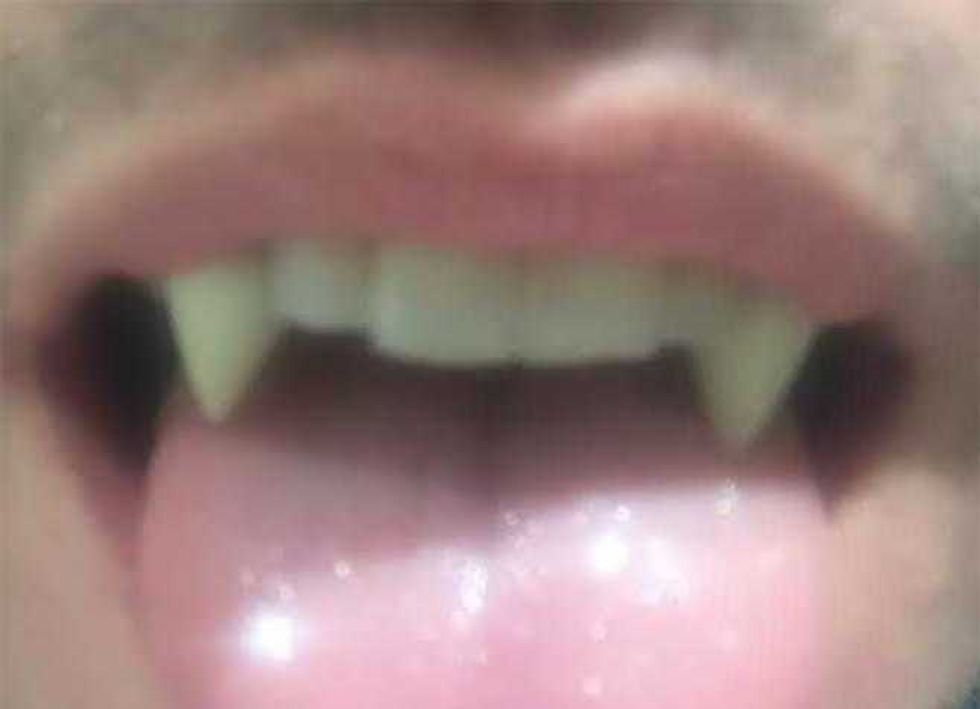 Max and his fangs...
At which point I said, "Oh."
Now we were faced with the dilemma of where to dine. Obviously Italian was out of the question. Chinese too, as they sometimes slip in chunks of garlic that look like peanuts and we didn't want the night to culminate in a ….I dunno. What happens to vampires when they encounter garlic? Do they need an epi-pen?
Ultimately, we decided on Blue Moon ice cream, a Michigan delicacy made from Smurf ass cheeks. I mean, I guess.
We toyed with the idea of taking a moonlit walk around a lake, but wound up back at Max's house. Because vampires are horny.
The yachting business has been good to Max, who owns a 4 bedroom ranch with a pool and hot tub, and while he doesn't sleep in a coffin, he does have a pet wolf who responds to the name Indiana Bones.
After a brief tour we took to the couch, where Max informed me that zombies tend to have lower IQ than vampires, which is why they prefer brains to blood, and that they move slowly due to rotting muscles.
Then he moved in on my neck like the Soviets moved in on Romania during the WW2 kick off. So much so I had to stop at CVS for some Maybelline concealer in medium beige before I returned home to my mom, who was waiting up for me.
SUMMARY:
I'm too old for this shit.
Check back on Popdust every Friday for an all new foray into the singles world….In the meantime, you can read past Adventures In Dating here