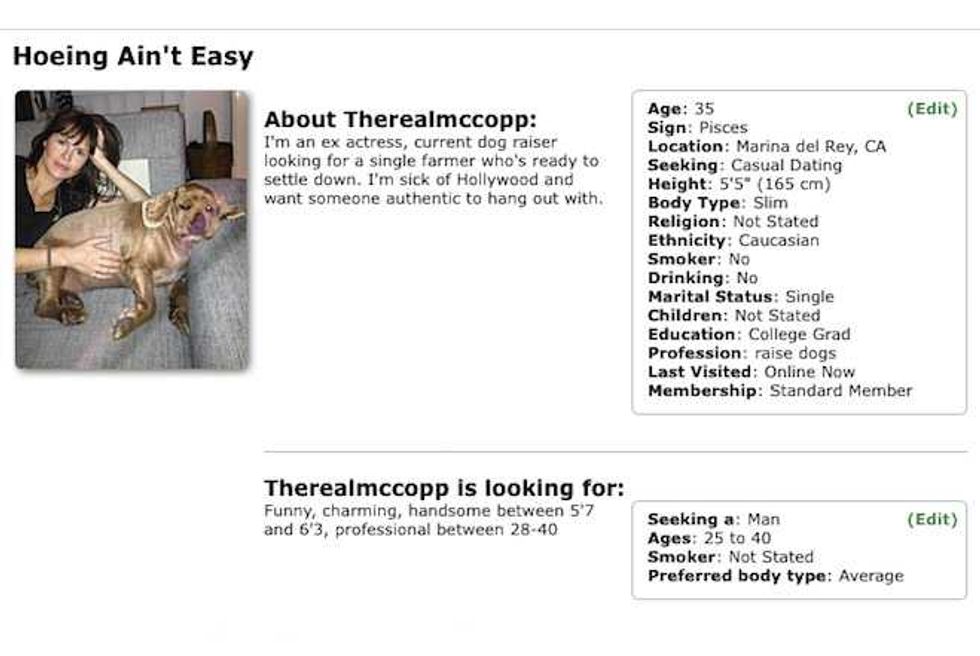 Dating in the computer age—There's Tinder, Grindr, Match, OKCupid, FarmersOnly, Beer Passions, Clown Lovers, Fetster, Craigslist Casual Encounters…the list is endless.
Each week, Popdust's intrepid reporter, Suzy McCoppin, goes deep undercover in order to guide you through the potentially murky waters of cyber lovin'.
Can you really swipe, click, match, wink your way to true love?
This week, we shine the spotlight on Farmers Only...
So, it's for farmers only....with one exception: This guy. I'm pointing to myself but you can't see me. Also, I'm not a guy. But the folks at Farmers Only did not see through my dastardly charade, hence I was able to infiltrate.
My screen name, selected ahead of time, is Hoeing Ain't Easy. And, given that this screen name is so brilliant, yet so obvious, I suspected it was already in use, and was thus prepared to tweak it to Hoeing Ain't Easy 1, if need be. Or, in the likely event that that too had been chosen, I would have to go with a slightly more vulgar Hoeing Ain't Easy 69.
But neither alternative would be necessary. Hoeing Ain't Easy had not been taken, which only served to confirm what I had long suspected: Farmers aren't funny.
Further confirmation came when I wrote a profile about how I like to smoke crack, and the good folks at Farmers Only sanitized it to this yak piss:
"I'm an ex actress, current dog raiser looking for a single farmer who's ready to settle down. I'm sick of Hollywood and want someone authentic to hang out with."
Barf. Dog raiser? They couldn't make me sell dental supplies or teach night classes in asset management?
Hot to not hot ratio: 1 out of every 50
Number of Correspondences: 54 people viewed my profile, but I only got 2 likes, which made a hell of a lot more sense after I realized I set my profile to Male looking for Male.
Best pick up line: "Want to help me germinate my seeds?"
Worst Pick Up Line: "You don't look so baaaad standing there with all those goats."
Actually, these are interchangeable, as they are equally awesome and stupid.
And for the frugal flirt, there is this list of free come-ons, clearly composed by someone who has at least nine cats and a fuck load of scented candles.
I actually tried to send the "You had me at hello" option to someone 'cuz it's so stupid, but my lap top froze up. Even my lap top thought it was stupid. If you wanna customize your come on, ya gotta dig into your crop money.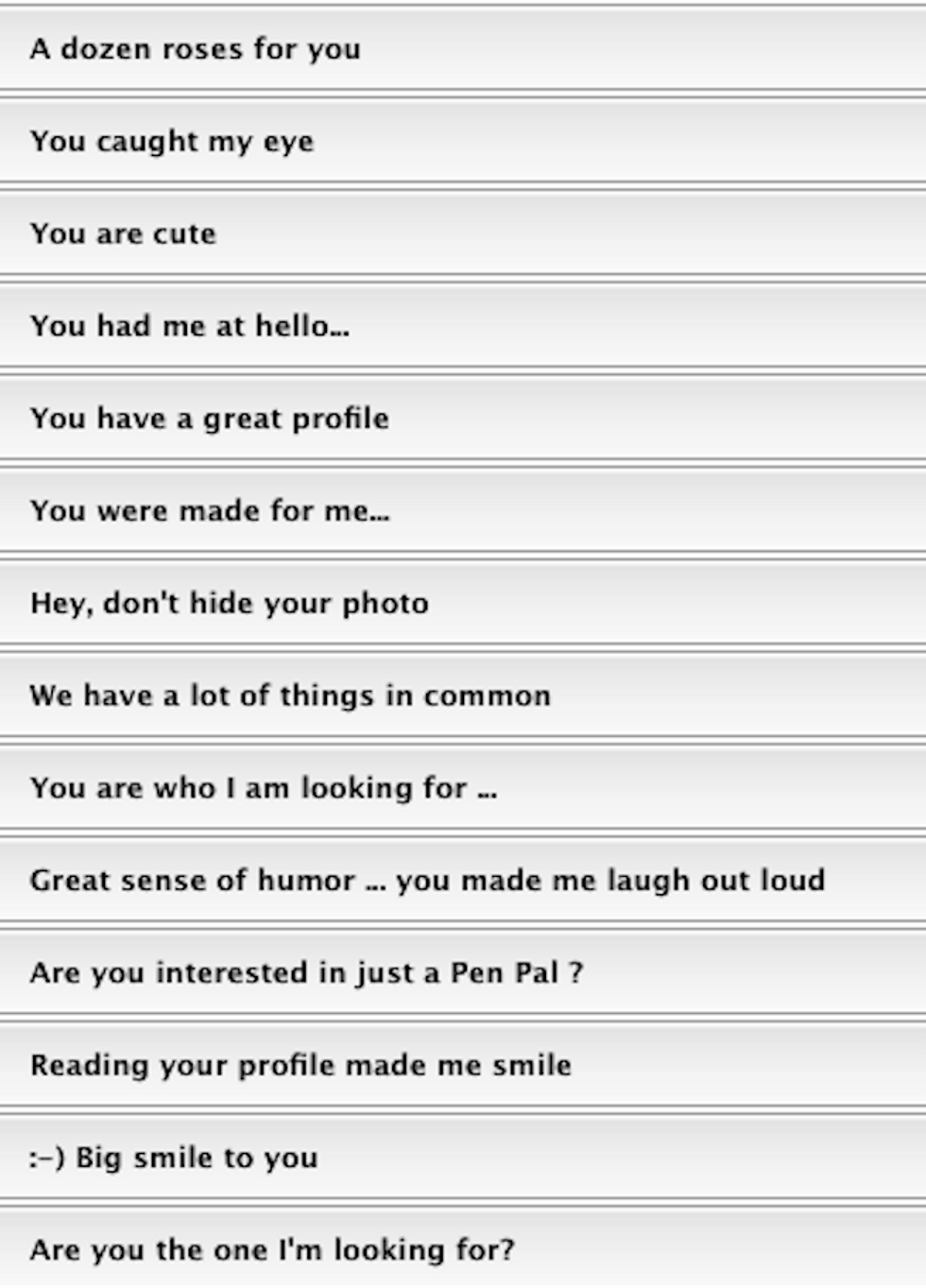 "You had me at hurl."
HOTTEST GUY: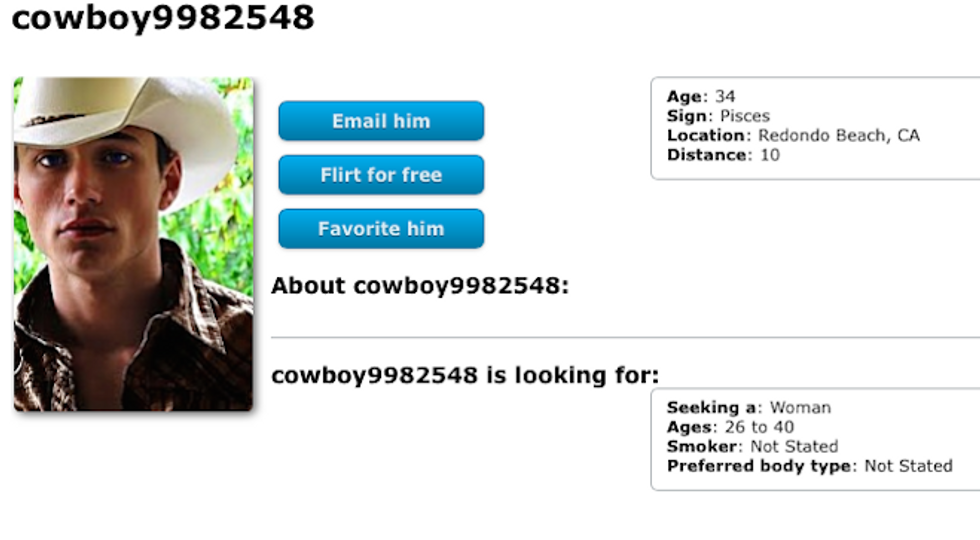 I would so take a fishing trip with him, but then wind up not fishing at all.
Approach/Chat Up Line: "Can I strum my banjo and sing you to sleep?"
[The last time that happened Ned Beatty showed up and squealed like a pig.]
Conversational Skills/Rapport: A bit too wholesome and sweet. No depravity. How are you supposed to have sex without depravity?
Closing Skills: See above.
GUY MY MOM WOULD WANT ME TO DATE: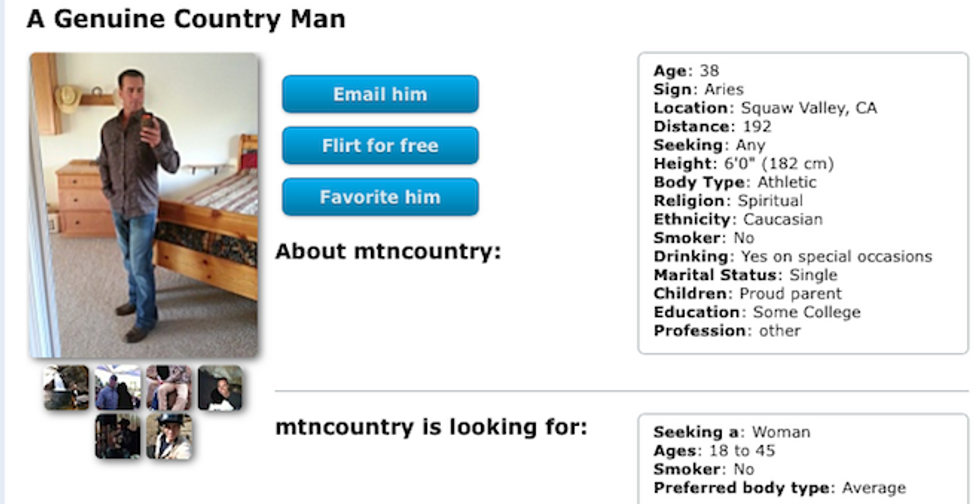 This cowboy's preferred body type is average, which means I can stop at Crispy Creme.
Do you have any idea how hard it was to find a guy in a sports jacket on Farmers Only? Finally I had to settle on a guy in a button down, who keeps his barn real tidy.
Approach/Chat Up Line: "I love making pickles, do you?"
[It's been 3 days and I still can't figure out if this is a sexual innuendo. Like, making pickles as in making erections? And wouldn't he only have one erection? Why is it plural? Then what does he do, put it in a jar with Old Bay Seasoning?]
Conversation/Rapport: The guy's still talkin' about pickles.
Closing Skills: Turns out, putting your date's dong in a pickle jar is actually awesome! Just kidding. Never met the guy.
HELL TO THE NO: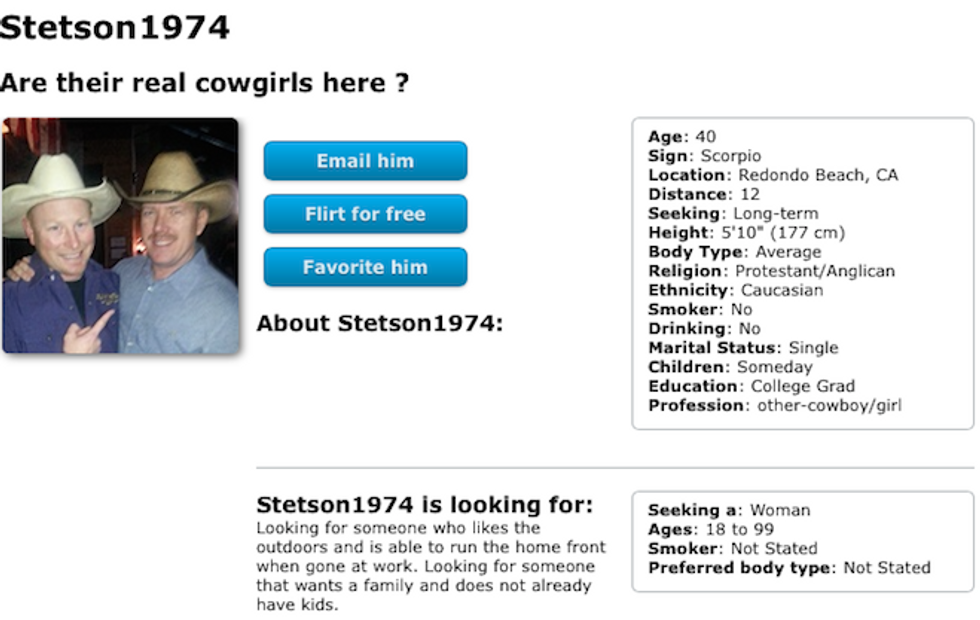 I wish I could quit you.
Pretty sure Stetson1974 made the same mistake I did when I filled in the Seeking section.
Approach/Chat Up Line: "Looking for someone who likes the outdoors and is able to run the home front when gone at work."
Conversational/Rapport: Let's just say he's confused about some things. Like his sexual preference and what decade it is.
Closing Skills: Asked me to go on a fishing trip, which makes me think I forgot to change the seeking portion of my profile.
DATES IN ONE WEEK: 1
BLOW BY BLOW SUMMARY OF DATE:
I was confused when Morty picked me up in a maroon IROC- Z. Also, I was confused that his name was Morty. There are Jewish cowboys? Who drive Persian cars? It was a cultural confluence I could barely digest.
But the cowboy reared his head when Morty reached for the radio and started playing Skynnard. I didn't know all the words to Sweet Home Alabama. I never wanted to know all the words to Sweet Home Alabama. But now, thanks to Morty and this sonic mobius strip white trash anthem, I'll never be able to forget that in Birmingham they love the guv 'nor.
Slowly, Sknnard faded out as we pulled into the parking lot of Dickie's Barbecue Pit, another disturbing revelation befell me: Morty, the cowboy with the Jewish name and the Persian car had a southern accent. Not that southern accents are bad in and of themselves, but when they have no logical origin, it boggles the mind.
"Y'all ready for some BBQ?"
"Look at you! A real cowboy! Southern accent and everything. Where you from?"
"Illinois."
"Oh. Ever lived in the south?"
"No."
"Your parents from the south?"
"No."
I'd encountered this strange phenomenon before. It's an accent that defies geography—a southern lilt that knows no latitude, longitude, and, I suspect often coincides with proximity to farm land or lower socio-economic regions. It wasn't a violent twang per se, like Ellie Mae Clampett or the guy who does the voice of Bill Clinton on Family Guy. It was just enough to sound...white trash. Like Kevin Federline, who despite being from Fresno, probably sounds the same way.
"Did you ever spend time in the south?"
"Yes."
Oh. That explains it. "Where in the south?"
"Miami."
Nope. back to the drawing board.
Anyway, Morty and I split a plate of baby back ribs and then I Ubered myself back to Hollywood. As they might say in Texas, Morty was all hat and no cattle.
SUMMARY OF SITE:
Plows up....hoes down..... If you're looking for a wholesome roll in the hay with a stetson wearing God fearing land lover, this is your place.... If you're looking for a down and dirty "hog roasting" then not so much...
Check back on Popdust every Friday for all new Adventures In Dating…next week—OK Cupid