Dating in the computer age—There's Tinder, Grindr, Match, OkCupid, FarmersOnly, Beer Passions, Clown Lovers, Fetster, Craigslist Casual Encounters, Adult Friend Finder, Ashley Madison, Plenty Of Fish, JDate, Christian Mingle, BBW Cupid, FurryMate.....the list is endless.
Each week, Popdust's intrepid reporter, Suzy McCoppin, goes deep undercover in order to guide you through the potentially murky waters of cyber lovin'.
Can you really swipe, click, match, wink your way to true love?
This week, we shine the spotlight on Fetster.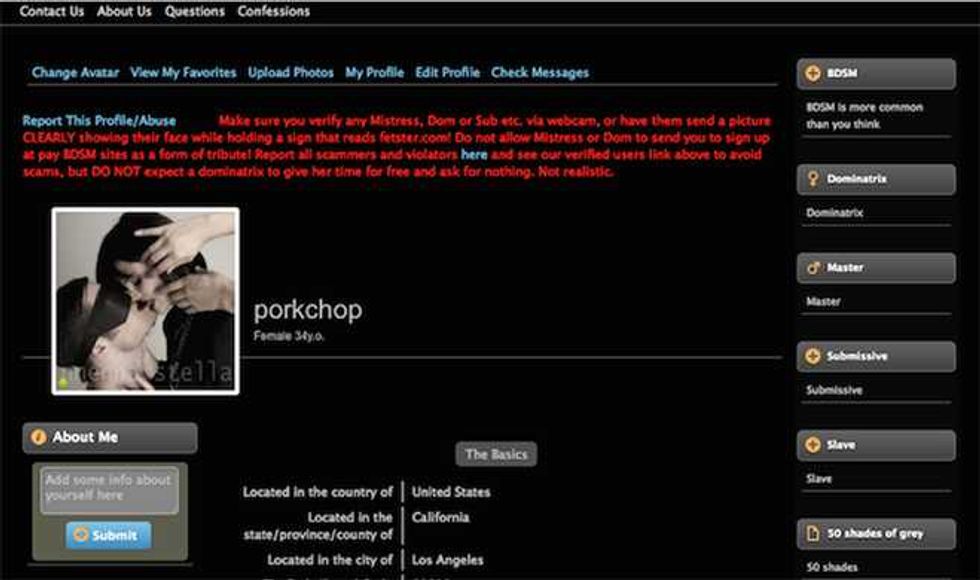 SLOGAN: Your free BDSM dating, fetish and kink community
If you just glance at the word Fetster, it kinda looks like fester, which conjures up all kind of unpleasant imagery when put in context of a fetish. But when you log on to Fetster, it gets so, so much worse.
Mine is not to judge, though, and when my BFF pointed out that Ned Beatty's rape scene in Deliverance was the first clip I'd ever masturbated to, I decided I couldn't be mad at it, and logged on.
Before I was half way through the intro, however, I decided I was mad it, because I had to keep logging on to onlinedictionary.com.
WTF is pegging?
Pegging, I learned, is a sexual practice in which a woman performs anal sex on a man by penetrating the man's anus with a strap-on play toy.
What in the name of God is Shibari?
I mistyped, as I had been drinking, and came up with this image, which is cute, admittedly, but doesn't exactly give me a boner.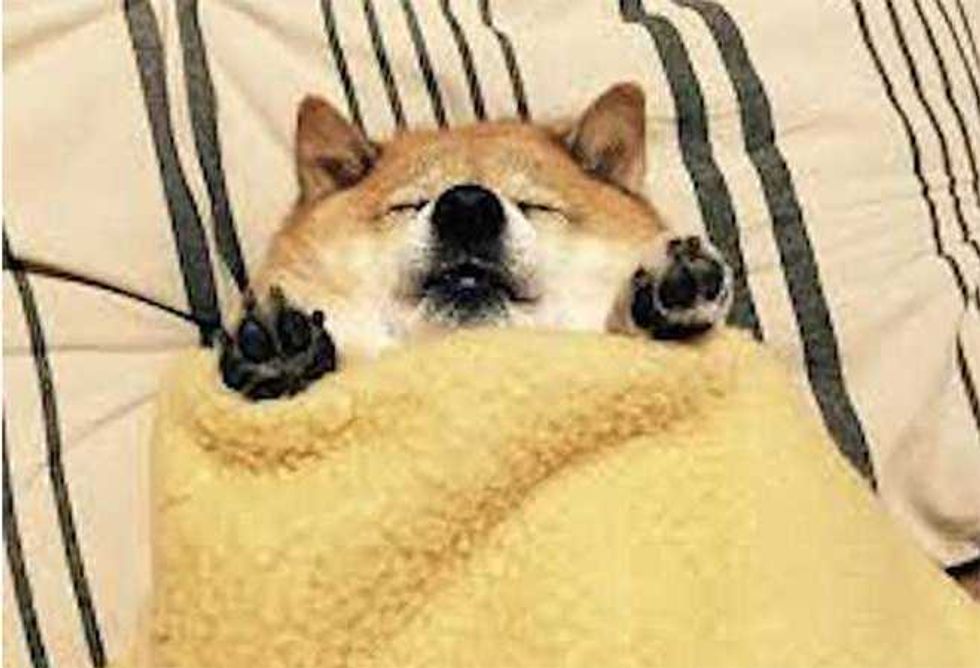 Not that sexy......
I soon discovered my mistake and came up with this more logical answer—Shibari, more correctly known as Kinbaku is an ancient Japanese artistic form of rope bondage that has many styles and uses.
And because "pet play" is listed just 3 fetishes away from Shibari, it made me wonder if the shibu inu in a burrito hadn't been a mistake at all.
Thankfully, it was.
Pet Play: Pet play is the act of pretending to be an animal or taking on animal-like tendencies. It isn't usually used for arousal purposes although some do use it that way.
Phew.
HOT TO NOT RATIO: I just threw up in my mouth
BEST PICK UP LINE: "My dad works the night shift, so I have the place to myself."
WORST PICK UP LINE: "I may not go down in history, but I'll go down on you."
NUMBER OF CORRESPONDENCES IN ONE WEEK: 6 total, a record low. I got 5 emails, one from Fetster confirming my email address, and I got one friend request from a guy called Bekinkywithme, who had bigger boobs than me.
The site generously gives you a cornucopia of options within which to explore your freak-itude. Check out the last one. What the hell does that mean? You're turned on by racism?
Why not? Seems to work for Bill O'Reilly.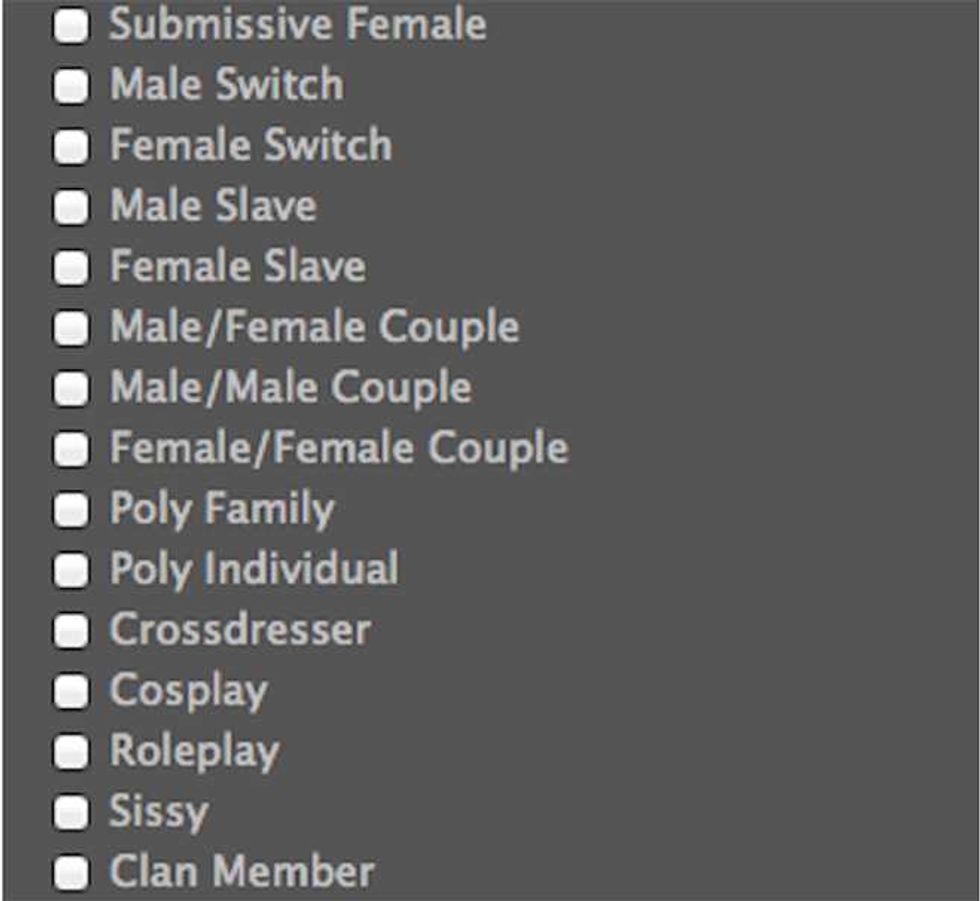 HOTTEST GUY: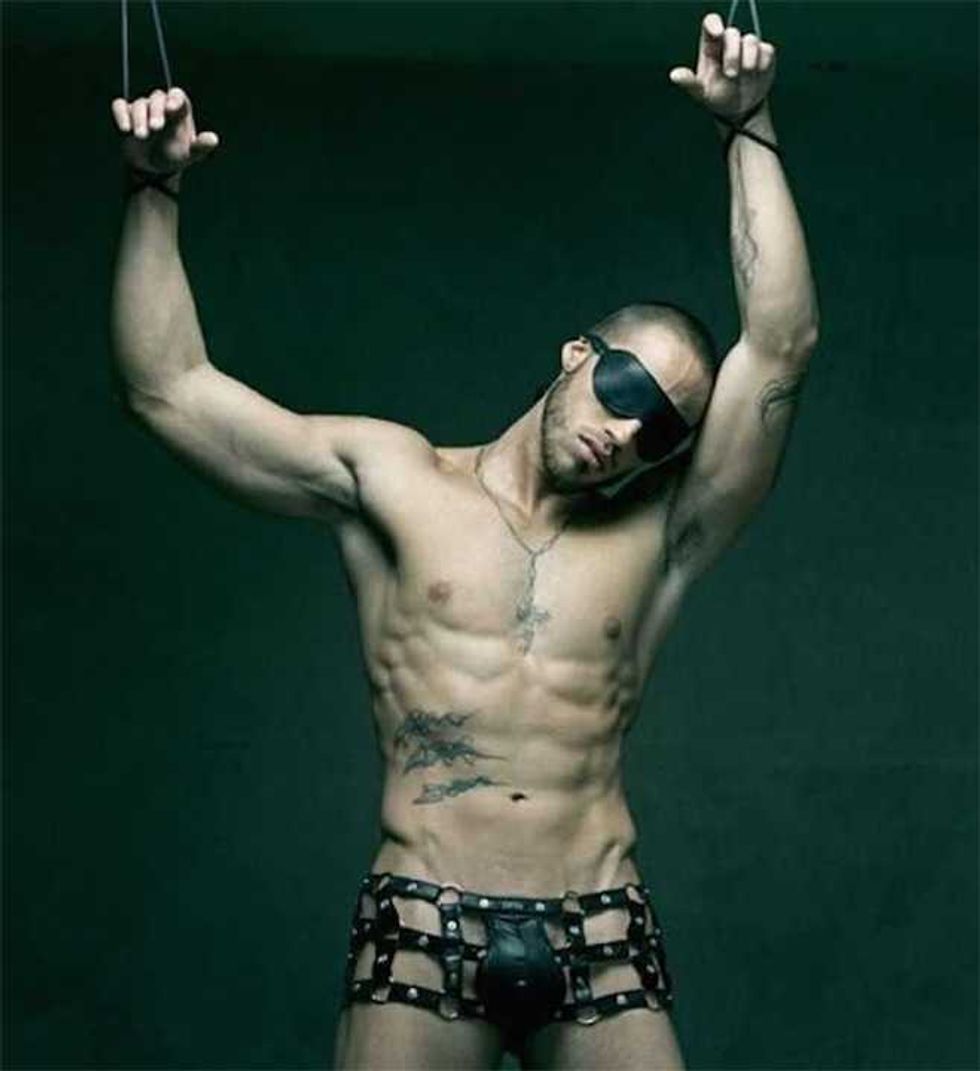 Wears a blindfold, so I could probably let myself go a bit.....
Approach/Chat Up Line: i like profile i not very good ask for friendship. talk to you sometime i will became your friend an f**k
Conversation Skills/Rapport: Obviously English is not his first language, but from what I can gather, he wants to become my friend and have sex.
Closing Skills: Agreed to buy a Rosetta Stone CD on Ebay and listen to it while stuck in traffic on his way to auditions. We'll see how that goes.
GUY MY MOM WOULD WANT ME TO DATE: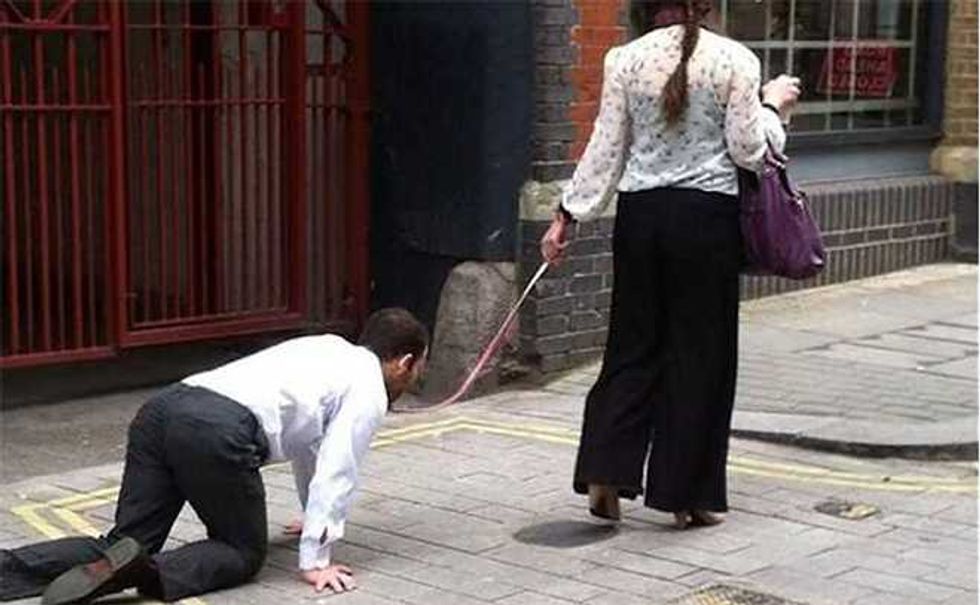 Knows his place....
Approach/Chat Up Line: "I live to serve you."
Conversational Skills/Rapport: Kept calling me 'ma'am' and panted whenever it was my turn to talk.
Closing Skills: I have a new maid, although he prefers the term "butt"ler.
WEIRDEST GUY: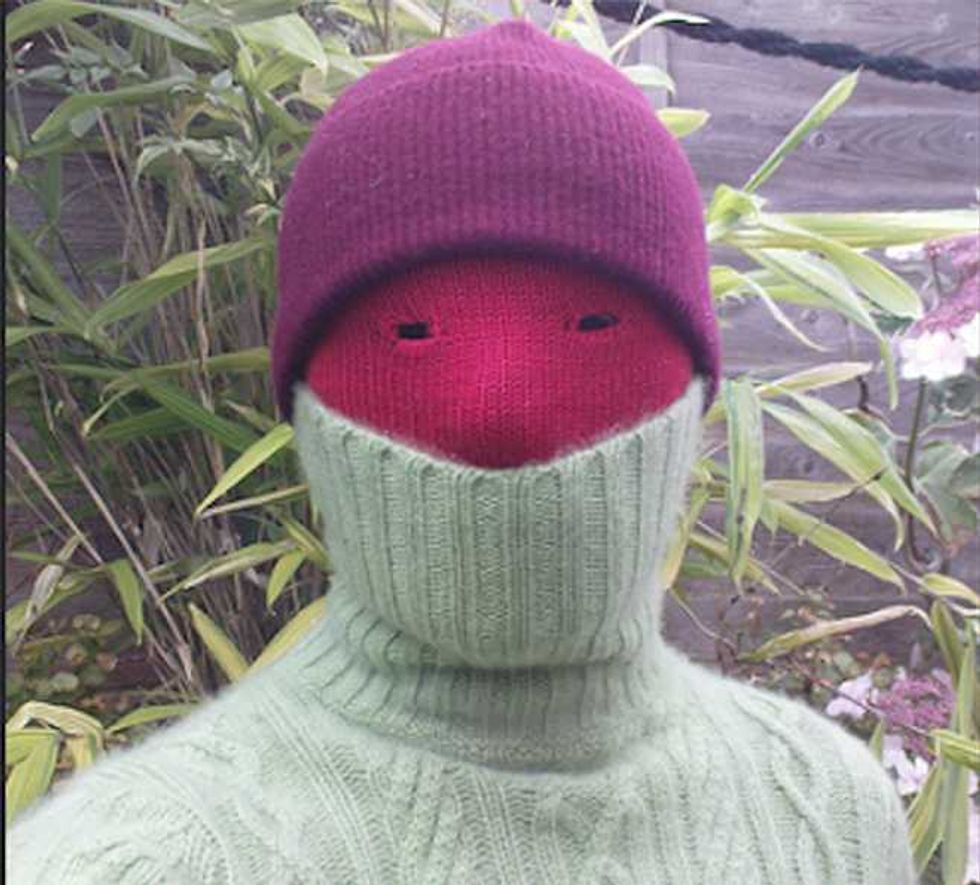 Can't color coordinate for shit....
Approach/Chat Up Line: "Don't worry. I can breathe."
Conversation Skills/Rapport: Sounded very muffled. He must have Sprint.
Closing Skills: Too much work to find his genitals.
HELL TO THE NO GUY: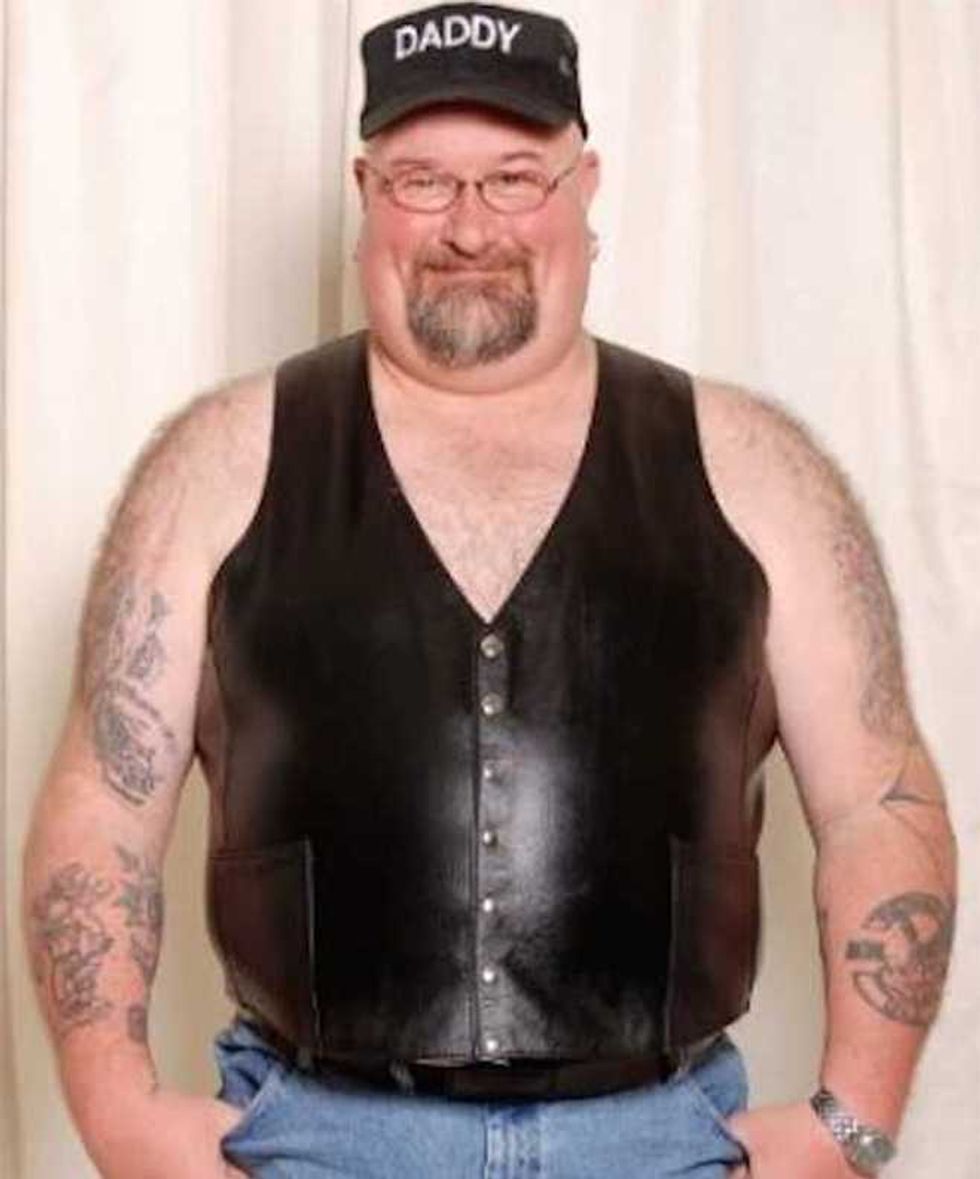 Only because he looks like my Uncle Carl...otherwise it would be on...
Approach/Chat Up Line: The real "Kingslayer" is in my pants.
Conversation Skills/Rapport: Kind of sounded like Boss Hog.
Closing Skills: Though his genitals seemed far more accessible than "weirdest guy's," it still struck me as an unpleasant endeavor.
BLOW BY BLOW DATE SUMMARY:
Clarence was a retired member of a surfer punk band, though he refused to say the name, but now he just had a few lonely wisps of hair he could barely fashion into a sad looking mohawk. Since my BFF Lauren was in town from New York, and had access to her mom's handicap van, we decided to take him for a ride.
The handicap van, nicknamed "The Crip," comes complete with an automatic sliding door and an automatic ramp, which descends when the door is opened. We cued up Foghat's Slow Ride as Clarence approached the Crip.
Hellos were exchanged all around and then Clarence sat on the floor, facing us as we sat on the back seat.
"I'm a DOM," he explained in a thick Australian accent. "But for me, it's way more about the mental than it is the physical. I don't even have to have sex."
We pressed him to elaborate, which quickly segued into a demonstration.
"Girls, I want you to close your eyes, and imagine me touching you. First, I touch your feet, and then slowly, work my way up your calves, then up your thighs. Your p*ssies are tingling. You know it, and I know it."
Obviously he knew something we didn't. I wondered if Lauren's pussy was tingling. I was quite confident that it wasn't. I was trying so hard not to laugh I had to bite down on the insides of my cheeks. I knew I couldn't hold it much longer, and when I felt Lauren vibrating next to me, I erupted into a fit of hysteria, and an irate Clarence deboarded the crip.
SUMMARY:
Fetster was so user friendly it could easily be called "Fetishism for Idiots," and the fetishes are presented in such a clinical fashion, it must ease whatever judgment said fetishist has about the fact that he likes to bathe in yak piss while singing Blue Oyster Cult B-sides.
And the fact that the site can effectively match a bi-sexual switch with a submissive cuckold who likes feet makes me think the algorithms are more sophisticated than the commodity trading commission.
Perhaps the most thorough, comprehensive, and user friendly dating site yet. Now, if I could only find a yak who can produce that much urine.
Check back on Popdust every Friday for an all new foray into the singles world…next week—BeerPassions….In the meantime, you can read past Adventures In Dating here
Victoria Wild back before she started on her journey to become a human blow-up sex doll
Victoria Wild back before she started on her journey to become a human blow-up sex doll