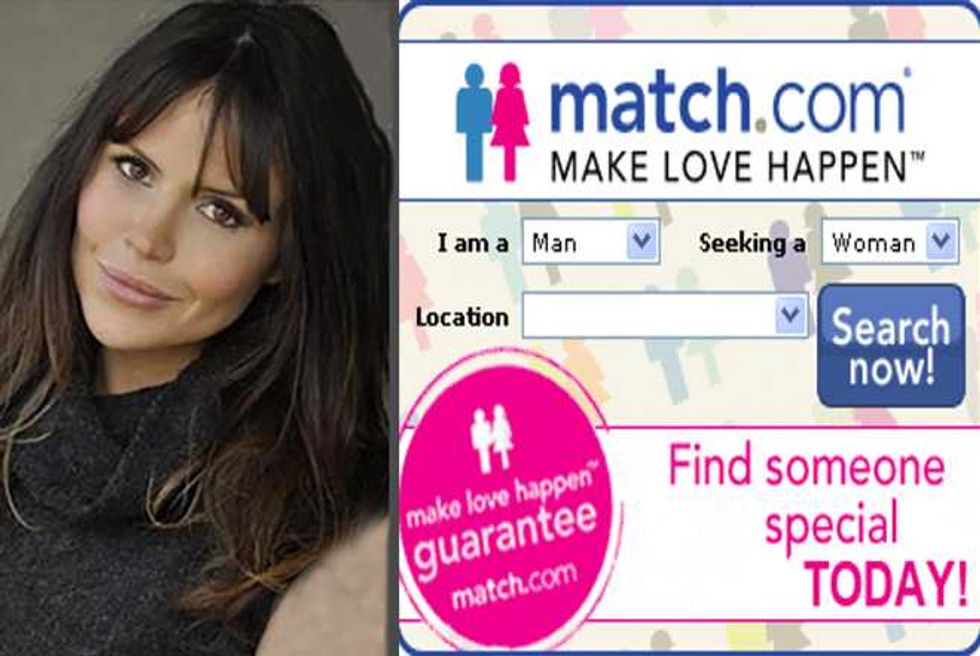 Dating in the computer age—There's Tinder, Grindr, OkCupid, FarmersOnly, Clown Lovers, Craigslist Casual Encounters, Adult Friend Finder, Ashley Madison, Plenty Of Fish, JDate, Christian Mingle, BBW Cupid, FurryMate.....Fetster....Beer Passions...Cougar Life......the list is endless.
Each week, Popdust's intrepid reporter, Suzy McCoppin, goes deep undercover in order to guide you through the potentially murky waters of cyber lovin'.
Can you really swipe, click, match, wink your way to true love?
This week, we shine the spotlight on Match.com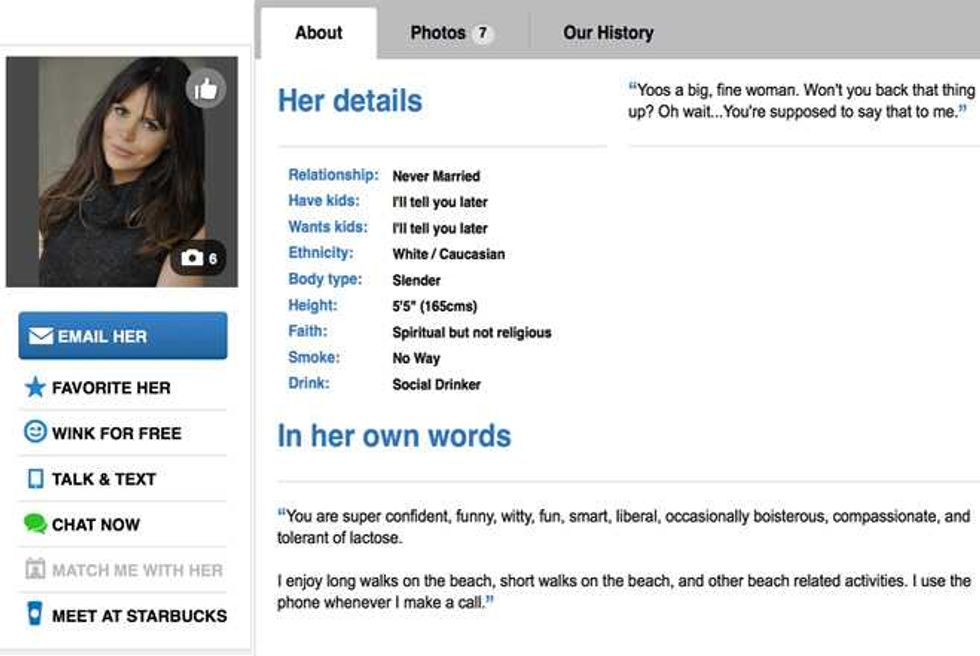 SLOGAN: "Come On Baby, Light My Fire."
Match is so norm core that finding a "weirdest dude" was harder than trying to remember my Apple Id password.
It's the dating site equivalent of khaki pants from the Gap. I sifted through the boring, the Caucasian, the conservative, the sports lovers, until I managed to bring the few stand outs.
And then there was my dream date. With Chase. Well, my dream date until it went horribly, horribly wrong.
HOT TO NOT RATIO: 1 out of 12
BEST PICK UP LINE: "I'm about to have a threesome. I only need 2 more people."
WORST PICK UP LINE: "Do you sell carpeting? Because I'm looking for a deep shag."
NUMBER OF CORRESPONDENCES IN ONE WEEK: 22
HOTTEST GUY: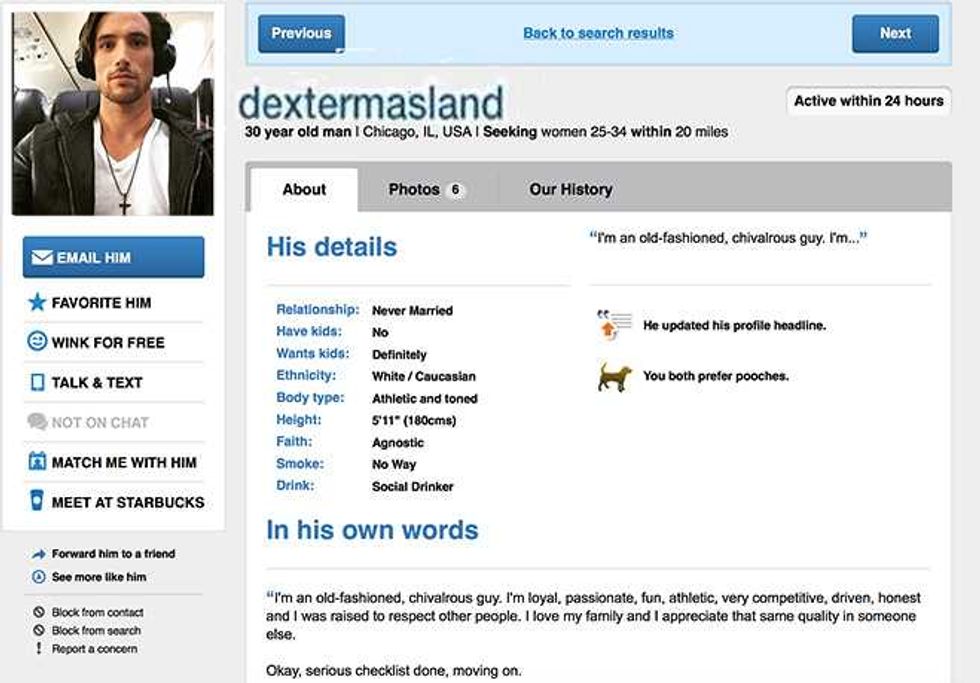 You know what helps with that annoying ear popping? Swallowing
Approach/Chat Up Line: "There's got to be that 'ah-ha' moment, that moment when we've been hanging out for hours and yet we feel like we could talk all night."
Conversation Skills/Rapport: We didn't talk all night.
Closing Skills: How the f-ck should I know? He's in Chicago.
GUY MY MOM WOULD WANT ME TO DATE: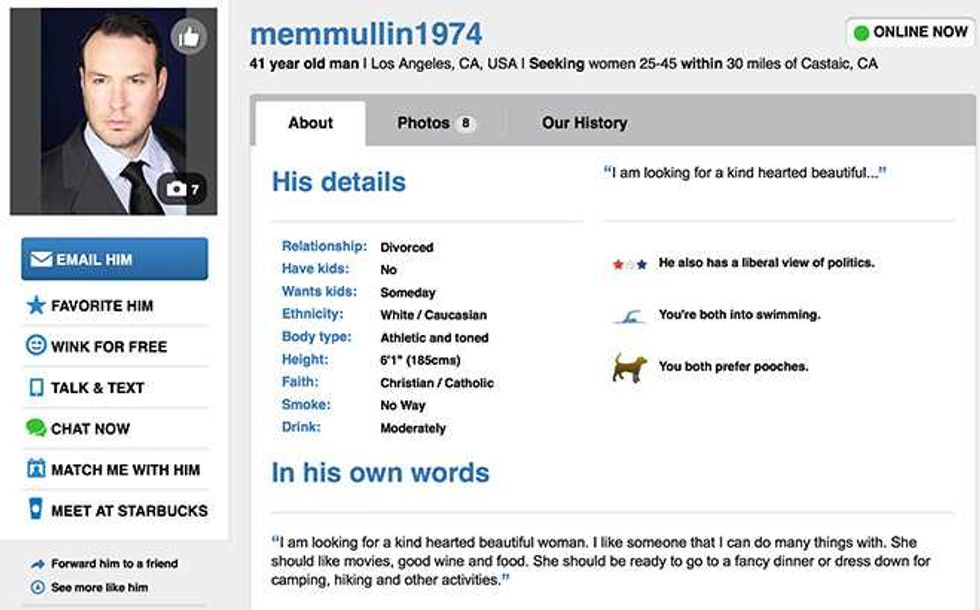 Patrick Bateman crossed with Nate Berkus, Oprah's hyper-epheminate home decorating protege
Approach/Chat Up Line: "I'm looking for someone who is also career driven and that I can start a..."
Conversational Skills/Rapport: Polite, proper, penisless
Closing Skills: See above.
WEIRDEST GUY: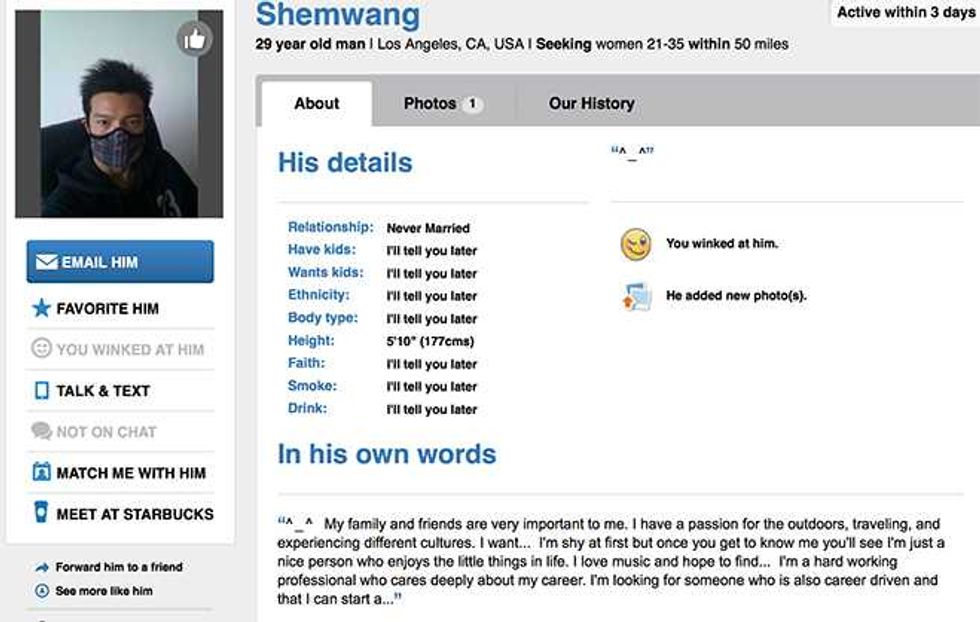 Hey! Weren't You On Dancing With The Sars?
Approach/Chat Up Line:"STD Free."
Conversation Skills/Rapport: Muffled.
Closing Skills: Dances way better than Rumer Willis.
HELL TO THE NO GUY: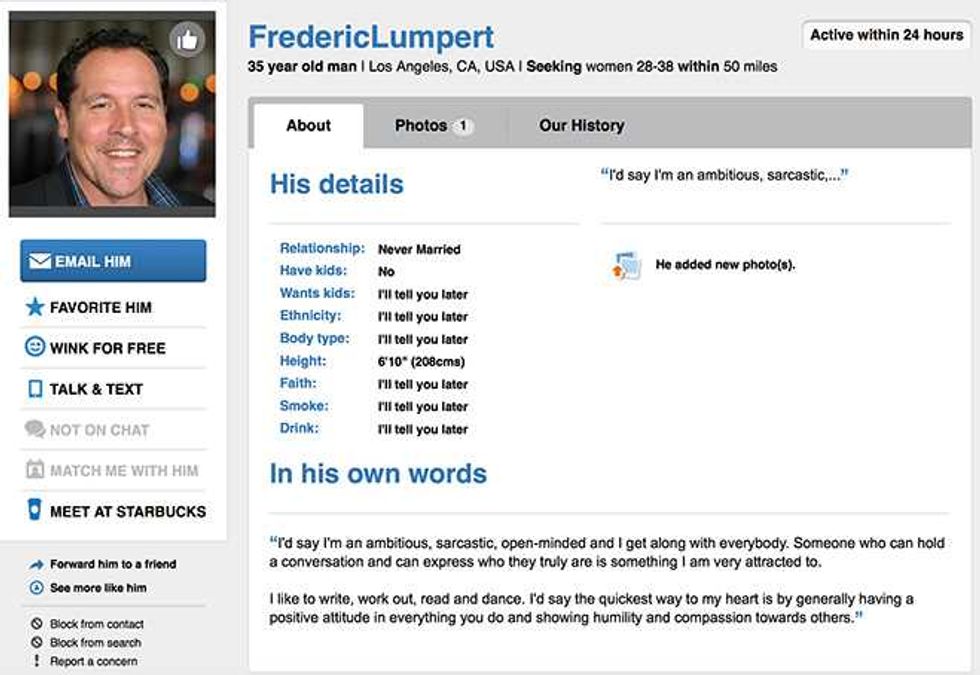 I mean, at least pretend to be Vince Vaughn
Approach/Chat Up Line: "Baby, that was money! Tell me that wasn't money."
Conversation Skills/Rapport: Wouldn't actually get on the phone. Probably because he doesn't sound anything like Jon Favreau.
Closing Skills: Totally struck out with Heather Graham
BLOW BY BLOW DATE SUMMARY:
Chase was dreamy. I mean even his name is dreamy, and with a name so obnoxious, of course he has LA socialite movie producer parents with a Beverly Hills mansion.
His face looked like John Travolta and Brody Jenner had a baby. A Jewish baby, with a Jew fro that found its G-spot. Thick, lustrous, sturdy strands of ebony I wanted to swing from like Tarzan.
And so Chase designated the Price Bar as our destination and we dined at this Chinese dive bar-cum-hipster haven.
So far, this was my best date since my tenure as Popdust's expert online dater. I was funny, he was laughing, and not too long into the conversation, we discovered we knew a lot of the same people—but, even better, we hated all the same people—one of life's unsung joys; finding a common enemy.
"I f-cking can't stand Laura."
"Oh, she sucks ass."
Such catharsis.
I really feel like Chance understood me and that something substantial could be built on the very solid foundation that is loving dim sum and hating Laura. So, when he asked me back to his house, I happily accepted.
But, in between dim sum and Mulholland Drive something terrible happened.
I asked Chance if I could use his bathroom, and when he asked me, "Number 1 or number 2," I should have taken it as an omen.
But given that I'd only had a bite of dim sum and a diet Coke, my intentions were of the purest—but when I saw that Chance tames his majestic Jew-fro with Wen Sweet Almond Mint Styling Crème, I had to know—did Wen, that stuff from the infomercial starring Alyssa Whats-her-name from Saved By the something-or-other, live up the hype?
So I raised the plastic bottle, unscrewed the cap, tiled it, and squeezed out an ungodly sound that, given the nature of the room from whence it emanated, could only be construed as one thing.
The bathroom was tiled from floor to ceiling in Murano Smalto glass mosaic, which only amplified the sound. It echoed around me, mocking me.
My instinct was to collapse to the floor and cry out, "It wasn't meeeeeeeee," like OJ Simpson. But we all know how that worked out for him.
So I gathered myself.
I had my purse. I had my cell phone. I could launch the great escape, but as a peered out the window, I realized we were at least 14 feet up and my ankle boots would never allow for a soft landing.
My only option was to recreate the same sound over and over so thunderously, so consistently, thereby eliminating me as a suspect. For even the most violent case of Montezuma could not produce such a cacophony.
So I did, estimating that every squirt cost Chase about $6.17.
Finally, to seal the charade, upon exiting the 'throom, I said, "Hey, you have Wen hair products. Neat."
Then he called me an Uber.
Hey, I've been called way worse.
SUMMARY:
Did you know that diarrhea is the leading cause of death in the world? Seriously. Google it.
Check back on Popdust every Friday for an all new foray into the singles world…next week—NaturistPassion….In the meantime, you can read past Adventures In Dating here