Dating in the computer age—There's Tinder, Grindr, OkCupid, FarmersOnly, Clown Lovers, Craigslist Casual Encounters, Adult Friend Finder, Ashley Madison, Plenty Of Fish, JDate, Christian Mingle, BBW Cupid, FurryMate.....Fetster....Beer Passions...Cougar Life.....Match.com.....the list is endless.
Each week, Popdust's intrepid reporter, Suzy McCoppin, goes deep undercover in order to guide you through the potentially murky waters of cyber lovin'.
Can you really swipe, click, match, wink your way to true love?
This week, we shine the spotlight on Naturist Passions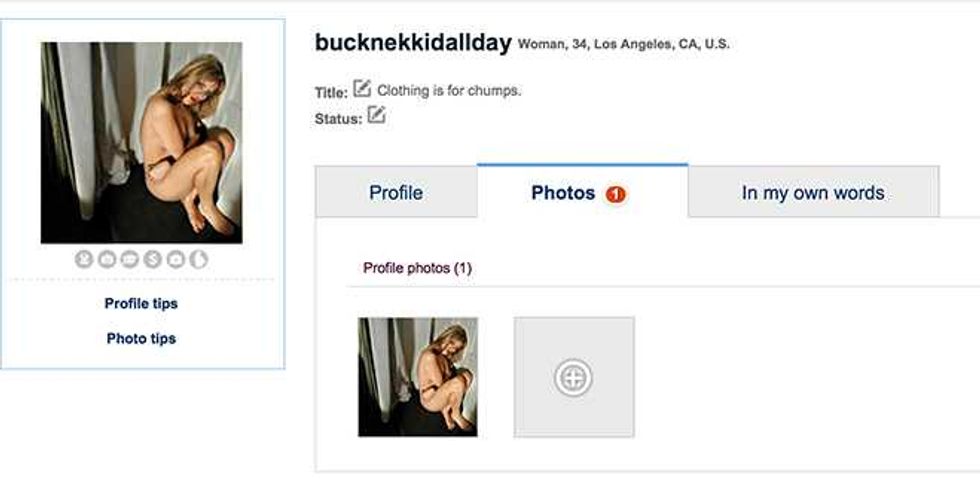 Online Dating Reviews Best Worst Experiences Naturist Passions
SLOGAN: Find true nudists for friendship and dating
Everyone on Naturist Passions is old as fuck.
They're all "but we work out!" Ever seen an 80-year-old that works out versus an 80-year-old who doesn't work out? They both look like shit.
I had to double check to make sure I hadn't logged on to Mature Passions. That would have made more sense.
When I first heard the name Naturist Passions, I envisioned a bunch of hashish-smoking hippies and I thought I was going to have to grow out my arm pit hair for the column.
I was relived to discover that it was for nudists. I'm naked at least once a week, when I take my shower.
HOT TO NOT RATIO: It was a naked cyber-retirement home
BEST PICK UP LINE: "Gucci could take lessons from the genius who designed your outfit." (found in the Men Seeking Men section)
WORST PICK UP LINE: "I'd love to get you into some clothes, just so I can get you right back out of 'em!"
NUMBER OF CORRESPONDENCES IN ONE WEEK: 15
HOTTEST GUY: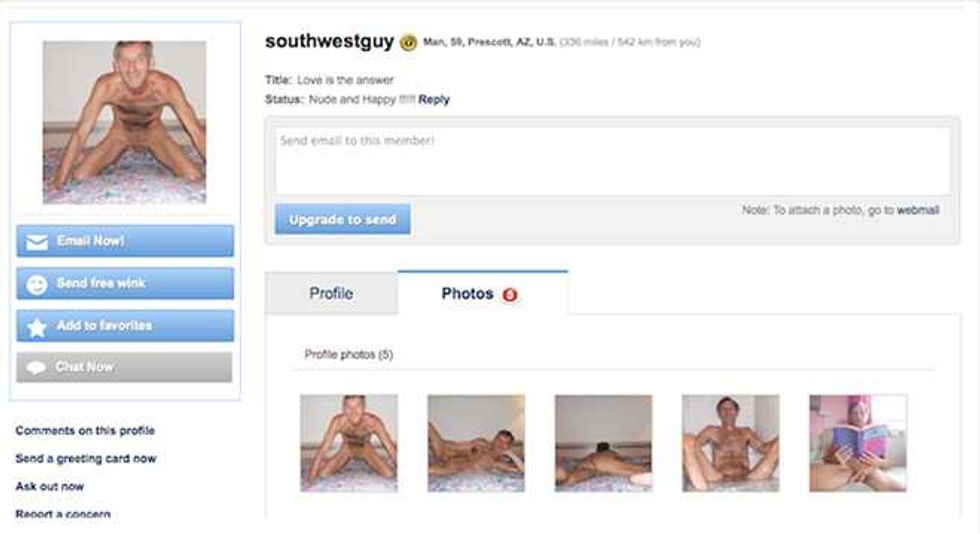 Naturist Passions offered slim pickings... pun intended.....
Approach/Chat Up Line: "Looks like we're both undressed for the occasion."
Conversation Skills/Rapport: I feel like you can tell when someone is naked on the phone. There's different acoustics or something.
Closing Skills: The guy's all set. He just needs someone willing to slide into his thigh tunnel.
GUY MY MOM WOULD WANT ME TO DATE: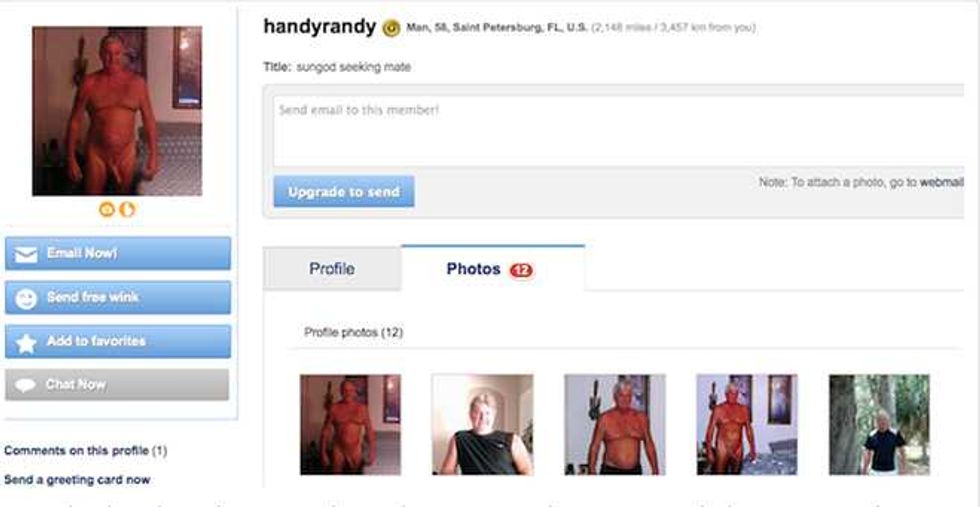 Randy's handy and my mom keeps bugging me about putting shelves up in my living room
Approach/Chat Up Line: Randy's burnt sienna penis speaks for itself.
Conversational Skills/Rapport: Used a lot of hip lingo like "neat-o" and "Let's smoke some grass."
Closing Skills: He's gonna charge me $75 for the shelves.
WEIRDEST GUY: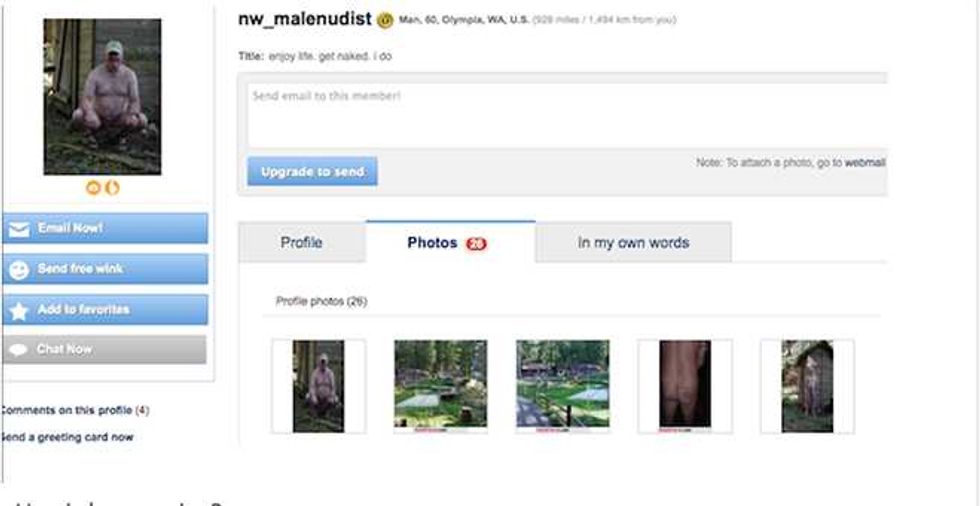 Ummm... is he pooping?
Approach/Chat Up Line: That's the thing about "going" in nature-no reading material.
Conversation Skills/Rapport: Very witty, erudite, and well-read. Just kidding.
Closing Skills: Ever see 2 Girls, 1 Cup?
HELL TO THE (MAYBE) NO GUY:
The 'Report a concern' tab in the lower left is kind of a loaded option
I didn't really get a chance to correspond with this guy but I'm concerned.
There appears to be some abdominal distention and possible osteoporosis. But he does have a voluminous CD collection, which more than likely has some Buddy Holly and possibly some Chubby Checker, which made him a serious contender for the Guy My Mom Would Want Me To Date.
BLOW BY BLOW DATE SUMMARY:
Maybe nudists aren't nudists at all. They are just people who have found a dating loop-hole. You know how guys never want to take a girl on an actual date? This is the perfect out!
Where the hell is he gonna take you? The I-Hop? The zoo? The only possible place to properly entertain a nudist is in the privacy of his or your home.
We chose mine.
I don't like balls. They're saggy, wrinkly, hairy, and just generally unsightly. They're also 50% responsible for 100% of conception, which makes them even more objectionable.
I never wanted them on my couch, but on Tuesday night, my worst nightmare was realized because of this damn dating column.
Guy's boys were all up on my couch. Anticipating such an unfortunate turn, I laid a towel across the sofa.
He didn't insist that I share in the nudity, seeming to prefer the spotlight himself, and for some reason, I couldn't stop hearing the song "Whoomp There It Is" in my head.
We had strained conversation and touched on subjects like Uzbekistan, redwood patios, and irregular mole borders.
And then after about 30 minutes or so, our date was done.
I guess it was more of an interview than a date. But my couch totally scored with his balls, so there's that.
SUMMARY:
Old dudes love to be naked.
Check back on Popdust every Friday for an all new foray into the singles world…next week—Purrsonals….The Cat Lovers Network….In the meantime, you can read past Adventures In Dating here