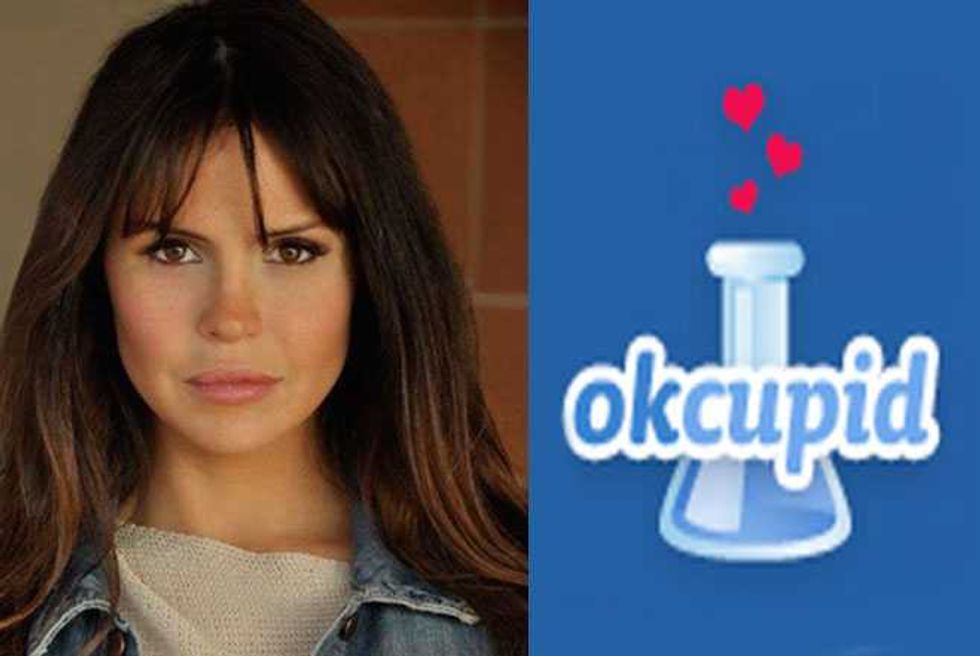 Dating in the computer age—There's Tinder, Grindr, Match, FarmersOnly, BeerPassions, ClownDating, Fetster, Craigslist Casual Encounters…the list is endless.
Each week, Popdust's intrepid reporter, Suzy McCoppin, goes deep undercover in order to guide you through the potentially murky waters of cyber lovin'.
Can you really swipe, click, match, wink your way to true love?
This week, we shine the spotlight on OkCupid.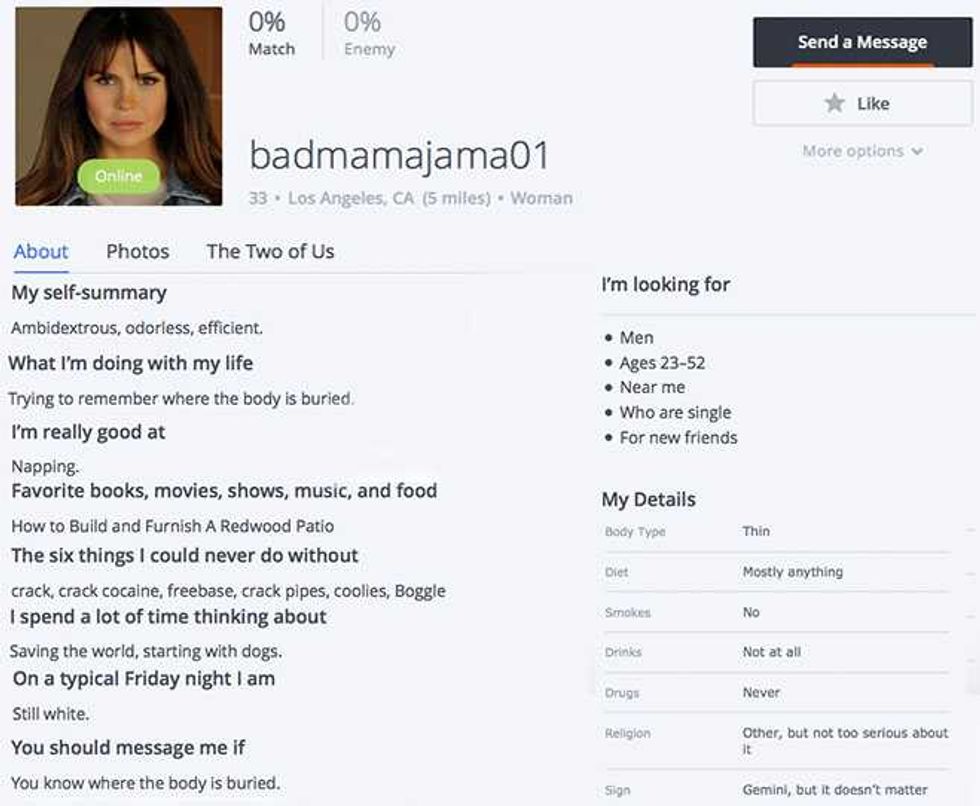 OkCupid is a free social networking and dating website that offers additional features such as blogs and member-created quizzes. I'm not gonna bullshit you. I only signed up for the member-created quizzes.
There's a certain amount of shame in online dating—however, just like dudes counting calories over dinner and engaging in regular mani pedis—online dating seems to become more socially acceptable as the years progress. But, that said, at it's core, it's still a desperate plea, really.
Behind your painstakingly selected profile shot, your artfully crafted bio, and the carefully chosen list of hobbies that you don't actually do, is a glaring subtext:
"Please! For the love of God won't someone just fuck me? I'm so lonely I can't take it anymore and if someone doesn't just toss me a bone I might….." it continues, but I can't really make out the words over the sound of blubbering.
In no way though do I cast judgement on my fellow online daters, for I am among them—desperate, lonely, and cutting myself to the morose sounds of Kelly Clarkson B-sides.
But, as far as the online dating shame game goes, OkCupid actually rates pretty low. You could conceivably be sitting at the losers' table at your cousin's wedding and announce to your aunt that you met Dennis on OkCupid without everyone reaching for the hand sanitizer.
This week I held my head….well, less low than previously, and logged on.
HOT TO NOT RATIO: 1 out of every 35ish give or take. Sometimes there'd be like 3 smokin' hotties in a row and then it would inexorably return to the leper colony.
BEST PICK UP LINE: "I'm very good at fancy dances, I can even pirouette."
WORST PICK UP LINE: "Is it just me or do i smell like my mother?"
NUMBER OF CORRESPONDENCES IN ONE WEEK: 27
HOTTEST GUY:
I think I found my husband. He likes pussy, beer, and naps.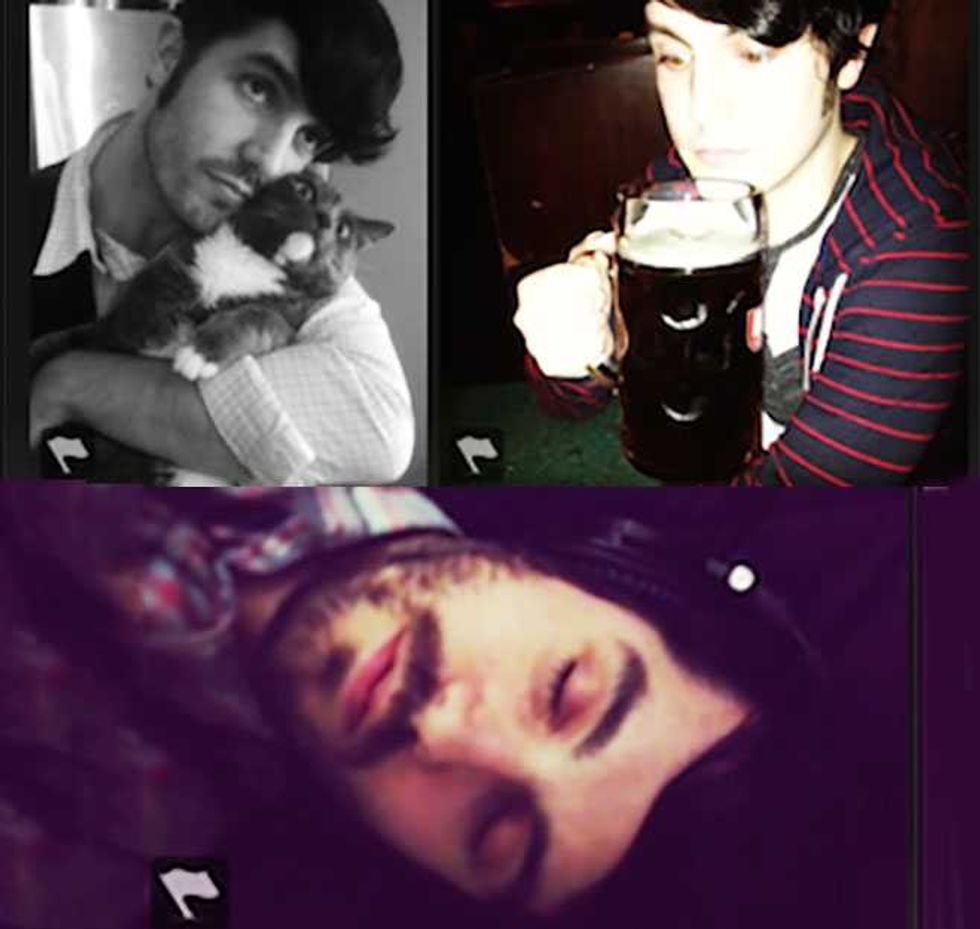 The wedding is in June....
Approach/Chat Up Line: I am tall, dark and handsome (ok, maybe not that tall).
Conversation/Rapport: Mr. McCoppin—as he's become to be known—is a witty, self-depricating, pop culture wizard.
Closing Skills: At time of posting has not yet responded to my texts about picking out swatch patterns or acknowledged that I made us an appointment at Thomasville Furniture.
GUY MY MOM WOULD WANT ME TO DATE:
And I would say, "Mom, are you crazy? Didn't you see American Psycho?"
And she would say, "Yeah. The one with the guy from House Of Cards and Warren Beatty's wife?"
And I would say, "No, mom. That's American Beauty."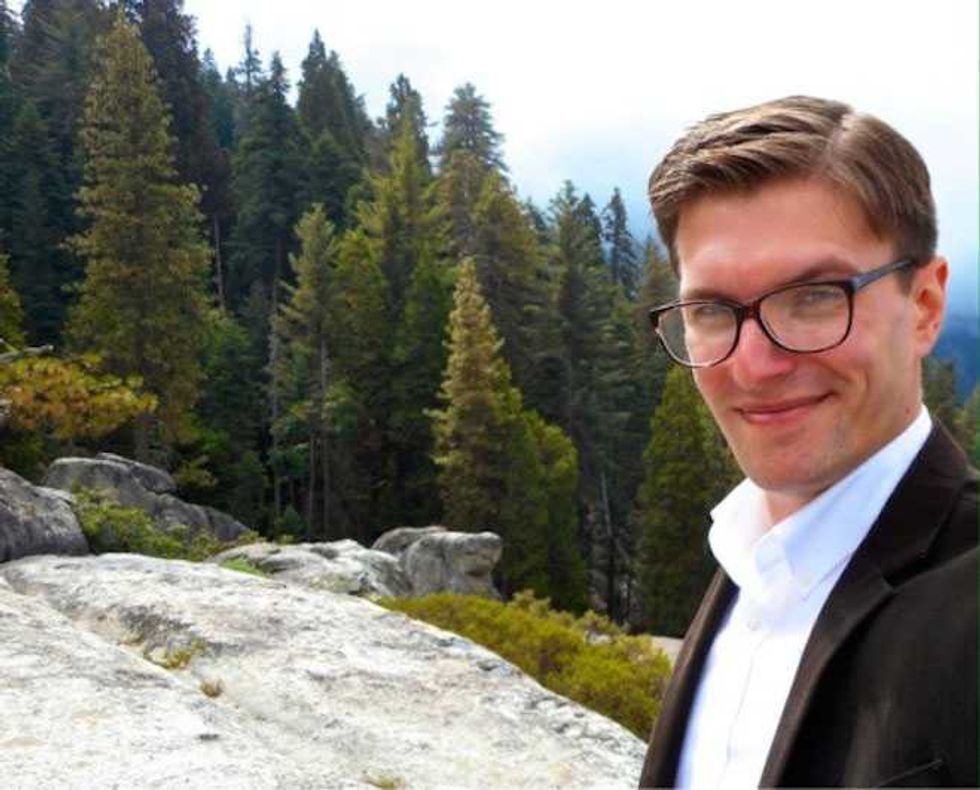 Patrick Bateman
Approach/Chat Up Line: Do you like Huey Lewis and The News?
Conversational Skills/Rapport: Nerd-suave.
Closing Skills: This guy not only closes, he kills (allegedly/probably/maybe...)
WEIRDEST GUY:
It's a very fine line sometimes between funny "haha" and funny "peculiar"
Approach/Chat Up Line: "From this bag here, why I can pull most anything imaginable. Like office desks and lava lights and Bert who is a cannibal."
Conversation Skills/Rapport: I felt like I was trapped in a Bugs Bunny cartoon. And I liked it. At any minute I though he might smack me across the face with a halibut, drop an anvil on my head, or dip me and promise to take me to the Casba.
Closing Skills: I'm actually writing this from The Casba.
HELL TO THE NO GUY: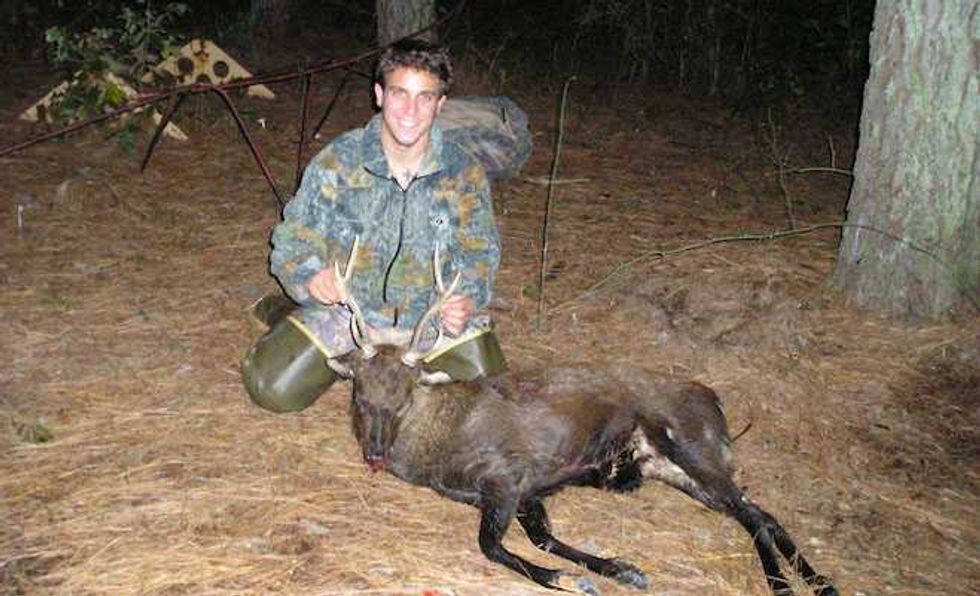 Needs to hook up with Patrick Bateman
Approach/Chat Up Line: There was no opening line. There was no conversation. Just an eerie silence and a creepy smile as he propped up his fresh kill. Here Phil demonstrates a frightening lack of knowledge of the female sex. Fellas, in much the same way it's ill advised to ask a strange chubby woman if she's pregnant, or say "You don't sweat a lot for a fat chick," or ask to squirt on her back before you've gotten her first name, it's equally unwise to showcase what ultimately translates to sociopathy and homicidal tendencies. I'm not saying that there are no girls in the world who want to see a picture of a dead Bambi bleeding from the mouth, I'm just saying that those girls are in a small minority. And she probably should be shot too.
Conversational/Rapport: Nothing. He let his picture do the talking.
Closing Skills: As evidenced in the photo.
BLOW BY BLOW DATE SUMMARY:
First dates. They're excruciating. Like a job interview that brings you to your knees. And those are just the good ones.
They're awkward. You have to suffer through pointless small talk. I didn't really care how many brothers and sisters Dan has. He didn't care how many I have. But he asked nonetheless, because otherwise we'd just be sitting there in stilted silence, and it's in those moments you realize just how bad things have gotten.
"Maybe I can start over," you think. "Go back to school." But you can't because you're too old and too stupid and… "One. I have one older brother."
That's why.
Dan was a handsome-ish real estate agent from Hoboken, New Jersey. I lived there for a year after college so at least we got to talk about the pizza.
Small talk out of the way, Dan and I now faced another abysmal task—what to do on our stupid first date. Dinner? Dancing? A Movie? Little people gang-bang? Macaroni necklaces?
We decided on dinner and drinks at Craig's, and we sat next to Paris Hilton's mom which I thought was real classy.
Dan ordered steak tartar, while I ordered a Caesar salad. It was at this point I discovered that Dan not only had a brother and sister, but that his sister was actually his fraternal twin.
Holy-shit-this-is-fucking-boring.
But then, Dan ordered a dirty martini, and my spirits were buoyed. A dirty martini is a strong drink. It's a dirty drink, and half way through that dirty drink Dan was loosening up and letting his receding hair down.
One dirty martini led to three and soon I found myself at an after hours party in an office building in Venice. Dan and I frenched in the bathroom, but I wasn't really that into it.
At 3 AM the party was over and some random dude called Nick—a narcotic-fueled chatter box—jumped in my car. He didn't even ask, but apparently he needed a ride, and since he and my date were blowing key rips, Dan didn't seem to mind much.
"I have a third testicle," Nick haphazardly inserted mid-flow of giving directions to Larchmont. "Wanna see?"
I kinda did but not enough to pull over.
"Russell Crowe thinks it's awesome."
Okay, now I was interested.
"How does Russell Crowe know about your third testicle?"
"Well, we worked on a movie together and we hung out a lot. He would have me whip it out in bars and stuff."
Great party trick.
Anyway, by the time we got to Larchmont, Dan decided he would rather party with Nick than enjoy another lukewarm make out with me. So I went home. Alone.
SITE SUMMARY:
I can't stop crying. Or cutting. Or listening to Kelly Clarkson B-sides….
Check back on Popdust every Friday for all new Adventures In Dating…next week—ClownDating....