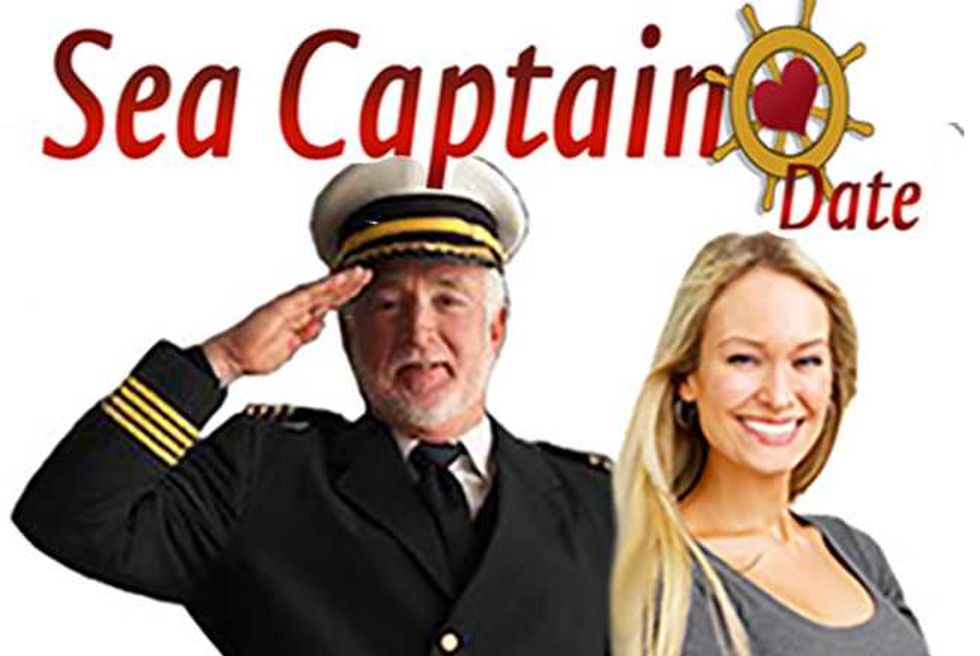 Dating in the computer age—There's Tinder, Grindr,  OkCupid, FarmersOnly, Clown Lovers, Craigslist Casual Encounters, Adult Friend Finder, Ashley Madison, Plenty Of Fish, JDate, Christian Mingle, BBW Cupid, FurryMate.....Fetster....Beer Passions...Cougar Life.....Match.com....Naturist Passions.....Cat Lovers Network....Singles With Allergies....Pink Cupid....Age Match.....SploshDating....ZombiePassions...Zoosk....DateVampires...OurTime....the list is endless.
Each week, Popdust's intrepid reporter, Suzy McCoppin, goes deep undercover in order to guide you through the potentially murky waters of cyber lovin'.
Motörhead launch Their Own Brand Of Icky Sex Toys
Can you really swipe, click, match, wink your way to true love?
This week, we shine the spotlight on SeaCaptainDate...

SLOGAN: The only place for Sea Captains to connect with men and women who share a love of the ocean. With thousands of Captains already online, SeaCaptainDate.com is the destination for romance on the seven seas!
This week I joined SeaCaptainDate. That's right. Shit is getting specific.
The Ultimate Sex Toy For Foot Worshippers—NSFW
And SeaCaptainDate is not the only site that promises seamen. There's also Captain-Date….and...well….that's about it, but that's a lot given the specific nature of the enterprise.
I decided I would trust the Gorton's fisherman, and maybe, just maybe, I would score some fish sticks.
You log on and this shit happens: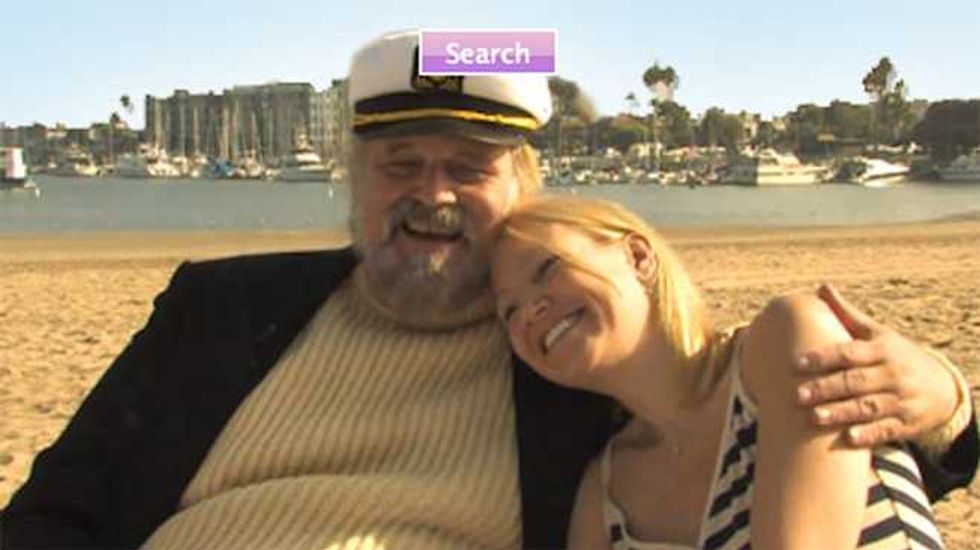 Friggin' saweet.
HOT TO NOT RATIO: Slim pickins.
BEST PICK UP LINE: "I'll keep me hands off yer chest if ya let me at yer bootie." (This is not actually from SeaCaptainDate... It's written on a plaque hanging in the bathroom of our Editor-in-Chief.)
WORST PICK UP LINE: "Hey, Want some seamen?" (I made this one up.)
NUMBER OF CORRESPONDENCES IN ONE WEEK: 12
Dude Accidentally Sexts Naked Selfies To HR Manager Who Just Offered Him A Job
HOTTEST GUY:

Jason Bateman? On a boat. Fuck yeah......
Approach/Chat Up Line: "I'm worth $30 million."
Conversation Skills/Rapport: Locust Valley Best straight man in the business.
Closing Skills: He had me at Teen Wolf Too
Kristen Stewart Is NOT Going To Discuss Her Sexuality…OK?!!
GUY MY MOM WOULD WANT ME TO DATE:

Bringing back the three-piece suit....nice.....
Approach/Chat Up Line: "Come sail away, come sail away, come sail away with me."
[This would work much better in the "Man Seeking Man" section as the last word in the chorus is "lad"]
Conversational Skills/Rapport: I just like that he's bringing back the three-piece.
Closing Skills: Not surprisingly, I was told we have 0% compatibility.
Ellen Is Confused By Caitlyn Jenner's Same Sex Marriage Judgement
WEIRDEST GUY:

Chris Larson is a true Patriot...
Approach/Chat Up Line: He has American flags coming out of his scrotum.
Conversation Skills/Rapport: See above.
Closing Skills: He's already enjoying full penetration with the American flags.
Iron Maiden's Bruce Dickinson Blames Throat Cancer On Oral Sex
HELL TO THE NO GUY:

You know Dancer and Prancer and Donner, Paul Mixon.......
Approach/ Chat Up Line: It's not that I have a problem with Paul per se, but I just feel like he'd get so much more attention than me, especially around Christmas.
Conversation Skills/Rapport: Kept asking if I would jingle his balls.
Closing Skills: All right so I jingled 'em a little. He asked nice.
Miley Cyrus is Pansexual, Alright?
BLOW BY BLOW DATE SUMMARY:
I'm not saying I disliked Dennis, but I would probably unplug his life support to charge my cell phone. Not that Dennis is on life support, sadly, and because of this we were able to have dinner at the I-Hop.
Dinner…at the I-Hop, because Dennis has a sweet tooth and regularly eats pancakes for dinner.
Also, at the end of our date, he wrote his number down on the back of a receipt for macaroons.
Florida Man Has Revenge Sex With Alligator Story Fake As Crocodile Tears
Dennis is a staunch Republican who hates Caitlyn Jenner and literally scheduled our date around The O'Reilly Factor.
What's weird is, I mean aside from scheduling a date around the O'Reilly Factor, Dennis owns a whale watching business, and, if Margaret Cho is to be believed, lesbians love whale watching.
In fact, this is something I know to be true as my ex-boyfriend's family owns a whale watching business as well, and that shit was crawling with lesbos.
UNRELATED NOTE—one time Jimmy Buffett came aboard and gave a half gram of cocaine to my boyfriend's mother, which I can only hope she promptly snorted before cleansing her palate with a margarita.
Taylor Swift's Prettiest, Sexiest, Down Right Cutest Photos—Right Here, Right Now
Gaad, I wish they served margaritas at the I-Hop. Anything to drown out Dennis' incessant yammering.
I couldn't get a word in edgewise. I had so many questions! Comments! Corresponding stories. In fact, if you wouldn't mind, maybe I'll take a moment now to respond to Dennis.
(clears throat)
Shut up. Shut up. Shut up. Shut the fuck up! I don't give a shit! Do you hear yourself?! You sound like a goddamn idiot! Quit talking about your stupid yacht I don't fucking care!! Fuck you, Dennis. Fuck you and your fucking macaroon receipt.
Johnny Depp's Daughter Comes Out As Not 100% Heterosexual
And the quest for love continues…
SUMMARY:
Lesbians love whale watching, Jimmy Buffett's vices expand beyond margaritas and cheeseburgers in paradise, and Santa and Mrs. Claus appear to be suffering some marital strife.
Check back on Popdust every Friday for an all new foray into the singles world….In the meantime, you can read past Adventures In Dating here
Ashton Kutcher and Demi Moore: Before they split in 2011 Ashton made it very clear that they had an open relationship and shared threesomes. Demi had to a) be involved and b) pick the girls. Trouble is they clearly weren't on the same page about how 'open' it actually was. He went off and did it on his own with Brittney Jones causing Demi to throw his ass outta there!
Brad Pitt and Angelina Jolie: According to Angie, just because you're open to being open doesn't mean you have to. She has gone on record as saying; "I doubt that fidelity is absolutely essential for a relationship. Neither Brad nor I have ever claimed that living together means to be chained together. We make sure that we never restrict each other." Hmmm, we think she's pretty safe in the assumption that with that many kids to look after they probably don't have too much time to act on it though!
Dolly Parton and Carl Dean: Dolly and her hubby have been married since 1966 and recently renewed their wedding vows, so clearly whatever policy they have seems to be working. They seem to exercise the 'don't rub my face in it—don't ask don't tell' rule. Dolly has said; "If we cheat we don't know it, so if we do cheat, it's very good for both us. I don't want to know it, if he's cheating on me. If I'm cheating on him, he wouldn't want to know it. And if we do, if that's what's making it work, then that's fine too."
Justin Timberlake and Jessica Biel: Apparently, before they got married and had a baby, old trouser-snake didn't want to be tied down. He told Jessica that he wasn't interested in being in a serious relationship with her and needed it to be open for it to continue. She was devastated but then came around to the idea of being demoted from girlfriend to friend with benefits. She played the long game however and managed to put a stop to it and get him to settle down.
Mo'Nique and Sidney Hicks: This is more of a one sided open relationship. He gets to have sex outside of the marriage and it's ok. She chooses not to. Hey if they're both comfortable with the arrangement then who's judging? As Mo'Nique says; "We've been best friends for over 25 years and we truly know who we are."
Megan Fox and Brian Austin Green: This is one sided too….but the other way!  Allegedly they have a deal whereby she can see other men but Brian can't date anyone else. Sounds good to us!
Pink and Carey Hart: This couple had to revise their open door policy after a change of heart ( ?) by Pink, leading to them separating for two years. They originally had a 'don't ask, don't tell' policy, but then Hart took it too far and started making public appearances with his blond bit on the side. The cute couple seem to have sorted it out now and are happily reconciled.
Tilda Swinton and John Byrne: A truly unconventional open relationship which is about love and not just being free to sleep with other people. Tilda and John have twins and are a family together, but each have other lovers outside of the marriage. Tilda with artist Sandro Kopp and John with a woman named Jeanine. Swinton says; "It may seem odd but it is certainly the best thing for the children. It's not something I try to promote as a radical lifestyle choice. But it's a situation I find very healthy.
T-Pain and Amber Najm: The rapper states that he and his wife do not have an open relationship. They just 'sleep with other girls together'. Sounds pretty open to us, but invoking the 'keep an eye on it' rule that you have to cheat at the same time for it to be ok.
Will Smith and Jada Pinkett Smith: Married for 18 years, whatever rules they have—it works for them!  Pinkett-Smith has been quite open about the open nature of their marriage, saying; "Here's the deal... you've got to trust who you're with. And at the end of the day, I'm not here to be anybody's watcher. I'm not his watcher. He's a grown man. Here's what I trust—I trust that the man that Will is, is the man of integrity. So, he's got all the freedom in the world. As long as Will can look himself in the mirror and be okay, I'm good."