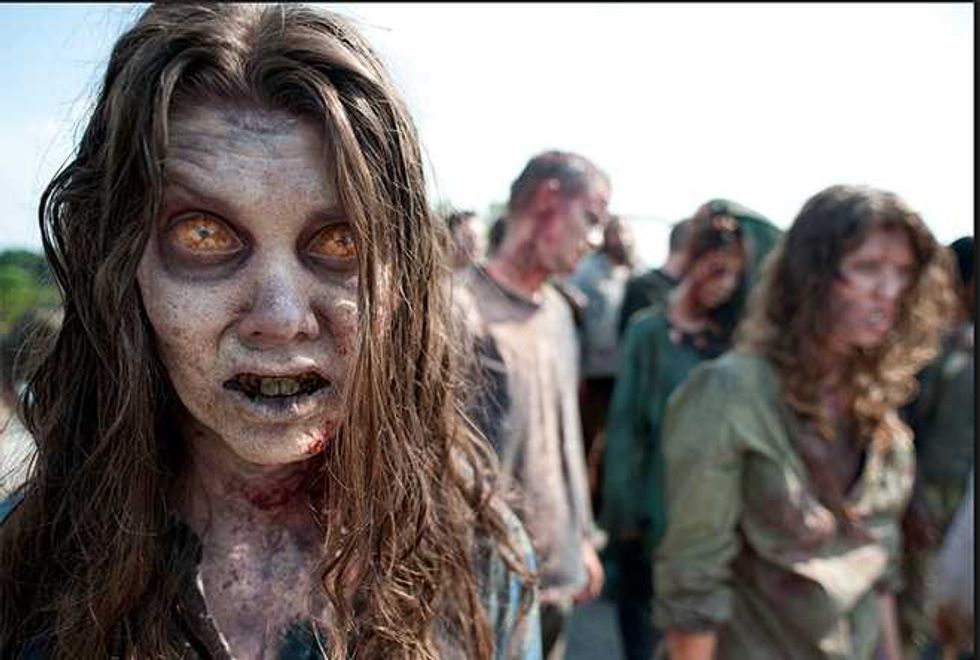 Dating in the computer age—There's Tinder, Grindr, OkCupid, FarmersOnly, Clown Lovers, Craigslist Casual Encounters, Adult Friend Finder, Ashley Madison, Plenty Of Fish, JDate, Christian Mingle, BBW Cupid, FurryMate.....Fetster....Beer Passions...Cougar Life.....Match.com....Naturist Passions.....Cat Lovers Network....Singles With Allergies....Pink Cupid....Age Match.....SploshDating....the list is endless.
Each week, Popdust's intrepid reporter, Suzy McCoppin, goes deep undercover in order to guide you through the potentially murky waters of cyber lovin'.
Can you really swipe, click, match, wink your way to true love?
Alone Time For Boys Just Got Better—The Worlds First 'Guybrator'
This week, we shine the spotlight on ZombiePassions...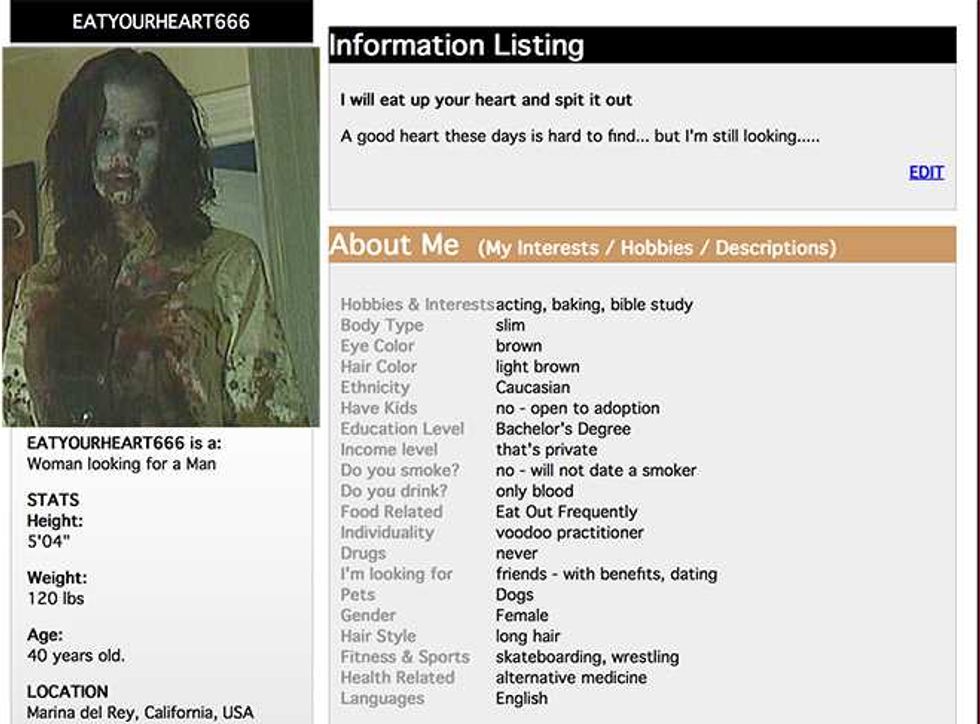 SLOGAN: For zombies, zombie lovers & people who have been working in a dead-end job for too long
Zombies—If ya can't beat em, join 'em, and thus, my quest for love took me to the aforementioned freak fest, not that there's anything wrong with that.
I logged on, in the hopes that I might score with some smokin' hot piece of graveyard bait.
Or, dare I dream, that I may finally find a man who loves me for my braaaaaaaiiiiinnnnsss.
The Ultimate Sex Toy For Foot Worshippers—NSFW
And not just my lungs.
The Ultimate Sex Toy For Foot Worshippers—NSFW
Japanese Game Show Has Women Jerking Off Men While They Sing Karaoke - See more at: http://popdust.com/2015/08/14/guybrator-male-vibrator/#sthash.ZRoh2Mss.dpuf
I was heartened to discover that ZombiePassions is really more for Zombie enthusiasts than it is for full blown fetishes and therefore fava beans would not be the required side dish.
I did, however, get massively f*cked up on nice Chianti.
HOT TO NOT RATIO: Every zombie is beautiful, in their own special way.
BEST PICK UP LINE: "Well, okay. It's rigor mortis. But I'm still happy to see you!"
WORST PICK UP LINE: "It's a good thing I'm a zombie, because you are drop-dead gorgeous!"
NUMBER OF CORRESPONDENCES IN ONE WEEK: 17
Japanese Game Show Has Women Jerking Off Men While They Sing Karaoke
HOTTEST GUY: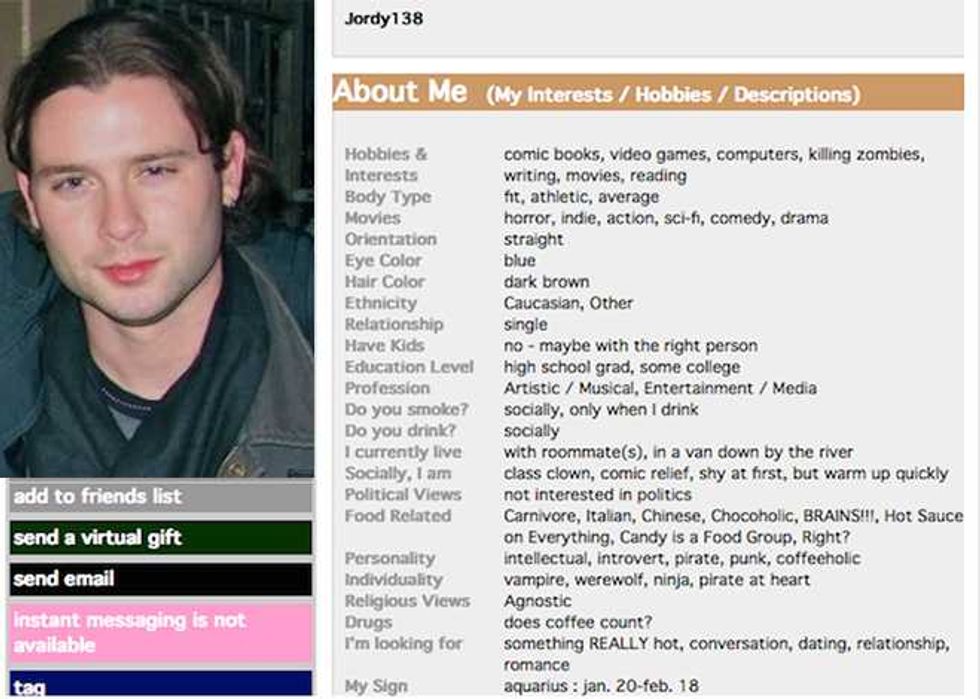 Jordy, I would give my left arm to french you. No, here, take it...
Approach/Chat Up Line: Had me at "I currently live: In a van down by the river." #Farleyforever
Conversation Skills/Rapport: Chris Farley fan, so points right out of the gate.
Closing Skills: Shifts effortlessly between a man scarf and a Ramones T, and in the immortal words of ZZ Top, "Every girl's crazy 'bout a sharp dressed man."
Craziest American Sex Laws—Could Your Lasciviousness Land You In Jail?
GUY MY MOM WOULD WANT ME TO DATE: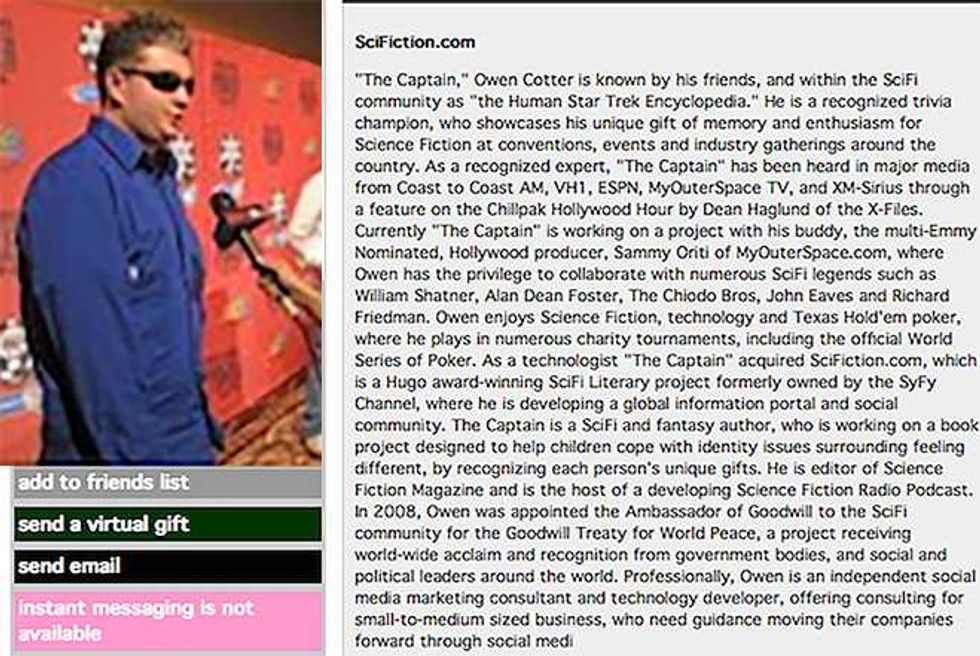 The Captain figured out how to monetize his nerdiness. My mom would appreciate that...
Approach/Chat Up Line: Beam me up, Zombie.
Conversational Skills/Rapport: Ugh.
Closing Skills: The dude is known as "the human Star Trek Encyclopedia." Now if that doesn't drop your drawers, you're clearly un-dead.
Female Masturbation Has A New Name!
WEIRDEST GUY: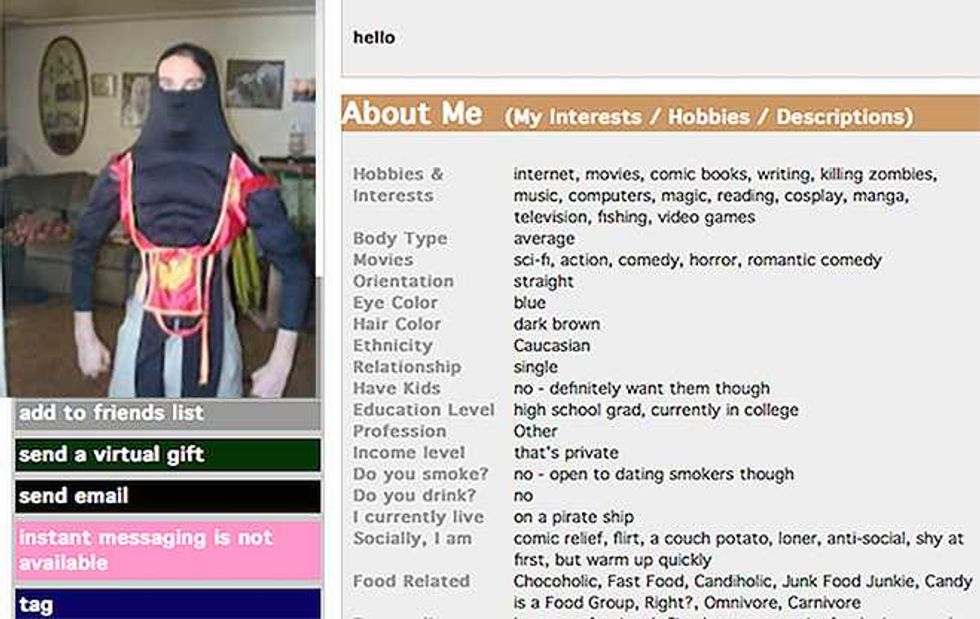 This guy has discovered a far more efficient approach to the six pack...
Approach/Chat Up Line: Who cares? Check out his decorating, or what is likely his mother's decorating skill. I'm counting 3 white tiger posters.
Conversation Skills/Rapport: Shy at first, but warms up quickly.
Closing Skills: At least 3 white tiger posters.
Pat Robertson Vows The Gays Are Gonna Make You Like Anal, Oral And Bestiality
HELL TO THE AWESOME GUY: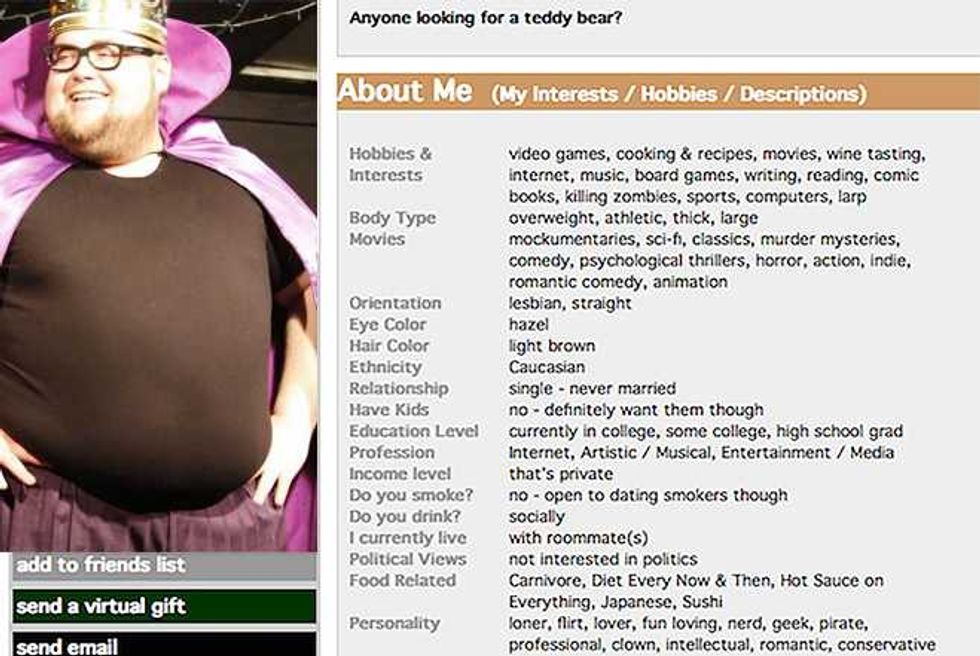 This guy is definitely in the 'fuck yeah' zone.....
Approach/ Chat Up Line: Identifies as a straight lesbian.
Conversation Skills/Rapport: Lovable, self-deprecating, pirate at heart.
Closing Skills: I wouldn't mind disappearing into that purple cape for 4 minutes or so.
Secrets Of The Brady Bunch—Sex, Drugs And Shoplifting—WTFF?!!
BLOW BY BLOW DATE SUMMARY:
Sid was new to the whole zombie game, and confessed that his fixation developed during season 2 of The Walking Dead. He also revealed that he's a substitute teacher with a heart condition who DJs bar mitvahs on weekends.
He was pleasantly plump with the pallor of a freshly cored apple, and I spent much of our tense meeting waiting for him to tell me the only way he could achieve climax was by eating my brain.
Sexy Photos Of Hacked Celebrities That DON'T Constitute A Sex Crime
Biggest challenge: Finding a restaurant that served brains. We had to settle on a Korean BBQ place that served whole fish heads.
Saddest Point: When Sid made me watch a highlight reel of his favorite Zombie scenes.
Most Joyous Point: Sid broke into full throttle fan-damonium when I told him I starred in the (very) low budget zombie train wreck, Skin Crawl, and that lumpy oatmeal, molded into a mound, doubled as brains, upon which I did dine, in a addition to eating live maggots.
But I didn't swallow.
Which brings us to the end of the date.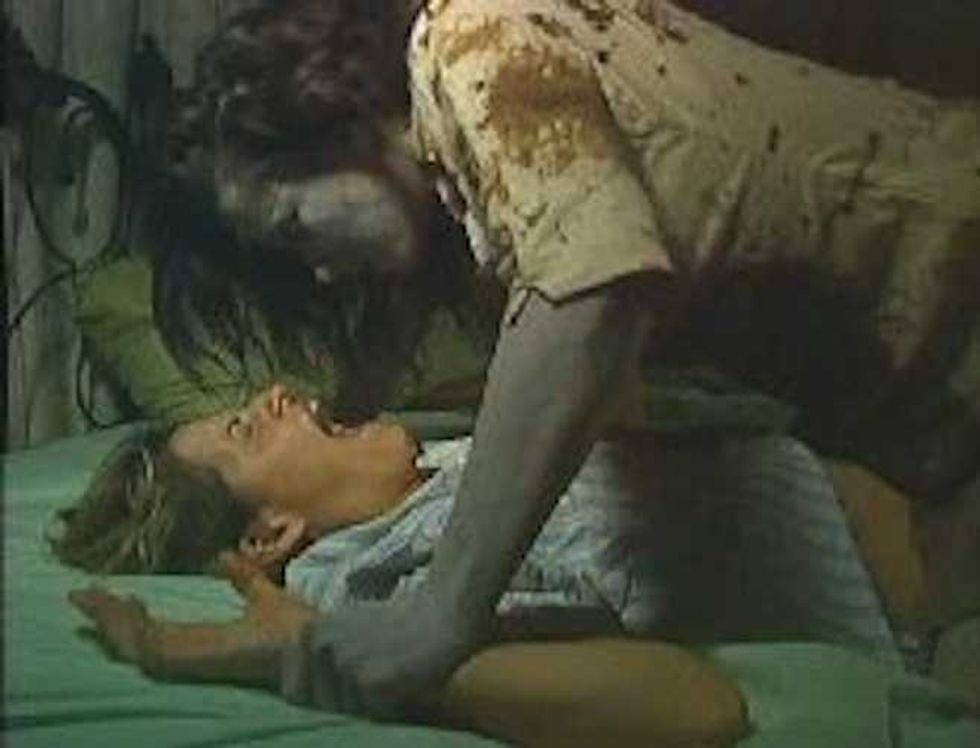 Given that Sid suffers from a heart condition, things didn't progress beyond an awkward hug, which is a damn shame 'cuz I woulda torn that sweet lady ass up.
No. I really wouldn't have.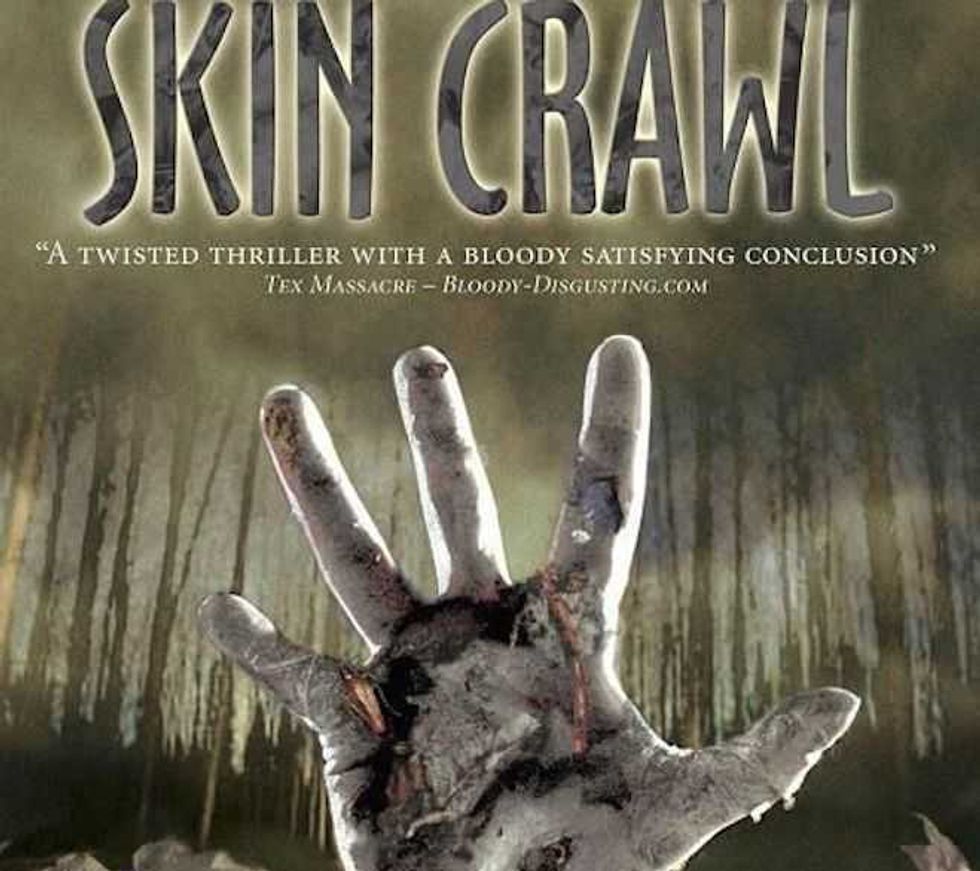 SUMMARY:
Proceed with reckless abandon.
ZombiePassions members are freaks, but they are harmless freaks.
Check back on Popdust every Friday for an all new foray into the singles world….In the meantime, you can read past Adventures In Dating here
The family of Miriam Burbank knew she would never miss a party, so they made sure she was on the guest list for the blowout funeral celebration just prior to her own burial
Propped up in a chair and surrounded by a few of her favorite things: Busch beer, menthol cigarettes, and a disco ball flashing overhead, the New Orleans native was the life of the party!
Miriam Burbank's two daughters, who call their mom Mae Mae, said their late mother was a party girl and that they wanted a funeral that would make her proud.
And no party girl would attend a gathering without a perfect pedicure- Miriam had her nails painted black and gold as a shout out to her favorite team, The New Orleans Saints!