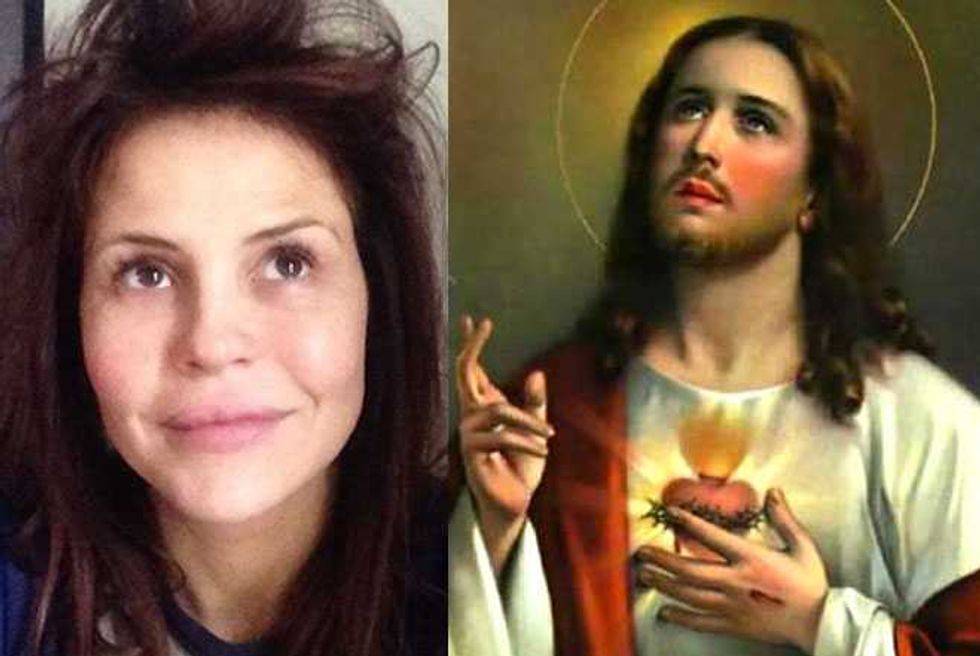 Dating in the computer age—There's Tinder, Grindr, Match, OkCupid, FarmersOnly, Beer Passions, Clown Lovers, Fetster, Craigslist Casual Encounters, Adult Friend Finder, Ashley Madison, Plenty Of Fish, JDate, BBW Cupid, the list is endless...
Each week, Popdust's intrepid reporter, Suzy McCoppin, goes deep undercover in order to guide you through the potentially murky waters of cyber lovin'.
Can you really swipe, click, match, wink your way to true love?
This week, we shine the spotlight on Christian Mingle.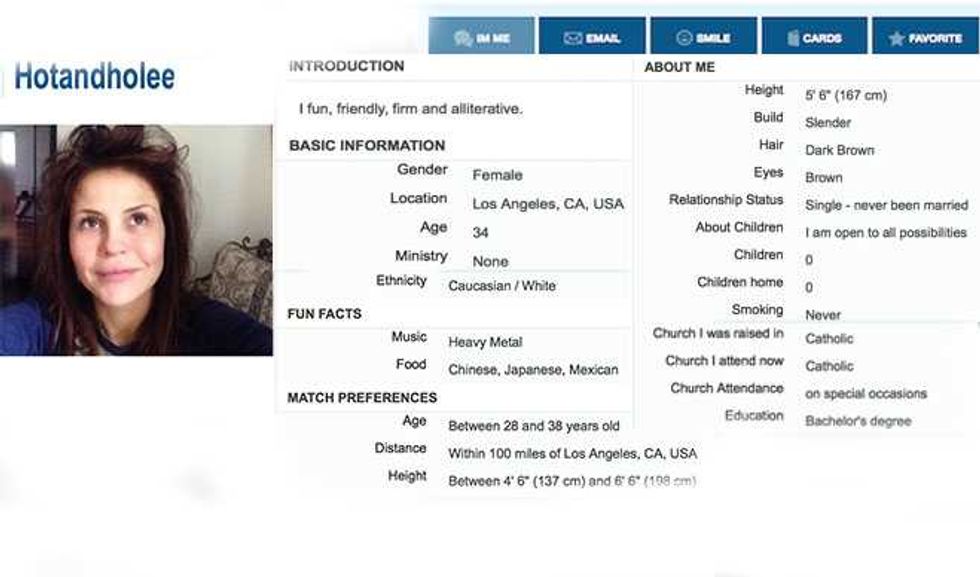 Jesus loves me... this I know...
SLOGAN: Find God's Match For You
And this week, I was like ten pounds of holiness in a five- pound bag.
On this good Friday, let us pay testament to Christ lovers who have come together in the spirit of lawful carnal knowledge.
And ye horny Christians from near and far came to pay homage to Jesus, the original hipster, and kneel before his 6-pack abs, unkempt facial hair and Coachella-worthy although somewhat uncomfortable looking headband. But Jesus knew, you must suffer for fashion.
Am I wrong or is there something vaguely homoerotic about guys who come to bow down to his hot holiness?
Ladies, take heed, for you will surely be in competition with the Lamb of God. And those are some pretty big sandals to fill.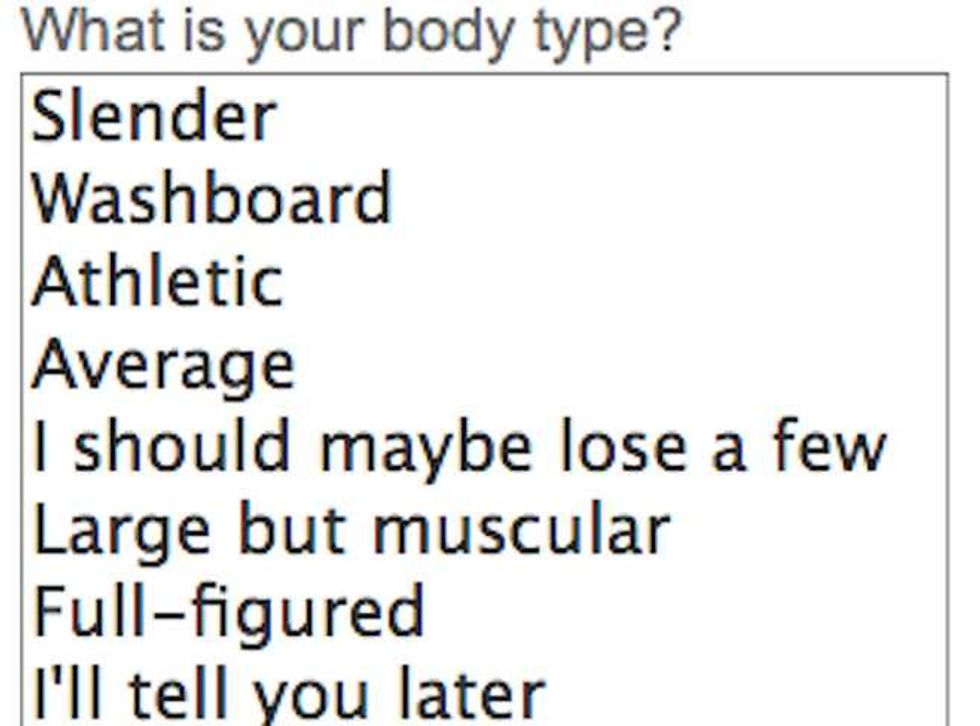 Doesn't the final option seem decidedly un-Christian? But I digress....
HOT TO NOT RATIO: Pretty good, actually. 1 out of 15
BEST PICK UP LINE: "Look, you're nearly 25. Most Christians are 8 years into marriage by now... just settle for me." Funny, referential, self-deprecating. I would totally bang him on our wedding night.
WORST PICK UP LINE: "I put the 'stud' in bible study."
NUMBER OF CORRESPONDENCES IN ONE WEEK: 44
HOTTEST GUY: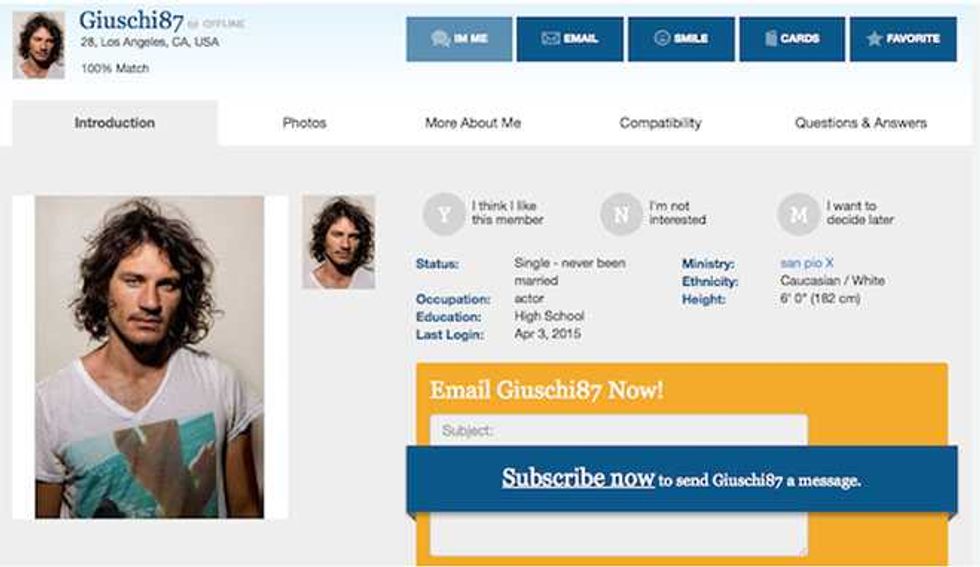 I would totally join his cult....
Approach/Chat Up Line: "I'm always happy, enjoying life, i like to have fun and i give fun time to other ones besides me :)" The guy is clearly drinking his own Kool-Aid.
Conversation Skills/Rapport: We talked for like ten minutes. I didn't have fun and it didn't make me happy or enjoy life, But I appreciate that he likes to give fun time.
Closing Skills: You're not really a closer until you've had a few bunk beds full of followers commit suppuku at your behest.
GUY MY MOM WOULD WANT ME TO DATE: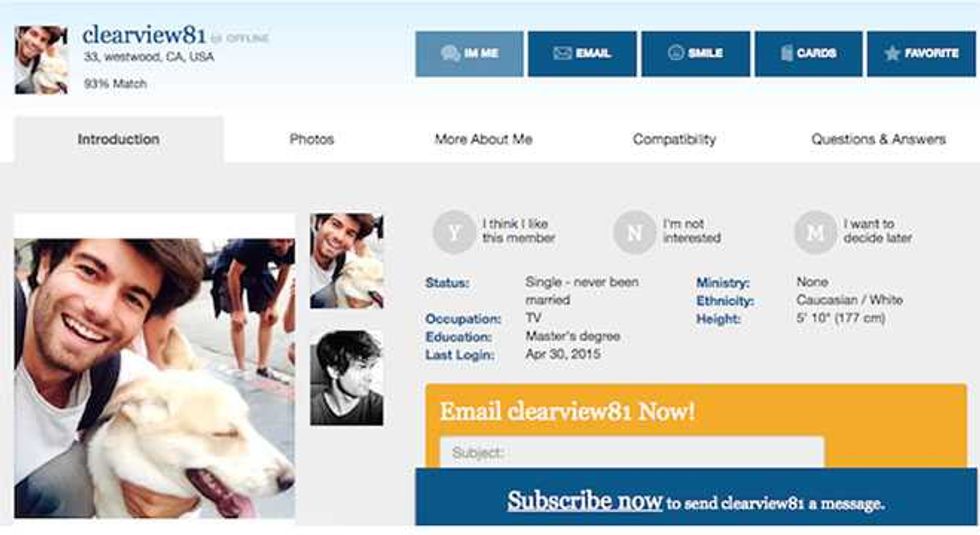 So handsome he gave his dog a bone...
Approach/Chat Up Line: "Proverbs 19:14 Congenial spouse comes straight from God." Fuck yeah he does.
Conversational Skills/Rapport: Depravity factor=zero. How are you supposed to have sex with someone when there's no depravity? Now I see why my mom likes this dude so much
Closing Skills: Is not open for business until God signs off.
WEIRDEST GUY: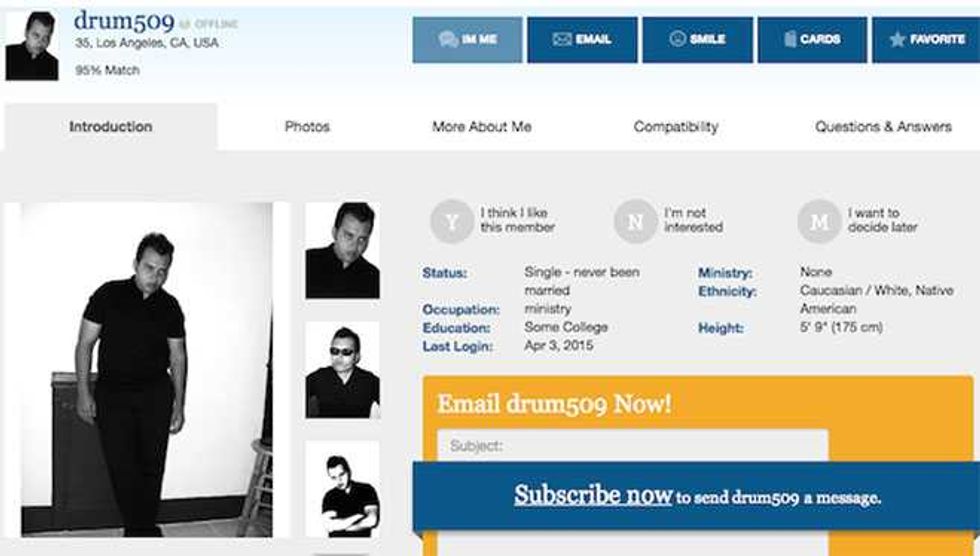 Pretty sure he got lost on his way to https://www.satanicinternationalnetwork.com
Approach/Chat Up Line: "Your hair is like a flock of goats descending from Gilead." I know. It so is.
Conversation Skills/Rapport: I mean, the guy opened strong. I'll give him that. That flock of seagulls shit was spot on. Flock of goats. Whatever. But after that, he mainly spoke in monosyllabic utterances that made me wonder if he had taken a vow of silence, and was therefore limited in how to convey it.
Closing Skills: We woke up in the kitchen saying "How the hell did this shit happen?"
HELL TO THE NO GUY: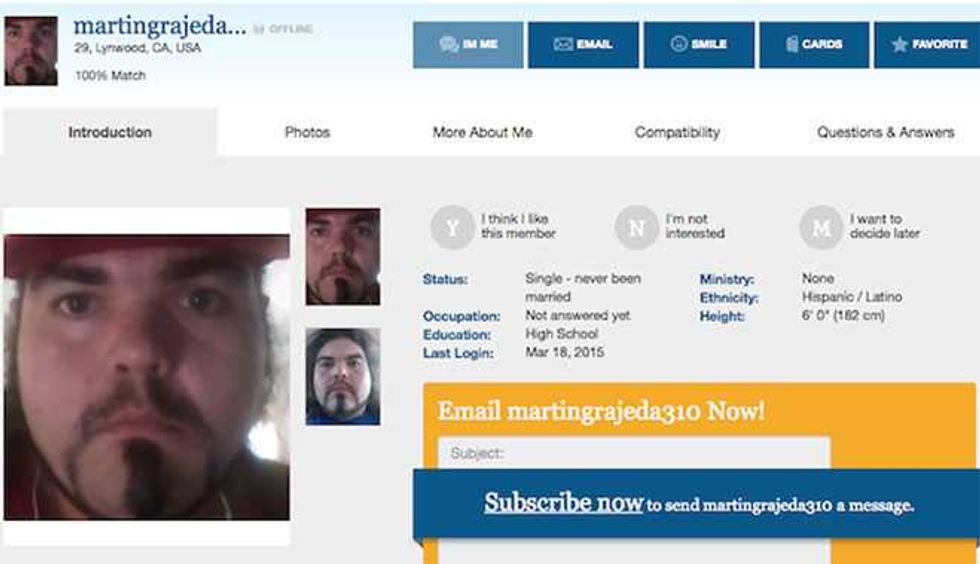 He really doesn't look like he loves the Lord that much.....
His Approach/ Chat Up Line: "Hi, I'm a single man looking for a sweet women." The plural "women" seems like an innocent mistake, but I argue that it's a Freudian slip meaning he wants to party with as much Christian puss as the trunk of his car will allow for.
Conversation Skills/Rapport: We both love "Bob's Burgers!" So that was something.
Closing Skills: And I was all "You really think you can get with this Christian puss?"
BLOW BY BLOW DATE SUMMARY:
Sam was cooler than your average Christian, and by that I mean he used the word "crap" very liberally, with little to no regard for the distinct possibility that such profanity could banish him to hell for all eternity. Reckless. I liked that.
We met for an organic juice at Earth Bar and I braced for a conversion pitch, but Sam was way more interested in talking about his reverse osmosis shower-head. How its helped his back acne and his mom even thinks he looks younger. Yeah. I so wasn't making out with Sam.
After my Berry Kale Implosion, Sam and I were at a loss. What do two aimless Christians do on a day date? Go to confession?
And since I didn't want to commit two more hours to Sam and his dramatically improved back acne, seeing Ex Machina was out.
So we went to the dog park, without any dogs, which seemed creepy, but decidedly less so than going to a children's park without children.
We played with a cocker spaniel and then I showed him the most unflattering selfie I've ever taken, in the hopes of deterring any romantical advances.
Worked like a charm.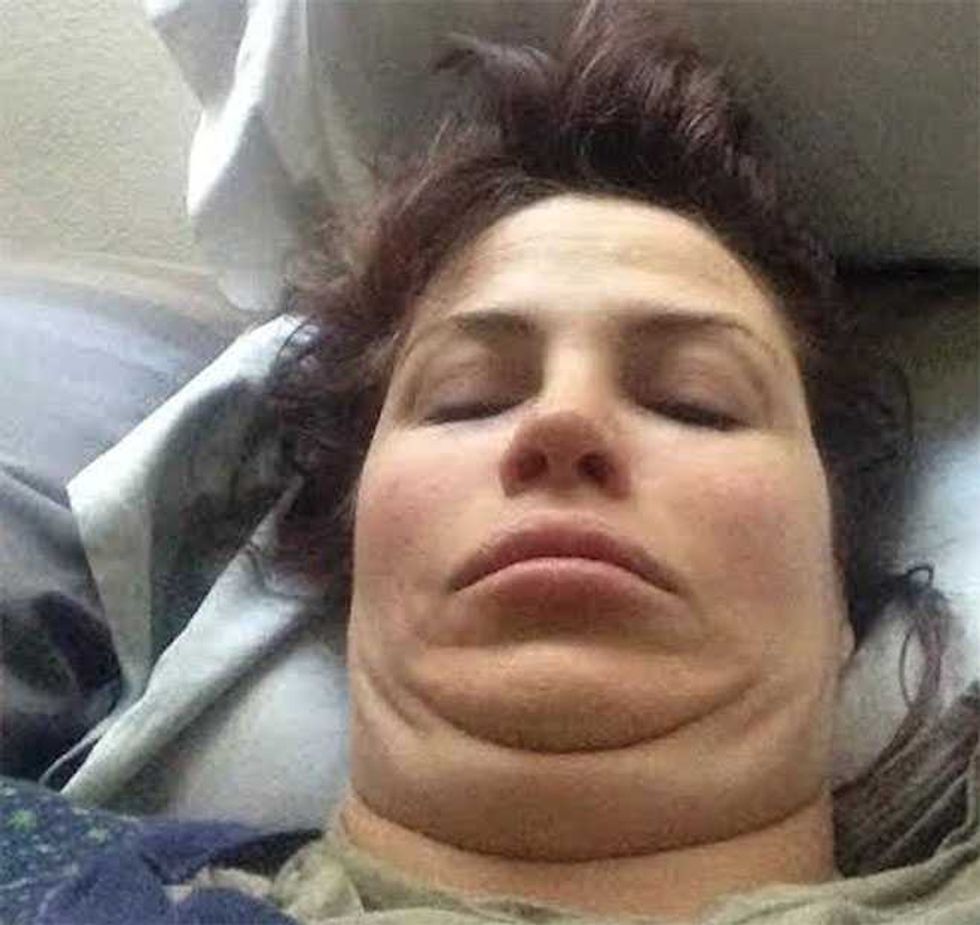 I'd fuck me so hard.....
SUMMARY:
Now I feel like maybe I shouldn't have put that picture up. It's seriously unflattering and might hurt my chances on Satanicinternational.com.
Check back on Popdust every Friday for an all new foray into the singles world…next week—BBW Cupid….In the meantime, you can read past Adventures In Dating here