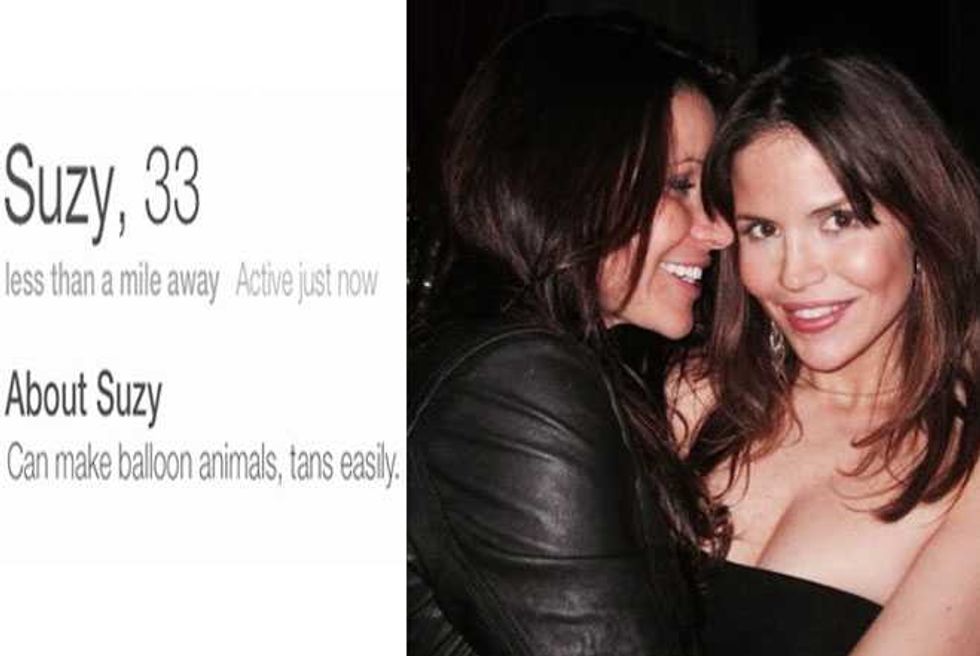 Dating in the computer age—There's Tinder, Grindr, Match, OKCupid, FarmersOnly, Beer Passions, Clown Lovers, Fetster, Craigs List Casual Encounters…the list is endless.
Each week, Popdust's intrepid reporter, Suzy McCoppin, goes deep undercover in order to guide you through the potentially murky waters of cyber lovin'.
Can you really swipe, click, match, wink your way to true love?
WEEK ONE: Tinder
Booty by zip code, Tinder uses GPS to locate people in your area with whom you can make beautiful monkey love—otherwise known as Grindr for straight peeps.
The app allows you to swipe through a catalogue of contenders, either right swiping to "like" or left swiping to "nope" in just one, single, incredibly satisfying finger movement.
If two people swipe right on each other, they each receive a match notification, and a dialogue can than ensue, i.e. "Your face or mine."
Hot to not hot ratio: 1 to 30
Best pick up line: "Let's take a walk. I have SPF 45."
Worst Pick Up Line: "Can I bury my bone in your yard?"
Number of Matches in one Week: 19
HOTTEST GUY: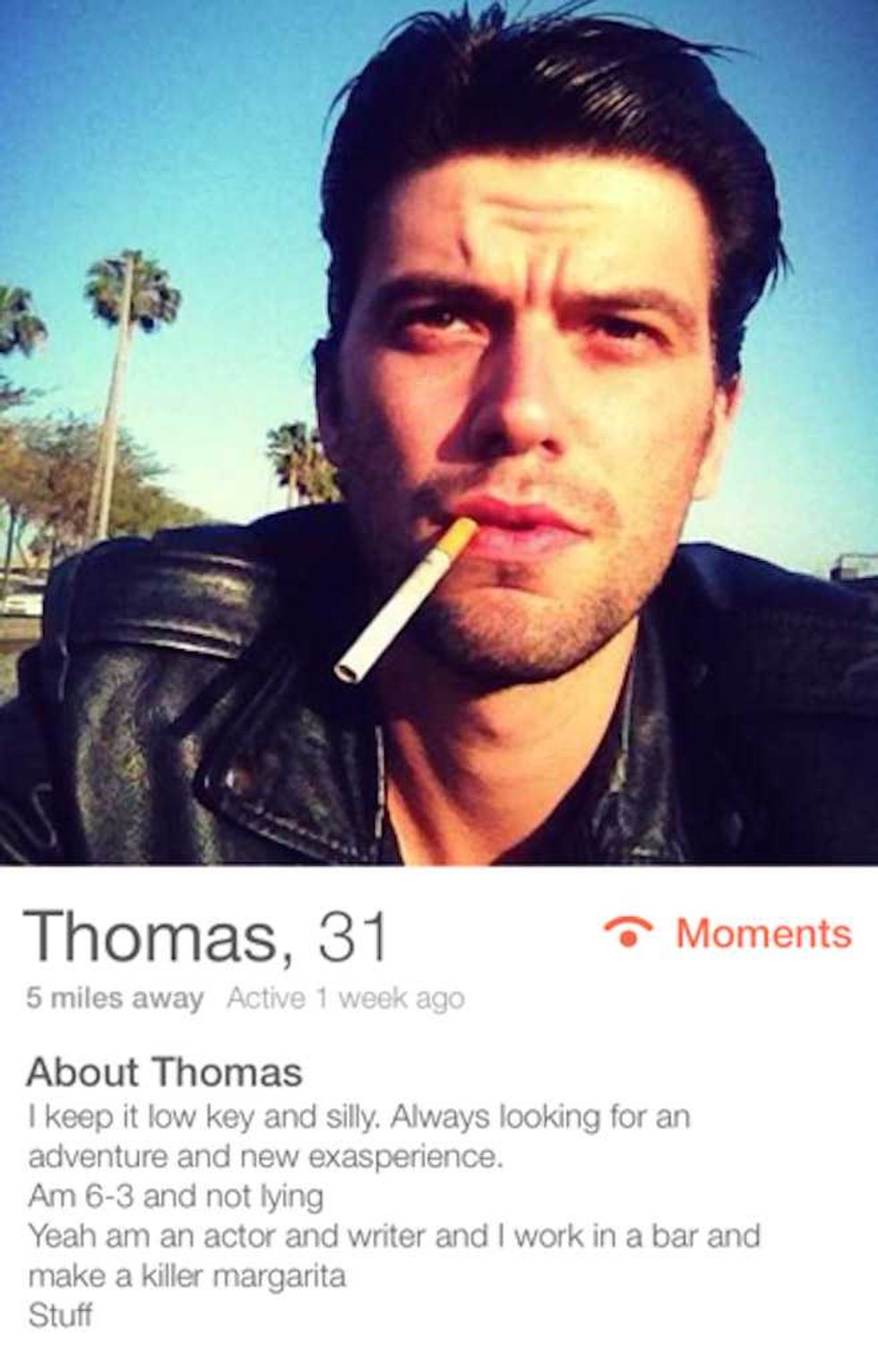 Thomas is the bartender you wish would slap you in the face with his cocktail...
Approach/chat up line: "Hi :)"
Conversation/Rapport skills: Stilted and monosyllabic.
Closing skills: Here's my number: "917 ***-****"
While I like a 917 number, as it indicates Thomas is from New York, I don't necessarily like being the one who has to do the calling/texting. I'm the chick, after all….It says so on my profile.
WEIRDEST GUY: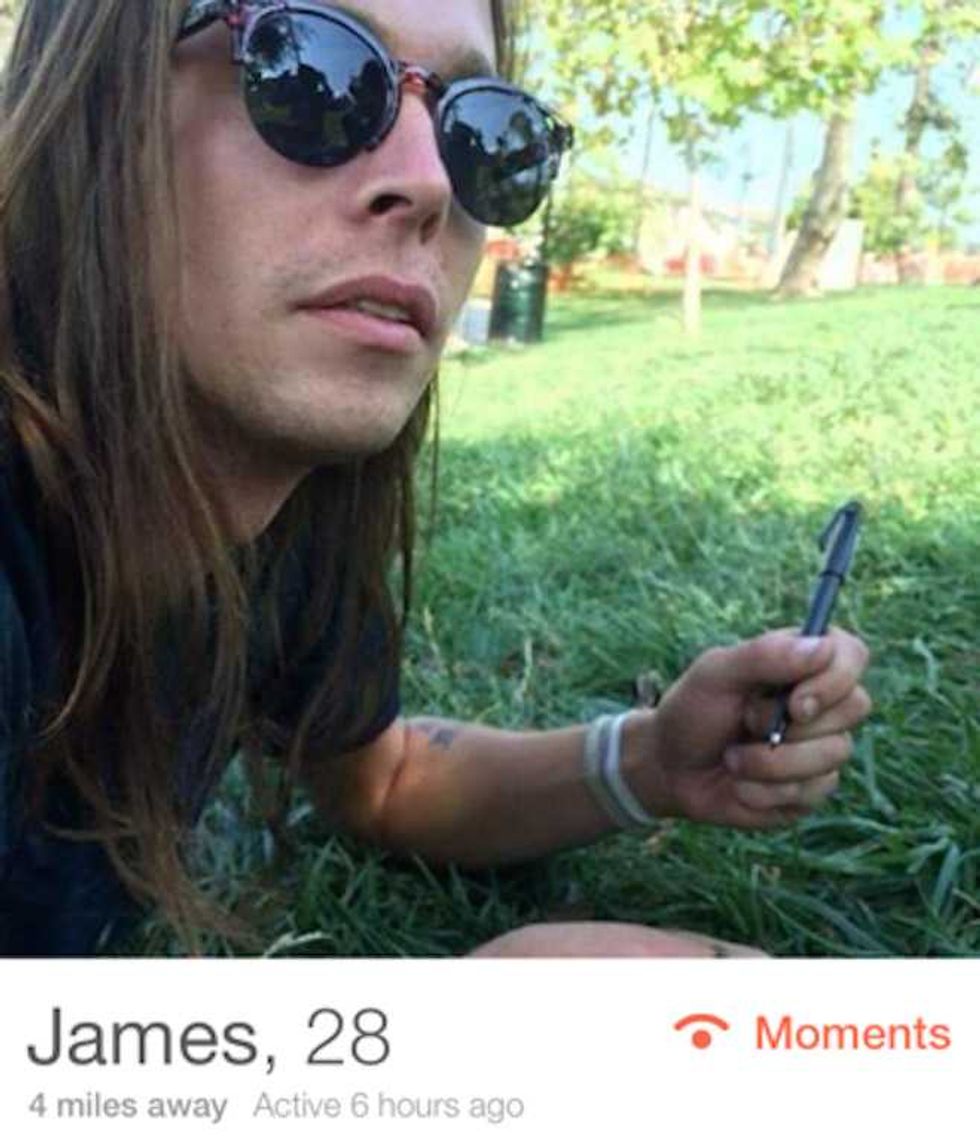 Lives in a van down by the river......
Approach/chat up line: James actually had my favorite pick up-line on all of Tinder: "Let's go for a walk. I have SPF 45." Later however, he wrote back with an amendment: "Actually, it's SPF 70." Which can only mean one thing: James uses Neutrogena.
Conversation/Rapport skills: As his photo would suggest, James is a carefree nature lover who does not conform to societal rules. I was strongly considering going to second base with him right up till he revealed that he lives out of his SUV.
Closing skills: James......lives out of his SUV.
GUY MY MOM WOULD WANT ME TO DATE: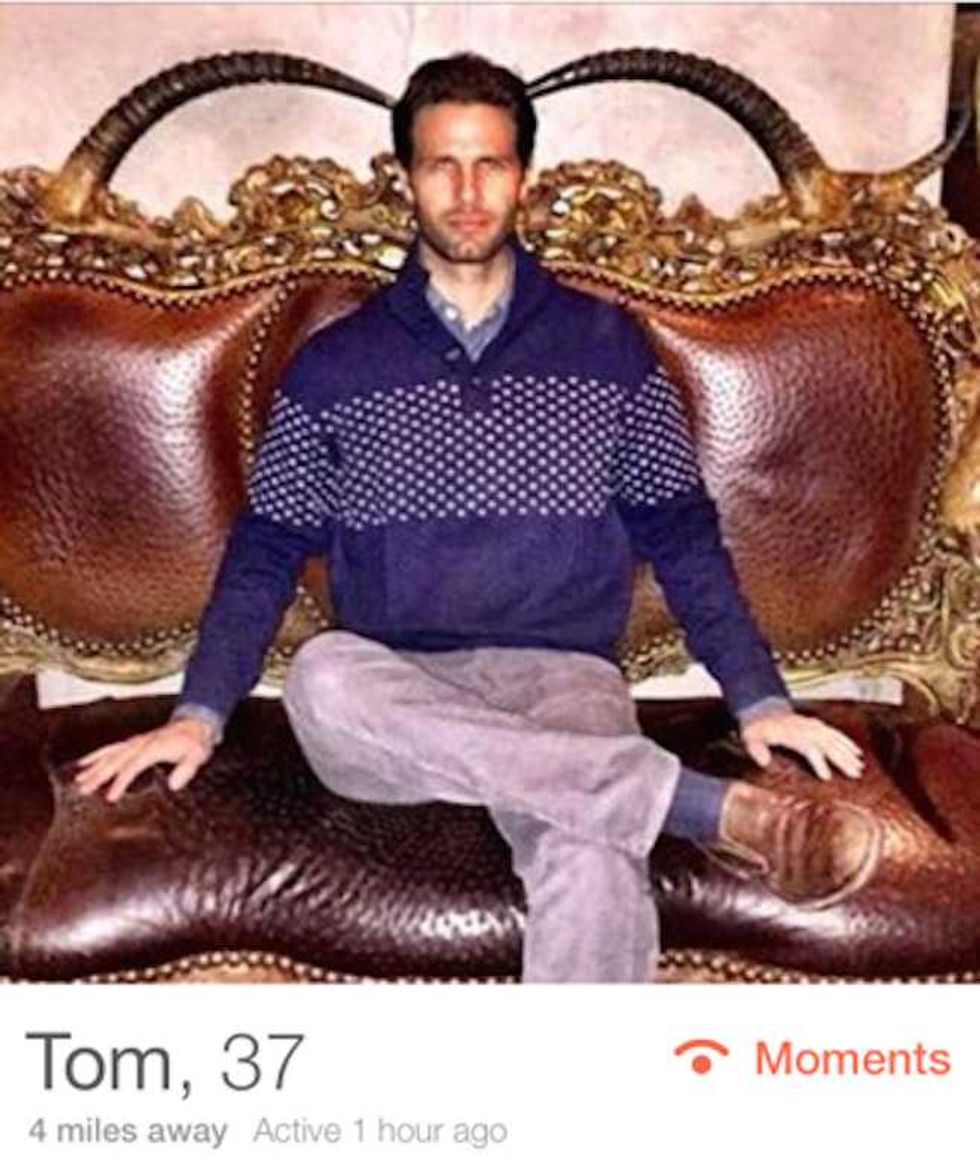 Me dating Tom would give my mom a raging boner....
Approach/chat up line: "How was your day? Were you able to able to enjoy this LA 'winter' weather?"
Conversation/Rapport skills: Tom was polite and boring. My mom would be suitably thrilled.
Closing skills: Weak. I finally texted him my number. Still waiting to hear back....
HELL TO THE NO GUY: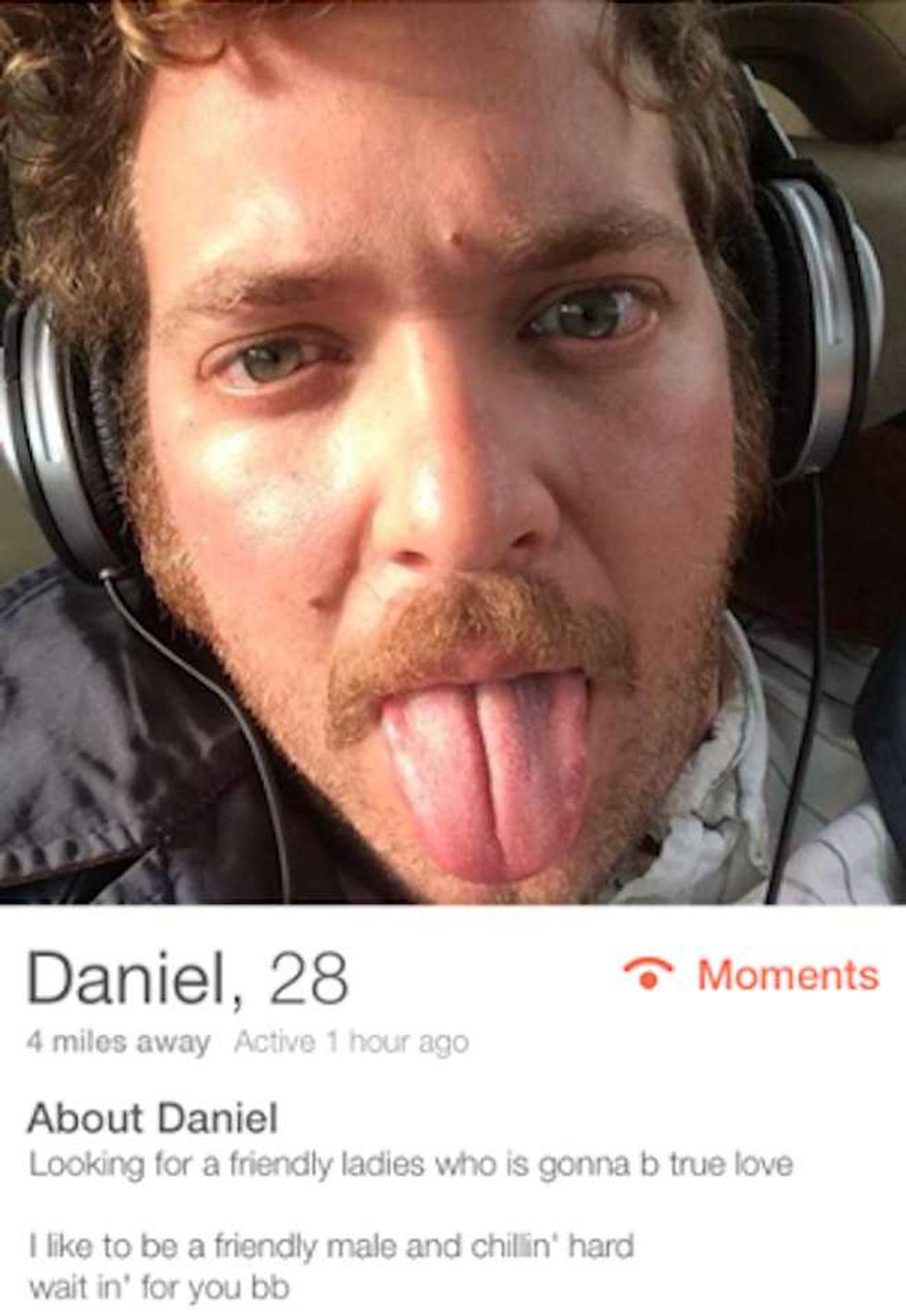 Dan draws ladies by the dozen with this subtle cunnilingus reference..
Approach/chat up line: "I'm gonna put my tongue on your clitoris until you secrete a baby gurl."
Conversation/Rapport skills: Spectacularly lewd.
Closing skills: I think I'm pregnant. Just kidding.
---------------------------------
DATES IN ONE WEEK: 1
BLOW BY BLOW SUMMARY:
He was an astonishingly hot Estonian model. Let's call him Bjorn. Because that was his name. He was 6'3, blonde, blue eyes. Picture a giant Shiloh Jolie-Pitt with beard stubble.
To my delight, we matched and I sent him my number. Texting commenced and despite broken English, he made it quite clear that his intentions were strictly sexual. He invited himself over, but I told him that I had a girlfriend staying on my couch and that perhaps another night would be better. Estonia was undeterred and continued to aggressively seek an invitation.
After some deliberation, my friend Nell and I decided to treat this as an experimental and potentially comical interlude. "You sure this is a good idea," she asked. "What if he murders us? Rapes us?" We quickly reviewed his pictures once again and decided you can't rape the willing.
As for the former, neither of us are particularly happy people, so we were willing to chance it. I texted him my address. "I'll be there in 30," he replied, leaving me just enough time to dry shampoo, gargle, and strategically place defensive weaponry about my apartment. Mace on the end table, a steak knife in the couch cushions, incendiary device in the toilet. Okay, not really, but the mace and the steak knife were firmly in place.
Estonia arrived on cue, so his English allowed for time telling as well as overt sexual comment statements. Nell and I greeted him at the door, and were nearly assaulted by his handsomeness. It was literally upsetting. Looking at his face was like looking directly into the sun. It was just too much. So we squinted through a few moments of awkward of small talk, and laughed about our make shift boobie traps.
"I know how to commit the perfect murder," Bjorn said. And went on to describe a macabre, psycho—sexual butchering, followed by a detailed protocol for avoiding capture. I instinctively reached down to where I was sure the butcher knife was stashed, but by then Bjorn had switched topics.
Long story short, he could not compute the fact that there were three of us present, but yet, a threesome was not going to take place. He was so perplexed by the situation, in fact, that we were forced to illustrate our refusal by drawing air circles around our hoo haas with imaginary lines through them.
Naturally this led to greater confusion as that's essentially what sex is: a circle with a line through it. Anyway, in the end we all banged. Just kidding. But we are going to Ikea on Tuesday.
SUMMARY:
I laughed. I cried. It was better than Cats.
Born out of Grindr, a geosocial networking application geared towards gay, bisexual, and bi-curious men (see: glory holes by zip code), Tinder is hetero version of this cybernetic homo free-for all. Still, I was expecting an abundance of thinly veiled mating calls—but just so happened upon some eligible bachelors, an incontinent, and two dudes my mother would be thrilled to have me bring home for Thanksgiving.
Check back on Popdust every Friday for all new Adventures In Online Dating....next week—Craiglist Casual Encounters..