Rising Star
Their latest single "Good Things" is about to blow up worldwide.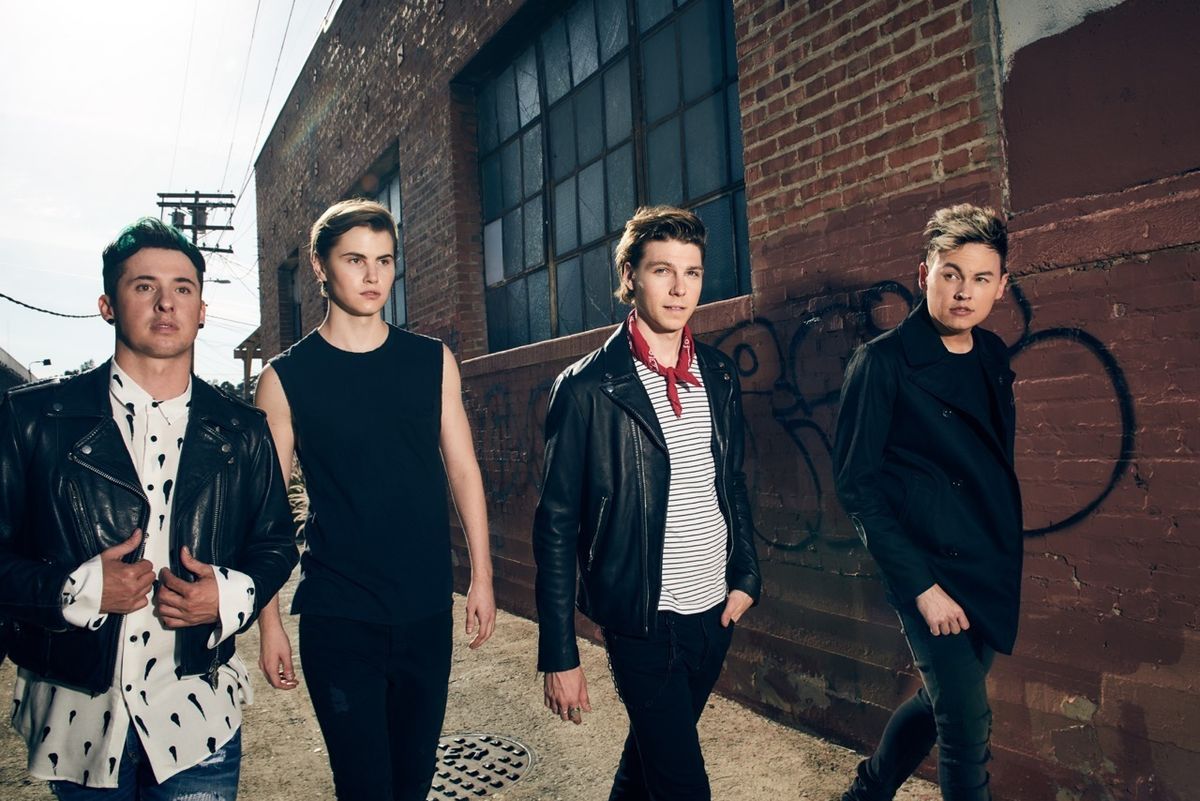 Courtesy of WMA Studios
If, while scrolling through Instagram pics of warmer places and dreaming of the end of winter, you're trying to predict where this summer's anthem is going to come from, here's a good bet: After Romeo, a 4-person pop group out of L.A. They've already broken onto the charts with their singles "Free Fall" and "L.O.L. (Love on Lock)," and their newest song, "Good Things," is featured in the latest Samsung Galaxy commercial. And while the group has received frequent comparisons to acts like One Direction and 5 Seconds of Summer (which they say is "flattering"), they eschew the label of "boy band."
Make no mistake—their music has strong similarities to that of boy bands past, utilizing strong hooks, vocal harmony, and upbeat lyrics (all the makings of a good summertime chart-topper). It's the connotation "boy band" carries that After Romeo, consisting of Drew Ryan Scott, Jayk Purdy, Blake English, and TC Carter, prefer to shy away from: "The term itself has a stigma of being like a manufactured widget with cheese dripping everywhere." They fear that the "boy band" label "destroys any legitimacy of the hours of writing, recording, rehearsing, and performing [they've] put in so far." And their songwriting cred is real: Scott has previously written for the likes of Miley Cyrus and Selena Gomez. They may be rising pop stars, but that doesn't discredit them as musicians, too. "Good Things" in particular, a perfect example of radio-ready hip-hop-infused pop, is reminiscent of NSYNC's "Girlfriend" with a heavy dash of singer-songwriter vibes. Not a bad niche to fill.
But rather than lean away from a young fan base, the band (which currently has over a quarter of a million Twitter followers) has found a platform by which to reach them. After Romeo has been affiliated with Lady Gaga's Born This Way Foundation since 2014 on what they call their Bully Proof Tour, on which they've spoken to crowds around the U.S. about their experiences with bullying earlier in life. "We grew up singing, dancing, acting and in musical theater. Because that was our path, we all got into fights or were thrown into trash cans at school at one point or another because of bullying. When we came together as a group, we felt After Romeo needed a platform to help our fans deal with the craziness going on in schools." The band plans to speak to over a hundred more schools over the course of 2017.

That's not all that lies ahead for After Romeo. With their debut EP having come out only this past summer, the foundation is being laid for more new music and more live performances. And while they're being billed as the next big thing, the boys are keeping their focus on their own artistic development. "What we're excited about is the growth of our music and sound and that our fans have stuck by us through the journey. We're more comfortable in our skin today," they say. Whatever the future holds for After Romeo, it's clear that they're enjoying the ride.