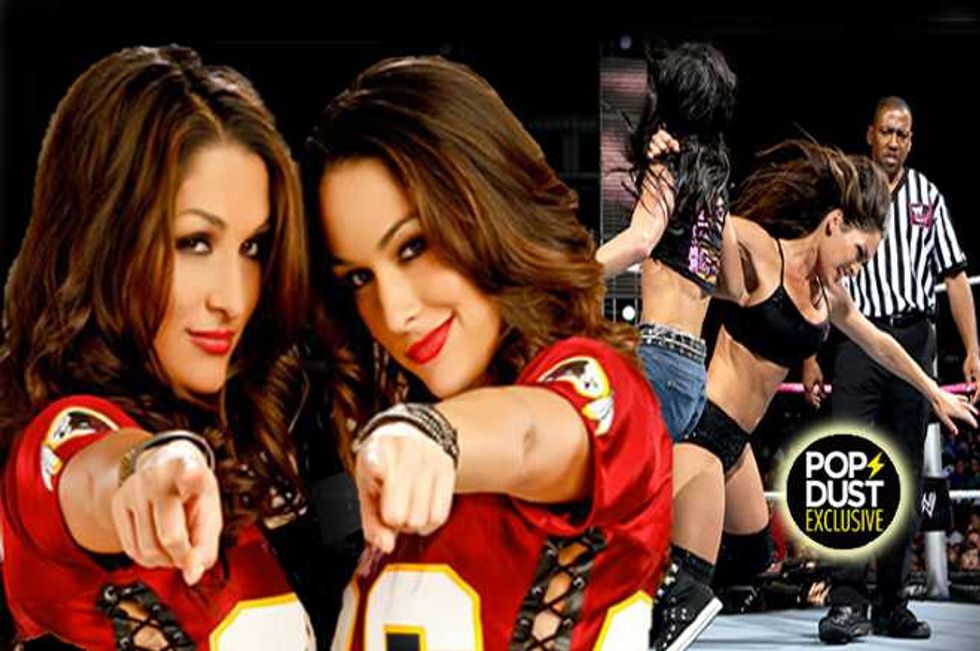 Their job may look like all glitz and glamor in the ring and on E!'s Total Divas, but, in an exclusive interview with Popdust, WWE stars, TheBella Twins, dish on the real life challenges of being a pro wrestler—and they're pretty damn tough!
We're not talking about the trauma of broken fingernails or pulled hair—the girls who are at the top of their game face grueling training sessions, a 52-week-a-year schedule, traveling across the country—and back again—and putting plans to start a family on hold for their wrestling careers.
Luckily for them, they really love what they do!
Brie Bella faced off against real life boss Stephanie McMahon in WWE's SummerSlam Sunday in front of 18,000 chanting fans at the Staples Center in downtown Los Angeles for the biggest fight of her life.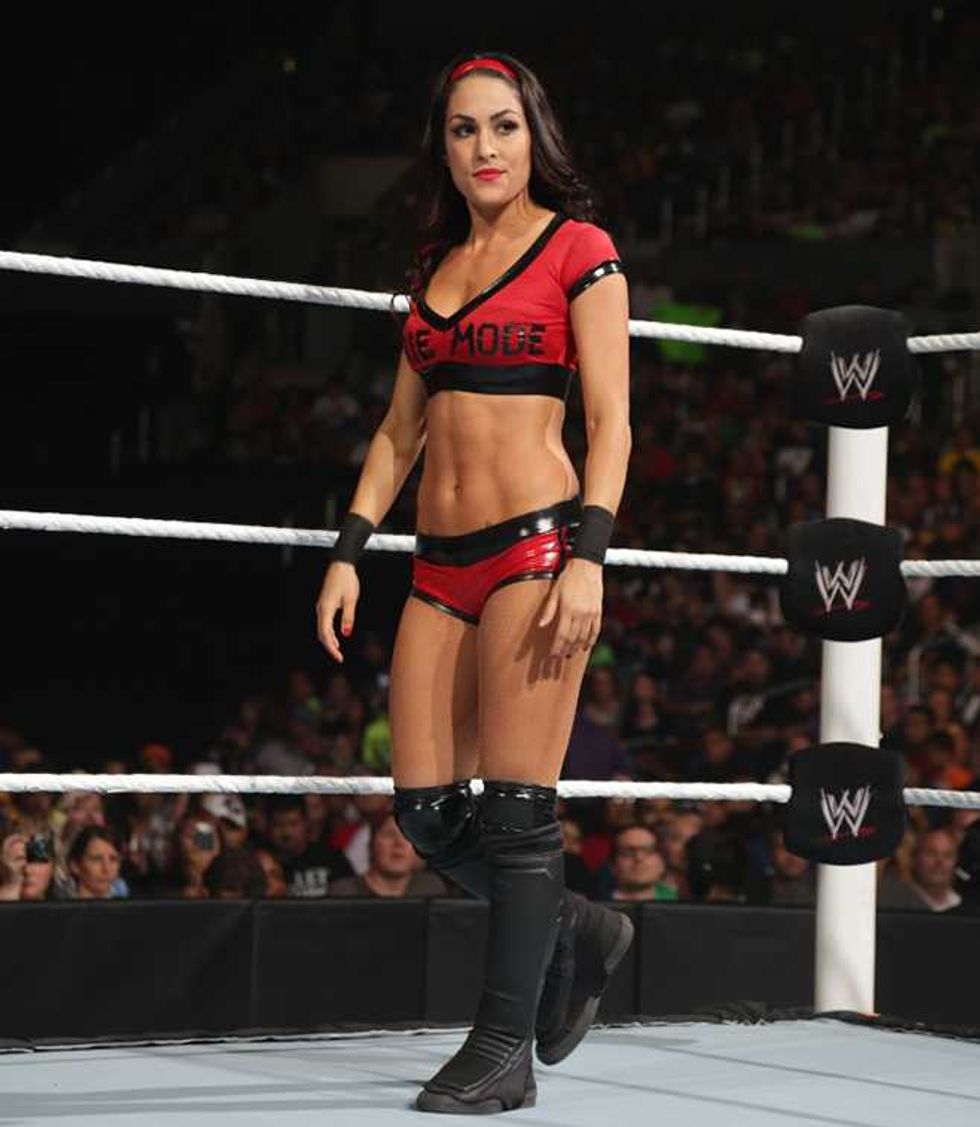 Brie Bella gets ready to rumble at the WWE SummerSlam August 17 in Los Angeles
Among the stars screaming from the front row were the entire cast of Pitch Perfect 2, including Brittany Snow, Anna Kendrick and Teen Wolf's Tyler Hoechlin, Limp Bizkit's Fred Durst, David Arquette, UFC Women's Champion Ronda Rousey, TV host (and former wrestler) Maria Menounos, and Modern Family star Eric Stonestreet.
Before she entered the ring for McMahon's first fight in over 10 years, Brie and twin sister Nikki Bella dished on the most challenging aspects of their over-the-top profession.
"For me, it is about determination and not letting anything bring you down, being OK with hard work and getting through all of that while on the road 52 weeks a year," Brie told Popdust.
"You have to be fearless and really want it and if you don't have that hunger in this business then you will get eaten up alive," warned Nikki, 30. "Being a woman, the travel is the hardest part. When you get on a long flight you feel bloated and dehydrated."
Many aspects of being a WWE wrestler are decidedly unglamorous, such as having to wrestle in full make-up wreaking havoc on your skin, or "getting on a flight then into a rental car and traveling to the next town," said Brie. "Getting into the ring is the fun part!
"The key is not letting your insecurities get the better of you. We are on HD television and the Internet can be very cruel so you must have a thick skin," she explained.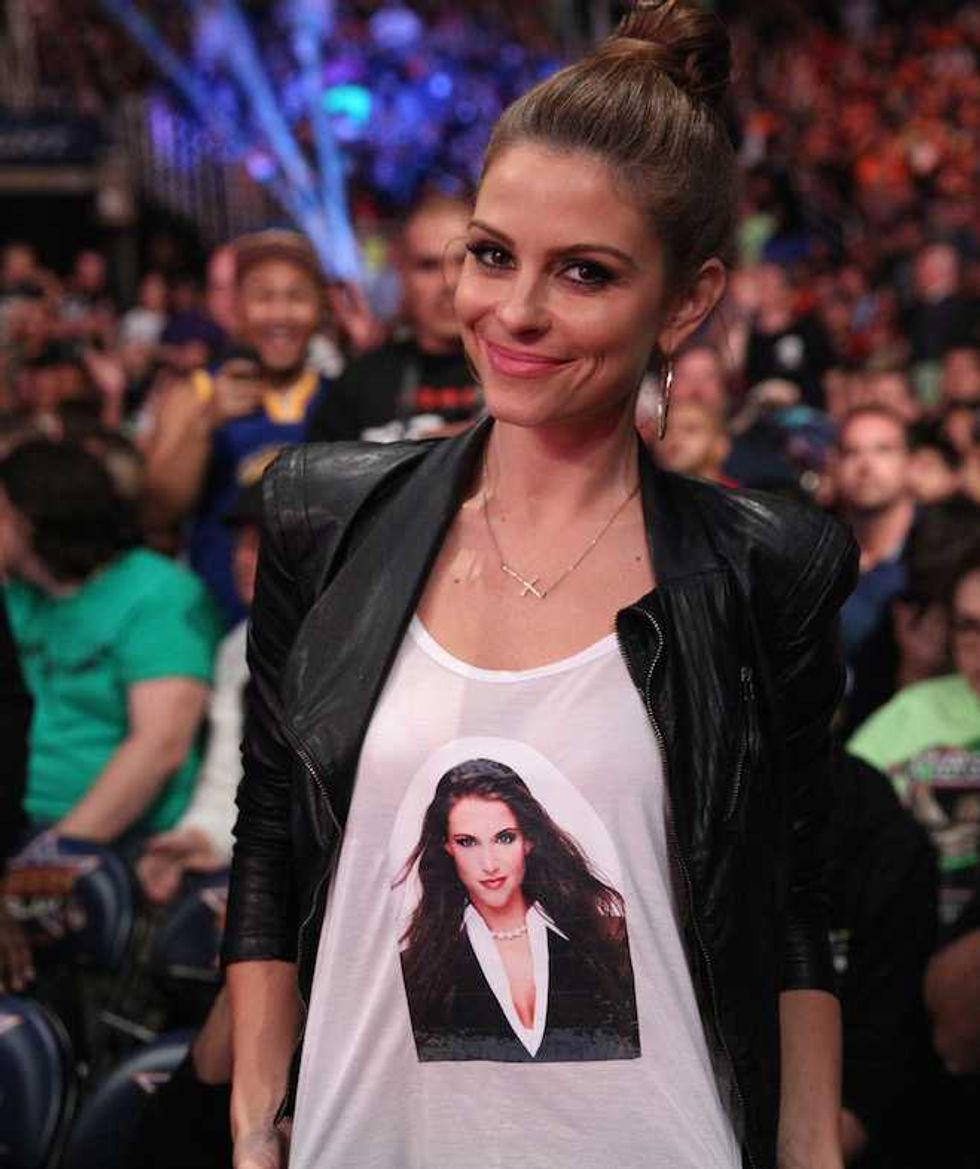 TV host (and former wrestler!!) Maria Menounos wears her love for Stephanie McMahon firmly on her chest...
Fortunately with the launch of the behind-the-scenes reality TV show Total Divas, which first aired on E! in July 2013, fans finally get better insight into what goes into being a wrestling queen.
"I think fans are finally starting to respect us as athletes," Nikki explained. "Before they kind of looked at us as eye candy but then when Total Divas came on air, you really get that look of us inside and outside the ring and see, 'the Divas work just as hard as the men if not harder.'
"Before you only saw us for a few minutes on TV and people wondered if it was an intermission. They now respect us as the athletes, role models and entertainers that we are."
Part of being an athlete is not only diligently working out no matter where you are in the world, but also training through injury and even through still-healing bones.
"The hardest thing for me is fighting through injuries, I have broken my leg before and had a stress fracture," explained Nikki. "You have to rehab those injuries and coming back stronger, but also wrestle through those injuries.
"In the end, we're professional athletes but also in the entertainment business, so the show must go on. When you are out of sight you are out of mind—you don't want the fans to forget you, so you're trying to tell that bone to heal quick to get back in the ring! That's not only physically tough but mentally tough."
Another challenge the Divas face is often having to put starting a family on hold until their wrestling career is over.
In the upcoming season of Total Divas, which premieres on September 7, viewers get to see Nikki and her wrestler boyfriend, the hunky John Cena, grappling the issue of when to have children.
"You see the bumps in the roads from being in the entertainment business. Like John's decision on marriage and kids," Nikki revealed. "Being a woman who loves her career and wants to be in it for 10 more years, that means kids are in my 40s and means freezing my eggs. We are putting our dreams of kids on hold, because you can't be in the ring and pregnant, so this season is a lot about women in power."
Sister Brie, who is married to fellow wrestler Daniel Bryan, added, "That is why so many women relate to our show because that's the real world, they have big careers and are raising kids. There are days that are really hard, then there's days when you're living the dream.
"We would love to have kids in a year or two. I am going to be 31 soon and would like two, but the good thing about WWE is there are so many things you can do and it doesn't have to be in the ring. I love charity and WWE is the number one in that area — they wouldn't mind Brie Bella with a little baby bump running working for one of the charities!"
While the twins are united in real life, Nikki shockingly turned on Brie in the ring Sunday and body slammed her to allow McMahon to win, before her own boyfriend, Cena, was taken down in the world heavyweight championship bout by Brock Lesnar.
For the best deals on WWE tickets visit TiqIQ.com