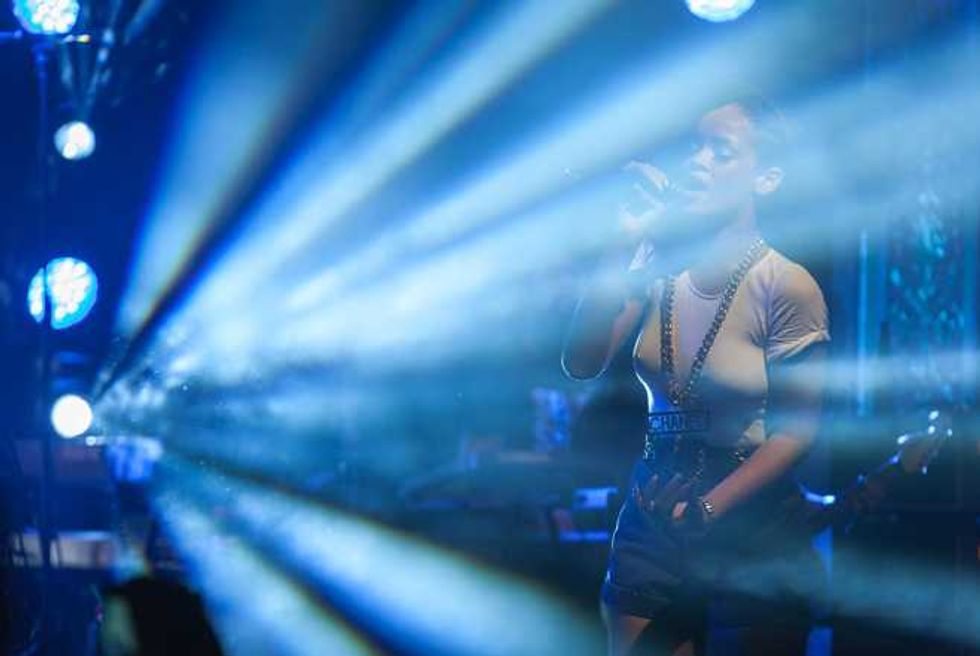 STOCKHOLM
After sitting through the same show night after night after night, you might think the passengers on then 777 Tour plane would be getting a liiiiiiittle Rihanna'd out.
You'd be right, in terms of the set list, which is pretty unvarying. (I LOVE a Rihanna jam but there are only so many times one person should have to hear "S&M.") But we're mostly sick of a lack of Rihanna. Her last appearance on the plane was brief and so tense that Popdust Photographer Alex was too afraid to try for a snap. Some of us wondered if she was not the pop star we know and love but a super crabby, Rihanna-shaped ghost. We now only see her at the nightly shows.
About those shows: they've ranged from starting "slightly late" to "really, really, can't-believe-these-Swedish-people-aren't-rioting" late.
As a result, the tour schedule is seriously off, so we spend hours and hours in travel limbo. We're seeing some of the world's most beautiful cities, trapped from behind bus windows and airplane Plexiglass. There is hardly any time to sleep, since we get home from shows late at night and leave early in the morning. The bulk of our eating and resting has to take place on the airplane, which is blissfully free of the remixed club music that follows us everywhere else. (If there's anybody less popular among 777-ers than Rihanna right now, it's Ke$ha.)
Needless to say, not everybody is thrilled to be here anymore.
PARIS
Today I've heard other passengers compare this trip to Vietnam, OZ (the prison television show), Cool Hand Luke (the prison movie) and Actual Prison. The lone meal we got en route from France was a mournful, crustless finger sandwich that one journalist likened to "summer camp food, if instead of summer camp, we sent children to prison."
I didn't think it was possible, but as a catchphrase, "Where the hell is Rihanna?" has replaced any of her earwormy hooks. Her chronic tardiness is a source of frustration that has led some of us to worry that we won't be making it home to New York on time. OR AT ALL.
The show in Paris was EXTRA truncated, because apparently if you play at the Trianon after 11 PM you go to French jail. (Side note: I bet the food there is good!) The French show was the blissfully short, especially since a Parisian whom I suspect was high on drugs was literally humping my chair all night. Are people still doing Ecstasy? I don't even know what year it is.
Rihanna apparently showed up at the after party at 3 AM, and I guess Diddy and Omarion and Akon were there. I don't know because I was so tired that not even the prospect of sitting on Diddy's lap while he bottle fed me Ciroq like an orphaned baby goat appealed. What's become of me?
After an absurd amount of wifi-deprived traveling today, the journalists are in Berlin at the venue, shivering in coats and standing in line for hot food like a bunch of refugees with curiously amazing hair. Somebody just said this place is a former Third Reich power plant, which prompted yells of "Is that true?" "GOOGLE IT!" (We're all REALLY happy to have Internet again.)
The German show is supposed to start at nine, which means Rihanna will probably go on at midnight. This means we'll be leaving for London around 3AM, where we'll have a few hours to rest before--you guessed it--another Rihanna show.
If I sound a little cranky, it's because we're running seriously low on sleep, goodwill, and "Rude Boy." (Why won't you play "Rude Boy," Ri Ri? Why would you would you play "Fresh Off the Runway" this many times and no "Rude Boy." Oh god we're so tired and we just want "Rude Boy.")
Thankfully there are donuts.
Last time … we dumped out the contents of our swag bag!
Plus … our photo guy Alex took a bunch more photos!
And …  we found these photos of Rihanna enjoying her own butt!