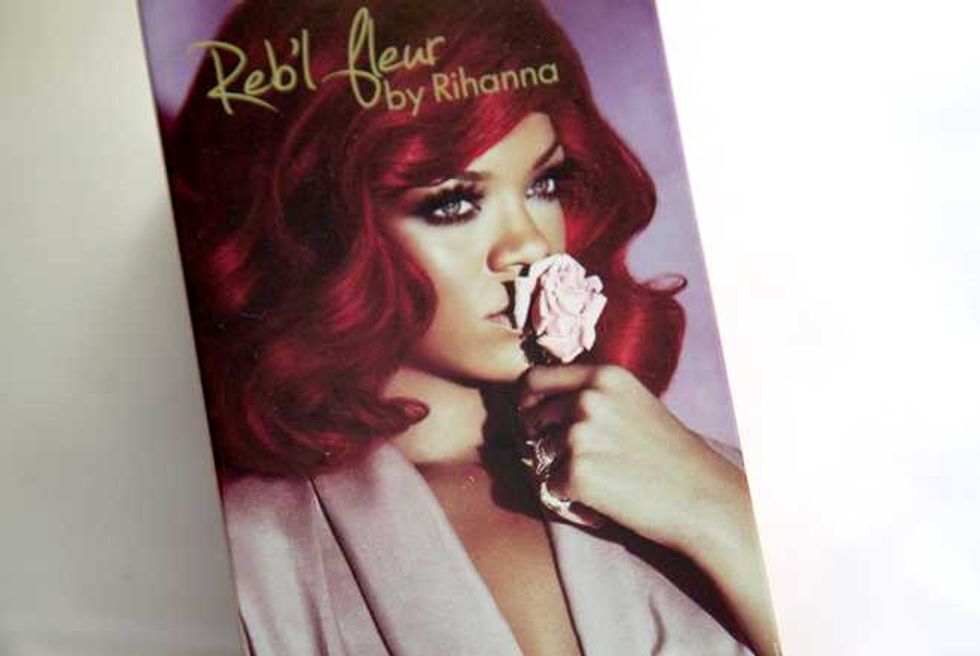 Flying with Rihanna has its perks. For one thing, you are on a plane. With Rihanna. So that's cool. But also: There's free stuff!
The 777 staff have been nice enough to provide us with a more or less unending supply of snacks and drinks (Love you, Lesley! Thanks for all the chicken wraps), but we also got a nice bag full of Rihanna-themed stuff that's … Well, some of it is very special. Of course, I went digging through for snacks, but alas, none of it was (technically) edible.
Here's what we got:
Budwesier Stuff?
I'm not sure about this tie-in. Is there a hat-tip in a song to the King of Beers that I simply don't know about? Anyhow, we got a little Bud tote bag and a t-shirt, in case I need something to wear to a pool party if I want to hide my body from my weird uncle but still let him know I'm "fun."
Signature Scents (see above)
We all got lovely bottles of Rihanna's celebrity perfumes, Rebel Fleur and Nude. This led to a lengthy discussion among the press people about whether or not any famous people's colognes actually smell good. I said Bieber's, but I got some capital-L Looks.
Some Practical Things
An overnight kit with your plane travel necessities. I don't know that I'll ever use the shoe polish, but the rest of the toiletry kit is pretty nice.
Rihanna Socks
I mean, this wasn't very exciting. Don't we all have like a hundred pairs of sexy-schoolgirl-style knee socks screen printed with a topless Rihanna clutching her breasts over the word "CHALICE"? I live in New York, I only have so much room in my apartment.
A Watch?
I think this is a watch? It could be like, a replica of Deadmau5's genitalia. I don't know.
A 777 Shirt
I love this shirt because it looks like my teenage cousin airbrushed it at his summer job selling t-shirts at Six Flags. My luggage is already getting a little funky so I'm pretty sure I'll wear this to one of the shows, without fear of being "That Guy."
Literal Diamonds in the Sky!
In one of her many now-famous announcements from the plane PA, Rihanna told us not to throw away the necklace because "it looks like it's on a piece of shit string." On that piece of shit string? A tiny diamond that she assured us was "conflict free."
Let me know if you guys want my shoe polish kit! I already ate or bartered everything else for extra pillows.
Last time … we told you about our emotional troubles!
Plus … our photo guy Alex took a bunch more photos!
And …  we found these photos of Rihanna enjoying her own butt!