It doesn't take long for the publicists to find you. You say something nice about this or that slice of Brooklyn trash and then suddenly they all want you. The new Hot Chip! Animal Collective meets Drake! Whatever.
But amid all that nonsense in my inbox, Alex Lahey is the real thing. I can count on one hand the number of songs I've discovered from a publicist and have ever actually listened to more than once. And they're all on B-Grade University, Lahey's debut EP, which Dead Oceans reissued earlier this year. Its calling card of fuzzy angst reminded me of Who the Fuck Are Arctic Monkeys?, complete with Anglophone references to places like Uni and art school and with a storytelling vigor so rare in the post-Strokes set of whiners and posers.
Take a song like "Let's Go Out," three minutes that I've listened to maybe seventy times. The opening riff is the kind of purely sensual explosion of reverb contained inside a chord sequence that is pure pop. And she dives into an everyday milieu quicker than Alex Turner can get to polishing his guitar these days. A line like "I haven't seen you in a while/Got to pull my shit together," hits you with its quotation charm. This is language caught from the everyday discourse that goes on in your head. Load up this kind of stuff and you get a chorus built of dexterous Girls-esque emotions like "Let's pretend that we're alone tonight, let's go out and have fun." The whole thing is soaring stuff, a banger about dead relationships, eras of your life that are over before you feel anything at all.
Anyway, Lahey is great and her debut full-length comes out later this year. She's been on tour with the badass pop duo that is Tegan and Sara for sometime now but will be hitting New York with a solo show at Rough Trade tomorrow and Mercury Lounge this Saturday, March 24th and 25th. Check it out.
---
I had the chance to chat with Alex last week, as she was readying to rock SXSW. We talked about Aussie rock, The Simpsons and Wes Anderson. And rock and roll.
AK: Hey, this is Andrew from Popdust.
AL: Hi, Andrew.
How are you liking South-By-South-West?
We only got in yesterday evening…there's definitely a bit of buzz going on and we're at the hub of it all; the people, the music and all that.
How does it compare to playing gigs back in Australia?
In Australia, you can only really tour on the weekends, there's not really enough people or places to play throughout the week, so doing headline shows on a Monday or a Tuesday is very new to me. A lot of venues also do all-ages early shows and stuff like that, which is something we don't really have at home. And, yeah…different crowds.
I read somewhere that your background was in jazz and that you learned guitar entirely on the side. Who were some of your big inspirations then?
There was this artist, back in Australia, called Missy Higgins, who was very big in 2003 and 2004, when I started writing songs and I think people in Australia, of my age, really looked up to her. She's still an amazing songwriter and everything but was very central to the cultural fabric at the time.
But yeah, I used to love playing "Island in the Sun" by Weezer and just anything I could get my hands around with chords: Beatles, Stones, "Bad Moon Rising," Blues. Generic stuff like that.
But the songs you write hardly feel generic. Tell me about your songwriting process.
For me, I can only write songs about things I've done or things that I think about, which are pretty normal, generic sort of things but, I find that other people experience them as well. When I start, I usually begin with a melody that's in my iPhone or a line, a lyrical line that the song will anchor itself around and from there I build a sort of story around it. Lyrically, it does come from a core and I just expand around that.
You've been recording your debut full-length right now, right?
Yeah.
What are some albums that you've been listening to, in order to get into that album-making framework?
The Sharron Van Etten record Are We There sort of came at the right time for me and made me more ambitious about production. But it's been amazing recording the album, I've [also] been listening to albums like Ryan Adam's Heartbreaker, albums that feel classic but don't feel like old classic albums. Weezer's Blue Album. I've been listening to them and trying to find the clear and conceptual stories on them and the lack thereof also there.
---
"Currently, my aesthetic is affordable."
---
It's funny, when I started working on it, I bought [Bruce Springsteen's] Greetings from Asbury Park, N.J. on vinyl just so I could, you know have that first record to listen to. Which is a bit of sentimental thing, I know but it's also a great album.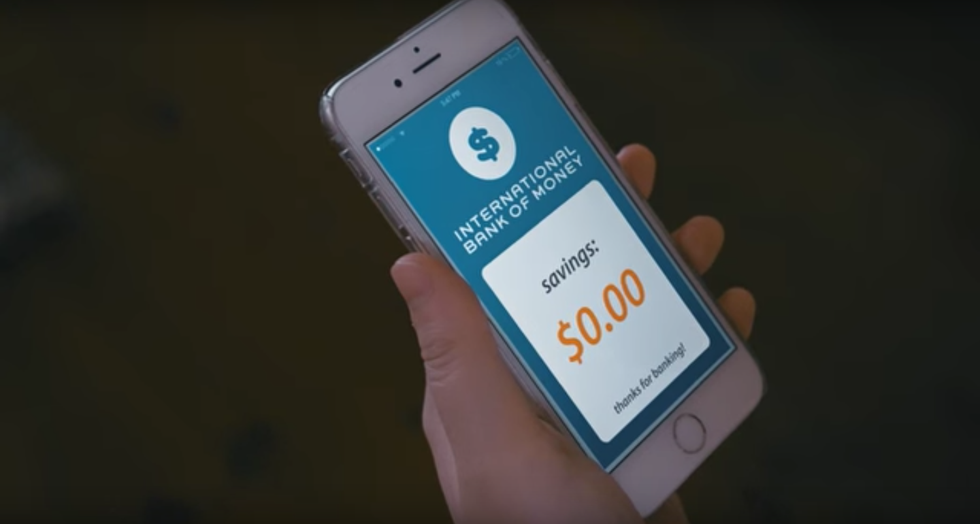 A still from the music video for Lahey's "Let's Go Out"
Pop culture abounds in your music and music videos. From Bob Ross themed music videos to naming a song "Wes Anderson." What's your favorite Wes Anderson movie?
Probably [The] Royal Tenenbaums'. What about you?
I'm a big Rushmore fan.
I don't think I've ever seen Rushmore, I'll actually go watch Rushmore now. It has Jason Schwartzman in it?
Oh, yeah. He's really young in it.
I actually didn't write "Wes Anderson" because of my love of Wes Anderson. I just wrote it about a date I went on and watched Grand Budapest Hotel with an ex.
Which is great. I mean, I wound't want to listen to a song about how great Wes Anderson is, anyway. What else do you watch or whatnot?
I grew up more with TV shows, actually. My brother and I were Simpson-obsessives. I feel like the Simpsons really did shape me, somehow.
Same, I think I probably watched every episode up the 20th season or so.
As I got older, I'd actually say that books have had a greater influence on me more than movies. Right now, I've been reading all the Bret Easton Ellis novels, chronologically, which has been really fun.
Less Than Zero is pretty dope.
I read
Less Than Zero
not a long time ago and then I got into LA, not a long time ago and it was like I could see it all unfolding in front of me. I've also been reading a lot of memoirs and music biographies. At the moment I'm reading
Travis Barker
's
book
, which is pretty funny. And I recently read
Carrie Brownstein's memoir
and also, of course, the Patti Smith books. I feel like reading shapes me much more than movies, to be honest.
How would you describe your aesthetic?
Currently, my aesthetic is affordable. I've only really tried to be myself aesthetically and I don't really think that's going to change and luckily, that's always been encouraged and so everything you see me do is from the heart. From the songs, to the way I dress, its just me being myself.
You're on tour with Tegan and Sara, a band that's gone from folk rock to big electro-pop. Could you see yourself doing something like that?
I don't really know. I think if you asked Tegan and Sara the same questions twenty years ago, they would give you the same answer. I think you go where ever your career takes you and I think that's one of the really exciting things about working hard, doing anything. And I find that really exciting.
What kind of music did you listen to in your youth?
My mom used to play a lot of Bruce Springsteen around the house and a lot of cool shit like that. A lot of old school rock and roll, stuff like Bob Seger. But coupled with really loving jazz and the saxophone and really loving the greats, your Charlie Parkers and Cannonball Adderley and what have you.

What kind of music do you find exciting or inspiring right now?
At the moment, I'm really into Foxygen. Courtney Barnett is one of the best songwriters of our time. She's really incredible. Julia Jacklin is awesome. There's a band out of England called the The Big Moon that's really cool and they've played with Marika Hackman, who is great. There's a lot of really cool garage bands like Chastity Belt and Bleached and stuff like that. [Pause]
I've been listening to a lot of women in music and not for any reason other than its really good music and they happen to be by women. That's been really fun.