CULTURE
She's also an extraordinarily accomplished conceptual artist.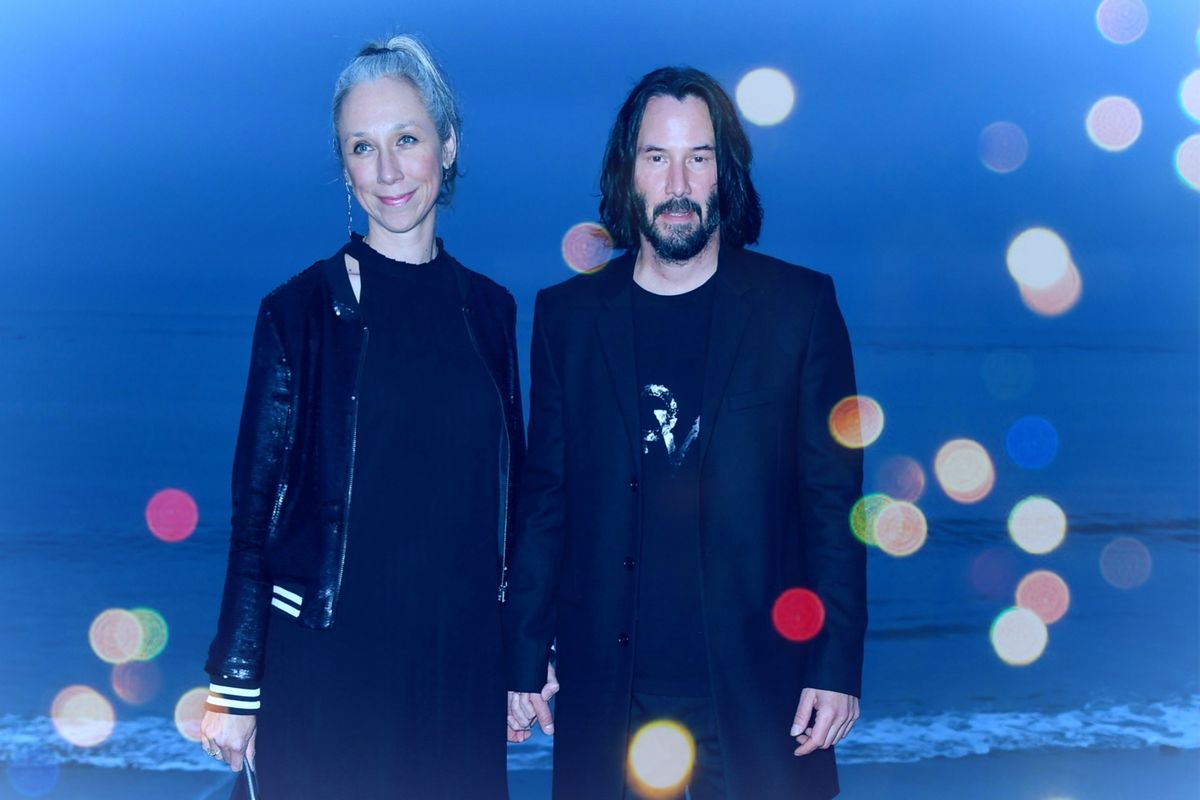 Keanu Reeves and Alexandra Grant appeared together on the red carpet yesterday at the LACMA Art + Film Gala, making their rumored relationship official.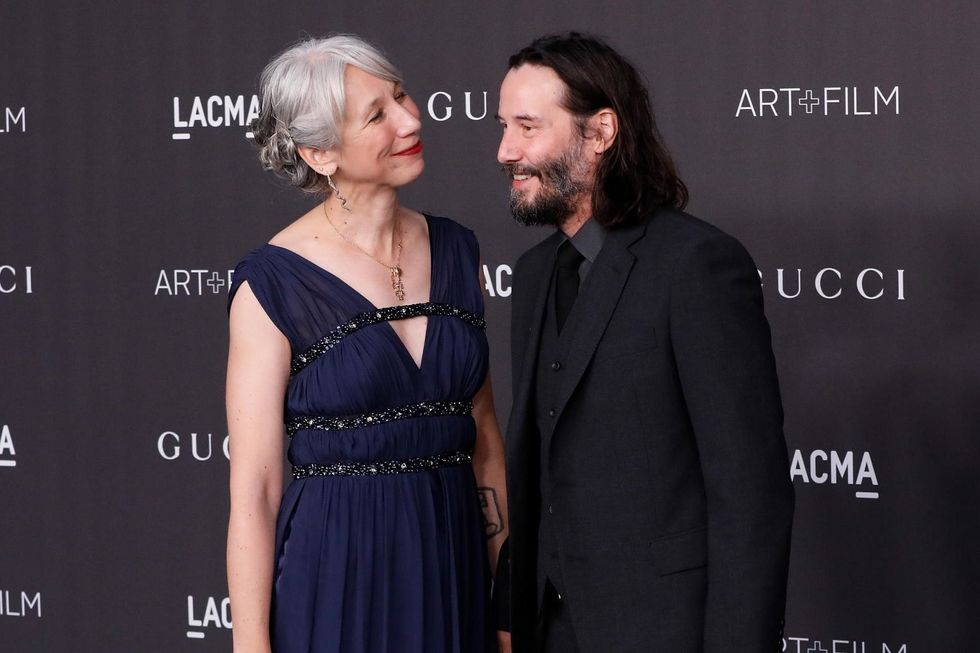 standard.co.uk
Grant is a conceptual artist and painter who has collaborated with Reeves on several projects in the past. Yes, she's 46, but the fact that we're all praising Keanu to the high heavens for dating someone only nine years his junior reveals how low our standards are. Really, we should be praising Alexandra Grant because she seems like a genuinely extraordinary person, and we all know that our beloved Keanu deserves the best and more.

A little bit about her: Alexandra Grant moved around a lot as a child, living in Mexico City, Washington D.C., and Paris. She's always been an artist. In an interview with LA Weekly, she said, "'Artist' is the best word for all the things that I love to do and have been doing pretty consistently since I was a child: reading, staring into space, daydreaming, inventing symphonic-scale projects whether a chemistry experiment or growing seeds into plants, finding meaning in the patterns of bathroom tiles and cracks in the ceiling, believing in the goodness of people and love, drawing while listening to music, experiencing language as images and colors, and desiring to be solitary while doing most of the above."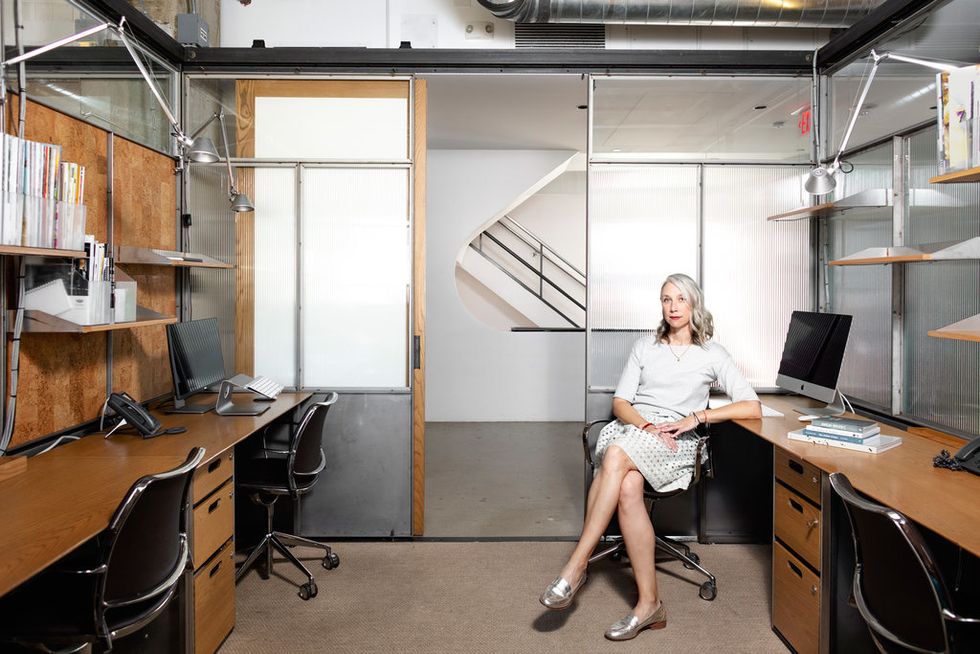 She studied mathematics in college, then attended graduate school at the California College of the Arts in California. Currently, she is based in Los Angeles. Apparently, she can officiate weddings, and loves Toni Morrison, roller coasters, and Lana Del Rey.
Her work, which has been exhibited in galleries all over the world, "probes ideas of translation, identity, dis/location, and social responsibility," according to her website. Much of her work seems to probe the liminal space between words and communication, images and meaning. She works in dozens of mediums, from clay to glass, painting to sound. Past works include a series of collaborations with the philosopher Hélène Cixous, with whom she apparently has a "telepathic" relationship. One of their projects, called "Interior Forest," is dedicated to "transforming from participants into oneironauts, or travelers within a lucid dream space" and "exploring the peripheries of the collective unconscious."

Other works include a series of collage-like paintings called "Born to Love," inspired by the Greek myth Antigone. She also directed a film called Taking Lena Home.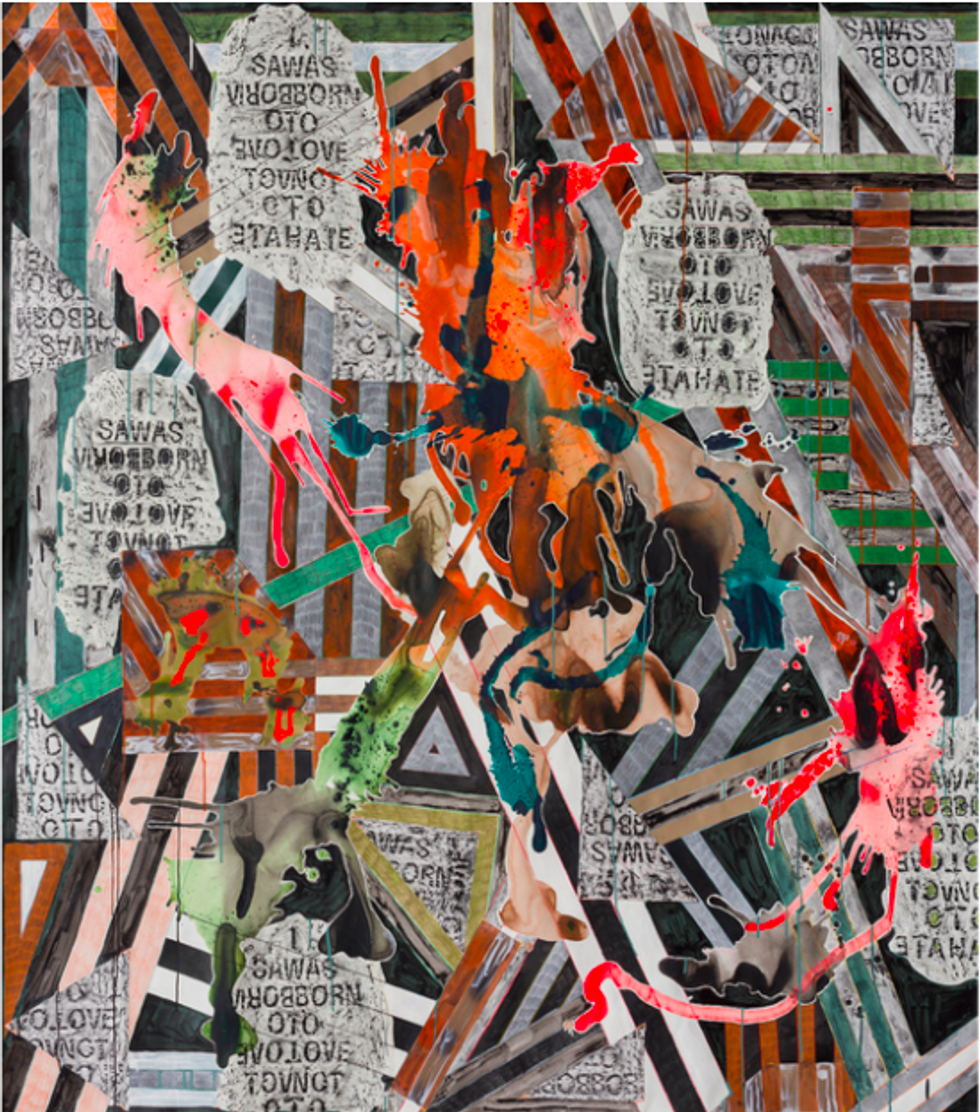 artsy.net
She has many brilliant philosophies about art, storytelling, religion, and of course, love. In an interview with The Creative Independent, she announced her own three-pronged definition of love. "The first part of it is self love," she said. "I don't think that we can truly help other people until we've worked on our own healing, or else we are going to keep promoting inherited or naturalized belief systems that aren't useful within the work we do. Self love is the first step to being able to love others. The second is really just that sense of loving other people in our community, doing more than maybe we're comfortable doing. But it has to come from a place of self-healing first. The third is loving the responsibility we have to love others who are different than we are. Politics and business thrive from creating false differences between us. I think that we really are in a time where we need to love those who are different than we are, and take action and responsibility towards that."

Grant has applied her definition extensively in her own life. She's a philanthropist, and created the grantLOVE project, which funds arts-based nonprofits in LA.
In terms of her relationship with Reeves, Grant has been collaborating with the Matrix star for quite a while. Grant was introduced to Reeves through a mutual friend, for whom they later threw a joint birthday party, and they became close cooking steaks at the event. "From the beginning, we were collaborating," said Grant in an early interview.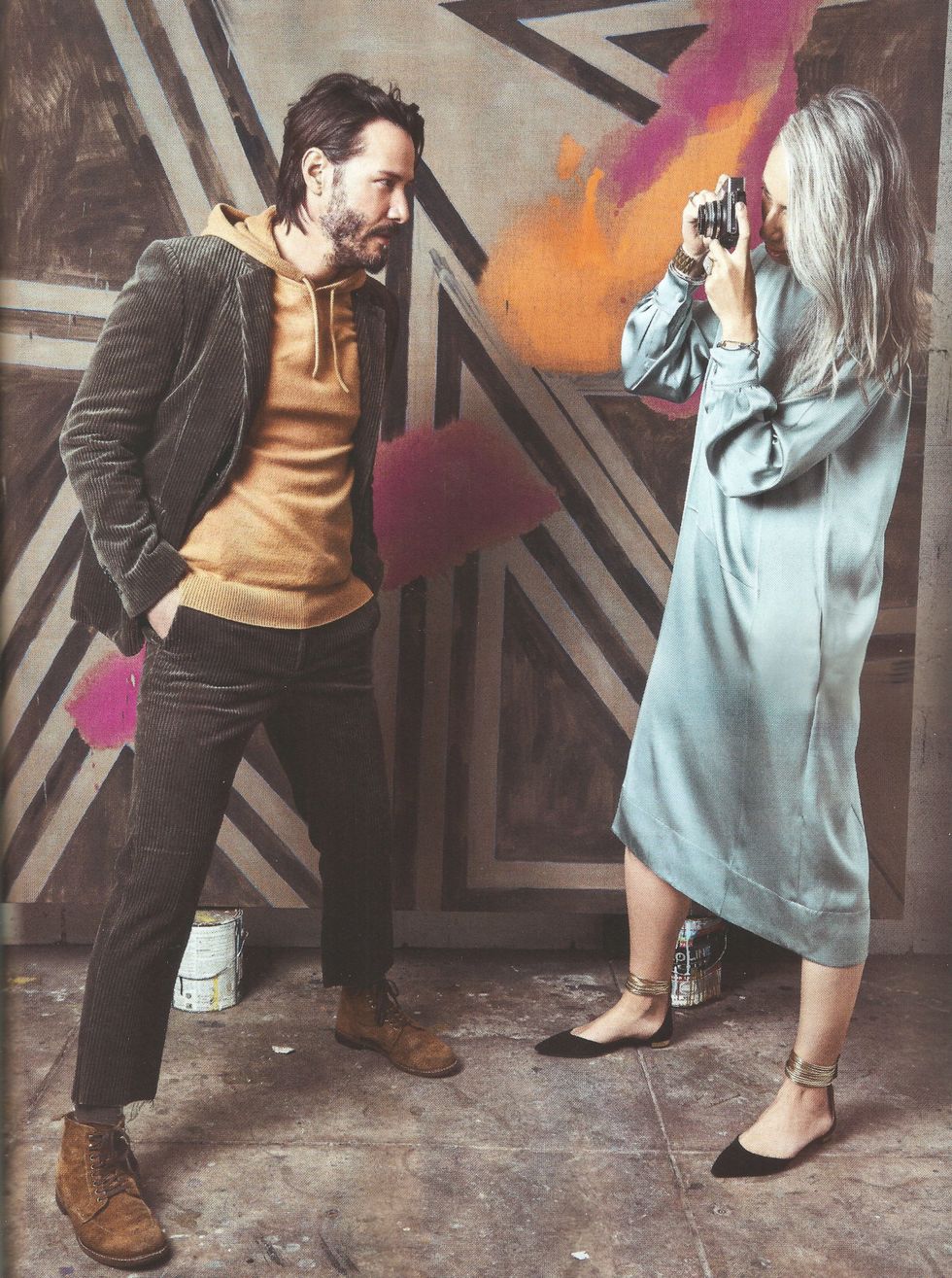 Pinterest.ru
She later illustrated two of his books, 2011's adult picture book Ode to Happiness and 2016's book of poetry, Shadows. The latter book later became an interdisciplinary collaboration between Reeves and Grant.

According to the Shadows exhibition's press release, "Through a series of dramatic photographs, Grant captures Reeves' silhouette in a sequence of movements where his figure often blurs beyond the point of recognition, causing the final images to border on abstraction. After the shoots with Reeves, Grant manipulated the images to invert the images black for white, making the shadow itself the source of light. Despite their mysterious and elegant qualities, the images are narrative and figurative, supported by Reeves's poetic texts in the titles and accompanying book. Hauntingly beautiful, the images are also playful, allowing the viewer to sense the intimacy and exchange in the collaborative relationship between subject and artist." Essentially, it seems that Keanu Reeves and Alexandra Grant may have fallen in love while she took blurry photos of him as part of a project meant to explore intimacy. (Be still, my heart).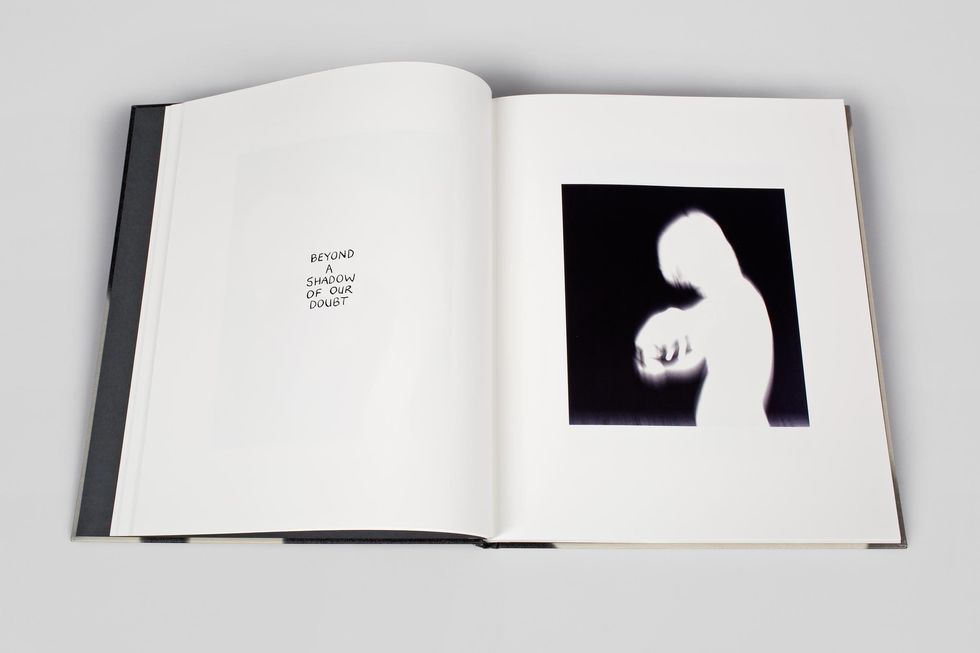 wmagazine.com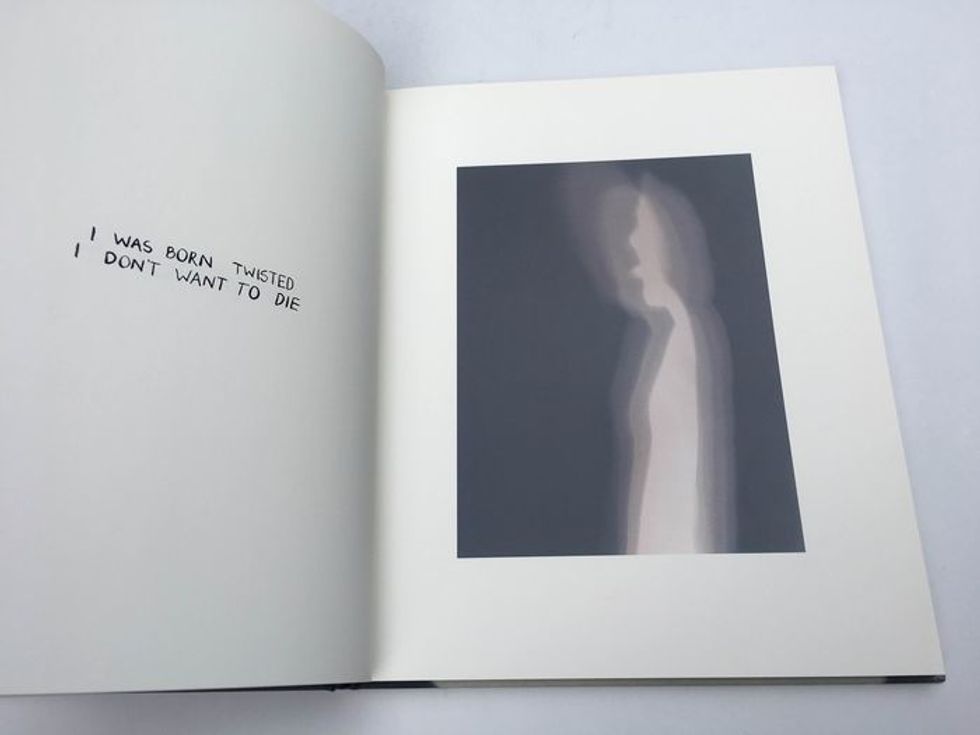 auction.catawiki.com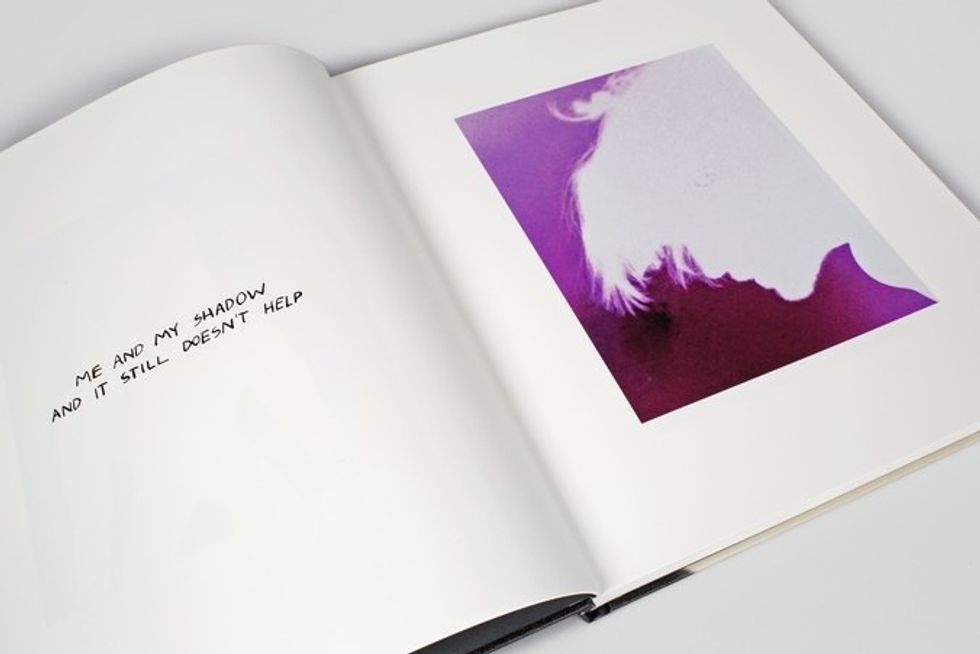 wmagazine.com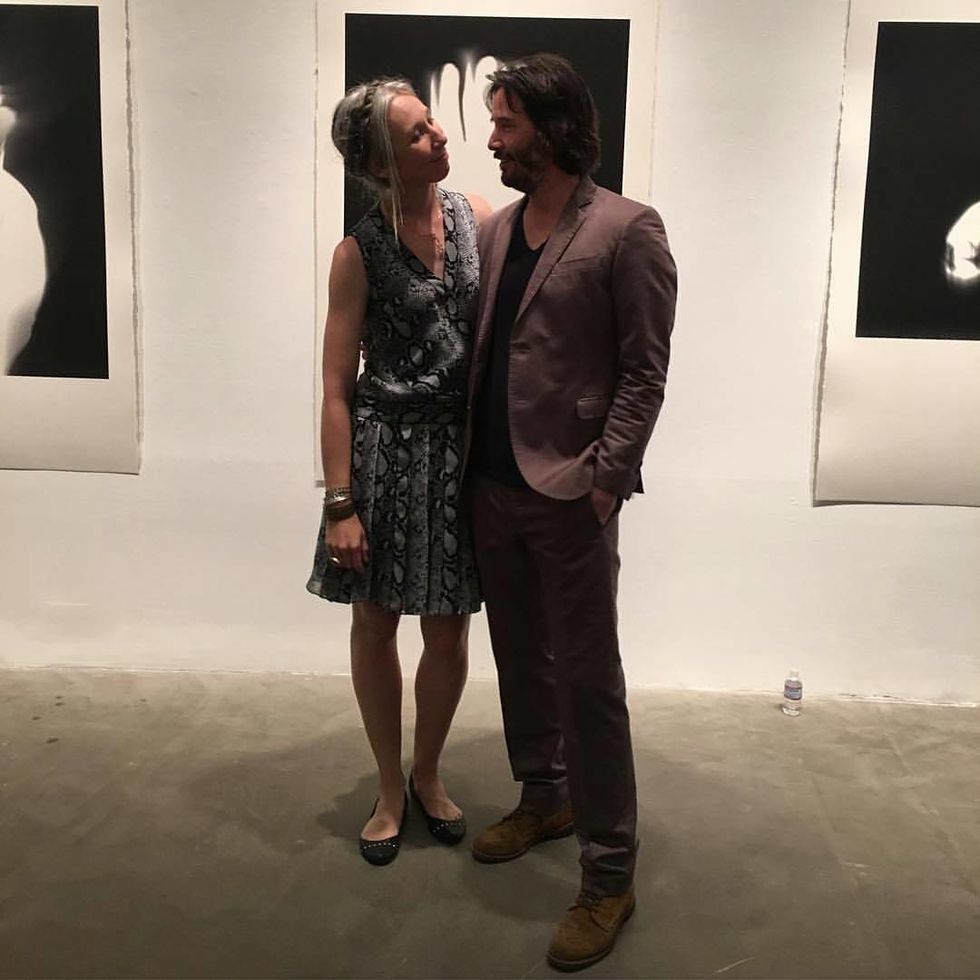 standard.co.uk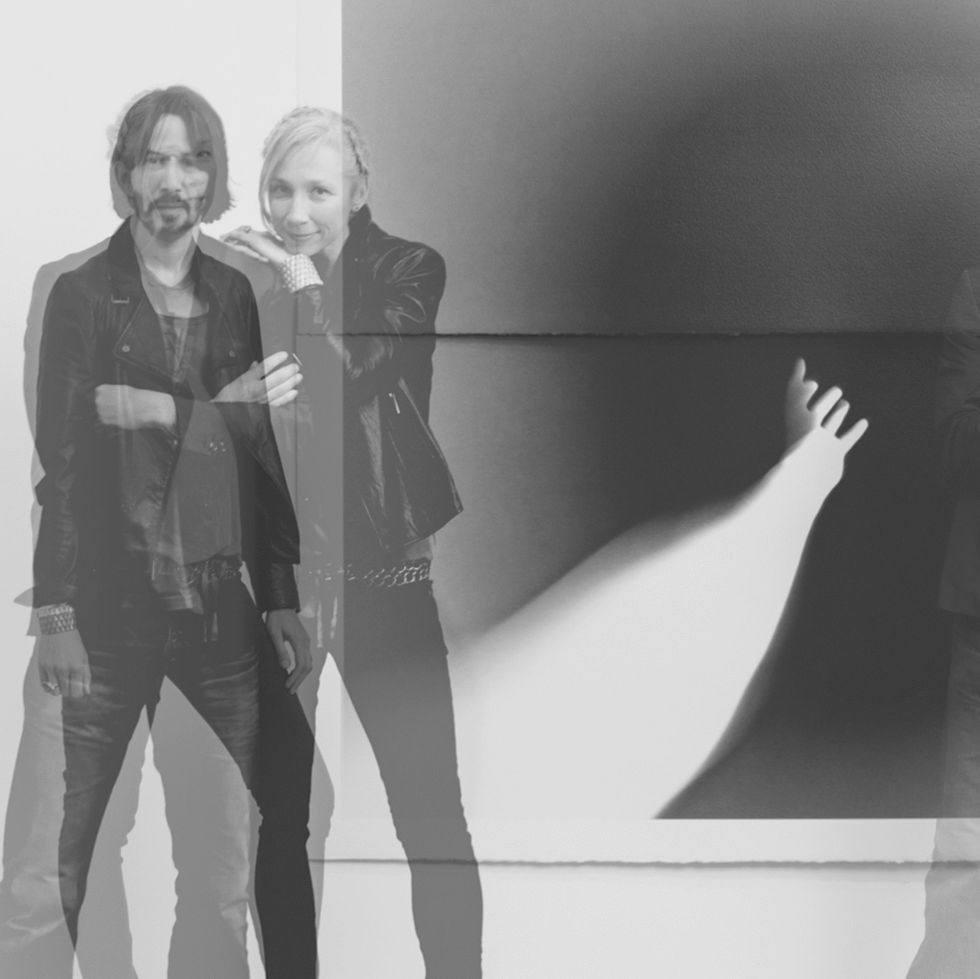 neuehouse.com
Collaboration and partnership seems to come naturally to these two human angels. In 2017, they co-founded X Artists' Books, a publishing house that publishes "unconventional, interdisciplinary and collaborative artists' books," according to the LA Times. "Thematically we're really interested in darkness and politics," said Grant of X Artists' Books. "We're also interested in marginal voices that are exciting, and in exploring the performative and experimental. I think a book can become a seed, a DNA for world-building."

So, it seems that Grant is just as socially conscious and spiritually awakened as Keanu Reeves himself. One would imagine that there's a roomy cabin somewhere in the California hills where they spend all their time creating, cohabiting space mostly in silence, stopping only to occasionally discuss their dreams.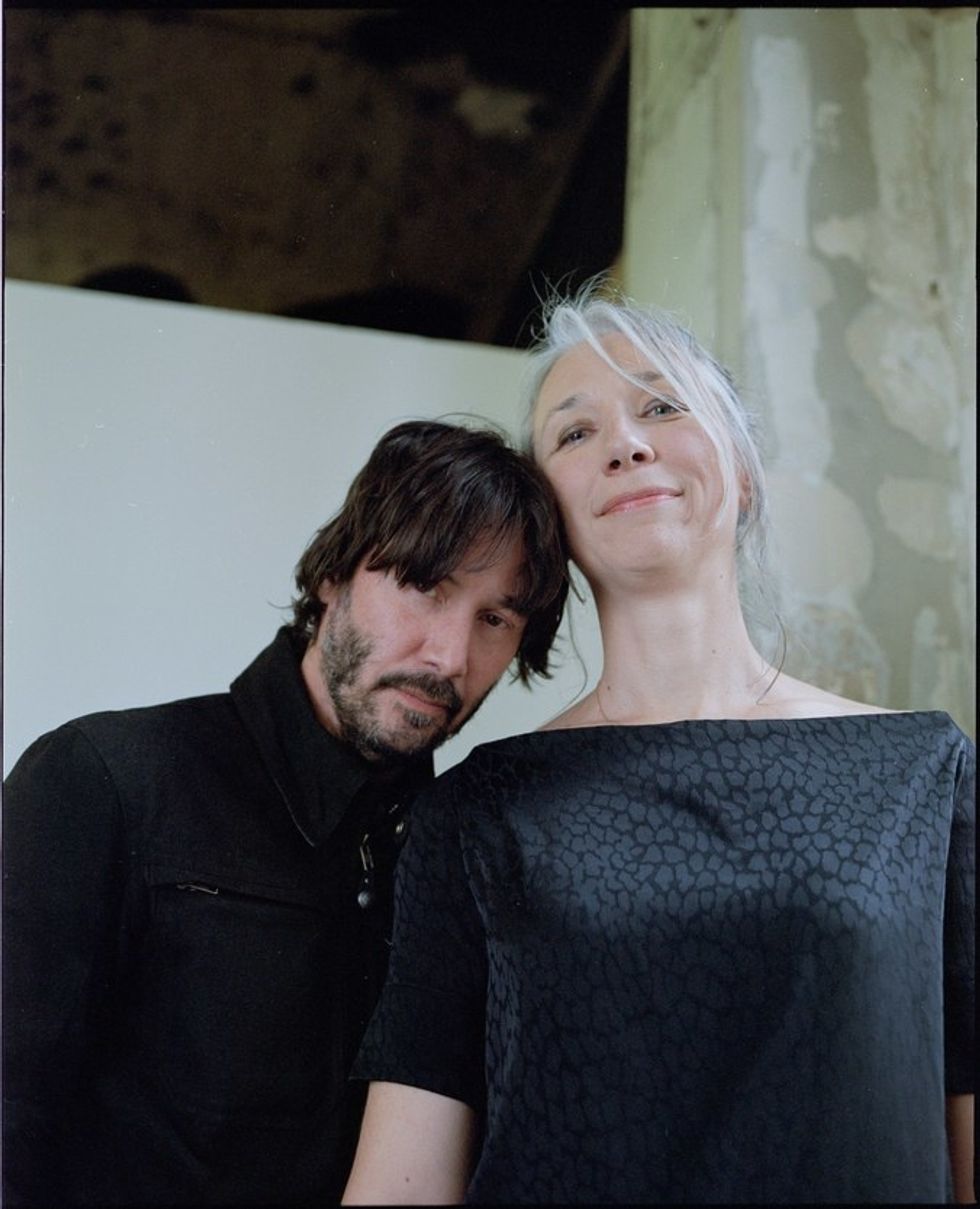 wmagazine.com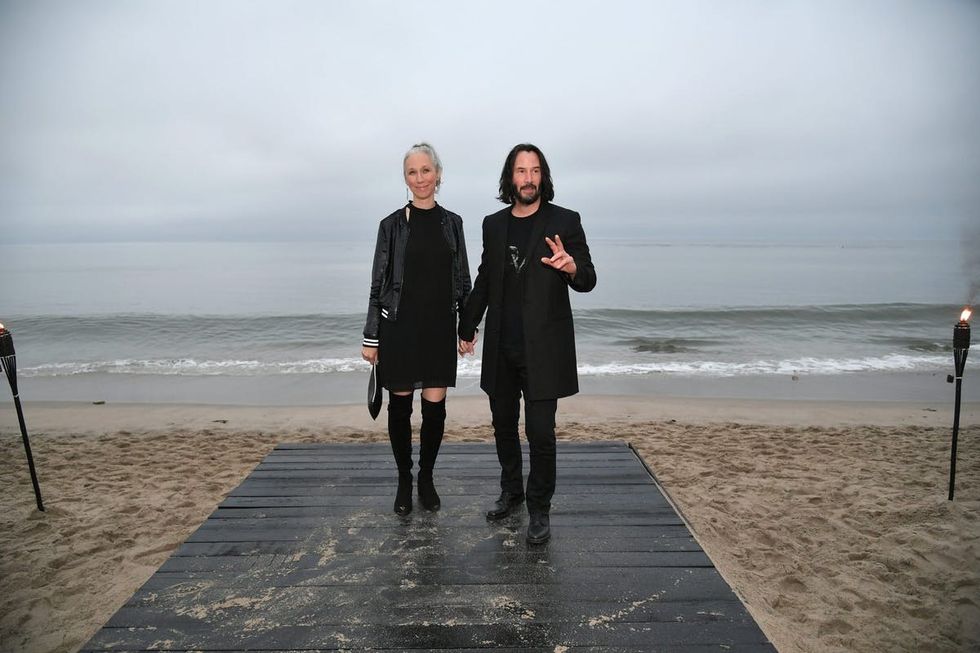 standard.co.uk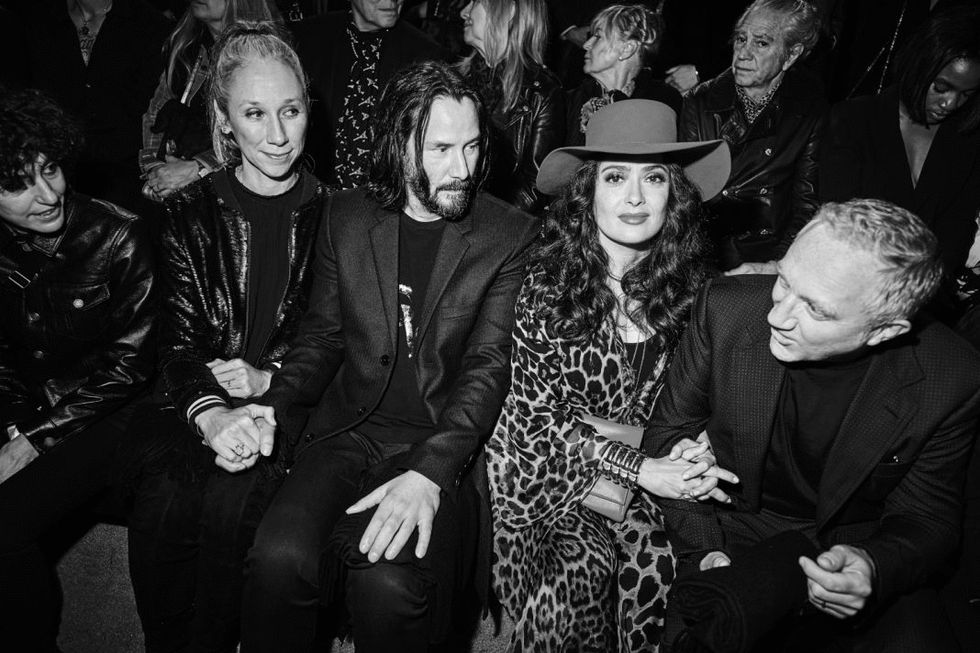 Los Angeles Magazine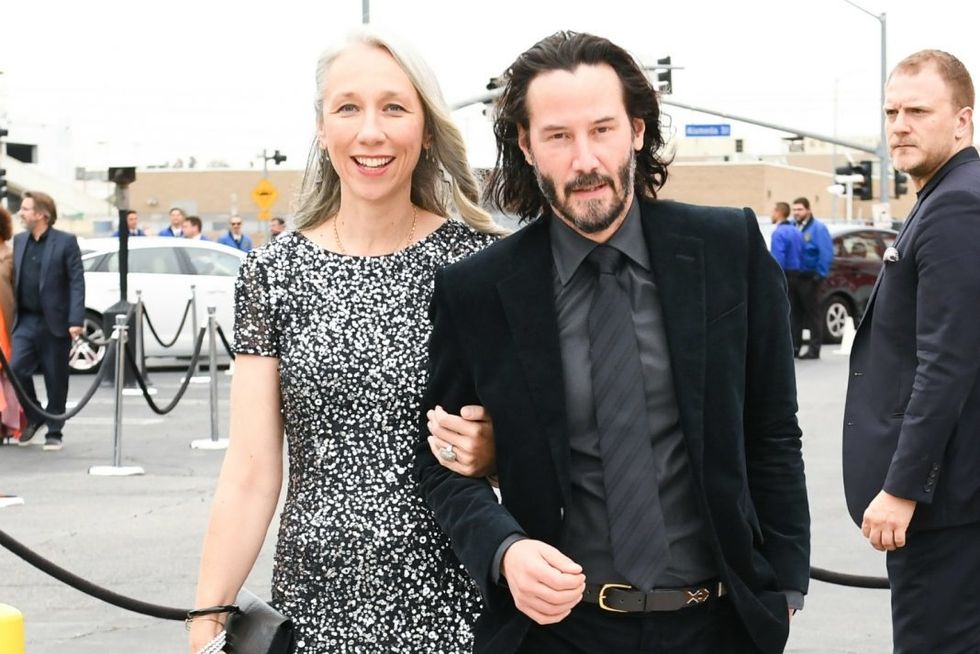 LA Mag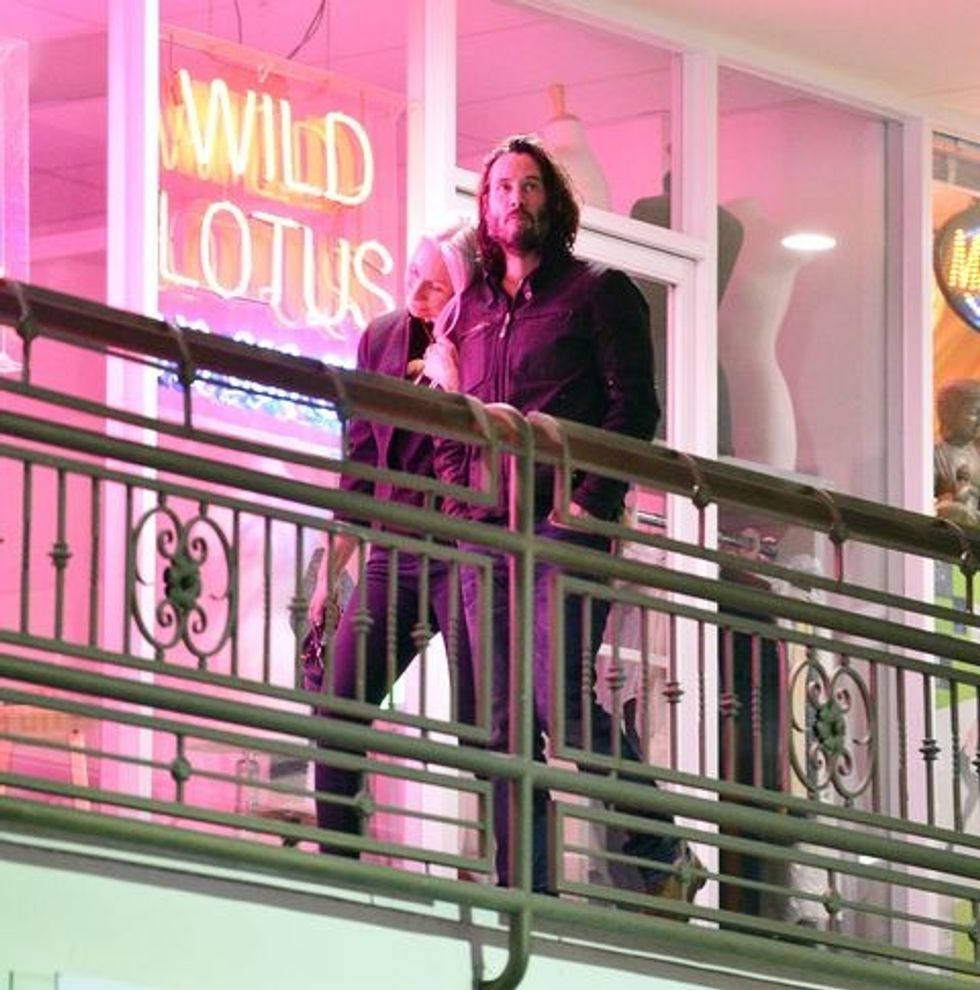 elle.com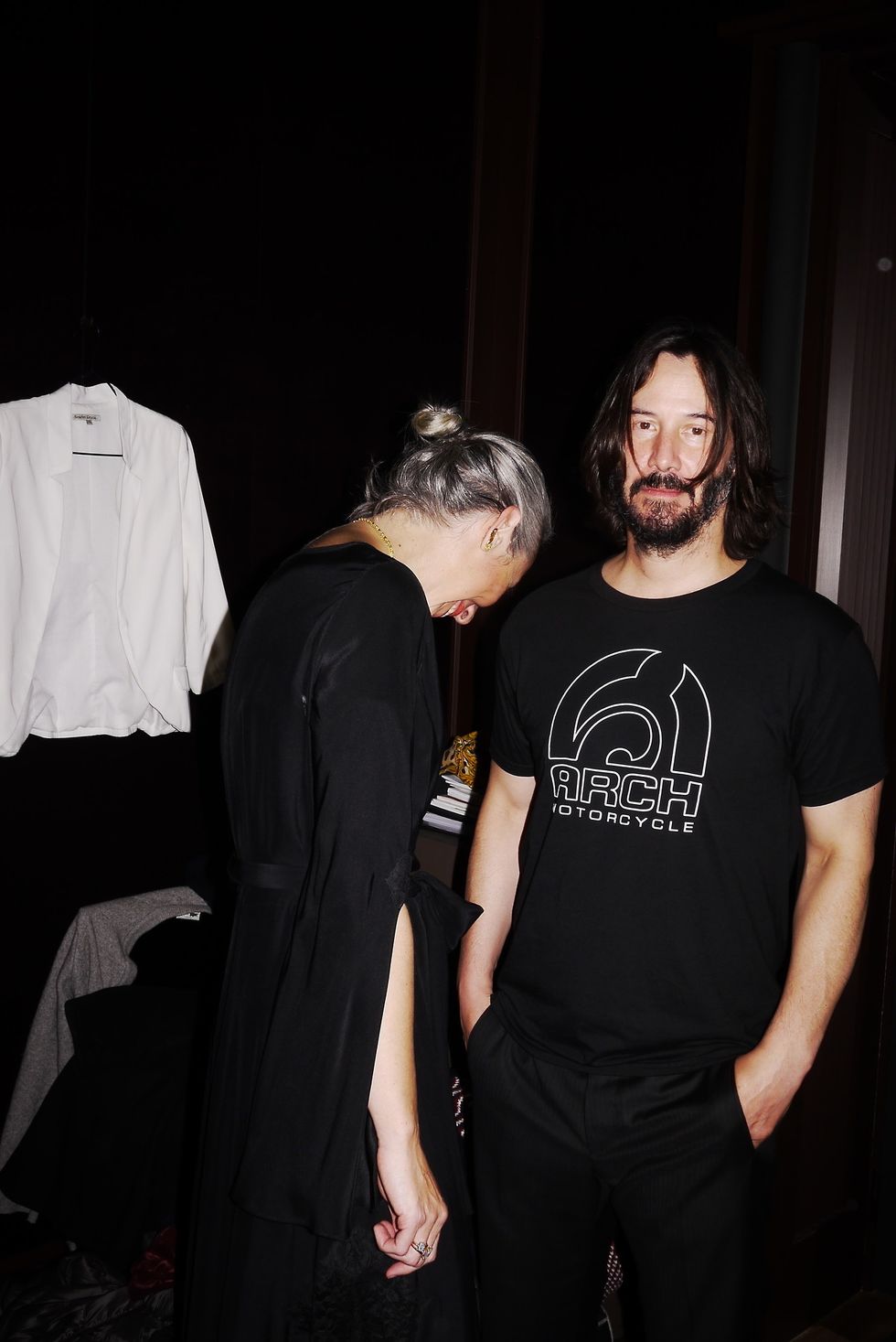 Keanu Russian Club