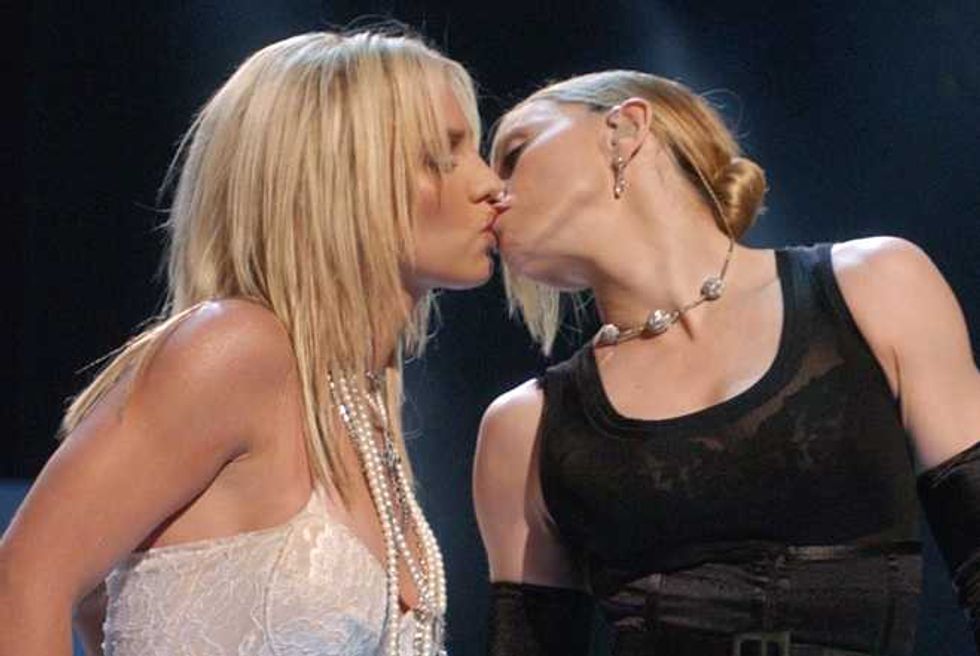 In all the anthologizing that MTV offers in the weeks leading up to a Video Music Awards—like we're going through now, before this year's VMAs finally arrive on prime time this Thursday—the history of the VMAs becomes an amorphous blur of Madonna performances, Guns N' Roses fights and Kanye West rushing the stage. Remembering what happened on which year becomes virtually impossible–good luck telling us when Chris Rock made fun of all the boy bands, Andrew Dice Clay got a little blue for MTV producers, or Britney Spears sleepwalked through the most disastrous performance in award-show history. (Just five years ago!)
That's what we're here for. Taking into account everything from the host to the performances to the winning videos to those unforgettable WTF? moments, we've ranked every last VMAs ceremony, from worst to best. Where will this year's ceremonies rank? Well can only hope there's a whole lot of Madonna, cross-generational duets and weird kissing, and not so much Dennis Miller or Panic! At the Disco.
29) 1985: Finding an identity
There were some pretty slow VMAs in the early years, and despite solid hosting (and a "Party All the Time" live performance!) from Eddie Murphy, then one of the world's hottest stars, there's nothing really to remember from the '85 awards besides Don Henley's "Boys of Summer" cleaning up and David Lee Roth and Lindsey Buckingham (??) somehow managing to snag seven nominations each. (Ah, the long-ago age of the old white dude.)
28) 2007: Losing an identity, with Britney as headliner
Easily the worst VMAs of recent years, the '07 awards nearly did away with the "awards" part entirely, paring down half the categories and adding stupid ones like "Quadruple Threat of the Year" and "Most Earthshattering Collaboration." The two most enduring memories from '07 were JT chastising the network to "play more damn videos" and Britney Spears unleashing the most unholy trainwreck of a live performance in 21st century television—both of which got a fair deal of attention, but, of course, for all the wrong reasons.
27) 1998: Madonna, a lone ray of light
A big night for Madonna, who won her first Video of the Year for "Ray of Light" and had the performance of the night, a "Ray" duet with guitarist Lenny Kravitz. But host Ben Stiller failed to make an impression, the other performances were instantly dated (Master P? The Brian Setzer Orchestra?) and the only "drama" came down to the resolution of a couple non-feuds (Brandy/Monica, Whitney/Mariah).
26) 2006: Worst. Winners. Ever.
One of the all-time worst VMA hosts (Jack Black, out of place with his rawk schtick, which he already exhausted once as co-host of the '02 MTV Movie Awards) combined with arguably the worst spate of award winners in MTV history (James Blunt, Avenged Sevenfold, the Video of the Year-winning Panic! At the Disco), '06 was only redeemed by truly show-stopping opening performance from JT and Timbaland. If only they'd just stopped there.
25) 1996: Van Halen reunion fail
MTV second go-around with host Dennis Miller didn't get any points for freshness, and the performances were utterly unmemorable—Hootie and the Blowfish doing "Sad Caper," can you feel the excitement?  Still, the Van Halen reunion gone awry—it only took them about one hour of pretending they liked each other to remember their hatred (they split again weeks later)—made for fun drama, and the biggest winner of the night, Smashing Pumpkins' "Tonight, Tonight," was a classic video for sure.
24) 2012: Where is everybody?
Most of the big stars that dominated the last few years of the VMAs—Lady Gaga, Justin Bieber, Kanye West, Adele—no-showed, leaving a heavy load that overrated host Kevin Hart, deliverer of one of the weakest opening monologues in recent award-show history, couldn't carry. The evening was redeemed by a badass (and ass-grabbed, courtesy of guest rapper A$AP Rocky) opening performance by Rihanna, deserved Video of the Year winner for "We Found Love," and a rare moment of intimacy with Frank Ocean's stripped-down "Thinking Bout You."
23) 2004: Welcome to Miami
The first hostless VMAs in MTV history made for a rather aimless affair, with the overhyped Miami locale supposed to take center stage. Will Smith and Shaquille O'Neal were excited, anyway. OutKast took home Video of the Year for the obviously great "Hey Ya!" and closed the show with the song, but even Andre 3000 seemed sick of his world-conquering smash by that point, introducing his performance with "For the millionth time..."
22) 1988: Alt-rock debuts, but old people overwhelm
Notable for being the first sort of alternative rock VMAs—INXS, who played, were the big winners for their awesome "Need You Tonight / Mediate" clip, while Depeche Mode performed their S&M love song "Strangelove"—and for the debut of four-time host Arsenio Hall. But otherwise, the performances were still heavy on boring vets like Cher and Rod Stewart, and the night was markedly short on intrigue.
21) 1990: Madonna, Sinead and the beginning and end of Hammer Time
As always, Madonna stole the show with her performance of "Vogue" in Marie Antoinette-like garb (stolen from Michelle Pfeiffer's character in Dangerous Liasons), though she lost Video of the Year in an upset to Sinead O'Connor's brilliant "Nothing Compares 2 U." The other big star of the night was MC Hammer, a performer and two-time winner—his last time performing or winning at the VMAs, which is probably a good thing.
20) 1987: So, so much Peter Gabriel—and so many VJs
Peter Gabriel ruled the school with his innovative "Sledgehammer" clip, winning nine awards of ten nominations, a VMA record to this day. Unfortunately, it came in the second year, when MTV decided that having a bunch of its VJs host was as good as having one special host (nope), and there really weren't any noteworthy performances or moments—though Run-D.M.C. did earn the distinction of being the first rappers to grace the VMA stage, playing "Walk This Way" with Aerosmith.
19) 1995: TLC's big night and MJ's last stand
On Dennis Miller's first time out as host, '90s R&B trio TLC marked a career peak performing a four-song medley and winning four VMAs (including Video of the Year) for "Waterfalls." It was also Michael Jackson's last great, non-disturbing moment at the ceremonies: He opened with a gargantuan set that touched on ten (ten!) different MJ classics. And, uh, Silverchair was there.
18) 1993: Pearl Jam rule the roost, but RuPaul and Uncle Milty steal the show
Christian Slater was allowed to host for some reason, but '93 was redeemed by a big night for Pearl Jam, at the peak of their powers, both cleaning up in the awards with their controversial teen suicide tale "Jeremy" and playing in the night's best-remembered performance, dueting with Neil Young on Young's "Rockin' in the Free World." '93 was also responsible for the most unlikely feud in awards history, when legendary comedian Milton Berle and celebrity drag queen Ru Paul exchanged barbs on stage.
17) 2008: Russell Brand redeems VMA hosting
Russell Brand was the main attraction his first time hosting, and he didn't disappoint, pissing off George W. Bush and the Jonas Brothers and kidnapping Britney Spears (Video of the Year winner for "Piece of Me," a year after her "Gimme More" debacle), speeding away with her at ceremony's end. Buzzworthy performances from Lil Wayne (then the biggest rapper in the world) and Kanye West (debuting his "Love Lockdown") also helped make it a solid bounceback from the VMAs low in 2007.
16) 1986: Unforgettable videos, unmemorable performances
Not a great year for performers (aside from Whitney Houston making her VMA debut) or hosts (the first with the all-VJ lineup), but possibly the best year for videos in the show's history, with a trio of all-time classics—Dire Straits' "Money for Nothing," Robert Palmer's "Addicted to Love" and a-ha's "Take on Me"—winning the majority of the big awards.
15) 1989: Neil Young, Andrew Dice Clay, and everyone in between
One of the most diverse slates of performers in VMA history—including Tone Loc, the Cure, the Rolling Stones and Bobby Brown, who allegedly dropped a crack vial on stage—and the all-time weirdest Video of the Year winner, when Neil Young beat out Madonna and Michael Jackson with "This Note's For You." Oh yeah, and Andrew Dice Clay made some jokes that not everybody liked.
14) 2001: What the hell?
A supremely weird VMAs, with Michael Jackson making an unexpected (and somewhat disquieting—he seemed to be avoiding eye contact with the camera) appearance at the end of 'N Sync's performance, Britney tangoing with an albino snake, Christina being plagued by her fake cousin Daphne Aguilera (played by the immortal Andy Dick) and Macy Gray using her dress for self-promotion. Alicia Keys and U2 added much-needed stability with their less-controversial performances.
13) 2002: No, really, what the hell?
As host, Jimmy Fallon had one of the awards' more successful nights, kicking things off with a Billy Crystal-like musical montage honoring the Video of the Year nominees. Still, this show was even weirder than the one a year earlier. Some of the same players were involved—MJ showed up to accept an Artist of the Millennium award he wasn't really being presented with and Christina Aguilera was the subject of discussion for her darker, dirrrtier look—and some new ones joined the fun, with Eminem feuding with Moby and Triumph the Insult Dog, and Guns N' Roses making an extremely untriumphant return to the VMA stage after a decade's absence.
12) 1991: Prince and Pee-Wee make the VMAs TV MA
R.E.M.'s transcendent "Losing My Religion" swept the major awards, though Prince stole the show from them with his "Gett Off" performance, in which his ass-less pants made for a very dramatic mid-song turnaround. Elsewhere, Poison nearly broke up (and definitely fist-fought) backstage, and a post-porno-bust Paul "Pee-Wee" Reubens asked the audience if they'd "heard any good jokes lately."
11) 2010: Meatheads and meat dresses
Justin Bieber made his VMA debut, Kanye West and Pusha T premiered "Runaway" in an epic closing performance, and host Chelsea Handler got uncomfortable in a hot tub with the cast of Jersey Shore. But the night was unquestionably Lady Gaga's, as Mother Monster won eight Moonmen (including Video of the Year), mostly for her ico)
10) 2005: "Trapped in the Closet" and some other stuff
Green Day and Kelly Clarkson dominated the evening, the artists winning a combined eight awards and opening and closing the show with excellent performances. Diddy might not have been the funniest host, but the man knows how to throw a party, and he and Snoop also pulled off a fine Biggie tribute. If you remember 2005 for one thing, though, it was probably R. Kelly's absolutely transfixing one-man "Trapped in the Closet" performance, still one of the craziest happenings of any sort ever broadcast on national television.
9) 2000: The Slim Shady Army invades
A coronation for Eminem, who won Best Video and Best Male Video for his "Real Slim Shady," his performance of which (with the hundred-strong Slim Shady Army) standing as one of the show's all-time star-making moments. Throw in a Fred Durst cameo during a Christina Aguilera performance and the bassist from Rage Against the Machine scaling the show's scaffolding for no real reason, and the VMAs were off to a strong start in the 21st century.
8) 2011: Beyoncé confirms the rumors, Gaga overstays her welcome
Gaga tore the roof off the sucker with her opening performance of "You and I," before her male alter-ego persona (Jo Calderone, in case you managed to forget) started to grate on everyone. No matter: The night belonged to two other ladies—Adele, who proved she had one hell of a second hit on the way with her devastating performance of "Someone Like You," and Beyoncé, who killed it with "Love on Top" before dropping the mic, unbuttoning her vest and rubbing her protruding belly, confirming to the nation what Jay, in the audience, already knew.
7) 1997: Bruce and Sting rep for the old guys, Marilyn Manson and Fiona Apple for the weirdos
Aside from the odd historical footnote that is Jamiroquai's "Virtual Insanity" winning the evening's Video of the Year—and even that was pretty cool back in the day, c'mon—'97 was an all-time classic: Chris Rock in his first year as host, Fiona Apple proclaiming "the world is bullshit" while accepting her first VMA, Marilyn Manson closing with his Marilyn Mansoniest MTV performance, Sting and Bruce Springsteen making incredible live cameos...this stuff adds up, you know.
6) 1994: "And they said it wouldn't last..."
Snoop Dogg proclaiming "I'm innocent!" during a too-timely "Murder is the Case" performance, Green Day and Beastie Boys appearances at their mid-'90s best (including MCA-as-Nathaniel-Hornblower rushing the stage to protest one of their video's losses, and to claim he invented Star Wars), and, of course, Michael Jackson and Lisa Marie Presley sharing a super-uncomfortably-long post-marital kiss. ("And they said it wouldn't last!"—they were divorced 16 months later.) Too bad about Roseanne hosting.
5) 2003: Madonna, Britney, Christina and the liplock heard 'round the world
Another great roster of big-winner videos, including Missy Elliott's "Work It," Beyoncé's "Crazy in Love" and Justin Timberlake's "Cry Me a River" (though even JT admitted he should've lost to Johnny Cash's posthumous "Hurt"). But c'mon—all you were talking about the day after this one was the Kiss, shared between Madonna and Britney (and Christina, sort of) during Madge's show-opening performance. In terms of live music performances in the 21st century, only Janet Jackson at the Super Bowl topped this moment.
4) 1984: Iconic performances and videos in the first year out
Speaking of Madonna. The Material Girl put the VMAs on the pop culture map in the first-ever ceremonies with her definitive performance of "Like a Virgin," performed writhing around the stage in a wedding dress and a "Boy Toy" belt, a memory no one who came of age in the '80s would ever forget. The other performances couldn't hope to measure up, but the videos honored on the night—including Michael Jackson's "Thriller," Cyndi Lauper's "Girls Just Want to Have Fun," Herbie Hancock's "Rockit," ZZ Top's "Legs" and The Cars' unlikely Video of the Year winner "You Might Think"—represented another one of the all-time great MTV classes.
3) 1999: Chris Rock kills, Kid Rock rocks, Lil Kim jiggles
The VMAs at the height of both the boy band and the rap/rock eras, host Chris Rock cut both groups down to size with one well-timed question: "What's up with all the white people trying to act black?" Rock had the show's best-ever opening monologue, and some of those white people had some pretty good moments themselves—including Kid Rock, starting things off with an ass-kicking, Run-DMC-featuring medley, and Backstreet Boys, who performed the year's biggest hit, "I Want it That Way." But the biggest moments belonged to Lauryn Hill, who upset the TRL crew for Video of the Year with "Doo-Wop (That Thing!)," and Lil Kim, who wore a dress with one breast covered only by a pastie—and memorably jiggled by co-presenter Diana Ross.
2) 1992: The grunge takeover, with Axl Rose and Van Halen vs. Kurt Cobain
The inaugural VMAs of the grunge era, with Pearl Jam, Red Hot Chili Peppers and Nirvana all making their first appearances—with the latter nearly giving MTV execs heart attacks by teasing their controversial "Rape Me" at the beginning of their performance, then launching into a self-destructive performance of new single "Lithium." Meanwhile, lead singer Kurt Cobain nearly got into a backstage fight with Guns N' Roses singer Axl Rose, in a symbolic showdown between the old guard and the new. Howard Stern (with an assist from ass-grabbing Luke Perry) gave the show its biggest PR fiasco since the Diceman with his overly tasteless (yes, even by Stern standards) "Fartman" routine.
Van Halen's "Right Now" probably shouldn't have beaten "Smells Like Teen Spirit" for best video, but hey, it was still pretty cool, right?
1) 2009: Kanye, Taylor, Beyoncé and the moment that saved the Video Music Awards
How about this for a jam-packed VMAs? The show opened with Madonna and Janet Jackson paying tribute to the Janet's late brother Michael, and closed with Jay-Z and Alicia Keys delivering a stunning performance of "Empire State of Mind" in the song's live TV debut...and neither were even close to the show's most memorable moment. Not when you have Beyoncé performing Video of the Year winner "Single Ladies" with a full recreation of that clip's legendary dance performance, Taylor Swift taking "You Belong With Me" for a ride on the F Train to Radio City, and Lady Gaga (in her VMA debut) blowing Diddy's mind in the audience with her surreal and bloody performance of "Paparazzi."
And then, of course, the moment that brought it all together, and the one that brought the VMAs back to national prominence after a string of underwhelming years in a row—Kanye West's meme-launching "Imma let you finish" interruption of Taylor's Best Female Video acceptance speech, where he credited Beyoncé with "one of the best videos of all-time." (He was right—though Taylor's video was up there too—but, as the President would say, he was also a jackass.) The VMAs would've survived if 'Yeezy hadn't summoned up the liquid courage to steal Swift's spotlight, but we probably wouldn't be talking about them nearly as much, wondering what the Kanye/Taylor Swift moment from this year will be.