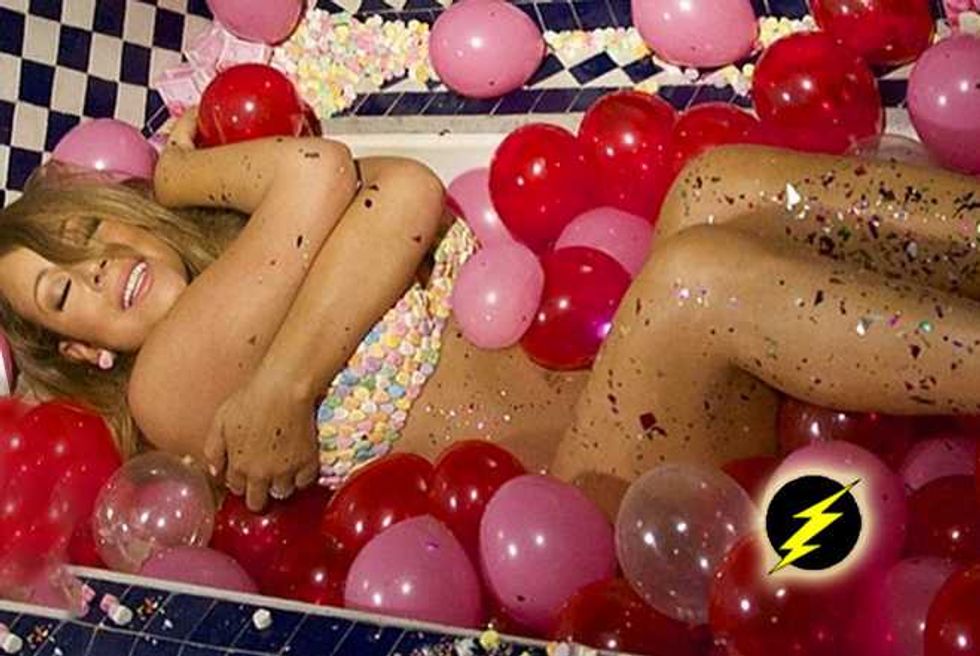 Mariah Carey is one of the most accomplished artists in the music industry—she's the best selling female singer of all time—with a slew of number one hits to her name and a plethora of awards.
But, let's set aside the 45-year-old's amazing career achievements for just one second and take a moment to admire Mimi's innate fabulousness.
The mom-of-two kicked off her Las Vegas residency in typical Mariah divalicious style last month—arriving to her press conference in a 1936 pink convertible, dolled up to the nines in a bejeweled gown, fur wrap and gigantic blinged out chandelier style earrings.
And, the fabulousness didn't end after Queen Mimi's Caesar's Palace arrival—oh no, oh no siree!—it continued throughout the day, with well oiled muscle bound men, glitter, glamor, and Mariah's announcement that, "No matter what, we're going to make it into a festive moment, darling. It's an extravaganza."
An extravaganza indeed!
As Popdust previously reported, after months of speculation, Mariah confirmed she was heading to Sin City during an appearance on the Ellen show back in January.
"I'm going to do my first ever residency in Vegas at Caesars. This is a special event for me," Carey said. "And again, I have to hope that the fans will enjoy this cause I'm gonna be performing, which was kind of inspired by my album Number 1's, and this is now the updated version with 18 of them."
According to reports, Mariah's Caeser's Palace deal is every bit as fabulous as the great diva herself.
How fabulous? Well, it's rumored to be in excess of the $30 million contract Britney Spears scored.
The first three Mariah #1 To Infinity shows received mixed reviews, and she was forced to cancel last Wednesday's performance because of bronchitis—but, ticket sales have been strong, with demand and sold out shows forcing some fans to pay much more for tickets than the face value of $55-$250.
So, love her or loathe her, one thing's for sure—Mariah Carey is going to remain in the spotlight for a very long time to come—and, we wouldn't have it any other way.
Check out Popdust's gallery of Mariah Carey's most fabulous and divalicious photos—and remember bitches, it's Mariah's world…. we just live in it….