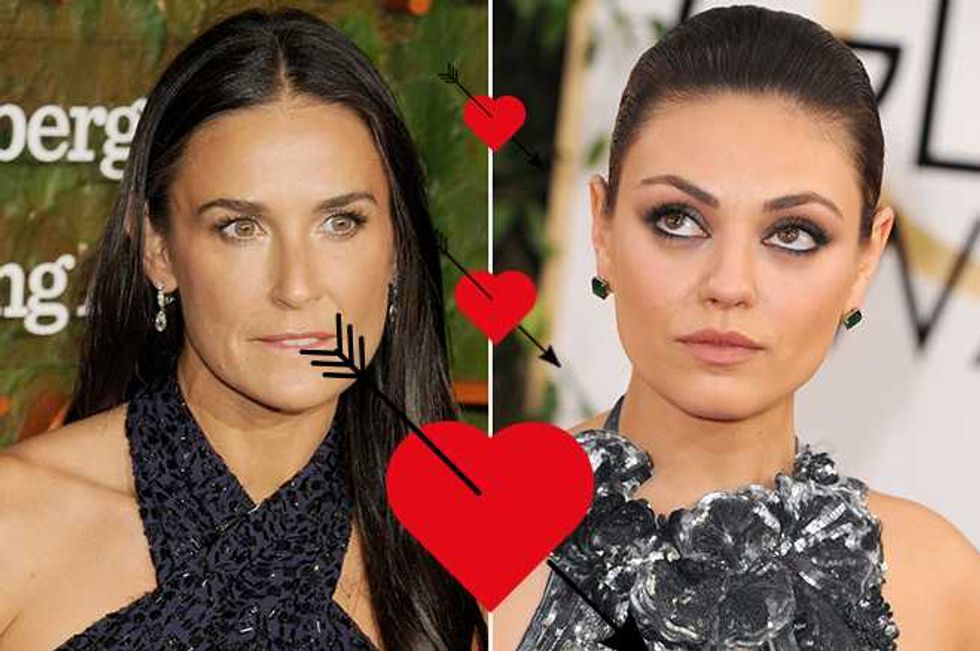 With the arrival of Mila Kunis and Ashton Kutcher's baby girl, let's review the tabloid bullshit launched yesterday by one of the premiere venues of celebrity fiction and dutifully spread by Us Magazine and all the other usual suspects.
It begins with this whopper, told exclusively by an exclusive Insider:
Demi is putting the past behind her now. She is in total acceptance now. She ultimately has great love for Ashton and has accepted the fact that he is in love Mila and that they are starting a family.
Aww. Good for Demi, what a trooper. Let's look deeper into this development.
[Demi], 51, definitely has maternal instincts and ...has offered to help in any way that she can with the baby and with Mila.
Maternal Instincts, eh. I guess anyone with three kids might be described as having Maternal Instincts? But in Demi's case, it is definite.  Finally, to make things crystal clear, the Insider, now also a Source, confides:
Things have settled down a lot, and she wants to be there for Ashton's family.
What a wonderful story! If only any of it were true, we could all have our own Tooth Fairy, too!  The story has been copied by at least fifty online news sources in the last 24 hours, one even using the headline 'DEMI REACHES OUT TO  ASHTON.'
People, are we idiots??
Does anyone actually believe this shit, and would you believe it even if Demi herself came over and whispered it in your ear?
Here's what my exclusive source (i.e., common sense) tells me:
Demi Moore does not want to hear the words Mila Kunis one more time for the rest of her life. If Ashton could only drop dead, she would yell 'Free at last!' in the voice of Dr. Martin Luther King. The only thing Demi feels good about is the fact that Ashton had a girl, because he probably hoped for a boy.
That is my exclusive insider take.  What's yours?