MUSIC
Listening to Alt-J is like being continually beaten with a very small stick by a very small man
Q magaizne.
Alt-J records have always been terrible but it has taken some time to understand the precise nature of the terror they have wrought.
They are boring, sure. But so are Clinic. So are Razorlight. So are the million or so other British imports that have never had the chance to headline a major music festival or generate a major hit on US radio: 2014's charmless go at Moby territory "Left Hand Free." Beloved by the bloated boys of college campuses and the women who will stand them, this peculiar Leeds trio (a town home to such questionable trash as the Kaiser Chiefs, ¡Forward, Russia! and, uh, Soft Cell) has wormed itself into the ears of those who like the idea of computers but wouldn't touch an Aphex Twin record with a ten-foot pole. Who like the idea of beats but are frightened by that 21 Savage character over in the other room. Fresh from the United Kingdom come the All-American Rejects of our time. "I just want to love you in my own language," moans frontman Joe Newman on Relaxer, the band's latest and in which he mostly approximates the voice of a dying rabbit. Wot's that, then? Speak up!
---
Midway through, Newman suddenly begins calling himself a resistance leader or something. Tastes like warm Pepsi, mate.
---
What is this language, then? Drum pads that sound like lightly tapped tea cozies. Spasms of electronic burps and hisses that come out of nowhere and mean nothing. Beats that sound like woodblocks in George Michael Bluth's hands. Crescendos that rise and fall suddenly, as if to say: we experimented. There are beats, I think, somewhere. On their last record, This Is All Yours, they sampled Miley Cyrus. This time, the honor falls to Hans Zimmer, whose melody from the score of The Thin Red Line is nicked for a single called "Adeline."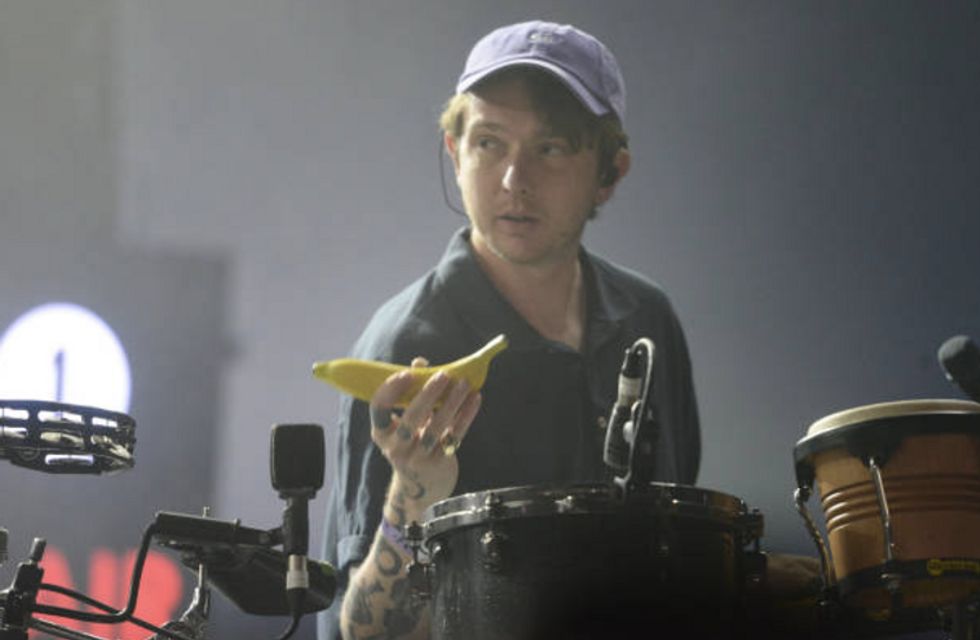 Thom Green, the band's drummer, is behind many of these beats. He released a solo album called High Anxiety last year.(Dave J Hogan/Getty)
Lyrically, you can make some argument that Newman is vaguely influenced by rap, but not the kind of rap you or I listen to but that wack white British stuff: Jamie T, Professor Green n' The Streets. Emo pining that sounds odd to our ears but betrays a faint, very faint resemblance to the single, scratched-up copy of The Chronic that has been making its way to every British house and home since 1992. Except, these boys, if you don't know, you still don't know because it's all nonsense. "School of magic, with brooms and wands/pairs of people tugging like hungry dogs, for bone, baby," Newman later squeaks, perfectly capturing the vocal inflections of a small rat, tail crushed in a household trap. But what is he talking about? Boning? Are they boning? In the next line, there is something about scissoring. But don't take it from me, check out this breakdown from one of the geniuses over at genius:

Breaking sexual taboos with the language, Alt-J refers to an orgy that is performing female intercourse, which is nicknamed 'scissoring'. The imagery of wizards performing the sexual act is intended to shock the audience and contains the connotation that perhaps their sex is 'magical'.
Yeah. As I said, wack. Perhaps dangerously so. Of course, it's one thing if some poor, misguided fan thinks there's something radical to be found in the recordings of a band that never aspired to more than a version of Radiohead that wouldn't bother Spotify so much. It's another when the band appears to buy their own bull. Midway through Relaxer, Newman begins patting himself on the back as some sort of renegade, a resistance leader who refuses to "subscribe to your cultural norms." It tastes like warm Pepsi, mate.
A prejudice that many lonely, nerdy people have is that great art is created by other lonely, nerdy people. This is untrue: Billy Corgan wrote, maybe, five good songs but that's about it. Alt-J has always been a band that has worn its nerdy epaulets on its shoulders: from the insipid band name (gosh, Macs are cool) to forcing Osamu Sato, a somewhat forgotten video game composer, to create some content to help promote Relaxer, as the band are fans of a game that Santo worked on in 1998 that has a cultish following. Like anything created by nerdy, boring people, each track tries very hard to convince you the band can do something well. Twice on Relaxer, the band strangely shift into intimate folk-music mode, something they've never really done before, despite bizarrely telling NPR "We are a folk band." One is a cover of "House of the Rising Sun," to which they've added the word "happy" a number of times and the other is a strange suicide serenade that includes the line "Life floats away." Both sound like a blurry version of whatever it is Okkervil River recorded on all their albums after "For Real."
Is all this nerdy studiousness essential to the band's charm? The best thing that can be said about Relaxer is that it is their shortest record yet, neatly sailing under forty minutes where their last went well past sixty. It's best moment, strangely, is entirely borrowed: that Zimmer clip that they loop out for five minutes. Its barely their work, but it's nice. Which is the point of Alt-J, they look like guys who have worked very hard and listen to very good music. Mostly by themselves. Listening to Alt-J, in some sense, is like being continually prodded with a very small stick by a very small and lonely man. What is he saying, why is he saying it? Does he still have the capacity to talk? I look down and I just hear squawking.
Relaxer is out now! Get it today!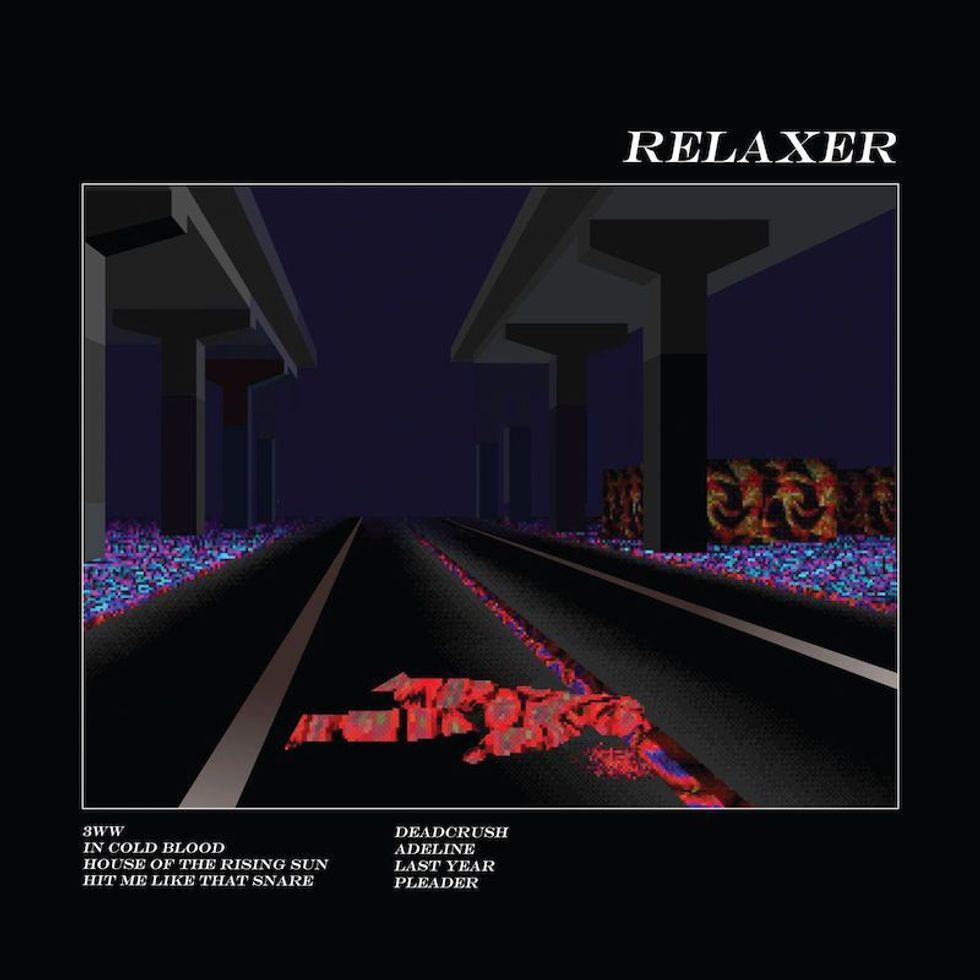 ---
Andrew Karpan listened to Relaxer while on his constitutional the other day and felt deeply offended. Please @ him. He's very lonely.
---
More Reviews:
REVIEW | Did you know WAVVES and !!! have totally new albums out?