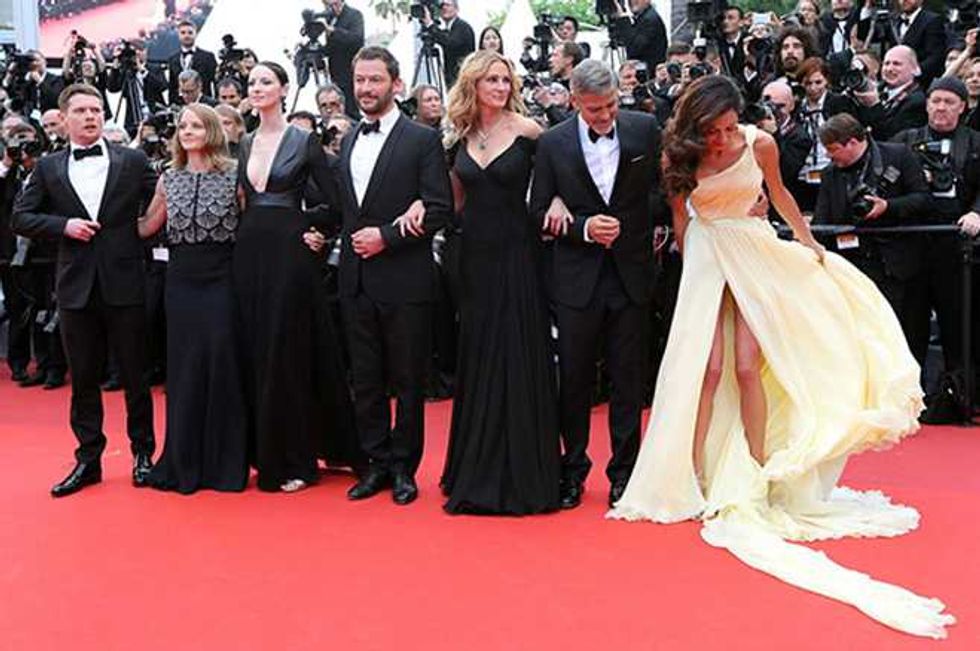 Amal Clooney capped off months of fashion grandstanding with a magnificent wardrobe malfunction at the premiere of her husband's movie in Cannes.
Resplendent in a pale yellow silk chiffon gown by Atelier Versace, Amal was determined to upstage her husband George Clooney's costar, Julia Roberts, and director Jodie Foster.
Unfortunately, the gown was too much for Amal to handle.
The long train presented a challenge to the fashion-conscious human rights lawyer, who fussed with it so much that a film festival official has to carry it for her.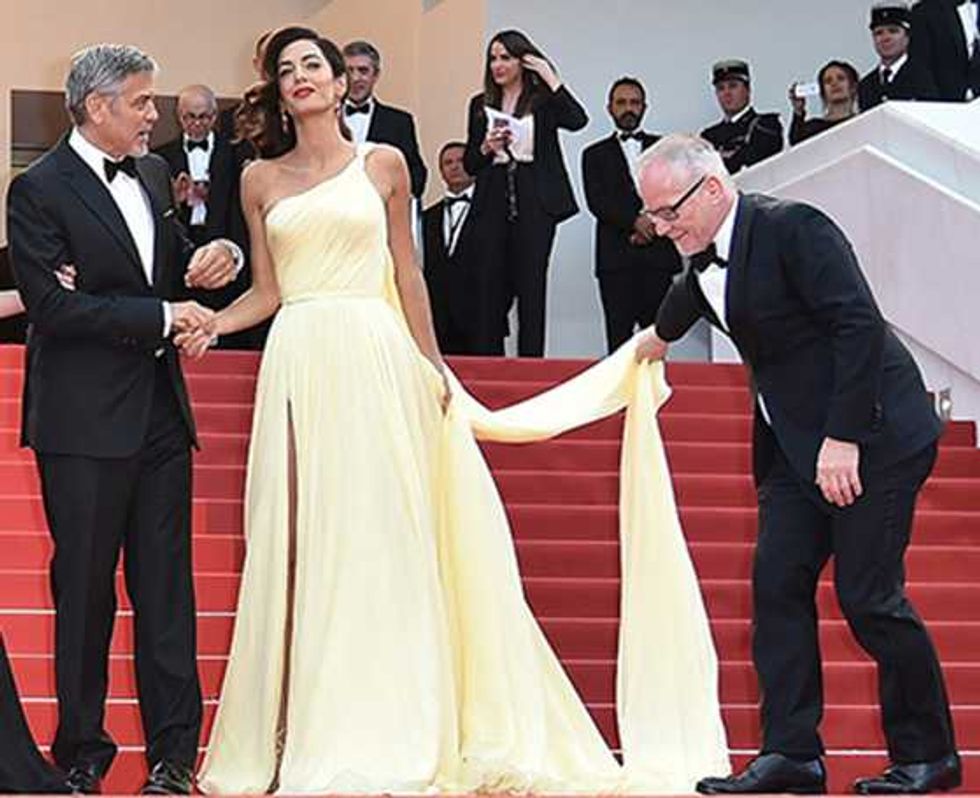 But that was a minor snafu compared to the gown's daring thigh-high slit!
Poor George maintained a frozen grin as his wife came perilously close to revealing all to the assembled throng of fans, film-stars and photographers.
Julie Roberts seemed amused as Amal struggled with the dress, throwing a look of 'Serves you right, you idiot" over George's head.
Why didn't someone at Atelier Versace instruct Amal on how to wear the dress? Were they punking the glamorous Mrs. Clooney or did they assume her legal training would prepare her for the ordeal of walking the red carpet?
Where was Donatella? Is she just jealous that Amal is moving in on her territory of malnourished toothpick-like thinness?
You know what, who cares.
The important thing is that Amal helped George to stop worrying about the audience response to Money Monster, by distracting him with her wardrobe malfunction.
Those who have cruelly speculated about Mrs.Clooney's gender were so close to solving the mystery that you can almost hear the collective groan of disappointment.
So close and yet...
Never mind.
It was a wonderful event for Amal-watchers, who will be interested to know that Charlotte Tilbury was responsible for Mrs. Clooney's heavy make up, and Rod Ortega styled her ravishing hair (i.e., extensions.)
Bravissimo, Amal! You have outdone yourself and we thank you.