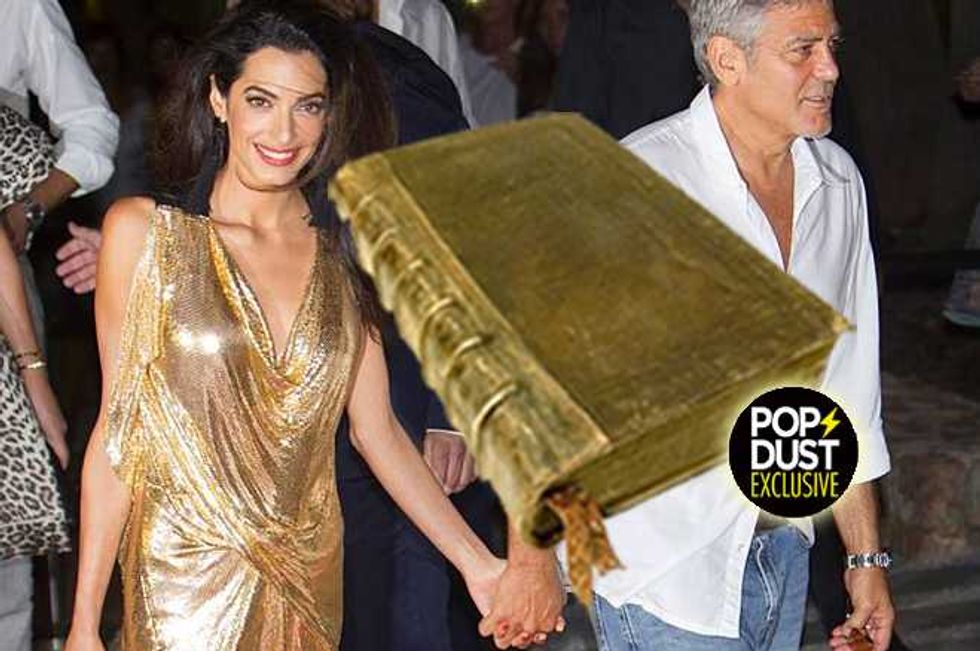 Do you believe those reports that Amal Clooney will be hosting Celebrity Apprentice? Then you'll believe we came across Amal's secret diary, and here's the most recent entry:
August 23, 2015

Just got home from George's big Tequila party and I must say, I was stunning. Every eye was glued to me in my gold frock. Next to me, Cindy looked like chopped liver! She has no de facto taste whatsoever. I would like to depose her stylist but I don't have the time. Life moves so fast when you are Mrs. George Clooney, Queen of The World!

Speaking of Queens, I'm sick of waiting around for an invitation to Buckingham Palace. Maybe Her Majesty is jealous of our new mansion. Well, fuck her, as we say in those private sidebars. Fuck her if she thinks she's too good for Amal Clooney. Let her see my closet and then decide who's a big deal, if it pleases the court.

Stella has been giving me the best pieces from her collection, and no one can wear high fashion like I can. I love to pair a $5,000 dress with gaudy cheap earrings, for example. I like to mix it up. That's what I tell my clients before we get down to business.

Do you think my nose looks too big? George's family in Kentucky likes to make fun of it. I know they're just stupid hillbillies, but still. I need to be the most gorgeous woman who ever lived. Also the skinniest. I need all the photographers to stop looking at George and his stupid Randee. I need to hear how elegant I am. Being this elegant is exhausting. It's worse than representing brutal dictators or what have you. It's just non-stop maneuvering.

George went out for cigarettes but now it's been at least two hours. If I didn't know how gorgeous I am, I would almost think he'd rather spend time with Randee.