Amber Heard Johnny Depp domestic violence claims add yet more drama to the split as she is awarded a temporary restraining order against the actor
The Amber Heard Johnny Depp domestic violence claims make this divorce an even sorrier state of affairs.
Adding yet more drama to their split, the 30-year-old applied for a temporary restraining order against Depp earlier today.
TMZ reports that a judge granted the TRO, ordering Depp to stay 100 yards away from Heard, until a hearing next month.
Shouldn't be too much of an issue, as Depp is currently on the other side of the world, promoting his new movie, Alice Through the Looking Glass.
So, pretty pointless all in all—as, he hardly poses a credible threat—but, after receiving a ton of negative press, it definitely helps paint Heard in a more sympathetic light.
But, that's all we are saying—as, we would never call bullshit on a woman claiming domestic violence.
Because, it is way too serious a subject, and way too much of a reality for millions of women, who live in fear of a violent partner day in and day out.
So, for that reason, we hope this isn't some PR move on Heard's behalf.
That said, we almost hope it is—because, we can't bear to think of Depp as some abusive asshole.
Ugh, let's fact it, either outcome is just terrible.
As Popdust previously reported, Heard filed for divorce Monday—just three days after the death of Depp's mom.
Reports are swirling that the actor's family loathed Heard—something she's vehemently denied.
And, the public has seemed to sympathize with Depp when it comes to the relationship break-up.
But now, Heard has gone public with claims of physical abuse—alleging the 52-year-old beat her on numerous occasions throughout their 15-month long marriage.
Sources close to the actor call bullshit on Heard's claims—telling TMZ she's "an affront to real victims of domestic violence."
Which, once again, is just UGH.
At court today Heard was sporting a bruise around her eye, which she claims Depp gave her Saturday night during a fight.
TMZ also has a photo which Heard alleges was taken shortly after the purported attack by Depp.
Amber Heard Johnny Depp domestic violence photo: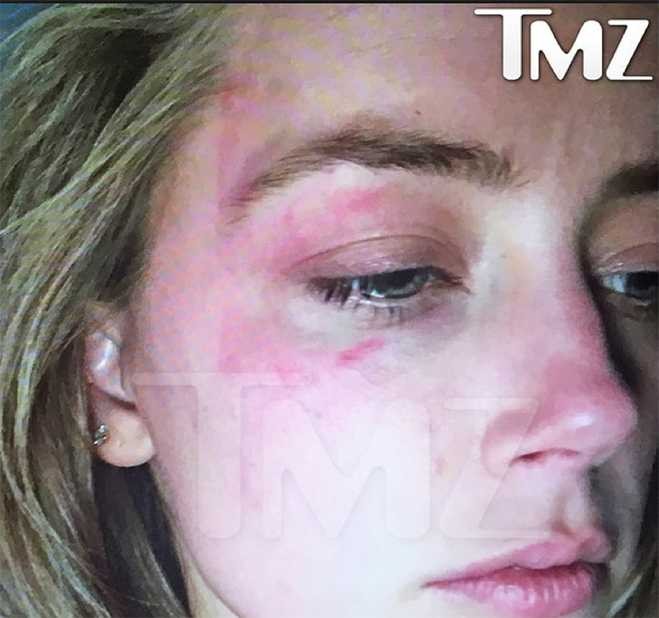 According to Heard, she was on the phone with a friend when Depp suddenly lost his shit and started smashing up their apartment.
Apparently, she screamed at her friend to "call the cops!" enraging Depp yet further and leading to him grabbing the phone from her hand and hitting her in the face with it.
Police records show that cops did come to the apartment—but Depp had left the apartment by then.
Cops told Heard that they would arrest Depp if she gave a statement about the alleged attack—but she declined to.
In court today, Heard also requested the right to stay in the couple's home—which the Judge granted.
However, he turned down her request that Depp be ordered to stay away from one of their dogs.
He also denied her request to keep the couple's Range Rover, to award her spousal support and legal fees, and to force Depp into anger management.
Yeah, once again…..just, UGH.
For more entertainment, music and pop culture updates and news, follow Max Page on Twitter
Watch This Glorious Amber Heard And Johnny Depp Apology Video
You HAVE To Watch Johnny Depp As Donald Trump In New Funny Or Die Spoof
Johnny Depp's Daughter Comes Out As Not 100% Heterosexual
Good Deed Alert™—Johnny Depp Surprises Sick Kids In Hospital
Johnny Depp and Amber Heard—Relationship 'In Turmoil', No Wedding Date Set!

amber heard johnny depp domestic violence
Marilyn Manson and Johnny Depp are Gonna Cover "You're So Vain"
Johnny 'Pot Kettle Black' Depp Slams Wannabee Musician Actors
Trouble In Paradise For Depp And Heard? Report Claims Johnny's Hiding Hard Partying
You Want to Watch Natalie Portman and Johnny Deep Signing Along to a Paul McCartney Song?
amber heard johnny depp domestic violence
Billy Bob Thornton Denies Getting Jiggy With Amber Heard—It's All In Johnny Depp's Imagination