Amber Rose Blac Chyna Shade Kardashians
Amber Rose and her BFF Blac Chyna have launched a two pronged attack on the Kardashian Klan this week, and quite frankly they should be commended for their stealth.
As has been well documented, there is BIG beef between this pair and the K-Sisters.  Chyna used to be close pals with Kim when she was engaged to 26 year old rapper Tyga back in 2014 (they also have a son together) and the couple used to enjoy double dates with Kim and Kanye.
Kardashian Magazine Covers Prove To Be Kiss Of Death For Newsstand Sales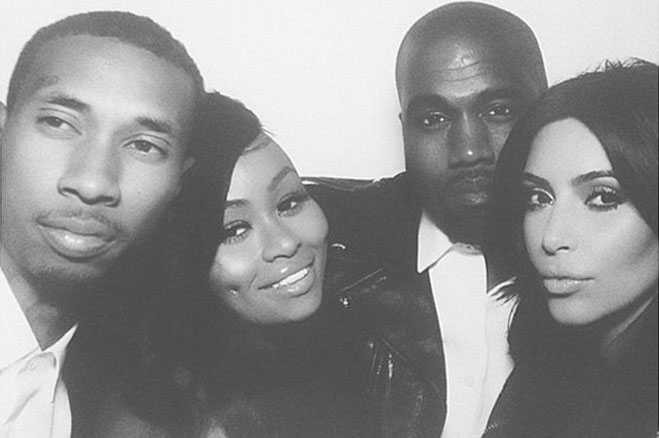 Blac, Tyga, Kim and Kanye in June 2014, just before Tyga started dating Kylie.
Amber Rose Blac Chyna Shade Kardashians
Those cosy dinners ground to a halt when Tyga started sleeping hanging out with 17 year old Kylie Jenner, before they officially came out as dating once she turned 18. Chyna was pissed to say the least and the warring rivals have posted quite a few photos on social media that are clearly designed to dig the other one out (is Tyga that much of a catch?!).
Tyga Responds to Amber Rose/Khloe K Feud—I'm Not Even Dating Kylie Jenner!
During this time, Blac Chyna grew super close to ex-stripper Amber Rose, which would also have proved more than a little awks in her relationship with Kimye, bearing in mind West had a two year relationship with Rose that didn't end well back in 2010. Amber accused Kim of being a homewrecker and sending him sexy pics of herself when they were together (Kim was dating Reggie Bush at the time).  Kanye/Kim/Amber got into a very undignified war of words with Kanye saying he needed thirty showers after sleeping with her (if she was that much of a skank why did he sleep with her for two years then?).
Amber Rose Responds to Kanye West—I'll Show the World Who You REALLY Are!
There have been numerous twitter spats between Chyna, Rose and the Kardashian girls over the last couple of years as they all come to the defence of each other, with Khloe being particularly vocal on behalf of her family.
The war of words seemed to have died down a bit recently, so it came totally out of left field yesterday when Blac Chyna posted a not-so-cryptic photo on Instagram of her being cuddled by reclusive Rob Kardashian, captioned "The beginning".
Amber Rose Blac Chyna Shade Kardashians
Amber Rose Blac Chyna Shade Kardashians
The mansions of Calabasas must have been echoing with the sisters' howls of horror and Khloe duly responded with a tweeted quote from The Godfather "Never go against the family".
You can do anything. But never go against the family

— Khloé (@khloekardashian) January 25, 2016
Khloe tried to pretend the tweet was about a family member letting her down for her new show, Kocktails with Khloe, but later, realizing she was being called out on her BS, admitted that perhaps the tweet could have applied to a few people.
Members of Rob's inner circle (for that read Kris Jenner) have been whispering to the tabloid sites that Chyna is preying on Rob in his vulnerable state right now and that she struck while his guard was down.
Rob Kardashian Diabetes Diagnosis After Scary Hospital Dash
Kylie is also reported to be "livid" at the news that her nemesis could be romantically linked to her brother.  A source (still Kris Jenner) told People that Kylie;
"Feels super betrayed and can't understand why someone in her own family would stab her in the back like that."
Well played Blac Chyna, she's definitely scored the point on that play.
Now Khloe has previously got into it on social media with Amber about the Kylie/Tyga/Blac situation—and their fight is perhaps fueled by the fact that there were rumors in November 2014 that Rose was dating Khloe's ex, French Montana (boy, just how incestuous is this group?). In actual fact she was dating his brother (presumably French wouldn't play ball), but the intended damage was done.
French Montana—I Am NOT Using Khloe Kardashian For Fame!
Yesterday's Instagram activity didn't stop there for the Rose-Chyna attack team. Users noticed that Amber had started following Scott Disick, which is clearly going to piss off Kourtney and her sisters despite Rose's claim that it was an innocent move, made just because she's a fan (yeah right).
Another point to the dastardly duo.
Scott Disick Is Banging A Smokin' Hot Swedish Model—Because, Of COURSE He Is
In the final move on this epic shade throwing Monday—a video emerged of a group traveling on private planes to party in Vegas over the weekend—and who should be in that group but Amber Rose, Scott Disick and French Montana!
Boom!
Well played Amber Rose, that's three points your team.
Keep coming back to Popdust, cos this one's gonna run and run....   Amber Rose Blac Chyna Shade Kardashians