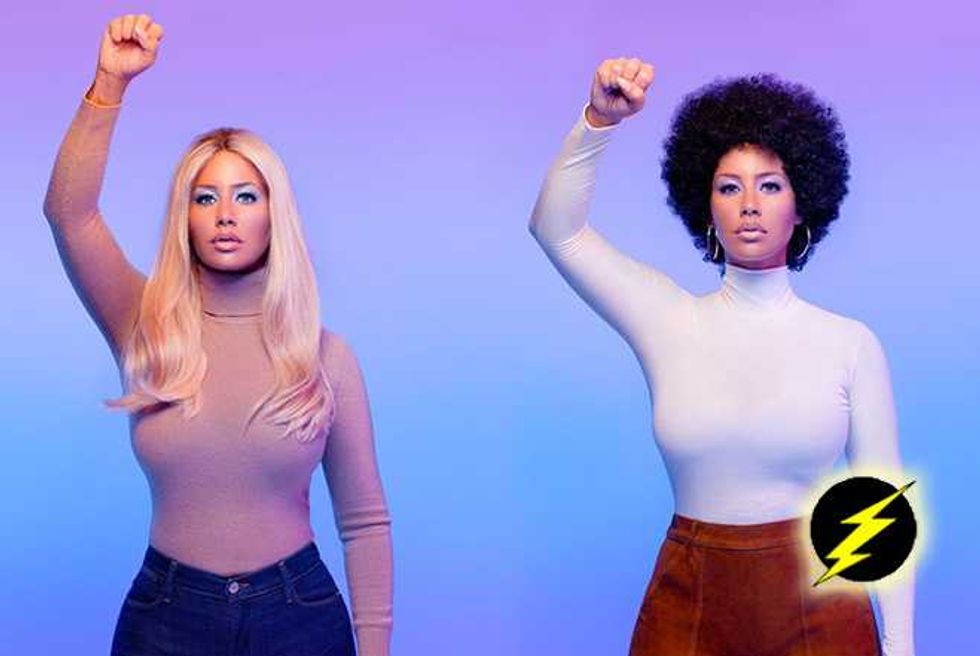 amber rose bad bitch feminist
Amber Rose is a born again feminist and self-professed, recently-reformed, slut shamer.
In light of her girl power epiphany, Rose drafted a women's empowerment manifesto, titled, How To Be a Bad Bitch—and, she's now sharing it with the world.
Model Posts 'Real Life' Photos On Instagram, Loses Thousands Of Followers
Oh, and she's doing it, all while looking absolutely kickass-awesome in a stunning, colorful, feminist-inspired photoshoot for Paper magazine.
In the shoot, Rose poses as some of the top feminist icons from recent history—Rosie the Riveter, Pussy Riot, Gloria Steinem, Dorothy Pitman Hughes, Susan B. Anthony, Marlene Dietrich, and, Amber Rose….natch.
When Life Gave One Woman Thrush, She Made Sourdough With The Yeast
And, in the accompanying interview, the 32-year-old opens up about her slut shaming past, when and why she decided to embrace feminism, and how her main goal now is to "empower women and help them realize that there is no shame in enjoying one's sexuality."
OMG! Kim Kardashian And Amber Rose Kiss And Make Up By Posting Selfie
The model/actress/rapper, shares a heartbreaking and disturbing story from her childhood—detailing how she was branded the school slut at age 13, after being tricked into going in a closet and getting down on her knees during a game of Seven Minutes in Heaven with a bunch of classmates.
Semen Facials Are A Real Thing Apparently, Not Just Some Sketchy Dude Lie
That young, I didn't know what [a guy telling you to get down on your knees] meant. It just didn't register. But he's like, 'No, no, I'm telling you, get down on your knees. I'll show you something.'...And then he just opens the door, right?...And I look over at him and he has his penis in my face, I'm on my knees — and still, girl, I swear to God, I swear on my son's life, it still didn't register to me why they were all gasping.

I was so young. I fell into a depression. Everyone hated me. I was the school slut.
However, not surprisingly, Rose credits her very public and tumultuous marriage, and subsequent drama-filled break-up, from now-ex-husband, Wiz Khalifa, as being the key motivator behind her recent revelation.
Kanye West Slams Amber Rose—I Had To Take 30 Showers Before Getting With Kim!
Rose, who shares her 2-and-a-half-year-old son, Sebastian, with Khalifa, tells Paper:
I would look on [Wiz's] Instagram and he would have pictures of all these women all over him… and then I would post a picture of me and my son. And people would be like, 'Does your son know that his mother's a whore?'

People are like, 'Wiz is out fucking mad bad bitches and you're at home crying over him because he's the best thing that fucking ever happened to you and now you're just a fat, bald-headed single mother and no one will ever love you.'

So yeah, I guess months of seeing shit like that, I was just like, 'I can't live like this. There's something wrong.'
We hear you Amber, there is definitely something VERY wrong when it comes to the insurmountable number of internet trolls who just want to spew venom and tear people down via their anonymous comments.
Amber Rose Opens Up About Being A Stripper—At 15!
With that in mind, Rose concludes the interview with some very wise words for all of us out there that share the XX chromosome.
"Like, all of us as women, let's just stick together and look out for each other."
Can we get an amen sister? And, can you just get a life trolls?
For more entertainment, world, music and pop culture updates and news, follow Max Page on Twitter