Amber Rose strips naked and spills all—dishing on her well publicized feud with the Kardashians,  being the ex-girlfriend of Kanye West, and, her life as a stripper at age 15.
The 32-year-old opens up for an interview with GQ, accompanied by a super sexy and steamy photo shoot—Popdust has details.
Amber Rose Opens Up About Being A Stripper—At 15!
Rose dated West for two, long, turbulent years, from 2007, encompassing the death of his mother, and some of the rapper's craziest meltdowns, including his now infamous VMAs' Taylor Swift acceptance speech stage storm.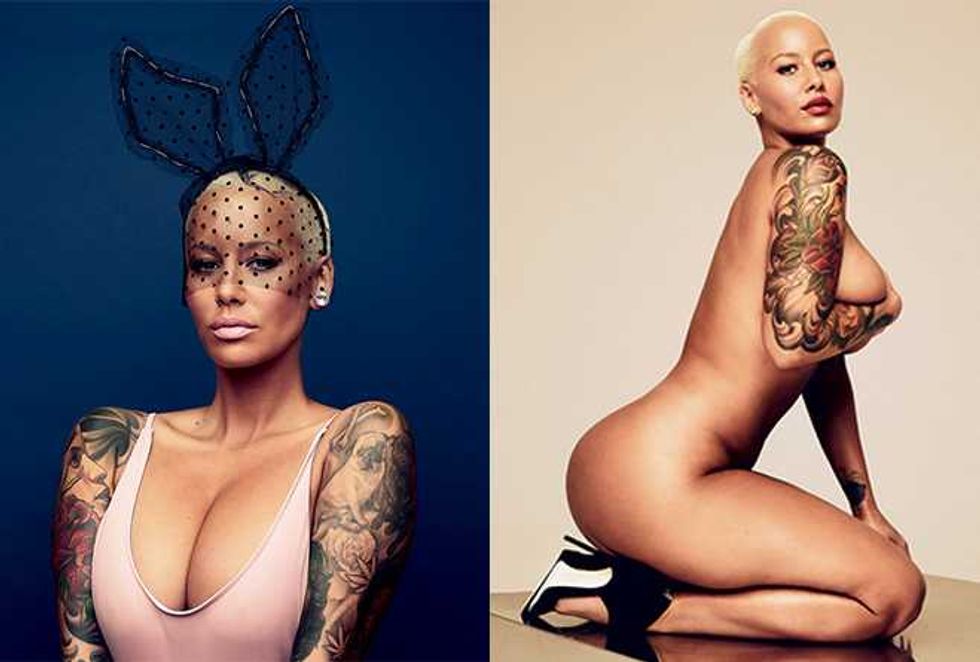 Amber claims that she's so sick to death of talking about Kanye these days, that she never uses his name anymore, choosing instead to refer to him only as "my ex"…but, that doesn't stop her from waxing lyrical about him, and their time together.
"I'll hear songs and I'm like, 'Oh, he said that about me.' No one knows what he's talking about but me and him," she tells GQ about hearing Kanye's music when she's out and about. "People can't decipher. They'll be like, 'That's a cool song,' and I'm like, 'That happened to us when we were together.' Obviously, I know he's talking to me through music. I was a fan. He's really ... he's a good artist."
Amber Rose Trolling Kim Kardashian About Sex Tape, Again!
In fact, judging by the GQ article, Rose seems to spend an inordinate amount of time thinking and talking about Kanye—something she took the magazine to task over, via an angry Instagram post, last night:
Really @gq??? I'm so much more then Kanye's Ex or Wiz's baby's mama. Damn, why the fuck did u guys reach out to me for this article and photoshoot? To dumb me down? I talked about feminism and my Slutwalk... Wtf nice title smh I expected so much more from u guys and I'm so disappointed.

I was so excited to be featured in GQ not realizing I was shooting for a tabloid. My slutwalk was for ignorant shit like this. Oh 'Her beautiful dark twisted journey to the top'? Nice pun. Negative af. Thx for nothing
Oh shit son!
Amber Rose Responds to Kanye West—I'll Show the World Who You REALLY Are!
Maybe GQ did in fact do a complete number on Rose—or, maybe she really is obsessed by her famous exes and continues to tie her career wagon to their lead—she does seem to talk about them one hell of a lot, working their names into pretty much every subject she touches on…. but then, perhaps that's just how the journalist wanted to portray her.
Here's some other highlights from the interview—what do you think?
Amber Rose Calls Kim Kardashian a Whore, Mocks Kanye West, Is a Hero
On why people would want to hire her as a motivational speaker:
[People ask] why would I go listen to Amber talk? She's only famous because she fucked Kanye…who the fuck wants to listen to her?

It's a fair point. I get it. But now that you're here, we're gonna really talk about slut shaming. I really want you guys to sit down and think about the act that your mother had to do with your father in order to have you. Really, fully understand that your mother is a sexual being. Is she a ho?

As a woman, it's like…fuck! You have to act like a nun for a guy to respect you. And even if you do wait to have sex and you're very comfortable and you do exactly what you want to do in that moment, you have to be very careful because you don't want to be looked at as a ho. How do you win? You do exactly what you want to do. And if it doesn't work out, then he's just not meant for you.

I've been slut shamed by both of my exes, you know?
On kicking off the Kardashians feud by publicly calling out Tyga for dating 17-year-old Kylie Jenner, prompting Khloe to go on the attack:
I really went in on Tyga. He'd been texting Blac Chyna, saying, 'I really want my family back'—but he was out with a 17-year-old.

[I told Khloe] 'Your sister has a career because your other sister made a sex tape and put the whole family on.' Not that there's anything wrong with that. I think it's fucking awesome that she did a sex tape and made millions of dollars for her family. But let's not forget where we came from. Because I didn't.

She probably had a fucking blast [making the tape]. And guess what? At the time she was in love with that guy. So don't think you're better than me, because we've all had trials and tribulations.
On her time working as a stripper, which she started at the tender age of 15, and remembers fondly:
Best fucking time of my life. I'm not going to say young girls should go be dancers. But that was my journey, and I don't regret it.
For more entertainment, music and pop culture updates and news, follow Max Page on Twitter