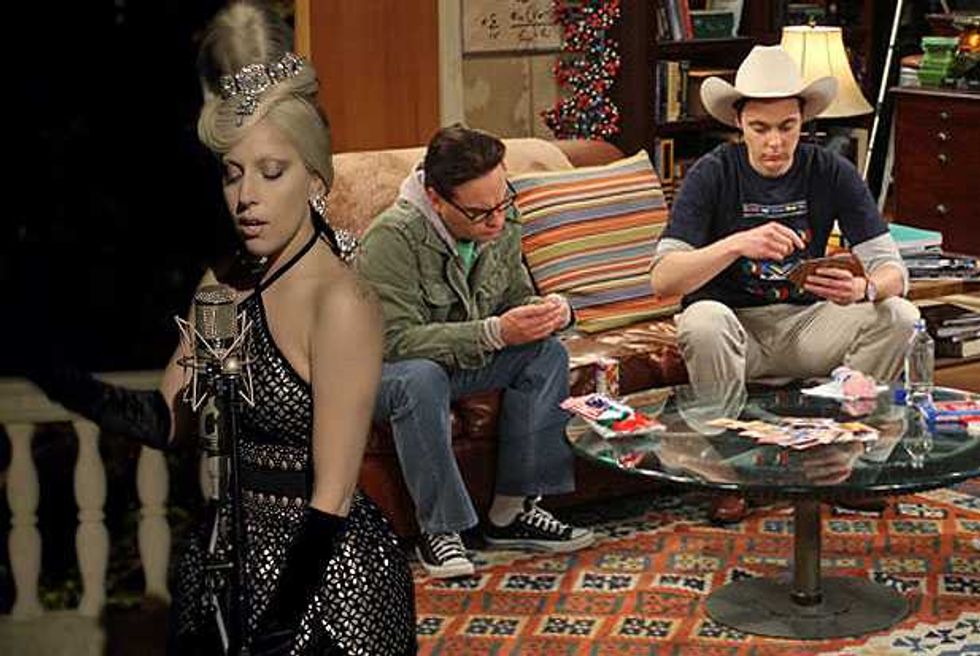 Did you catch Lady Gaga's Thanksgiving special, A Very Gaga Thanksgiving, on ABC this Turkey day? Probably not, right? I mean, there's so much else to choose from on TV these days, Gaga just couldn't reasonably expect that many sets of eyeballs to land on her program. So it's not all that surprising that Gaga Thanksgiving only pulled a viewership of 5.4 million—that's still pretty respectable, isn't it? Sure, she lost to a reshowing of A Charlie Brown Thanksgiving (5.8 mil), but that's a classic. No shame in that. And yeah, she might have gotten edged by Ice Age: A Mammoth Christmas (7.1 mil), but that's an entire FOX franchise she's going up against, she's not gonna win that either.
Indeed, the only loss that might smart a little for Stefani as she takes stock of the year that was as Dec. 31th approaches is just how roundly Gaga Thanksgiving was thumped by CBS' uber-mediocre sitcom The Big Bang Theory. Not only did the show rate over twice as many viewers—over 11 million, all told—but it was with an airing of a re-run. Lord only knows how badly Gaga would've been crushed had it been an episode of Two and a Half Men she was competing with instead—it might have been backstage at MSG all over again.
We just hope that this doesn't effect the potential for a future Very Gaga Christmas or Very Gaga St. Patrick's Day or Very Gaga Day Where You Really Should Have Done Your Taxes By Now. Otherwise, we're gonna have some pretty blank calendars (and empty DV-Rs) in 2012.
[Amplifier]
Gap to Purchase Athleta.
Health & Beauty Close-Up September 29, 2008 Gap announced that it has agreed to acquire Athleta, a women's sports and active apparel company, for about $150 million in cash.
The acquisition will allow Gap to enhance its presence in the growing $31 billion women's active apparel sector in the United States.
In a release, the company noted that following the acquisition, Athleta will become the "fifth tab" on Gap 's online platform, called Universality. The technology allows shoppers to browse and buy from all of the company's brands in one shopping cart with a single shipping fee. Athleta's products will be ultimately sold online alongside those from Gap, Banana Republic, Old Navy and Piperlime. site athleta coupon code
"Athleta is a great success story with loyal customers that will now become part of the Gap family of brands," said Glenn Murphy, Gap 's Chairman and CEO. "This strategic acquisition complements our brands perfectly and allows us to leverage our new online platform to expand into this significant retail sector." Founded 10 years ago, Athleta has evolved into a lifestyle brand, offering high quality apparel that is stylish and functional for a variety of sports, including yoga, running, skiing, snowboarding and surfing. Customers can purchase Athleta product online or through the company's catalog. website athleta coupon code
"We're thrilled to become part of this great company and to have found a partner that supports our vision for Athleta," said Joe Teno, the current CEO of Athleta who will remain as President of Athleta at Gap upon the completion of the deal. "With Gap 's e-commerce platform and iconic brands, more customers will learn about Athleta as we continue to provide our existing customers with the great products and service they've come to expect from us." Teno will report to Toby Lenk, the president of the Gap Direct division.
Gap is a global specialty retailer offering clothing, accessories and personal care products for men, women, children and babies under the Gap, Banana Republic, Old Navy and Piperlime brand names.
((Comments on this story may be sent to health@closeupmedia.com))