FILM & TV
TV | The show prepares for its season one finale with the refreshingly warm story of resident-grump Mad Sweeney
Clever casting takes inspiration from the stage to blend the past with the present.
In an episode without a single frame of Ricky Whittle's Shadow or Ian McShane's Wednesday, the writers produce another storytelling twist that explores the benevolence of even the hardest Old Gods and history's favorite trick: repeating itself.
(Spoilers below.)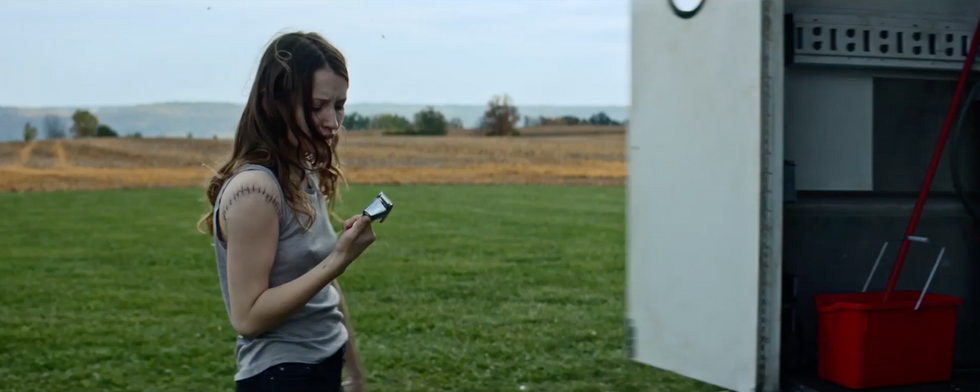 Laura steals an ice cream truck. (YouTube)
Mr. Nancy's roommate/coworker, Mr. Ibis, narrates "A Prayer for Mad Sweeney" as he writes it in his heavy book of "Coming to America" stories. In the Leprechaun's arrival story, a young Irish woman who believes in him is responsible for his travels from Ireland to the Americas to London and, finally, back to America.
Ibis also narrates parts of the flashes forward to our current story, where Browning's Laura and the never-changing Sweeney (Pablo Schreiber) steal an ice cream truck to quicken their pursuit of Shadow. This allows the writers to further weave the episode-long intro-story into Sweeney's past by casting Emily Browning as Essie Macgowan, the young believer sent to the New World. While Sweeney, her Leprechaun in both times, finds himself in prison, in debt and in increasingly bad spirits, both Essie and Laura chase their ambitions and bring Sweeney along with them.

Browning as Essie Macgowan. (YouTube)
At first, the trick of casting suggests that, like so many other characters, Laura isn't the mortal person that she appears to be. Soon, though, the story becomes clear: that these are two linked stories and that it's the showrunners' intentions to blend them almost inseparably. Like a stage play casting the same actress/actor in multiple roles (think Daveed Diggs as both Lafayette and Jefferson in Hamilton), Browning's duel-part fuses Sweeney's two stories together.
The show separates the time periods by music—not with 18th century Irish music for the Essie sequences, but with early 1960s doo-wop/rock and roll. The juxtaposition is hilarious, especially when John Richardson finally marries Essie to the tune, "Daddy's Home," by Shep & the Limelights, or when Essie learns to steal behind the Captain's back to Dion's "Runaround Sue."
Sweeney's story reveals a regretful, lost Old God whose debt to Wednesday weighs on his remaining life. "I was a king once," he tells Laura. "Then they made me a bird. Then Mother Church came along and turned us all into saints and trolls and fairies. And General Mills did the rest." Sweeney lives as a fallen king, a forgotten god like Wednesday and the rest who knows that his destiny places him at House on the Rock, Wisconsin.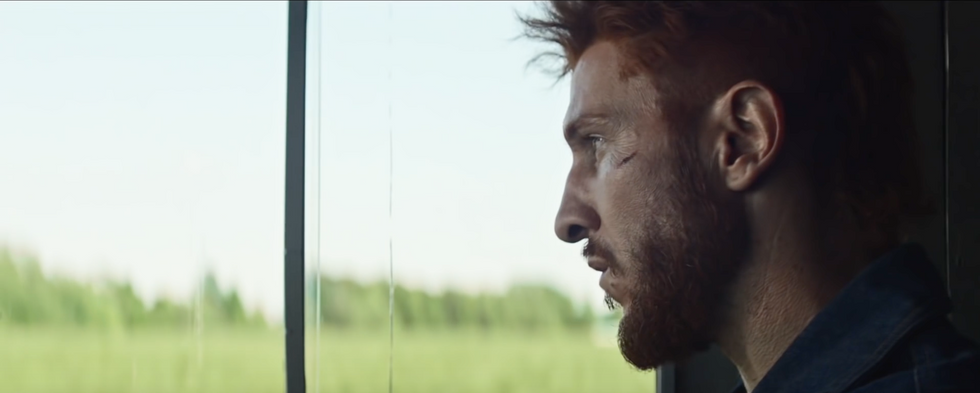 Sweeney broods. (YouTube)
When dead-Laura dies again, thrown through the windshield of the ice cream truck, her stitches torn open and the lucky coin spilled onto the road, Sweeney is faced with a decision and a recent memory that changes the entire story. We see Laura's first death and, standing over her, Sweeney, telling the raven that his job is done. So Laura was Wednesday's—and Sweeney's—first victim in this war, her death part of a grand plan to recruit Shadow and set the whole machine in motion.
Sweeney's decision as he stands over Laura's dead body for the second time becomes more meaningful after that reveal: he gives up his precious lucky coin to resurrect her. At the same time, the parallel story shows him comforting the elderly Essie in her dying moment, uniting two moments of kindness in Sweeney's troubled past.
Salim called Sweeney an "unpleasant creature" when Laura released him early in the episode. But forty-five minutes later, Sweeney earns all of our sympathy and suddenly becomes one of the heroes of the story. This is material that is completely absent from the book but that shows the ambitions of the show's creators, Fuller and Green, to expand the universe created by Neil Gaiman and use the opportunities of a TV show to give each character the story they deserve.
After an episode featuring only three of the show's main characters, next week's season finale promises to bring together everyone for what it's safe to guess will be quite a clash of personalities. One more week of American Gods before we're left waiting for Season 2.
Watch the Season 1 Finale this Sunday at 9pm Eastern.
---
READ MORE ABOUT FILM/TV:
Review | 'MINDHORN' is the low-key comedy of the summer
Blood sacrifices and border tensions in 'AMERICAN GODS' Ep. 6
HBO announces 4 'Game of Thrones' spinoffs: what could they be?
---