The famed ABC reality competition is poised to make it's comeback after two years.
Like vampires or zombies, you can add American Idol to the list of things that just can't stay dead. After two years of shopping the one-time reality juggernaut to the major networks, the singing competition has come away with a spot on the 2017-2018 TV schedule and a new home on ABC. After failed negotiations with original home Fox and one-time rival NBC left the series' prospects bleak, the series turned to the same network that just gave former Idol host Ryan Seacrest as Kelly Ripa's new permanent co-host. And from the sound of things, the series will be looking to reinvent themselves in this newest iteration, with ABC president Ben Sherwood promising a "Bigger, bolder, and better-than-ever Idol", whatever that means.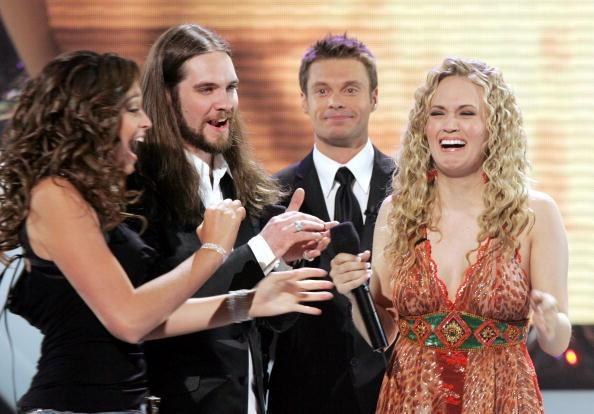 Kevin Winter- Getty Images
While things may still change before ABC's schedule is officially announced, early indications suggest the new season would likely premiere in Spring 2018 and air on Sunday nights. While this move may not offer much in the way of originality, there is a certain amount of logistical sense to the decision. Though the network has found success with its long running reality franchises, The Bachelor and Dancing with the Stars, the network has struggled to launch a successful competitive singing series to compete with one-time Idol rival, The Voice. And even if its final season may have been a far cry from the cultural powerhouse it once was (can anybody even remember which white guy with a guitar won without a Google search?), the ratings were still solid enough to suggest there could be money to be made on the property.
There are still some important questions to answer ahead of the reboot, perhaps most importantly what personalities will be brought back to lead this new form. While the network is aiming to bring Seacrest back, his new gig could occupy too much of his time to return forcing them to look for a new host, a sentiment that surely delights Brian Dunkleman wherever he is. Additionally it'll be interesting to see who the series targets as judges, given the original series transitioned from a panel of music industry professionals to one comprised of big name musical performers. Though the network hoped to bring Simon Cowell back to the show that made him famous during their talks with NBC that could prove far more challenging given his role on NBC's America's Got Talent.
Perhaps more so than anything, it remains to be seen whether or not audiences will care about another season of the series beyond just nostalgia, especially with The Voice serving as top dog of the reality-singing world. Still only time will tell if the ABC version of Idol will be a Kelly Clarkson or more of a William Hung.
---
More from Film/TV
TRL 2.0? MTV planning new daily live show in Times Square studio
MTV reviving Fear Factor with a millennial twist
Lauren Graham doesn't think we need more Gilmore Girls... and she's right.