Music Lists
Support artists whose livelihoods have been compromised by coronavirus and discover amazing new acts, all while staying in bed.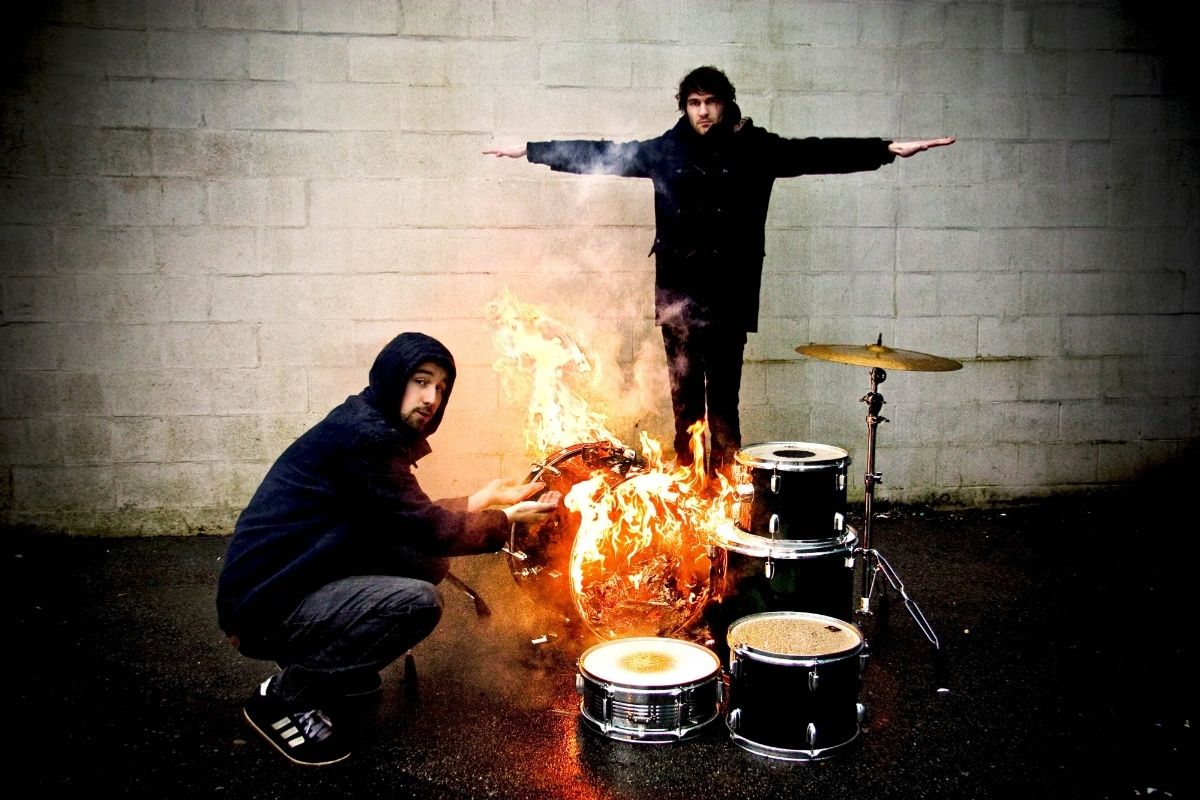 In response to the news that major concerts all across the globe are being canceled, artists and organizations are coming together to host livestream shows.
These are some of the best to tune into from the comfort of your own home:
Americana Highways is putting on a series of livestream gigs, to run March 16th through March 20th every night from 7-10 PM. Here's the full lineup:
Monday 3/16:
7pm Terry Klein
8pm Van Darien
8:45pm GF Patrick
9:30 Frank & Allie Lee
Tuesday 3/17:
7pm Sarah Morris
8pm Sarah Peacock
8:45pm Pi Jacobs
9:30 Bruce Sudano
Wednesday 3/18:
7pm Libby Koch
8pm Jeff Crosby
8:45pm Jeremiah Johnson
9:30 *hold
Thursday 3/19:
7pm Nathan Bell
8pm Nathan Kalish
8:45pm Aloud
9:30pm Janiva Magness
Friday 3/20
7pm Chris Moyse
8pm Zach Aaron
8:45pm D.B. Rouse
9:30 *hold
Saturday 3/21
7pm Randy Lewis Brown
7:45 pm The March Divide
8:30 Mike Osborn
9:15 Carolyn Broussard
Tune in via Facebook.
GPGDS - Live Q&A - RootfireTV www.youtube.com
Rootfire TV is hosting a series of Q&As and live performance events to support artists during the virus. They're donating 100% of funds collected during the performances to the artists. Here's a schedule:

Monday, Mar 16: 2pm PT / 5pm ET – Live Q&A with members of Giant Panda Guerilla Dub Squad
Tuesday, Mar 17: 11am PT / 2pm ET – Live Q&A with Joshua Swain from The Movement
Tuesday, Mar 17: 4pm PT / 7pm ET – Live Q&A with Drew McManus of Satsang
Wednesday, Mar 18: 11am PT / 2pm ET – Live Q&A with Jackson Wetherbee of The Elovaters
Wednesday, Mar 18: 4pm PT / 7pm ET – Live acoustic session + Q&A with The Ries Bros
Thursday, Mar 19: 4pm PT / 7pm ET – Live acoustic session w/ ManLikeDevin (Devin Morrison)
3. The Dub Rebellion
The Dub Rebellion is hosting a festival on March 19th at 4:20 PM PST.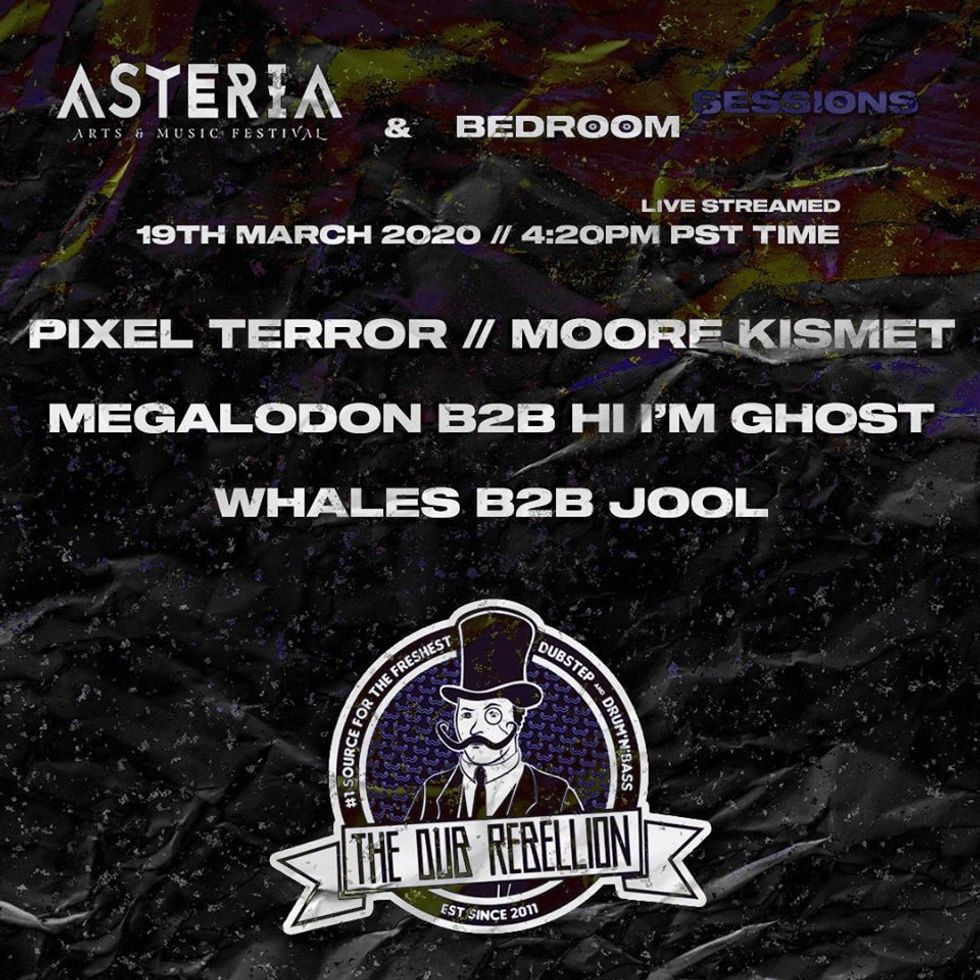 Check them out on YouTube.
4. Left Bank Live
Brooklyn-based outlet Left Bank Magazine is hosting a mass live performance series featuring far too many amazing artists to list here. For five days, they'll be streaming twelve hours of live music, starting March 17th at 11AM and going all the way through the 22nd.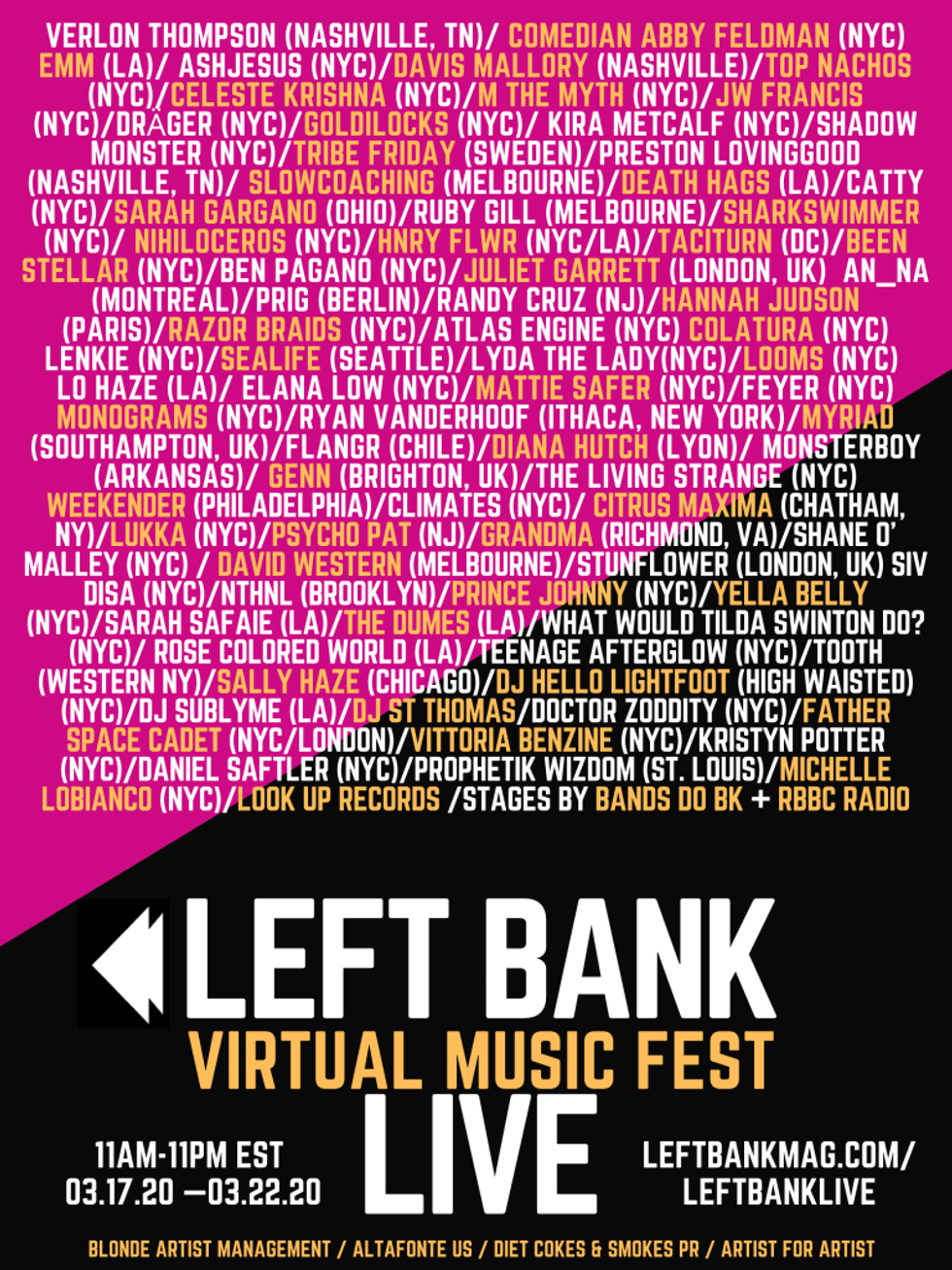 Leftbankmag.com
RSVP on Facebook here and watch YouTube here.

5. Coping With Dystopia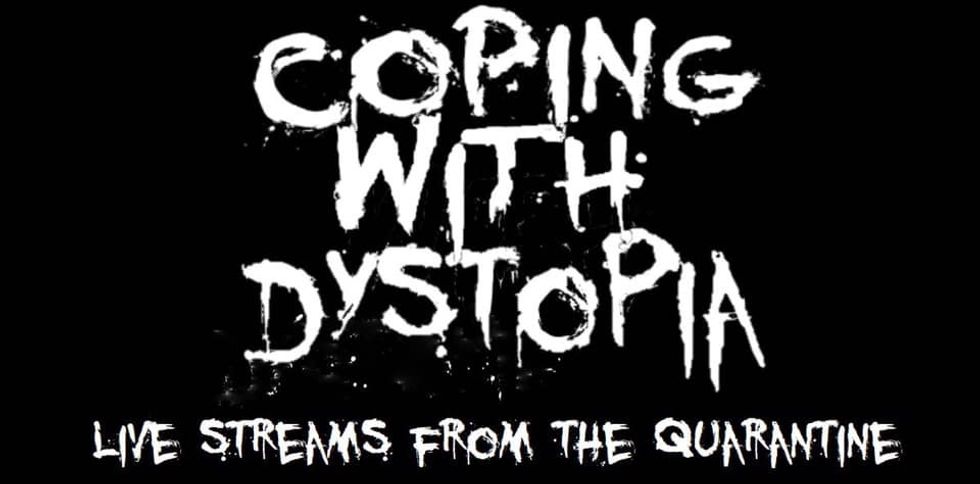 Facebook
Cardboard Homestead is live-streaming an ongoing festival with the particularly relevant title "Coping With Dystopia." The first will happen on Friday, March 20th from 5-11 PM, and each concert will raise money for a specific organization. This week's will be raising money for the Prison Policy Initiative, and donations can be sent to paypal.me/coping. Here's the setlist:

Days n Daze
Apes of the State
Matt Pless
HappyHappy
Rent Strike
The Real McCoys
Out of System Transfer
Cardboard Homestead
Tail Light Rebellion
The Rifleman
Party Marty
Tedd Hazard/Condition Oakland split set
Siddo.
Just Pals
Run Rabbit Run
Yellow Sauce
The Great Twitch
Jonny Terror
NPK
A Boy and His Rats
Frankly Lost
Arson is Art
Follow the event on Facebook here. Each artist will perform live from their homepage.
Interested in having your concert featured in another article? Email eden@popdust.com.