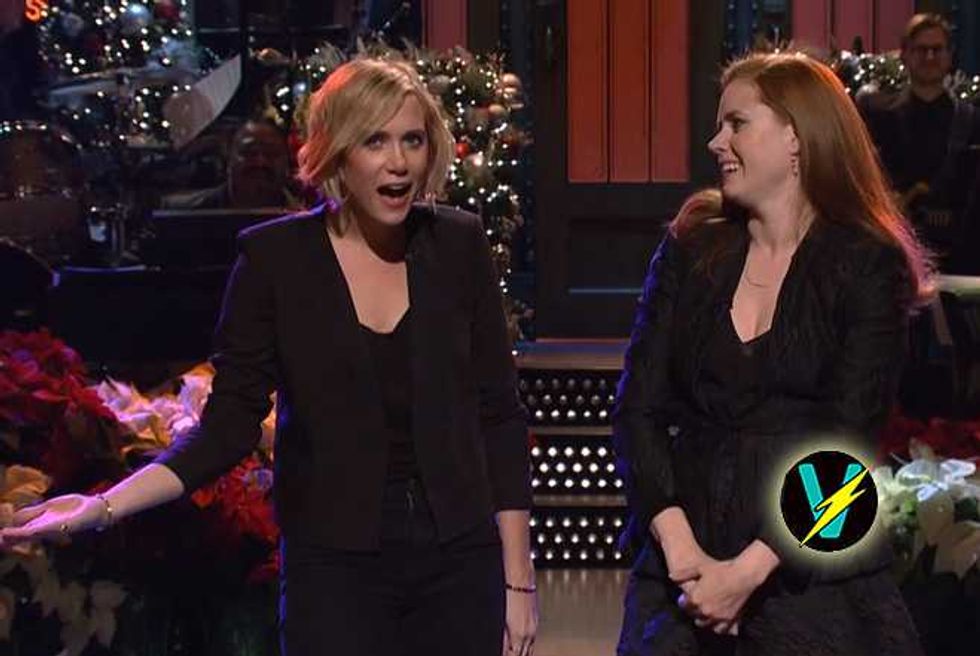 Actress Amy Adams hosted a special Christmas edition of Saturday Night Live last night (Dec. 20). During her opening monologue, she poked fun at the holidays and Christmas Elmo. "It's the best time in New York, and it's been so great having my four-year-old daughter here with me and seeing it all through her eyes. If you have kids, you just have to go down to Times Square and meet Christmas Elmo. If you're lucky, he's gonna take his head off...and ask you for a cigarette."
She then broke into a charming rendition of "Need a Little Christmas," quickly joined by Kennan Thompson (who threw fluffy fake snow into the air). Before they could even finish the number, former SNL mainstay Kristen Wiig crashed the party, as she was carried in by four hunky men (dressed as adorable reindeer). "Isn't this the second time you've crashed my monolog?" Adams asked an oblivious Wiig, who replied, "I'm not crashing. I just showed up uninvited."
Wiig continued, "You're song was really great, but we need to get a little more energy. These people are Christmas'ed out. You've gotta give them some flash." Cue: Wiig giving the crowd some flash, with rhythmic accompaniment. Adams attempts and it's everything.
Some of the other hilarious skits included Office Christmas Party, Girlfriend Talk Show and A Very Cuban Christmas. Check out all the videos below.
One Direction served as the night's musical guest.
Thank you to Amy Adams for being so lovely and such a wonderful host! #SNL pic.twitter.com/QYow3uPch6

— Saturday Night Live (@nbcsnl) December 21, 2014
Opening Monologue
A Very Somber Christmas with Sam Smith
Office Christmas Party
Girlfriend Talk Show
A Very Cuban Christmas
Singing Sisters with a Cat Commercial
Christmas Serial
Stay tuned for updates. Feel free to follow @Popdust and JasonTheScott on Twitter!