FILM
This feels like having brunch with your tired, pregnant friend.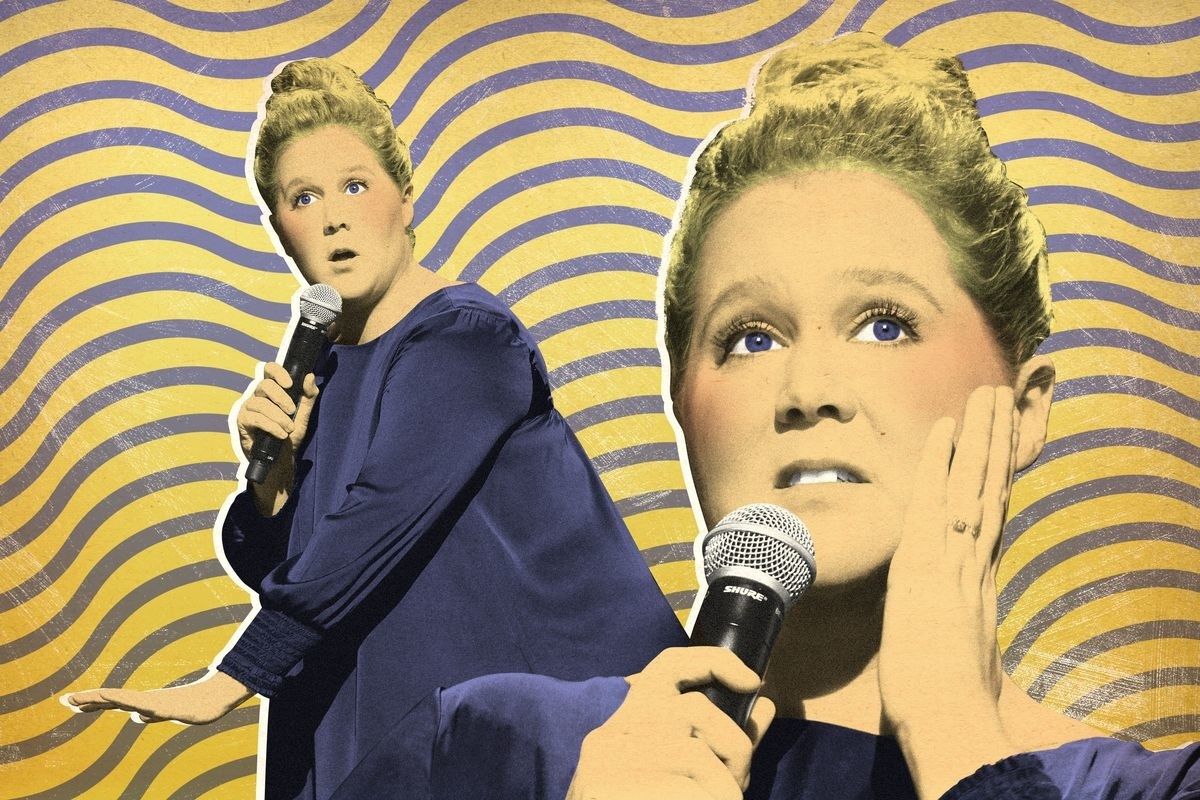 The Ringer
Amy Schumer, the only comic to rise from runner-up of Last Comic Standing to Peabody-winner, has returned with a new comedy special Growing.
Schumer joins a niche group of female comics to film their specials while pregnant, tackling wives' tales and Mother Hen bullshit with the same NSFW realism as comedians like Ali Wong and Christina Pazsitzky. But put aside the biological horror of hemorrhoids and something called hyperemesis gravidarum (a pregnancy complication that gave Schumer chronic nausea and violent vomiting), and Growing is a dull retrospective of Schumer's takes on being a mid-30s female in the spotlight who, despite her high self-esteem, occasionally "looks like Trump."
That line, in particular, is from one of the special's standout bits. Schumer addresses the milestones she's reached since her last special in 2017, including marriage to her husband, chef Chris Fischer, and her first five months of pregnancy (because she's "growing" as a person—get it?). She describes her husband's diagnosis of autism spectrum disorder with sincerity and sarcasm, from poignantly asserting that "all of the characteristics that make it clear he's on the spectrum are all of the reasons that I fell madly in love with him" to critiquing an unflattering painting her husband made of her.
Other highlights include Schumer mocking her arrest in Washington, D.C. while protesting Brett Kavanaugh's Supreme Court confirmation. In comparison to her fellow protestors, including supermodel Emily Ratajkowski, Schumer describes her greatest concern about being arrested as a fear of being hungry. She recounts the Capitol police approaching and her group chanting, "No justice! No peace!" while she recalls "just ramming snacks [into her] mouth."
Still, Schumer's bread and butter remain the same: mocking porn, periods, and politicians. Does her personal tampon size constitute appropriate women's locker room talk? Why is "gag porn" so popular? Is Lindsey Graham the best girlfriend to dish to about mammograms? Adding pregnancy jokes to the mix, Schumer backflips between flippant irreverence and moralism about gender differences without adding any new perspective or insight.
Combined with the token self-effacement of her Hollywood unapproved body type (when describing herself in lingerie, she says, "Oh...this isn't for everybody"), Schumer's special speaks of weariness with her own shtick. She acknowledges, "I'm contractually obligated to be out here, guys. I'm not like, 'I don't care, the show must go on.' I'm like, 'I will be sued by Live Nation.'"
With her Comedy Central show Inside Amy Schumer still on indefinite hiatus, Schumer's Peabody- and Emmy-winning material is also frozen in time. The mixed signals of promoting inclusive body-positivity and having elite, model friends have turned off some of her fanbases, especially since her brand is one based on relatability. But Amy Schumer's sketch show and early stand-up have proven that she can be funny; it's her career-long flip-flop between a NSFW housewife and a political commentator that confuses us and fatigues her style.
---
Meg Hanson is a Brooklyn-based writer, teacher, and jaywalker. Find Meg at her website and on Twitter @megsoyung.
---
POP⚡DUST | Read More...
Down the Rabbit Hole: Exploring Weird YouTube
The Weird, Heartless Magic of Marie Kondo: The Cleanest Cult to Ever Exist
This Week in Internet Hell: Evil Spirits for Sale and a Good Kind of Stroke