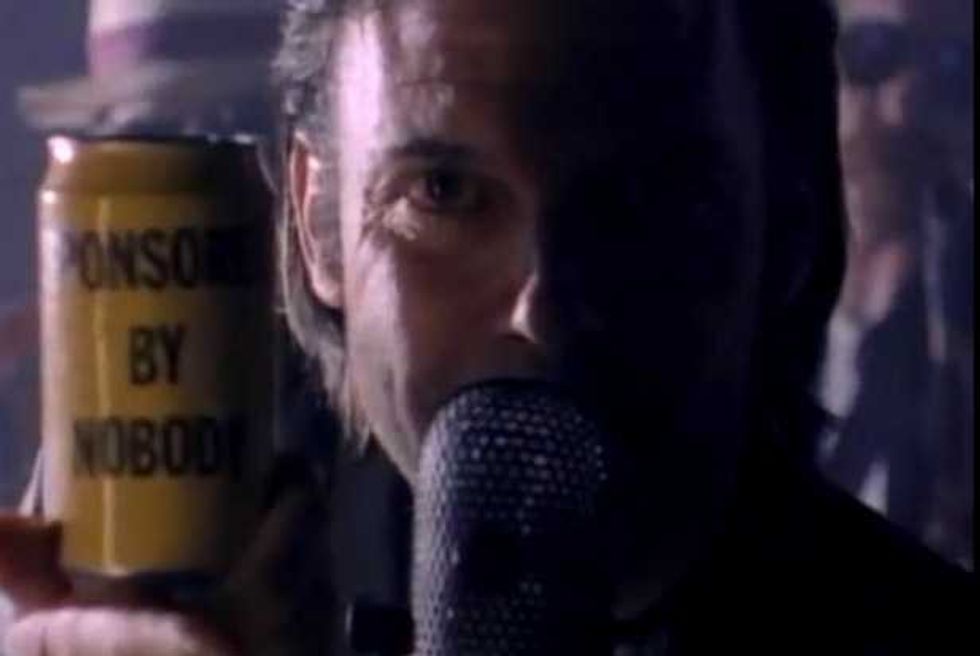 More often than not, MTV does a pretty good job with awarding the appropriate artists at the Video Music Awards. They're certainly batting a higher average than the Oscars—good luck finding three Video of the Year winners from the past decade worse than Crash, Million Dollar Baby and A Beautiful Mind—and the less said about the Grammys in this regard, the better. Still, no award show is perfect, and over the course of their 27 years, MTV and the voting public have ended up with a handful of winners that give us pause when looked at today. Some made marginal sense at the time, while others were always bizarre, but today, they stand as the ten least explicable wins in the history of the Award Show. History may have forgotten them, but we at Popdust never forget.
10. Limp Bizkit - "Rollin' (Air Raid Vehicle)"
Category: Best Rock Video
Year: 2001
Beat Out: Aerosmith's "Jaded," Linkin Park's "Crawling," Staind's "It's Been a While," Weezer's "Hash Pipe"
Some day, we will have to explain to our children how our nation let Limp Bizkit win Best Rock Video two years in a row at the VMAs—and neither time for "Nookie," even. One year after taking home the honors for the marginally tolerable "Break Stuff," the Bizkids made it two in a row with the outright-deplorable "Rollin' (Air Raid Vehicle)" in '01. Admittedly, it wasn't the strongest group of nominees to begin with—rock was at something of an all-time low point in 2001, as you can see from the list of videos it beat, the cream of which is probably only Weezer's 12th or 13th best single—but still, damn.
9. No Doubt - "It's My Life"
Category: Best Pop Video
Year: 2001
Beat Out: Hillary Duff's "Come Clean," Avril Lavigne's "Don't Tell Me," Jessica Simpson's "With You," Britney Spears' "Toxic"
Not that there was anything so terrible about No Doubt's highly inoffensive cover of Talk Talk's "It's My Life," but it was a little weird that this marginal single recorded for the band's greatest hits album—the last single the band has released to date—was winning such a big category as Best Pop Video. Not to mention that one of the clips it beat, Britney's "Toxic," basically resurrected the career of one of the biggest pop stars on the planet, and was a much better song besides.
8. Mick Jagger & David Bowie - "Dancin' in the Street"
Category: Best Overall Performance
Year: 1986
Beat Out: Dire Straits' "Money for Nothing," Robert Palmer's "Addicted to Love," Bruce Springsteen's "Glory Days," Sting's "If You Love Somebody, Set Them Free"
There's definitely at least one superlative merited by the overall performance of Mick Jagger and David Bowie in "Dancing in the Street," but "Best" probably isn't the one. The absurdly ridiculous video features two of the coolest human beings in rock and roll history dancing (and flirting) like absolute idiots for three minutes, making Kevin Bacon's angry-dancing scene in Footloose look tasteful and restrained by comparison. The video ends with a freeze-frame of the duo's asses, which...yeah. And not like it even needs the competition, but Robert Palmer was pretty damn badass in that "Addicted to Love" video.
7. Arrested Development - "People Everyday"
Category: Best Rap Video
Year: 1993
Beat Out: Digable Planets' "Rebirth of Slick (Cool Like Dat)," Dr. Dre & Snoop Dogg's "Nuthin' But a 'G' Thang," Naughty By Nature's "Hip Hop Hooray"
We're fans of the AD here at Popdust, and "People Everyday" has endured as one of the more fun jams of the era for sure. But Arrested Development had already taken the Best Rap Video moonman home the year before for their definitive hit, "Tennessee," and by the time of their '93 win, there was another nominee that was far more deserving of the distinction—Dr. Dre and Snoop Dogg's "Nuthin' But a 'G' Thang," only the most iconic rap music video, like, ever. The award has aged particularly poorly due to the fact that shortly after the snub, Dre and Snoop went on to change the direction of hip-hop for the rest of the decade, while Arrested Development were basically never heard from again.
6. USA for Africa - "We Are the World"
Category: Best Group Video
Year: 1985
Beat Out: The Cars' "Drive," Eurythmics' "Would I Lie to You?," Huey Lewis and the News' "If This is It," U2's "Pride (In the Name of Love)"
The Cars' biggest-ever chart hit, the Top 40 breakthrough for U2, and a fine single and video from Eurythmics to choose from, and what does the MTV voting public choose as the Best Group Video from 1985? USA For Africa's "We are the World," a celebrity-laden charity single that Americans were almost contractually obligated to send to #1 that year, but which no one in their right mind would argue was a better video or song than the other nominees. Perhaps even more shocking than the Group Video win was the fact that it won Viewer's Choice as well, beating Tom Petty, Don Henley and a pair of David Lee Roth videos. Did people actually like this song back then? Even "Do They Know It's Christmas" was 20 times better!
For the top five most perpelxing VMA wins, including the two strangest-ever winners for Video of the Year, click NEXT.
5. James Blunt - "You're Beautiful"
Category: Best Male Video
Year: 2006
Beat Out: Busta Rhymes' "Touch It (Remix)," Nick Lachey's "What's Left of Me," T.I.'s "What You Know," Kanye West's "Gold Digger"
One of the worst hit pop songs of all-time, the year-long enchantment of James Blunt's "You're Beautiful" over the American public stretched to a win at the 2006 VMAs for Best Male Video. It'd be tough to find four music videos from male artists that didn't deserve to win over Blunt that year, but T.I.'s biggest and best hit and Kanye's first-ever chart-topper certainly would have to be considered as two of them. If ever there was an award-show snub that deserved 'Yeezy storming the stage and commanding the microphone to protest the injustice, this was the one.
4. David Bowie, "China Girl"
Category: Best Male Video
Year: 1984
Beat Out: Herbie Hancock's "Rockit," Michael Jackson's "Thriller," Billy Joel's "Uptown Girl," Lionel Richie's "All Night Long (All Night)"
Hate to do this twice to David Bowie on one list, especially for a song and video like "China Girl" which was actually quite good. But this is more about the videos that lost than the one that won. You could maybe explain away Bowie beating out "Uptown Girl" and "All Night Long," hit songs with mediocre videos, and maybe even justify his beating Herbie Hancock's "Rockit," one of the best and most innovative videos in MTV's short history at that point, by the fact that Bowie was just a much bigger star than Hancock. But beating out Michael Jackson's "Thriller," the most famous and most important video in the history of the channel—that was just the latent racism of MTV culture, which kept initially Michael off the airwaves altogether and was unforgivably slow in giving him the credit he deserved for lifting the channel's popularity to stratospheric heights. Incredibly, MJ was never even nominated for the award again.
3. Panic! at the Disco - "I Write Sins Not Tragedies"
Category: Video of the Year
Year: 2006
Beat Out: Christina Aguilera's "Ain't No Other Man," Madonna's "Hung Up," Red Hot Chili Peppers '"Dani California," Shakira and Wyclef Jean's "Hips Don't Lie"
As inexplicable when it happened five years ago as it is today, God-awful rock one-hit wonders Panic! at the Disco took home the Video of the Year honors at the 2006 VMAs for a video that couldn't even beat out AFI's "Miss Murder" for the Best Rock Video moonman. The only possible explanation, and the thing keeping it from being higher on the list, is the historically weak group of Best Video nominees that year—lifetime-achievement nods for Madonna and RHCP, matched with Shakira and Christina videos that, while high-water marks in their respective catalogues, hardly seem Video of the Year-worthy. Panic! at the Disco were able to take advantage of the void, and now they very well may end up being the last rock act ever to take home Video of the Year honors.
2. Tokio Hotel, "Ready, Set, Go!"
Category: Best New Artist
Year: 2008
Beat Out: Miley Cyrus' "7 Things," Katy Perry's "I Kissed a Girl," Jordin Sparks' "No Air," Taylor Swift's "Teardrops on My Guitar"
Yes, this actually happened just three years ago. German post-emo tykes Tokio Hotel, already forgotten by the pop landscape to the point where they might have never even happened in the first place, somehow managed to grab the Best New Artist VMA on their way out the door for their respectably decent minor hit "Ready, Set, Go!" And who'd they beat out to do so? Four female solo artists, two of which (Taylor Swift and Katy Perry) would quickly go on to be a couple of the biggest pop stars in the world and the other two of which (Jordin Sparks and Miley Cyrus) can claim a combined eight top ten hits between them. Impressive.
1. Neil Young - "This Note's For You"
Category: Best Video
Year: 1989
Beat Out: Fine Young Cannibals' "She Drives Me Crazy," Michael Jackson's "Leave Me Alone," Madonna's "Like a Prayer," Steve Winwood's "Roll With It"
Forever the standard-bearer for WTF? wins at the Video Music Awards, good ol' Neil Young somehow managed to walk away with the grand prize at the 1989 VMAs, for a video that, while actually very good, was for a single that went absolutely nowhere, and which might not have been played on the channel more than twice in the years following. (Tellingly, it's the only Video of the Year winner ever to not have its own Wikipedia entry.) Unsurprisingly, when a pleasantly surprised Michael Hutchense of INXS attempted to present the moonman to Neil at the awards, he wasn't even in attendance, off playing some show in New York with the VMAs probably the furthest thing form his mind. ("There is no best in music," Young has derisively said about such award shows.) But whatever—it's not like any of the other nominees were totally deserving and logical Video of the Year choices.