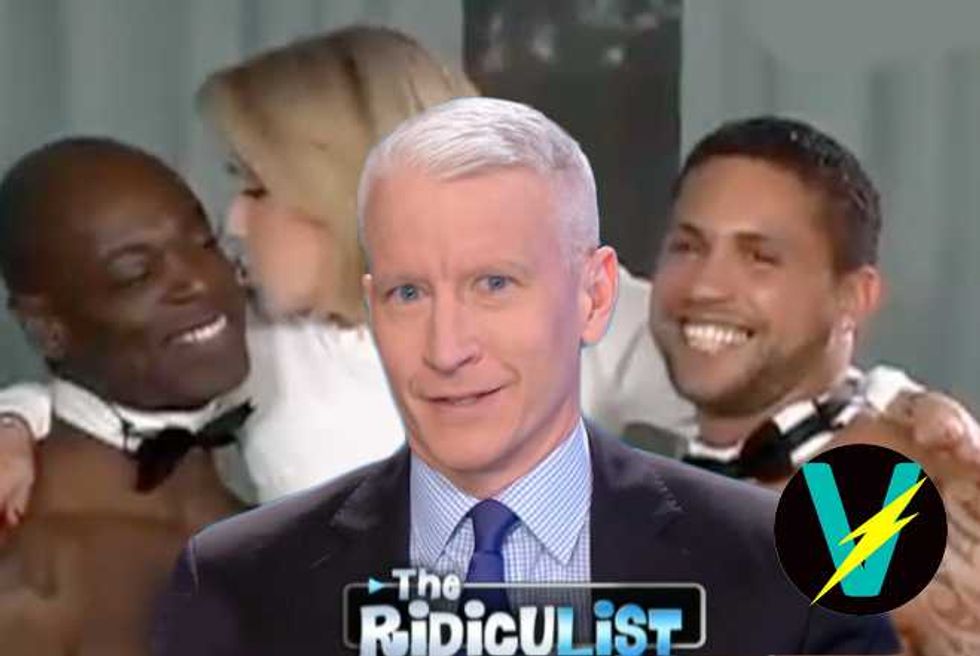 Anderson Cooper was taking no prisoners when he tackled a hypocritical Dallas TV presenter for her homophobic hissy fit over the Michael Sam same sex kiss.
As Popdust previously reported, the St. Louis Rams drafted Sam last week, making him the NFL's first openly gay player. The defensive end was the 249th pick, and cameras were rolling when he received the good news and (GASP!!!!) kissed his boyfriend.
NOTE: The KISS was actually more of a chaste peck by anybody sane's standards…but.. we're not talking sane here.
Anderson dedicated the Ridiculist segment of his CNN show Monday night to calling Amy Kushir on her bullshit—and the end result is sublime, just like the silver fox himself.
Kushir is a co-host of Dallas morning show, The Broadcast, which, by all appearances is a poor man's version of ABC hormonal hotbed, The View.
Kushir's moral indignity reached boiling point during a discussion about the oh-so-offensive Sam kiss—causing her to eventually storm off set.
During her amazingly ridiculous meltdown she voiced her anger at ESPN for daring to air the embrace, railing against the kiss footage for "being pushed in faces."
She went on to allege that she would have been just as offended if it was a male-female kiss, claiming she frequently yells 'get a room' when subjected to the horror of ANY gender mix on-camera shows of affection.
Yeah. Sure Amy.
She also went on a ludicrous rant about how the networks NEVER show any footage of players kissing their WIVES or GIRLFRIENDS…. seriously?
Anderson wasted no time in airing some delightful footage of Ms. Kushir herself happily kissing two semi-clad male strippers on air during one of her morning show segments—presumably they weren't able to "get a room" at time of filming—before going on to NAIL her ass.
"It was OK she was kissing strippers and she didn't even really know them… it's not like two guys who are actually in love or anything," Cooper quipped.
"Look, I get a lot of people certainly agree with Amy Kushir, no doubt… and that's certainly their prerogative.. and it's going to take time.. there was a recent Huffo poll that found nearly half those surveyed thought it was inappropriate for networks to show the Michael Sam kiss and people are allowed to have their opinions but to Amy Kushir's argument that nobody shows football players kissing their wives or their girlfriends.. well, that's simply not true.
"And I don't think she's being exactly honest when she says she wouldn't want to see that either, or, that she yells 'get a room' whenever she sees that. If she's comfortable seeing one kind of affection and not another, why not just say that and leave the disingenuous excuses about why you're uncomfortable where they belong?"
Ah…how do I love thee Anderson? Let me count the ways…..