Simon Varsano/Lionsgate

It is rather remarkable that _____ Has Fallen has become a franchise.
Mike Banning (Gerard Butler) is certainly no Indiana Jones or John McClane. Olympus Has Fallen is best remembered as the more successful of two dueling White House-themed action movies (the other was White House Down). London Has Fallen felt like an obligatory sequel. Apparently, it was still successful enough to continue the franchise, so now "Angel Has Fallen," too.
Now that he's died hard twice, our hero is starting to crib from another franchise, Lethal Weapon. Banning doesn't say he's "too old for this," but he is feeling the effects of a life in the Secret Service, including the two previous times he rescued a president. He's having migraines and dizzy spells, so he's considering taking a promotion to Director. President Trumbull (Morgan Freeman), having ascended from Secretary of State and VP, thinks Banning is right for the job, but he isn't sure Banning is ready to leave active duty.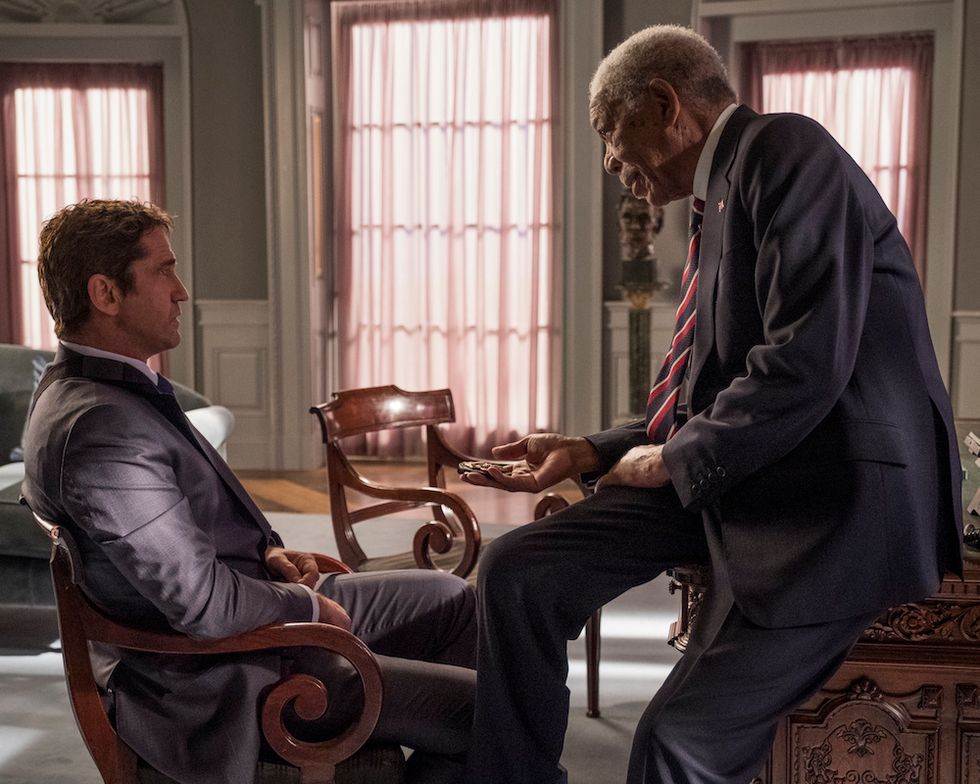 Gerard Butler and Morgan Freeman in Angel Has FallenJack English/Lionsgate
When Trumbull gets attacked by drones, Banning is the only agent on the detail to survive. It's going to be difficult to find out who planned the attack, because whoever it was also framed Banning for it. FBI Special Agent Helen Thompson (Jada Pinkett Smith) investigates, immediately convinced this is an open-and-shut case of a Secret Service agent trying to assassinate the president and leaving a blatant digital paper trail.

The opening is an intense sequence as the drone strike decimates the Secret Service and blows up their boats and aircraft, although it's still hard to see those explosions through the jiggling shakycam. But Angel Has Fallen soon becomes a truly joyless exercise in going through the motions. The threequel has ambitions to break the "Die Hard" formula of the first two films, only to trade it for an even more mundane formula. After all, the Die Hard scenario can only be as inventive as the setting allows. The "framed hero has to prove his innocence" narrative is even more generic. With the frame-up being so flimsy, the whole movie becomes frustrating.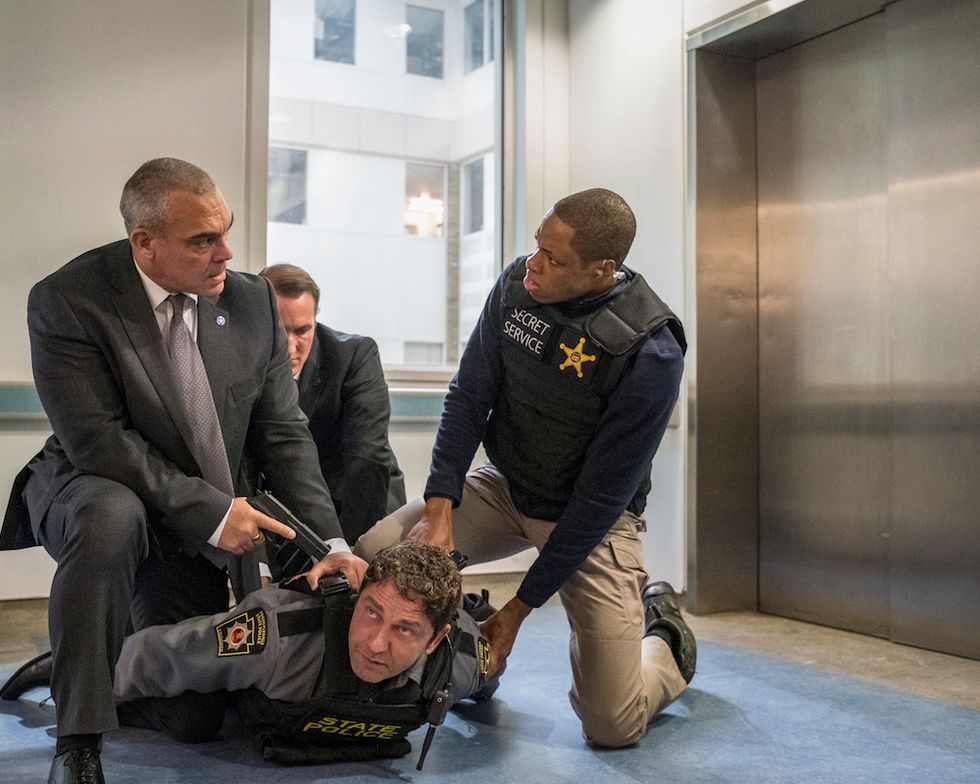 Capture Banning, ask questions laterJack English/Lionsgate

Banning has proven himself capable of single-handedly defeating terrorist armies twice. Why would he sloppily attempt to assassinate the president and leave himself as the only possible suspect? The conspirators left a trove of evidence for Thompson to find, and she never questions the convenience of it. Her character operates entirely on bad movie logic.
Most of the action occurs on backwoods roads at night or in the barely lit forest. You already can't see when the camera starts shaking to obscure everything else. When you compare this to the action in a movie like John Wick, where every detail is labored over and choreographed, Angel Has Fallen just looks sloppy. Good guys and bad guys basically shoot guns ad nauseum, while extras and stuntmen fall down randomly. It lacks even the most basic sense of flow, let alone stakes. Not every film can be John Wick, but can we at least expect clear lighting and a functional steady camera?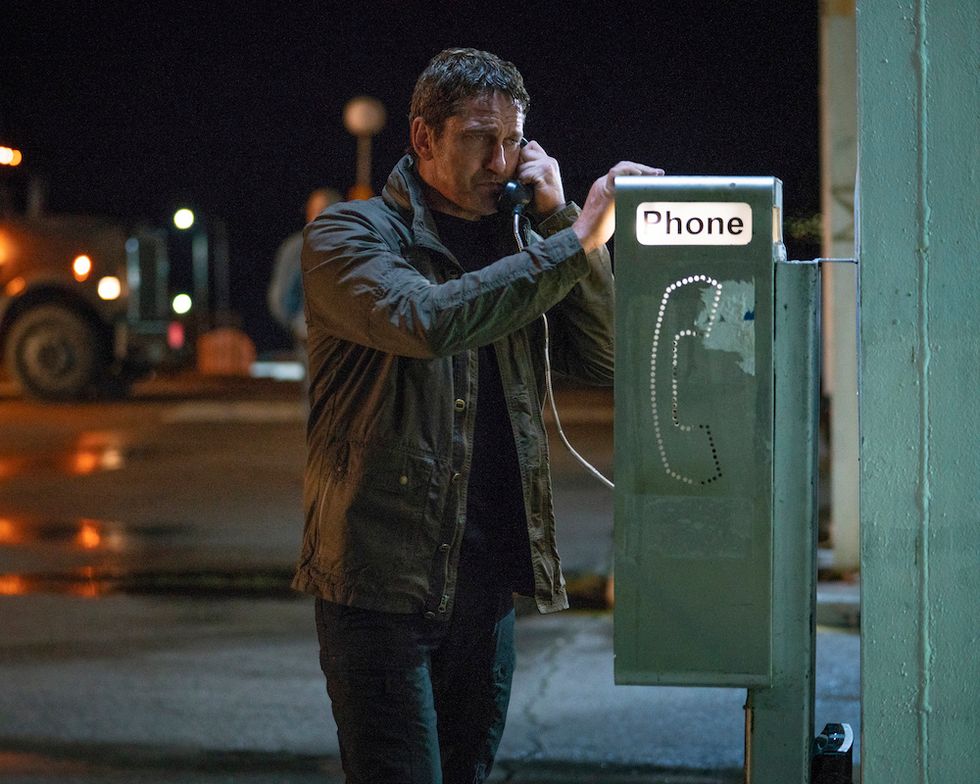 "Would you accept a collect call from a Mr. McClane?Simon Varsano/Lionsgate

The superficial patriotism of the franchise has been updated to reflect current fears of Russian collusion and dark web meddling, but the screenwriters don't really understand what those fears are about. Angel Has Fallen even lacks the conviction of the first two films' jingoism.
I still hope Angel Has Fallen doesn't kill the franchise. I like Gerard Butler in Die Hard scenarios, but they can do better than Angel Has Fallen. Let's hope they get another chance to rectify this mistake.