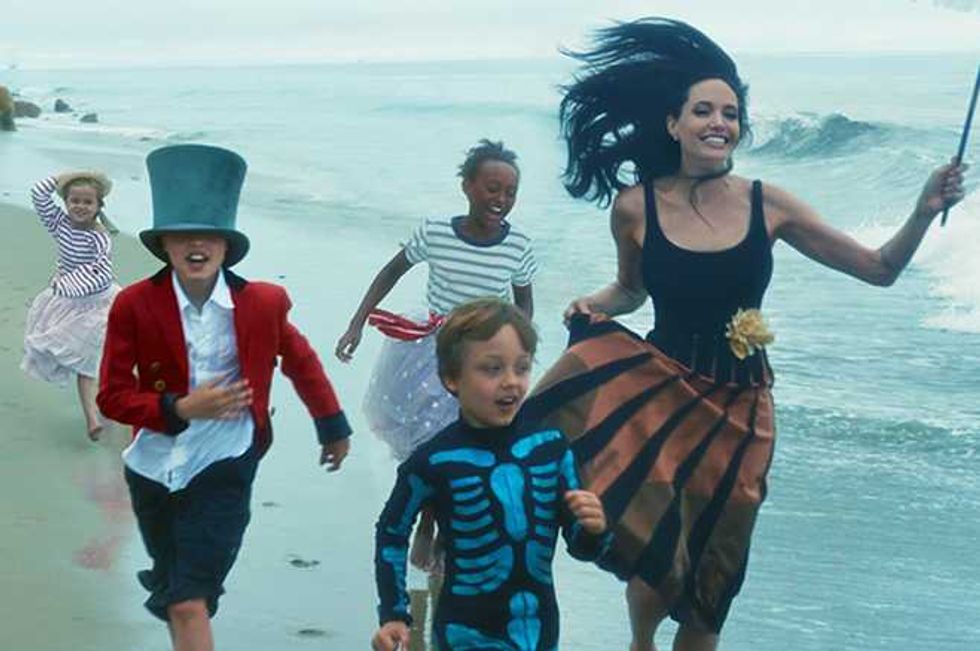 In a new interview with Vogue magazine, Angelina Jolie opens up about her family life, depicting a traveling band of privileged gypsies.
She reveals that the Jolie-Pitt children are home schooled by teachers with diverse backgrounds and religions, who speak several languages.
We travel often to Asia, Africa, Europe, where they were born. The boys know they're from Southeast Asia, and they have their food and their music and their friends, and they have a pride particular to them. But I want them to be just as interested in the history of their sisters' countries and Mommy's country so we don't start dividing. Instead of taking [Zahara] on a special trip [to Ethiopia] we all go to Africa and we have a great time.
Isn't it nice to be so International! How nice for the kids to know where Mommy collected them from and to eat their own special cuisine!
For example, Angelina and Pax have just returned from Cambodia, where she took him to meet Burmese opposition leader and Nobel laureate Aung San Suu Kyi. Most eleven year old boys want to play video games but Pax is busy meeting world leaders.
Earlier, in April, Jolie Pitt took daughter Shiloh to meet refugees in Lebanon
When she is back at the family home-base in Santa Barbara, Jolie does actual mother stuff just like regular women. According to Vogue,
She has had to attend to doctors' appointments, vaccines for the kids, play dates, and meetings.
Incredible, right?
With all her films, humanitarian work, speeches, her philanthropic projects and a husband to please, how does Angie manage being a mother to so many kids?
I schedule individual time with each of the kids like a crazy person.
Again, incredible. She makes time for EACH ONE, and there are SIX of them!
Recently, Angelina co-authored an Op-ed piece calling upon the world to prioritize Syrian refugees and to pursue a diplomatic end to the war going on there. She is also hoping to make a movie about Kenya-based wildlife conservationist Richard Leakey.
And of course, she wants to play Cleopatra, as revealed in those notorious hacked Sony email exchanges about Angelina's 'massive ego.' This project has been tricky though, as Jolie explains:
It's a hard one to get right. It needs to be about something other than sex and jewelry. She was a very complicated leader of a country.
Much like Jolie herself, one might imagine, leader of a demanding international family and  flying around the world trying to fix problems for humanity.
As far as Brad Pitt is concerned, Jolie barely acknowledges his existence, except to insist that the miserable married couple they portray in her new movie By The Sea are in no way based on the Jolie-Pitt marriage. Not at all. As she puts it,
Brad and I have our issues, but if the characters' were even remotely close to our problems we couldn't have made the film.
The implication is, of course, that you can't be such a tormented couple and play a tormented couple, or else...I don't know, or else something bad would happen. Let's just take her word on that. I'm sure Brad does.
Check Out These Richest Countries In The World