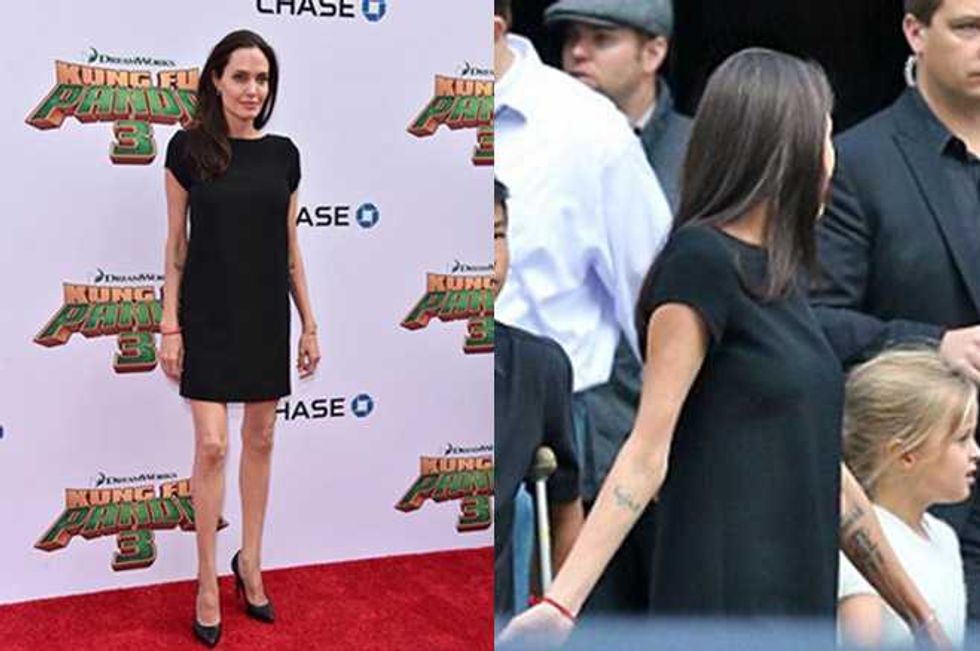 Angelina Jolie appeared to be channeling an Auschwitz prisoner on the red carpet yesterday at the L.A. premiere of Kung Fu Panda 3.
Her Saint Laurent little black dress served to highlight her twig-like limbs, completing the impression of a stick figure with a giant bobble head.
Angie smiled serenely if somewhat vacantly at the fans and paparazzi, occasionally exhibiting her emaciated arm with it's now sinister-looking tattoo.
Is Angie preparing to play a Holocaust victim or just unconsciously protesting world hunger?
A few tabloids are floating the notion that Angie prefers a diet of crickets, but they are also insisting that she plans to adopt a Cambodian child, which the government there has now officially denied.
Jolie appears to have no idea of her startling appearance, instead prattling cheerily to the press that she'd flown into Los Angeles in the wee hours:
I just pulled myself together, just cleaned the dirt off my feet.
The implication being that she only had time to throw on her little YSL frock and ten pounds of make-up before hitting the cameras.
While we're all keenly aware of body-shaming and it's ramifications, let's not be afraid to call it out when the emperor is wearing no clothes, or in this case, when the celebrity is wasting away before our eyes.
Is this limb-baring dress a cry for help? Or does Angie look in the mirror and see what anorexics see: a phantom wall of blubber?
No one wants any more of the usual excuses: She's overworked, she's naturally thin, she doesn't have time to eat. There's something going on and it isn't good.
When one of our biggest celebrities shows up drunk or high, we acknowledge it.
When one of them shows up looking like they need to be hospitalized with an IV, we should acknowledge that too.
Arrange an intervention for the poor woman, somebody.