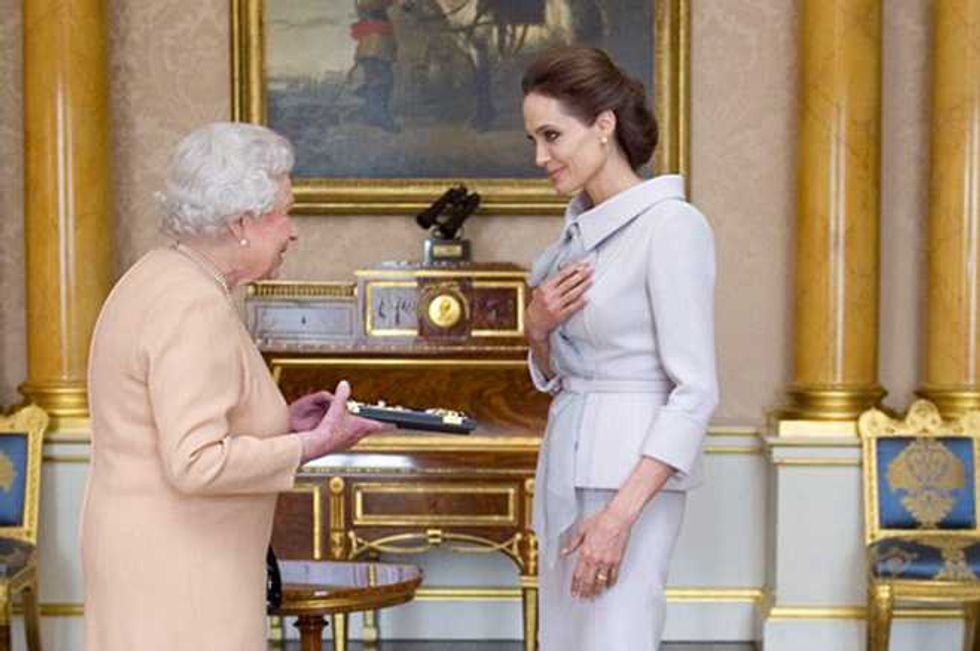 Angelina Jolie and her family flew to London on Friday, where Angie was awarded an honorary damehood by Queen Elizabeth herself!
The Queen presented Angie with the Insignia of an Honorary Dame Grand Cross of the Most Distinguished Order of St Michael and St George, which is rarely given to non-Brits.
In the photo above, Her majesty appears to be complementing Jolie on her very large bust-line. Angie, ever the diplomat, seems to be saying, 'Oh these? No, yours are much, much bigger, your Highness!'
After discussing their bosoms, the two icons wrapped it up and asked the other Jolie-Pitts to join them.
According to a Buckingham Palace spokesman,
The audience itself between Miss Jolie and the Queen was private. Her Majesty presented her with the insignia in its box. Mr Pitt and the rest of the family were introduced to the Queen afterwards, however.
I'm not absolutely certain so don't quote me on this, but I think the Queen told Brad Pitt how much she enjoyed his work in Thelma and Louise. She is said to watch it two or three times a night.
All in all, it was as lovely visit, and Angie was clearly glad she bothered to interrupt her schedule for the Queen. The two women even enjoyed a fistbump (shown below.)