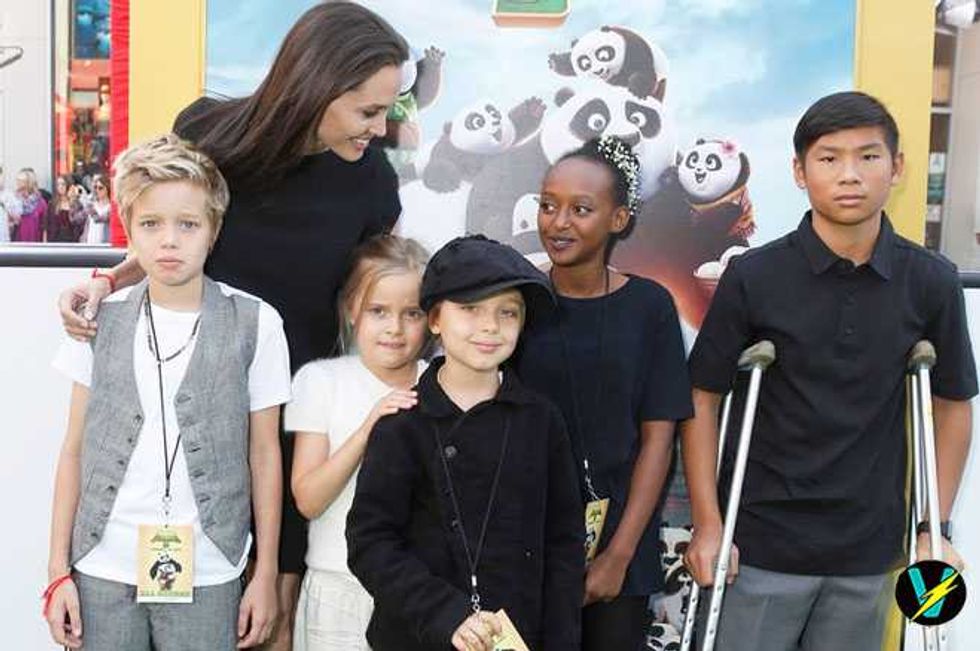 Angelina Jolie Hopes Kids Not Actors
Angelina Jolie is not too keen on any of her six children following her and hubby Brad Pitt into the acting profession.
In an interview on the Today Show to promote her latest film Kung Fu Panda 3, she revealed that whilst working with four of the kids on the movie was good fun, she hopes they do something else with their lives.  Pax, 12, Zahara, 11, Shiloh, 9 and Knox, 7 all provided voices to some of the characters in the movie.
Angelina Jolie And Family— Privileged Gypsies Who Are Better Than You
Jolie said;
"[It] was so much fun.  I think what was so sweet about it was that they took it very seriously.  They came in and said, "I don't know if I could do this.  I'm not sure if I can do this." And to talk them through it—it was simple little things—but they really took it seriously as a job and getting it right and not doing a bad job."
Host Morgan Radford then asked whether her children wanted to act for a living, Jolie responded;
"I hope not!  We've always said if they want to be actors I hope they do something and then be actors."
Yep…Indeed… It IS All About Angelina Jolie
Jolie, 40 is joined by Jack Black, 46 as the voices of Tigress and Po in the third film of the Panda franchise, and Black's son Sam, 9, also joined the cast—making it a family affair all round!
Angelina Jolie Hopes Kids Not Actors
Angelina Jolie Hopes Kids Not Actors