In a series of leaked emails between Sony movie executives, Angelina Jolie is derided as a spoiled brat and more.
The leaked emails are part of the recent Sony Pictures company cyber attack, resulting in masses of sensitive company information being distributed online.
In a series of emails between producer Scott Rudin and Sony co-chairman Amy Pascal, they are bickering over Jolie's wish to hire David Fincher to direct her version of Cleopatra, while Fincher was being urged to direct Jobs, the ill-fated Steve Jobs movie.
Here is Rudin, losing it:
'I'm not destroying my career over a minimally talented spoiled brat who thought nothing of shoving this off her plate for eighteen months so she could go direct a movie. I have no desire to be making a movie with her, or anybody, that she runs and that we don't. She's a camp event and a celebrity and that's all and the last thing anybody needs is to make a giant bomb with her that any fool could see coming.'
Oh snap!
In this one, he mentions Jolie's 'rampaging ego.'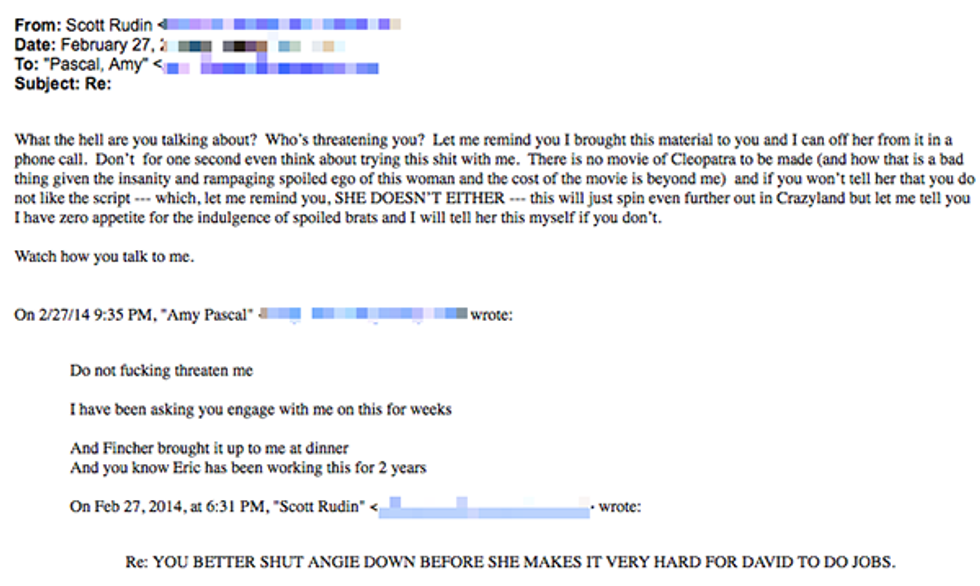 While the Sony leaks cover a range of juicy subjects, this particular gem is special for breaking the fatwa on speaking frankly about Dame Angelina Jolie. Do you love it or do you love it??