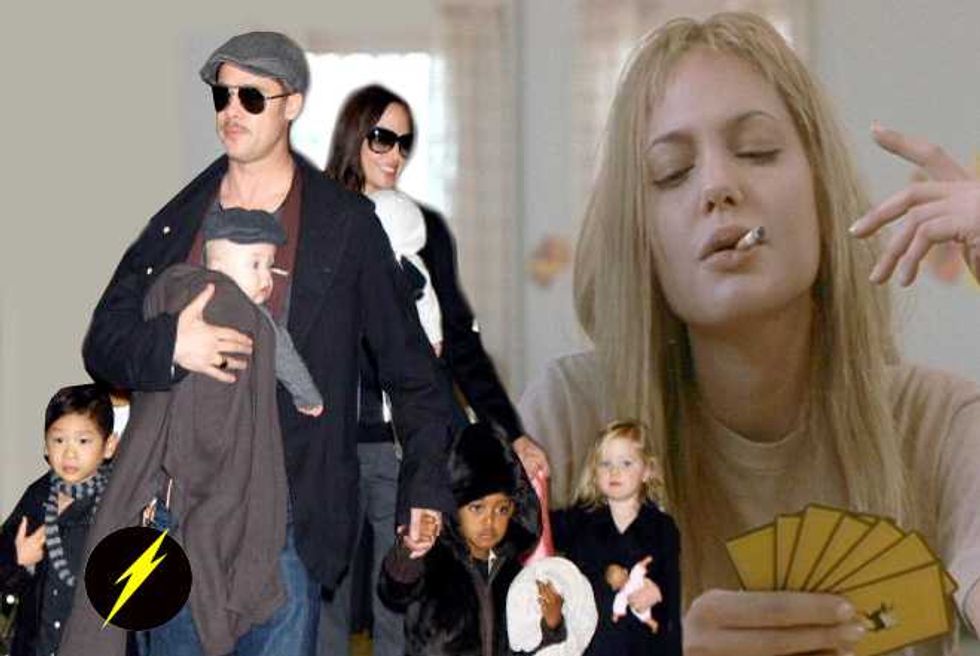 Angelina Jolie lets it all hang out in a candid new interview with Elle Magazine—discussing her evolution from drug addled wild child to mom-of-six kids, how she never thought she would find true love and her wedding plans with Brad Pitt.
The Oscar winning actress stuns in a black and white spread shot by YSL designer Hedi Slimane and also reveals that she never thought she would be a mom– and that her heroin tinted youth was publicly 'misinterpreted as [me] wanting to be rebellious.'
"I never thought I'd have children, I never thought I'd be in love, I never thought I'd meet the right person," Jolie says. "Having come from a broken home—you kind of accept that certain things feel like a fairy tale, and you just don't look for them."
Thankfully the twice-divorced beauty has now found a love that she claims just gets better with time.
"You get together and you're two individuals and you feel inspired by each other, you challenge each other, you complement each other, drive each other beautifully crazy," she says.
"After all these years, we have history—and when you have history with somebody, you're friends in such a very real, deep way that there's such a comfort, and an ease, and a deep love that comes from having been through quite a lot together."
As far as her roaring twenties, which included indulging in a passionate smooch with her brother at the 2000 Oscars, heroin use, and wearing second husband Billy Bob Thorton's blood around her neck, Jolie claims her antics were mostly misunderstood.
"[It wasn't about] a need to be destructive or rebellious—it's that need to find a full voice, to push open the walls around you," Jolie explains.
She added that youth is about freedom. "You want to be free. And as you start to feel that you are being corralled into a certain life, you kind of push against it. It may come out very strange, it may be interpreted wrong, but you're trying to find out who you are."
Having begun working as an actress as the tender age of seven, the 38-year-old says that her busy work schedule left her with a fear of leading 'a life half-lived.'
"I realized that very young—that a life where you don't live to your full potential, or you don't experiment, or you're afraid, or you hesitate, or there are things you know you should do but you just don't get around to them, is a life that I'd be miserable living," she says.
"And the only way to feel that I'm on the right path is just to be true to myself, whatever that may be, and that tends to come with stepping out of something that's maybe safe or traditional."
Talking of traditional, there's that much anticipated wedding between her and Brad looming somewhere in the future—and the usually private Jolie opens up about their wedding plans, but you will have to check out the new issue of Elle —on newsstands May 20—to see what she says!