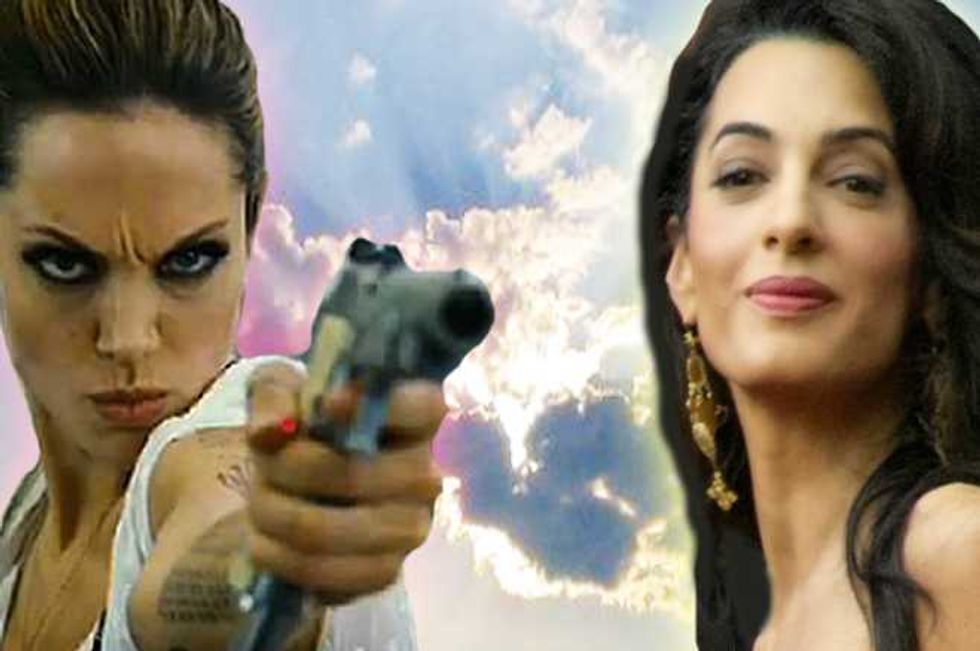 Now that Angelina Jolie has declared herself a Humanitarian who is open to running for public office, it's an official Angie vs Amal Clooney smackdown. Which of the two high-profile Do-Gooders is the realest Real Deal?
Let the games begin.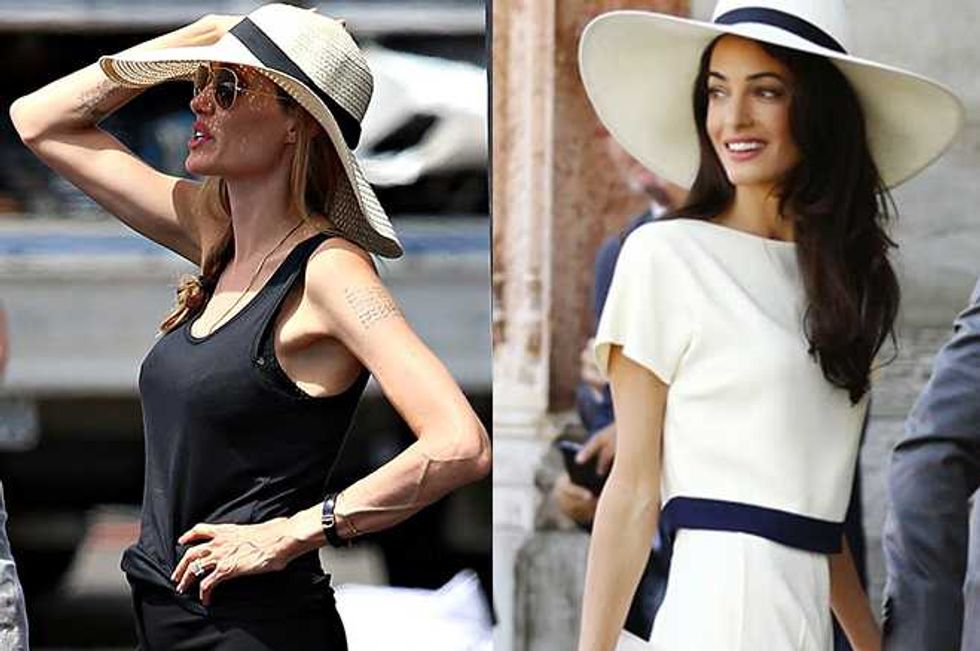 Let's look at Amal's stats.
1. She is a barrister at Doughty Street Chambers, specializing in international law, criminal law, human rights, and extradition.
2. She worked as a student law clerk for Sonia Sotomayor, who is now on the Supreme Court.
3. In 2013, Amal was appointed to a number of United Nations commissions including adviser to Special Envoy Kofi Annan.
4. She's a member of the multidisciplinary Team of Experts established on behalf of the Foreign and Commonwealth Office.
5. She is now involved in the repatriation of the Elgin Marbles for the Greek government.
My goodness, what an achiever!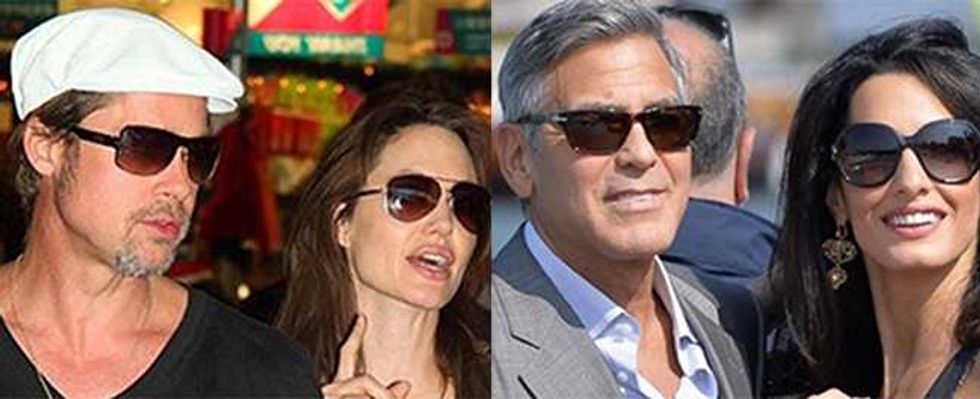 Now, let's look at Angie's stats.
1. She is now Special Envoy to UNHCR High Commissioner António Guterres.
2. In recognition of her conservation efforts, King Norodom Sihamoni awarded her Cambodian citizenship in 2005.
3. She has co-chaired the Education Partnership for Children of Conflict, which funds education programs for children affected by disaster.
4. She founded Kids in Need of Defense (KIND) in a collaboration with Microsoft  and 25 leading U.S. law firms.
5. She has been made an Honorary Dame for her services to the UK's foreign policy and campaigning to end sexual violence in war zones
Whew!
This is a pair of accomplished contenders, I think you'll agree. Both women clearly have political aspirations as well as powerful Hollywood Husbands supporting their efforts.
On the one hand, Amal graduated from Oxford, but on the other hand, Angie has a nice collection of children.
Since the competitors are so evenly matched, we need a tie-breaker.
Let's see how Angie and Amal square off in the Skinny Legs category.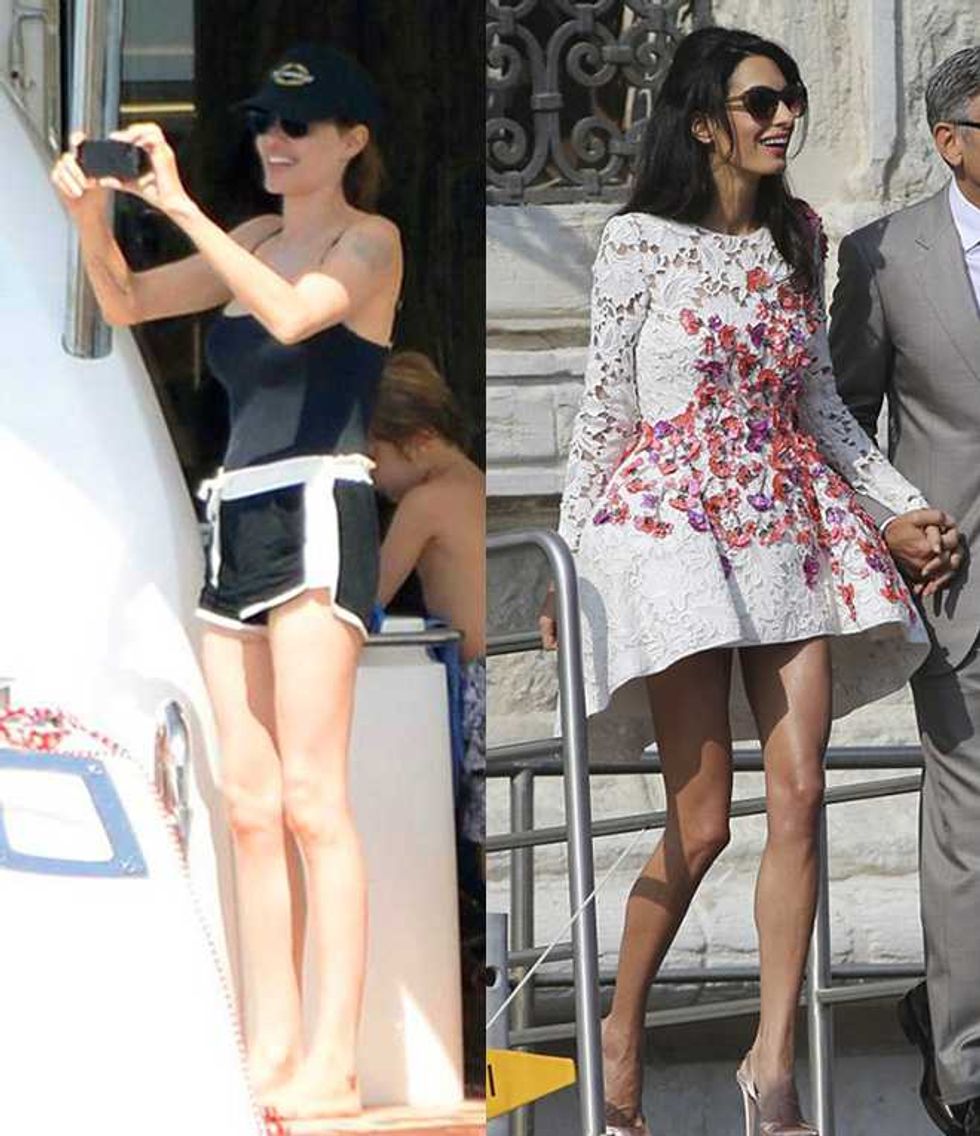 WOW! It's so close! Is it even possible to pick a winner here?
Help humanity by weighing in below.