MUSIC
Pulse is minimalist but carries a message, beckoning listeners to figure themselves out while he's also trying to self-reflect.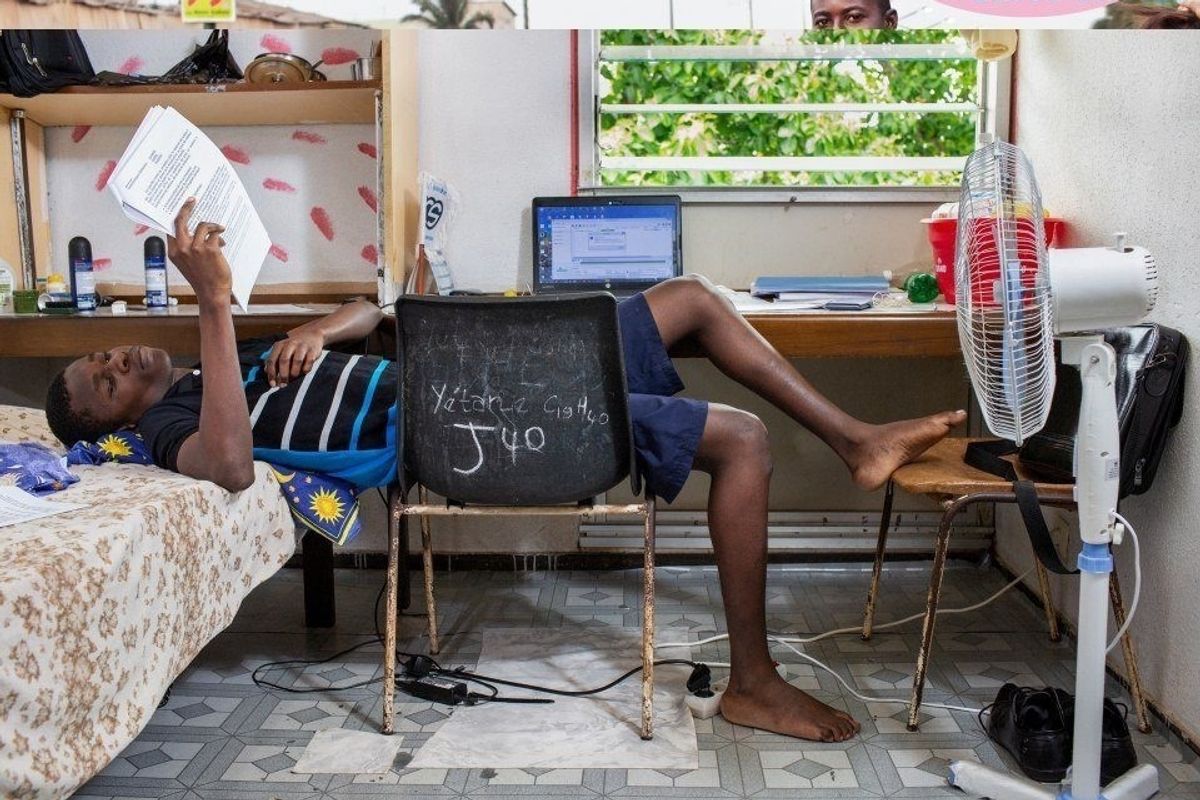 Last year Blood Orange (né Dev Hynes) released the acclaimed Negro Swan, a stream of consciousness that served as a treatise on identity politics.
He explored what it meant to be black and depressed in a heteronormative society that seemingly rejects those who are different. On his new release, the
Angel's Pulse
mixtape, he continues his existential journey with 30+ new minutes that complement his catalogue like a colorful, free-flowing coda.

Like on Swan, Hynes fuses elements of R&B, hip-hop, and alt-pop to create tracks that are chillwave-adjacent. On board lending their talents are Toro y Moi, Kelsey Lu, Ian Isiah, Project Pat, Gangsta Boo, Tinashe, Porches, Arca, Joba of Brockhampton, Justine Skye, and BennY RevivaL, but the production and mixing are all Hynes's unique voice and flow.
"I put as much work and care into it as I do with the albums I've released, but for some reason trained myself into not releasing things the rate at which I make them. I'm older now though, and life is unpredictable and terrifying," said Hynes in a statement.
Pulse is minimalist but carries a message, beckoning listeners to figure themselves out while he's also trying to self-reflect. "What is it you notice all that way down? Our vacant sounds can help you figure it out," he sings on "Baby Florence (Figure)."
His ideas may individually seem like abstracts, but Pulse is an introspective downtempo collection that casts a much wider net, navigating pain, a broken heart, confusion, and the fear of lost connection. On "Tuesday Feeling (Choose to Stay)," he laments choosing "to ignore blues," while feeling scattered and misunderstood. "I want the lifestyle for free, I want the p**sy for free, an arm around me to grieve, a sleep without sweat and me, my self doubts in a tweet, my mood rests on coffee, try to understand me."
As with past releases, he's anxious about merely existing, yet confronts those feelings of unrest head on. On "Happiness," he asks, "How do you know when life will choose to fade away? How do you know if you've been wrong?" Fifteen years and five releases later, Hynes is still searching for meaning and answers in these tumultuous times.
Blood Orange records have always been about stepping out and owning one's differences. Musically, his mellow, moody beats and macro concepts make him a standout, yet thematically Hynes appears uncertain and wavering...and it's a relief to hear someone cop to that. On the mixtape's closer, "Today," he sings, "Loose touch and confidence never seems the same, eyesight stays clearer when selfishness became number one and chewing gum you were afraid, big mistake in stepping out...Nothing good today."
Hynes has always boldly represented himself with his originality, lush melodies, and poignant creative direction, never failing to unravel new layers of himself, both sonically and spiritually. On Pulse, Hynes proves to be the genre-spanning auteur we always knew he was. By continuing to focus on his insecurities and anxieties, he shows us that everyone—everything—is a work in progress and that recognizing imperfection is our greatest strength.
Angel's Pulse
---