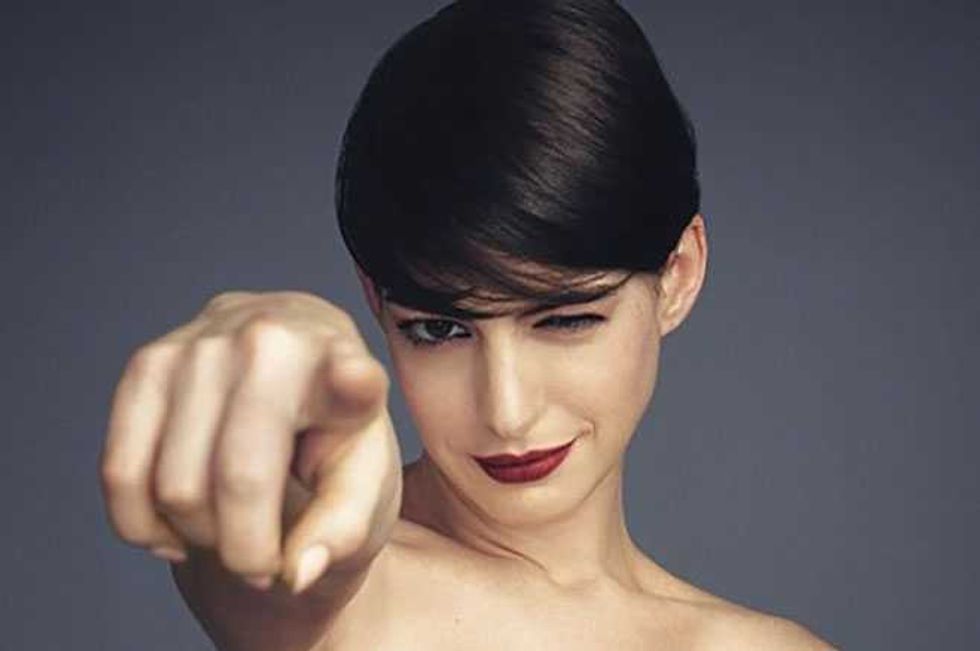 When you think of Anne Hathaway you don't usually think….sex bomb.
But, the 30-year-old wants people to know that just because she doesn't wear her sexiness "overtly" doesn't mean she's not sexy y'all!
Hathaway bemoans her perceived non-sexy status in a new interview with Harpers Bazaar, during which, she also gushes—as Anne is SOOOO good at doing!!—about her co-star Matthew McConaughey; talks about why she quit being a vegan; and admits she was the one who did the running when it came to hooking up with now-hubby, Adam Shulman.
Popdust has highlights:
On sexiness:
A lot of people have told me, 'You're not this and so can't play that,' and I can't tell you the amount of times I've been told I'm not sexy.

I just go, 'I'm a lot of things. Just because I don't wear my sexiness overtly doesn't mean that I can't become that girl for a role. That's what I do; I become things. Use your imagination, buddy.'
On her hunky Interstellar co-star:
Matthew McConaughey is the most daring man I know. He never judged himself along the way, and it's all come together for him so wholly and deeply. He is totally himself.
Why she turned her back on her strict vegan diet:
"I just didn't feel good or healthy, not strong." Cut to a Reykjavík restaurant and an adventurous costar who said that they should try everything: She caved with a fresh piece of fish—"from a stream I could see from where I was sitting." The next day she "just felt better." So now, when she needs chicken soup for the soul, she'll have chicken soup.
On hooking up with hubby:
I have no problem making the first move when I see a guy I like. I was in LA. when I met [Adam]. I was told he had a girlfriend, and I backed off because I'm not that girl. Then when I found out six weeks later that he didn't have a girlfriend, I was like, 'We should throw a party. We should invite Adam.' From the very first second we knew it was a very powerful and exciting connection we had. And it just gets better.