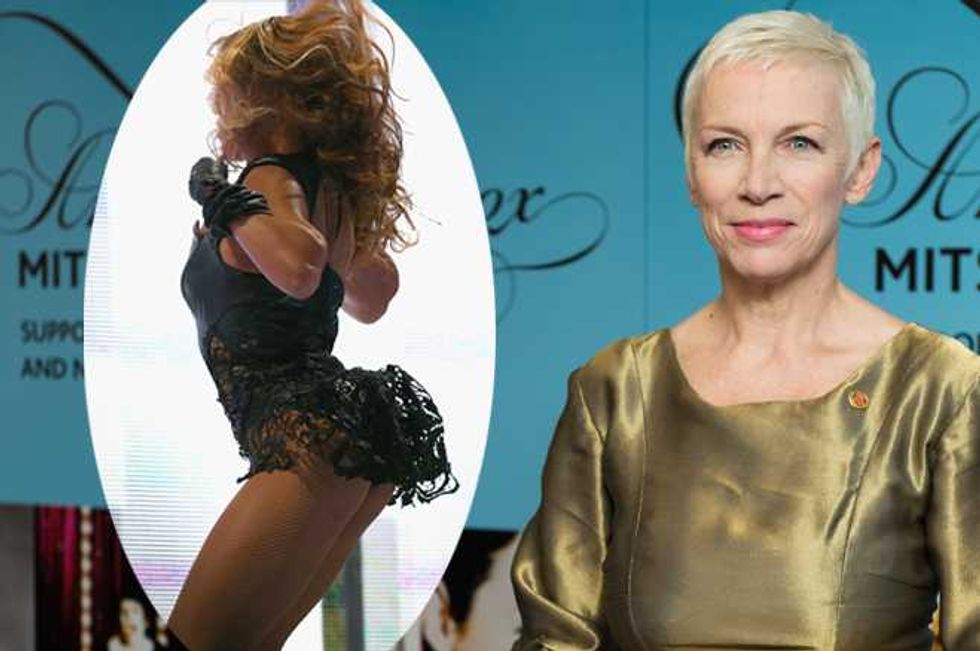 Annie Lennox is standing by comments she made about Beyonce being "feminism lite".
As Popdust previously reported, Annie finds the way Beyonce has co-opted feminism troublesome and inauthentic. "I would call that 'feminist lite.' L-I-T-E. I'm sorry. It's tokenistic to me," she told PrideSource.
In a new interview with NPR, The Eurythmics singer was asked about the sexualization of young girls in the industry and elaborated further on what she meant by "feminist lite".
"Well, I didn't specifically criticize Beyoncé," Annie said. "I was being asked about Beyoncé in the context of feminism, and I was thinking at the time about very impactful feminists that have dedicated their lives to the movement of liberating women and supporting women at the grass roots, and I was saying, 'Well, that's one end of the spectrum, and then you have the other end of the spectrum.'"
She then went on to criticize the Beyonce school of empowerment, saying it's a sham.
"Listen, twerking is not feminism. That's what I'm referring to. It's not—it's not liberating, it's not empowering. It's a sexual thing that you're doing on a stage; it doesn't empower you. That's my feeling about it...Maybe this is a good thing because it creates debate."
Annie's got a point - Beyonce's version of feminism seems to involve naming her tour after her husband and a lot of ass shaking. Not that there's anything wrong with that...