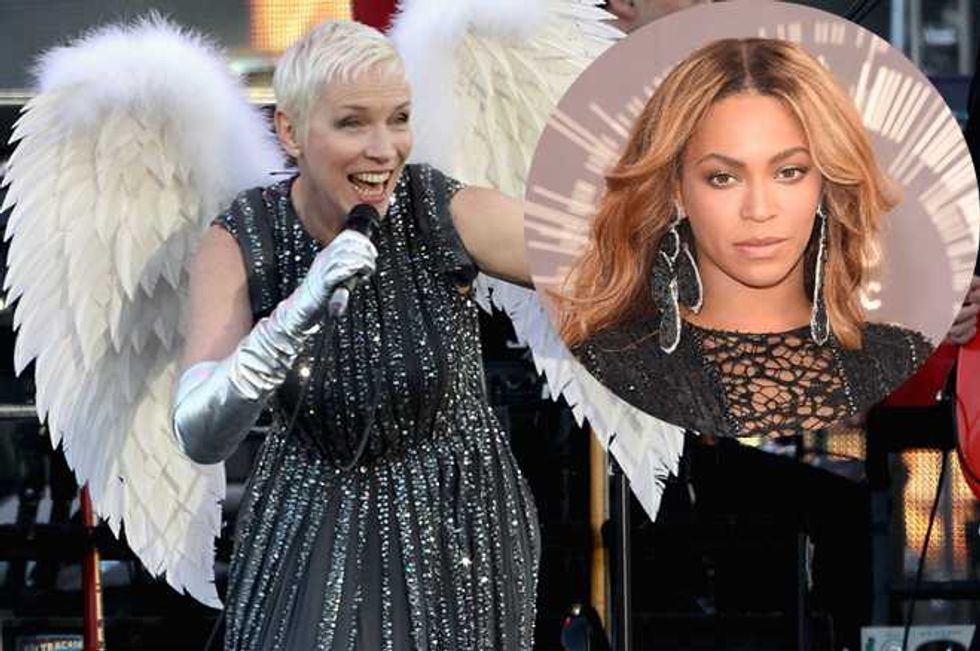 Annie Lennox is seriously questioning Beyonce's feminist values, saying she doesn't believe the performer understands what the word even means.
Beyonce publicly proclaimed herself a feminist at the recent MTV Video Music Awards, but Annie isn't buying it.
"I would call that 'feminist lite.' L-I-T-E. I'm sorry. It's tokenistic to me," the Eurythmics star told PrideSource. "I mean, I think she's a phenomenal artist—I just love her performances—but I'd like to sit down [with her]. I think I'd like to sit down with quite a few artists and talk to them. I'd like to listen to them. I'd like to hear what they truly think."
Without referring to Beyonce specifically, Annie went on to bash cynical female stars who have co-opted feminism to boost their image, when the truth is they are simply exploiting the movement.
"I see a lot of it as them taking the word hostage and using it to promote themselves, but I don't think they necessarily represent wholeheartedly the depths of feminism - no, I don't. I think for many it's very convenient and it looks great and it looks radical, but I have some issues with it. I have issues with it. Of course I do. I think it's a cheap shot. I think what they do with it is cheap and ... yeah."
Annie also has huge issues with young so-called role models marketing their highly-sexualized images to preteens, something stars like Ariana Grande and Miley Cyrus are frequently accused of.
"What can I tell you? Sex always sell. And there's nothing wrong with sex selling, but it depends on your audience. If they're 7-year-old kids, I have issues with it."
PREACH!
What do you guys think, is Beyonce feminist or not so much? Sound off in the comments!