Rising Star
EXCLUSIVE | ANTONIO RAMSEY is bringing Trap Funk to New York and a screen near you
Photo: Courtesy of Antonio Ramsey
"Then of course the Hennessy and cranberry kicked in, giving us the melody "Imma give that girl this d***" and from there the song just fell into place"-Antonio Ramsey
I started to add a "Muthf--ing" as his middle name because it seemed appropriate, but I'm a lady 93% of the time. Last night, PopDust had Antonio Ramsey in our studios for PopDust Presents . When I read he was originally from Florida, I was excited. Southern gentlemen are some of my favorite people on earth. They are naturally charismatic, mannerable, and walk around with this air that screams protector of women. That may seem like it has nothing to do with music, but those characteristics dance onto a record through sexual metaphors, buttery smooth vocal richness, and a playful flirtation that can be hears on the track. That southern flair with the infusion of his new home, LA, is woven throughout his newest single, "All Night Long". In fact, Antonio, like most songwriters, feeds off life experiences to give his music soul, "I grew up listening to icons like James Brown, Stevie Wonder & Jodeci! So me being able to put pieces of my life together to create #FunkTrap music is a journey that I look forward to".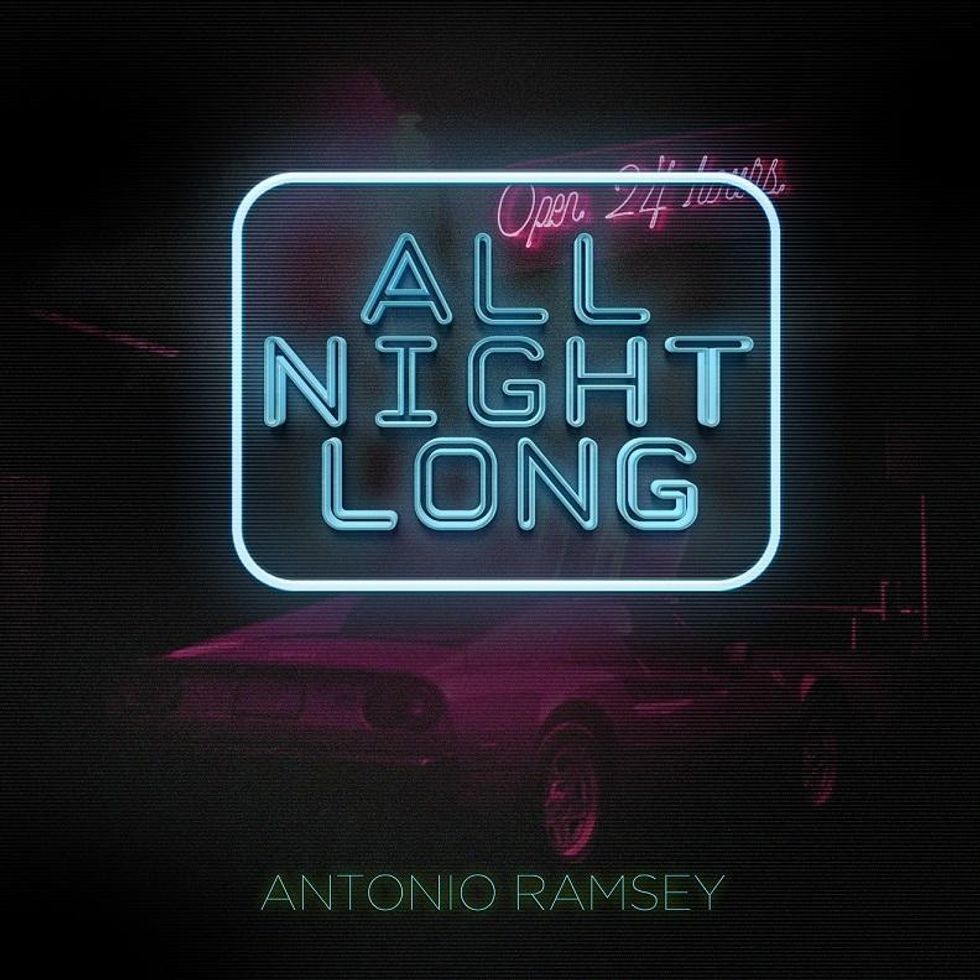 "ALL NIGHT LONG" is the new single from male vocalist and songwriter ANTONIO RAMSEY. The #funktrap single was written by Antonio Ramsey and Kareem James and produced by Brandon "Monstaa" Brown.Photo Courtesy of Antonio Ramsey
Let's play a game. Quick, throw out the first musical act you think of when you hear "funk". Did you think Bootsy, James Brown, Parliament, even Prince. Now, throw out the first names you associate with trap music? Did you yell out Jeezy, T.I., Goodie Mob, or UGK. Now imagine the two together. You made the "ewww" face right? Same. Separately, they sound amazing, but "It's a man's world, soul survivor" by James "The Snowman" Brown just doesn't sound eargasmic (actually, DJ's can you try blending and cutting these two songs? It may not be that bad). Then I heard Antonio's music.
Guitar. It's the instrument I love to hear and hate to play. Sexy and strong, electrifying and relaxing all in one, it's also the prominent instrument on the track next to Ramsey's voice. Reminiscent of 70's and 80's funk, you can almost see the notes percolating in front of you as they are played. This is where the funk comes in, and the heavy James Brown influence of the artist. "As soon as I heard the guitar riff that plays the record in, it just felt sexy with that classic throwback-feel to it," mentions Antonio. As much as this song brings the funk, it also has another of Antonio's influences all throughout the tone of the lyrics.
Jodeci,
the New Jack into 90's era R&B group that made sex sound like something fun and dangerously forbidden at the same time. JoJo, you can take a break now, Antonio is ready to pick up where your bare chest, leather jackets, and sunglasses left off, and while he keeps his shirt on, guns are out. After listening to "All Night" the entire time I wrote this article, I have the refrain "All night long she follow me/Tell her come get this/she follow me". Not a bad theme to have in your head on a lusty 80 degree day.
Also not a bad day to make your mark on NY. Tonight, May 17, 2017, Antonio will be at the legendary Sol Village at SOB's. While it is the same stage that boasts legends and legends in the making (Erykah Badu, Luke James, Common, Emily King, Musiq), Antonio plans on giving tonight's audience the full "Funk Trap" experience. Hear antonio talk about he best spots in Miami for seafood, his new LA inspired love for Koren BBQ (watch him explain the pork selection-iconic!), his mom, and how straightforward he is in dating, below.
---