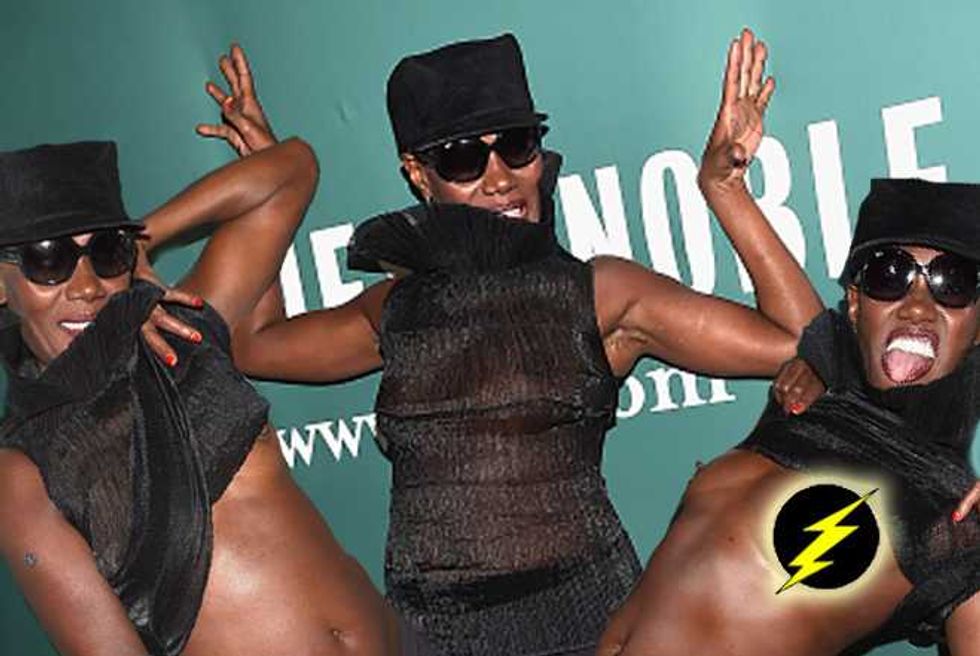 Grace Jones can teach those modern day outrage usurpers a thing or two when it comes to flashing the flesh and causing a kerfuffle.
The always awesome Original Diva gave both Madge and Miley a run for their money last night, showing off her nipples and plenty of tongue, during a NYC book signing at Barnes and Noble—as you do—well, as you do when you are Grace Jones.
Free The Nipple! The Best, Worst, And Most Blatant Celebrity Nip Slips
As Popdust previously reported, the 67-year-old has penned a candid tell-all, titled I'll Never Write My Memoirs, and it promises to be every bit as salacious, opinionated, sex, drugs and rock 'n roll filled as you would expect, given Jones' rich and colorful life so far.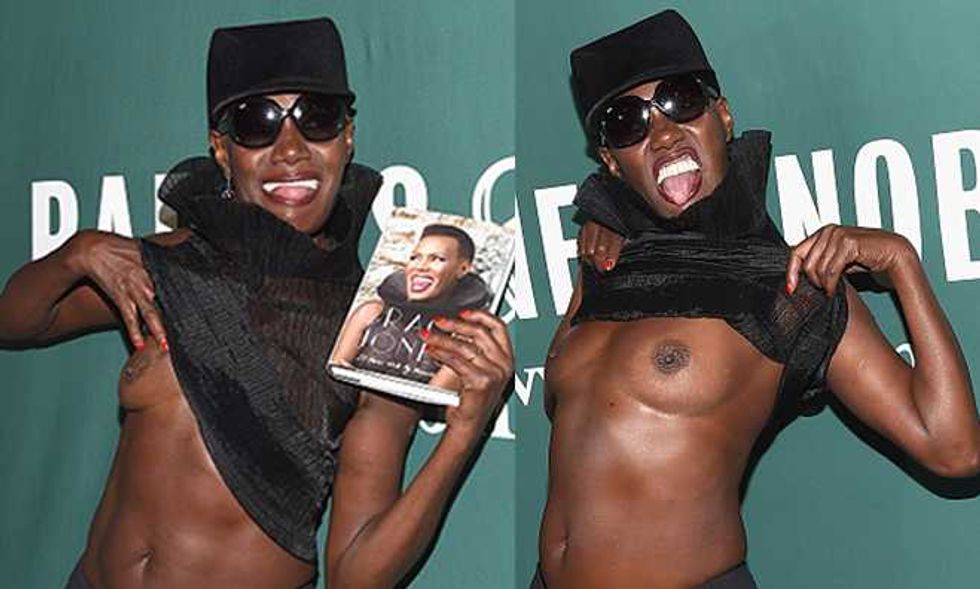 Take that Miley!
In addition to sharing her God given goods with photographers and fans, the senior citizen (ha!) also shared her thoughts on today's slew of female entertainers.
Nicki Minaj Suffers Nip Slip During Interview About Past Nip Slips
And, let's put it this way, when it comes to the likes of Cyrus, Beyonce, Nicki Minaj, Lady Gaga et all…. Jones is definitely not a fan.
Jones slammed the new generation of women performers, calling them out for being phony and contrived and claiming they don't "challenge the status quo" enough.
Selena Gomez—Camel Toe Serial Offender
She goes into greater detail in her memoir, smack talking her successors, and accusing them of "playing the pioneer without taking the actual risk."
I have been so copied by those people who have made fortunes that people assume I am that rich. But I did things for the excitement, the dare, the fact that it was new, not for the money. And too many times I was the first, not the beneficiary.

There's a lot of that around at the moment. Be like Sasha Fierce. Be like Miley Cyrus. Be like Rihanna. Be like Lady Gaga. Be like Rita Ora and Sia.

Be like Madonna. I cannot be like them, except to the extent that they are already being like me.
Cara Delevingne Suffers Butt Flashing Wardrobe Malfunction, Still looks Flawless
Jones expanded yet further on the subject in an interview with the New York Times last month:
They make it so obvious. But they don't quite have the conviction. It's always someone styling them, for example. It's not coming from them.

People say, 'Well, you should be flattered [that they're emulating you].' And I'm like, 'No, I'm not.' Because my whole view is being unique and finding yourself, from your own suffering or your own upbringing or your own happiness. For me, it's all piggybacking.

[Lady Gaga] is obsessed! She's been trying to get me to work with her forever. She's even gone to my brother in L.A. to get him to try and talk me into it.

I basically said, 'Bring me something. Don't just take something from me. If you want me to work with you, then come with an idea. Come with music. Dazzle me.' People said, 'Do you know how much money you can make working with her, collaborating with her?' It's never been about the money. And the fame, believe me, it's a double-edged sword.
Why Scout Willis Is Roaming Around Topless In NYC
Meanwhile, Grace Jones isn't slowing down anytime soon, as she vows, "I'm always rebelling. I don't think I'll ever stop."
Amen to that sister!
For more entertainment, music and pop culture updates and news, follow Max Page on Twitter