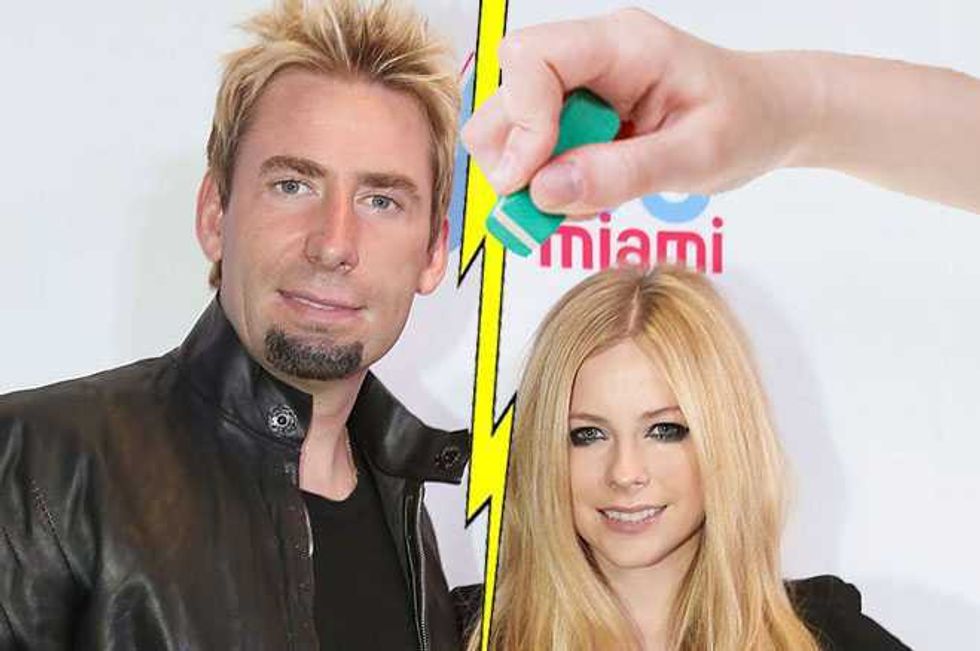 Avril Lavigne Chad Kroeger Back Together
For God's sake you two—why'd you have to go and make everything so complicated?
When Avril Lavigne and Chad Kroeger announced their separation last year after just two years of marriage everyone was like..."marry in haste..." and all that.
The couple tied the knot in 2013, having got engaged after just a month of dating, a risky strategy by anyone's book.   Despite Chad gifting Avril a 17-carat emerald-cut diamond ring for their first anniversary, rumors of trouble in paradise soon began to dog the couple.
Tearful Avril Lavigne Talks Debilitating Battle With Lyme Disease
They stuck it out until last September before she posted a wedding photo on Instagram with the caption;
"It is with heavy heart that Chad and I announce our separation today. Through not only the marriage, but the music as well, we've created many unforgettable moments. We are still, and forever will be, the best of friends, and will always care deeply for each other. To all our family, friends and fans, thank you sincerely for the support."
Well they obviously did remain the best of friends...and more, as fast forward five months and this weekend they were photographed together at Clive Davis' pre-Grammys party.  The pair posed happily on the red carpet at the event in Beverly Hills, and Lavigne posted pics of them looking relaxed and happy on social media.
MileyCyrus And LiamHemsworth Back Together—Like, Majorly Back Together
 Avril Lavigne Chad Kroeger Back Together
Avril Lavigne Chad Kroeger Back Together
The estranged/reunited couple seemed very cozy on their Valentine's Day date—the 31 year old singer looked stunning in black high-low dress with a lace top, and her 41 year old rocker husband matched up in a black suit.  
Khloe And Lamar Are Getting Back Together
Neither seemed to be wearing a wedding ring, nor has any announcement been made on their relationship status as of yet. Lavigne was rumored to be living with her long time friend Ryan Cabrera back in November but I guess Chad followed his own advice and reminded his wife of who he really was.    
Avril Lavigne Chad Kroeger Back Together
 Avril Lavigne Chad Kroeger Back Together